Browsing articles tagged with " island"
 Label: Warner Bros. Records
Review by Warren Mayocchi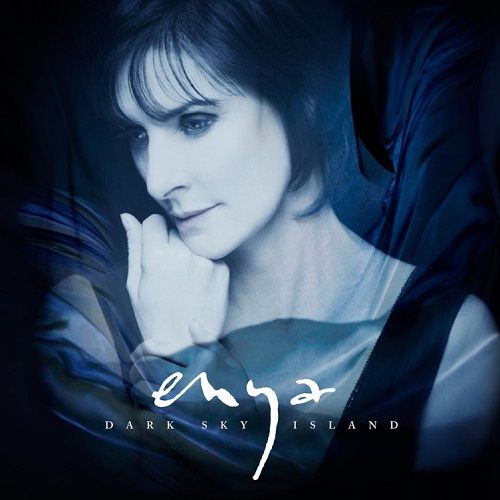 "Dark Sky Island" is an album title tribute to the the island of Sark. It was the first island to be recognised as having no light pollution during the night and therefore is eminently suitable for watching the night sky. As a label for a musical album the celestial themed title does suit the content of the album. As well as the title track there are "The Loxian Gates", "The Forge of the Angels", both of which are said to be "intergalactic songs" and "Astra et Luna" (stars and moon). "The Humming…" attempts to represent the sound of the "early universe". The deeper theme of the album is one of journeys.
The new album is a continuation of what Enya does best – create musical air. That is my description for her music, however there are some who call it new age, and the official line is Irish Celtic. Continue reading »
Label: Island Records Australia
Review by Luisa Mercier
Gin is a New Zealand singer-songwriter, and "Gravel and Wine" is her second effort that is now being released globally. Even though coming from Oceania, her main influences clearly are from the US, so since the opener "Black Sheep", you can distinguish country, Americana, trash can riffs and her throaty vocals that remind me of British singer Duffy. "Man Like That" is a rock, danceable tune with a hook that you cannot escape, even some trumpets appear.
"Poison" is a blues-tinged tune that is filled with melancholy and will bring you along the Mississipi river, while following "Kill of The Night" is more of a rock song, but the Southern vibe is present, even though in the shape of Southern Rock. But there is also space for ballads. "If Only" is a sweet, slow song with an old-fashioned feeling that won't pass unnoticed.  Continue reading »
Label : Cherrytree Records/Island Records/Universal
Review by Jesse StClaire
In today's pop music, the bass is down low, the tempo is fast and the vocals are processed to elaborate extremes. With this environment, a slower, smoldering album like "Devotion" by Jessie Ware truly stands out and shine. "Devotion" for the most part, has a very stripped down production to let Jessie's haunting voice shine through. The vast majority of the album are reserved mid-tempo songs with hauntingly beautiful vocals. The best example of this are the three kick-off singles, "Running", "110" and "Wildest Moments". They give a very clear glimpse at the album without revealing the true beauty hidden within it.
Another major theme on the album are songs with a 90's retrovibe. Most noticeably "Swan Song", "Sweet Talk" and the title-track. Continue reading »

Interview by Erwin van Dijk
An interview with Liv Kristine from Leaves' Eyes. This interview is all dedicated to the forthcoming album "Njord".
"Njord" is the third full length Leaves' Eyes album. (the other two were "Lovelorn" and "Vinland Saga").
I am absolutely happy and satisfied with the album. We've never worked this hard before with a production, but we've reached our goal. I would even say, we even went further than we thought was possible, technically seen. It has always been important to me that our sound and art is authentic, i.e. that you can hear from the very first tunes that this is Leaves' Eyes! We also want that our audience really get the feeling of being on a wonderful journey. I feel that our music needs a special well-written and interesting concept which is just as important as the sound, and "Njord" gives you all this.
"Vinland Saga" introduced the Viking elements in Leaves'Eyes. But "Njord" also seems to have some Irish themes, like the songs "Emerald Island" and "Irish Rain" . With "Njord" comes the EP "My Destiny", which contains besides the song "My Destiny" in two versons also an acoustic version of "Scarborough Fair" and two non album tracks.
"My Destiny" is a song you can easily "tune into". It's a good way to introduce the album (out 28.08.), although you will of course have less commercial songs on the record, too. On "My Destiny" is actually an EP, for the price of a single, with four non-album tracks, and one extra album song.

"Vinland Saga" was a concept album. Is "Njord" written with the idea to tell a story or are it twelve individual songs?
The lyrics mainly deal with characters from northern mythology (e.g. "Njord", "Fröya's Theme", "Nine Wave Maidens", "Ragnarok"), or with places and historical happenings (e.g. "Scarborough Fair", "The Battle of Maldon", "Emerald Island","Irish Rain", "Les Champs de Lavande"). This is why I found it necessary to deal with all these different languages. "Vinland Saga" is based on Leif Eirikssons discovery of America, even the EP, "Legend Land", which followed soon thereafter. "Njord" has a much broader concept, travelling through history, and into Nordic mythology. It has always been important to me that our sound and art is authentic, and that our audience really get the feeling of being on a wonderful journey.The lyrics are written in 8 languages (english, middle-high german, old-english, gaelic, norwegian, icelandic, french and one "self-made" linguistic fictional phonetic sequence)… I even sat down to study a bit French to be able to write one French lyric. I did study Old-English and Middle-high German, so it was really nice to be able to use this knowledge. Gaelic is completely new to me, though, but fortunately I found a wonderful person who helped me. "Njord" is an album that demands an expansion in linguistic terms.
This is your third album. What are the differences between "Njord" and "Lovelorn" and "Vinland Saga"?
Our debut "Lovelorn" was very refreshing and a wonderful start for the band, also the press and the audience were surprised. However, you shouldn't forget that we all have a huge experience and knowledge as musicians of Atrocity and former ToT (Theatre of Tragedy) to rely on. This brings Leaves' Eyes a wide step forward, so we were really no newcomers in our genre. Moreover, I really have to say that Atrocity + Liv Kristine is a magic formula! I took my experience from my favourite ToT releases "Velvet Darkness They Fear" and "Aegis" as a basis for Leaves' Eyes music. Our second album "Vinland Saga" was a manifistation of the music of Leaves' Eyes – we had "settled" in the genre gothic metal with female vocals. "Njord" is the perfection of both our 2 former albums. Since the first demo recordings for "Njord" we have been able to achieve goals that we thought back in 2007 after the "Vinland Saga" release would be quite impossible. I am so proud of my band members – "Njord" is a dream coming true, and all the hundreds of sleepless nights were worth it. We all have developed as musicians and technicians and this is experience that is unpayable. "Njord" (producer: my husband Alexander Krull) has a power to it that even is more intense than any previous production I've been part of. Technically, we constantly have new ideas and aims. We have our own studio and therefore we have the opurtunity to specialize in technical tasks concerning album and DVD productions. "Njord" has even a more bombastic but delicate sound that "Vinland Saga", because techniques allows it. We recorded the classical parts in Minsk (Lingua Mortis, supervised by Victor Smolski), we had a complete local choir (Al Dente) singing the choir parts, moreover, a special artist playing solos on special instruments like the uillian pipe and the whistle. All this makes this album a multilayered and highly interesting experience for our listeners, for your ears, hearts and minds. If I should describe "Njord" in four words I would say bombastic, emotional, contrastive, and pure.
Where do you get the inspiration for the songs. Some sources are clear, like Ireland and the Norse mythology but what really inspires you to write a song?
It's first of all my love for my homecountry, the Norwegian Nature, history, my family, the culture – everything I grew up with! I feel that our music needs a special well-written and interesting concept, and I want to travel through time and space. For me history has always been extremely interesting, and even when I left my homecountry Norway and moved to Germany 12 years ago, I had more books about the Vikings with me than clothes and shoes. I have travelled a lot and been able to see a lot of the world. History, languages, and geography has always interested me. Thorsten is the main composer of Leaves' Eyes, he works out his ideas on his guitar. "Irish Rain", however, was an idea I had one early morning. I hurried to the studio and worked out the tunes with him. Sometimes, ideas just appear to my mind, like a complete "song".

And can you tell us something about the songs on "Njord" and "My Destiny"?
We recorded 18 (eighteen!) songs, and all of them are placed on the single "My Destiny" (out now) or the album "Njord" (out late August). Our listeners will get a lot for the money. That's a way for us saying "thankyou" to our fans and friends all over the world. To mention a few examples, "Fröya's Theme" is one of my favourites on the album, too, next to "Irish Rain". "Fröya's Theme" is about eight minutes long, it includes five languages, inclusive two "speaking" parts done by Alex and myself respectively. It tells the story about Fröya, the Goddess of sex with her extreme power of beauty. However, her lover Od leaves her as he has "wandering eyes" for other beautiful women. Fröya travels around and through the worlds in Northern Mythology to find him. Her tears are made of gold and they heavily strike the earth. This song is an epic masterpiece composed by Tosso, our guitarist.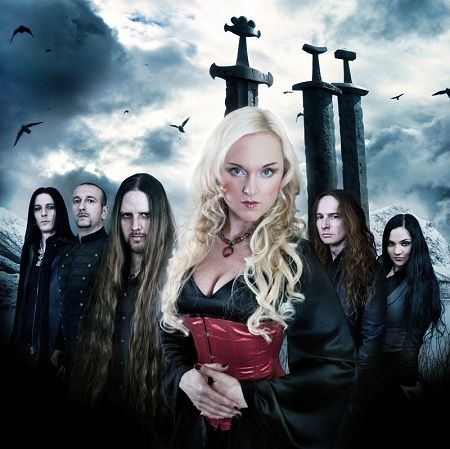 Is "Scarborough Fair" a Simon and Garfunkel cover and if it is, why did you choose this song?
I was an exchange student in the English town Scarborough, and I got very interested in their culture. This song is a folk song sung in the middle ages, also by the Vikings, on a trading market, in Scarborough. I wanted to rewrite the tune into a more heavy version and I am very happy with the result!

"Les Champs de Lavande" is a French title. Lavande means Lavender and the South of France (the Provance) is famous for its wide fields (champs) of lavender.
Can you tell us something about this song and why is it a bonus track?
As we had composed the instruments for this song, I thought about France immediately! I immediately sensed the smell of my favourite flower and scent, lavender! The Provance Lavender was famous already in the Middle Ages. I sat down and tried to put together a Franch lyric, and a friend of mine in France corrected it. This song just had to be about Lavender, and it sounds more authentic and special when it is sung in French.
While recording "Njord" you were supported by The Lingua Mortis Orchestra under the aegis of Victor Smolski and a classical choir. Most people will know Victor Smolski from his work with Rage. And this band does not exactly belongs to the same genre as Leaves'Eyes.
How did you find him and what was his influence on "Njord"?
We met Victor during a Rage/Leaves' Eyes' show in Greece in 2007. We are so happy that he liked the idea of working with us. It adds the important depth and bombastic character in our music.
The Special Edition will have a Drakkar (viking ship). What can we expect?
This is a way for us saying thank you to our fans and friends. Remember, many of them are collectors. I used to collect Madonna and Black Sabbath/Ozzy special merchendise objects.

One of the things that would make a lot of fans happy is a duet between the Espenæs sisters. (think of Beyonce and Solange Knowless doing a duet). Have you ever considered this for "Njord"?
It's not that easy since my sister moved back to Norway a couple of years ago, however, I am planning a duet on our fourth album, which will be a folk-oriented album, planned to be released in summer/fall 2010.

Do you already have some details about an upcoming tour?
Europe in November 2009, USA/Canada December 2009, then Europe and Russia in the beginning of 2010, and another long tour in the Autumn of 2010. Moreover, we have planned an acoustic tour between 28.08.-02.09 (please check the news!). We will play a capella in some of the Media Markets, for free for our fans, and we will have a lot of time to make photos with everybody, have a chat with our fans and friends and write some autographs. I enjoy acoustic tours. It's a nice way to keep up our close relationship with our audience, moreover, we are able to show that we are good musicians and can play live without a huge stage with a huge technical plan behind everything.
And which songs can we expect live?
A set-list still has to be decided on.
Although I think you will be very busy with the promotion of "Njord" this year and 2010 I would like to ask when we can expect a new Atrocity album and a new Liv Kristine solo album?
It's been 3 years since "Enter My Religion", and it's always good to gain a different aspect of your own art after some time has passed by. Right now, I am just about to finish the final recordings of my third solo album, and I see things in a new perspective now. "Enter My Religion" was an expensive production on a major label, however I made the decision in 2008 to release my third solo album on a another label, with a smaller budget, but having more freedom about the whole process, from the very first demo track, until the final master. I am very proud of "Enter My Religion", however I have developed as an artist and technician and my third album will be a huge step forward. I have put my focus on sounding just like myself, recording songs in one take, so you "get" me with everything I am, my character, my emotional level, my breathing, sometimes perhaps perfect, sometimes maybe not. I just want the audience to hear ME, not some singing lady with a pretty nice voice. I want to creep up inside your hearts and senses. I wrote all the songs together with Torsten (guit. Leaves' Eyes), all the lyrics myself, and my husband Alex is the producer of the album. Atrocity are already finishing their next Atrocity feat. Yasmin "Calling the Rain", which will be out end of 2009/beginning of 2010.
Links
MySpace * Facebook * Twitter * Site
Latest Multimedia
Interview by Ed MacLaren
In the last few years, female-fronted metal has turned into a revolving door for vocalists. To satisfy the bands and their fans, vocalists have to be able to do justice to the older material plus have the potential to take the band in new directions. We've seen bands conduct highly publicized searches across countries and continents trying to find that next great singer. In the case of Chile's Six Magics, they had to look no farther than their band manager. The smoldering contralto of Elizabeth Vásquez officially debuts on "Behind the Sorrow", the excellent new album from Six Magics. Femme Metal got a chance to speak to Elizabeth about "Behind the Sorrow", how saying "No" can get you the job anyway and what we can help the victims of the recent earthquake in Chile.
"Behind the Sorrow" is a re-release of your 2008 album "Animal" with a new track and new packaging. Why did you choose to re-release the material?
Well, "Animal" was just a promotional CD that we made for Chilean friends and fans. It was something very small and we did it because people were crazy asking and asking about our new material. We were looking for a good label at that time so we decided to edit a limited amount of copies here. So our real third album release is "Behind the Sorrow".
You spent years as Six Magics' manager before you became the vocalist. How did you get the gig? Was this your plan from the beginning – do the manager thing for awhile and then strike when the opportunity appeared? Were you the first choice or did you have to convince the band to give you an audition? Perhaps you didn't even give them an option. 😉
Ha-ha! Yeah, that could be a good strategy but I was too young when I started with the band as the manager so that never was on my mind. I started with the band seven months after they decided to have a band. I did all the stuff managers do. I was very proud of them because they were very talented and the band had started to be well known here too. When they recorded the second album, "The Secrets of An Island", which contains a lot of voices on it because of the choir, Erick Avila, the composer, was crazy looking for a contralto voice. As it was so hard because most of the girls were soprano, he asked me to sing in the choir and record the lines with them. After that I was also asked to sing some female parts live because it was also needed for two songs. When Sergio Dominguez decided to leave, we were looking for singers even in Argentina and the States but it was hard to find a foreign singer who fulfilled all the requirements the band asked. So, when I was also looking for a singer, Erick had the idea to ask me if I could do it. My answer was no: I was very impressed and I thought it was an insane idea!!! So as I wanted to free myself from this, I told him I would record a song – the most difficult song. I recorded "Behind the Sorrow" and when they listened to my version it was just silence. I thought, "Cool. I did it!" but then Erick said, "It's amazing!! I love it!. Send it to (producer) David Prater to know what he thinks!". The band liked it and David Prater said he was impressed and that I was what Six Magics needed to be complete! Everything was unexpected!
Considering the band was established for many years, why did the band choose to change directions and move from a male singer to a female one? Was it considered a risky move?
Fortunately, the band was always taking risks with everything: the performances, lyrics, etc., so when Sergio quit they thought it was a good opportunity to get another singer better than him so it wasn't a traumatic situation for them. They just wanted to solve the problem soon because Sergio quit when he had already recorded four songs. They never thought about having a woman singing because they thought that having a girl among them could be a problem because of her requirements, or because she would be a soprano singer or something like that. As the band was very recognized and valued here, they thought it could be hard – not for them – but for fans to understand it. The guys did what they had done before: not to be afraid about the risk and they were very convinced that this was the best for the band.
How was it for you to step into a male singer's shoes especially in a recognized band with a large repertoire of songs?
As I am a contralto, the band's songs weren't a problem for me – the thing was to be respectful with each song and show this to the fans. I didn't change the songs for me; I still sing the old songs in the same way Sergio did it. I think fans understood that and they felt good about it too. At the beginning, we thought that when the news about my arrival to the band was published, fans would be annoyed or something but on the contrary, they were surprised but happy. It was really crazy! We thought that as they (the fans) have always trusted in the band's decisions, fans (would think) that if the band decided to have a female singer now, it was because it was the best for the band and they would respect that. People were very, very, kind with us since the very beginning. I think it was also because they knew me from when I was the manager! Personally, I have a lot of respect for all the guys in the band. It was amazing to share the stage with these monsters. All of them are well recognized here as virtuosos and all of them are music teachers. So it has been an honor for me to be with them.
Was there an adjustment period for you, the band, and the fans while you learned to make the music your own?
Just musically speaking, because we had known each other for 10 years! We had a lot of rehearsals because I knew all the songs perfectly but we needed to understand each other with my new role. I was ready after a month of rehearsal. I must say all of them were very generous and they always showed me they were happy to have me with them. The problem was then to find another manager. Ha-Ha! Erick is the main composer and our musical director. He was very, very, demanding, but it wasn't in a dramatic situation. Erick started taking advantage of having a female voice and we started to make some new melodies for the new material, etc.
Six Magics' music is very atmospheric and dark with many heavy and progressive elements. Being from Chile, is there a sound associated with South American metal that makes it distinct from the rest of the world? Have you made it a part of your music?
In the second album of Six Magics, you can find a lot Latin-American elements: the lyrics are about a Chilean island and their mythological stories, musical rhythm, and also in the instruments the guys played. At that moment, we wanted to save our roots and record an album with all these elements. It was a very well recognized album here and the band was considered as a contributor to the music and Chilean culture too. After that, we decided to record a third album with a different point of view, musically speaking. I think as Erick loves classical music, and in the band we all have different musical likes, it's easy to find different influences in our music too. I think Pablo Stagnaro, the drummer, is responsible for the Latin-American patterns we play live sometimes.
You tagged David Prater of Dream Theater fame to produce "Behind the Sorrow". How did you get him on board and what did he bring to your music?
A couple of years ago we decided to record a new album. Our main idea was getting this new album considering other sounds, rhythms, melodies and lyrics. He had recorded another band here in Chile some years before and as we knew these guys we could contact him rapidly. We wanted this third album to be different from the previous ones. We also thought it would be a good idea to reach this goal if we worked with a producer. With all of this in mind, we contacted some people to take this job and after some months we decided to produce the new material with David Prater. He wanted to work with us because he thought the band had enough potential to get good results and the idea of working with him was quite attractive to us because, talking about music, he wanted the same we wanted. I mean, we were lucky because we found a producer that didn't want to change our music as his wish and we wanted to do the same he wanted! It was a long time in which many things happened: since his arrival with the band, we had almost everything recorded and the singer quit the band. So then I took his place and David had to come to Chile again to record the vocals with me having a very serious illness etc… At the end of the process, we realized that everybody was very happy with the result and that all the sacrifices were absolutely paid with this new album. I think what he brought to our music was the idea of simplicity, the previous albums had thousands of notes sounding at the same time and the musical spirit went more for having a lot of complex arrangements working together at the same time. Fortunately we wanted to do something more simple too.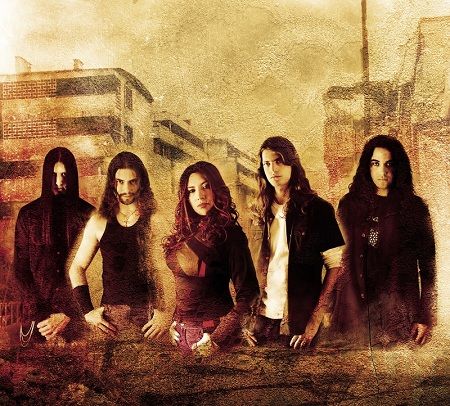 South America is crazy about metal music. What is it about metal, especially European bands that South Americans respond to?
Yes. Latin-American people love metal bands from Europe and they used to go to their concerts too. In Chile, we have the chance to see almost every band so I think people are losing their capability of being surprised: one day we have Metallica, next month Iron Maiden, then Blind Guardian, Sonata Arctica, Slayer, Dream Theater etc…so sometimes we need to save a lot of money to go to the concerts – especially because they cost a lot. Chile is one of the most expensive countries to have a concert; even small band's gigs are expensive. About language: Chile is a bit different from other Latin-American countries: people love bands that sing in English but in other places I know they prefer bands that do it in Spanish. As Chile is more influenced by the USA and Europe, that's not hard to understand. Here we have a lot of good bands but as we don't have a "metal industry", it's always difficult to make music and live from it.
Your vocals on "Behind the Sorrow" are very sultry, very low and ominous. The vocal heat really adds a level of seduction to songs like "It's Not the Way". Your voice also allows you to easily stand out from the upper-register operatic singers in so many other female-fronted metal bands. Were you always a singer or did you come to it later in life?
Thank you so much for your kind words and I'm happy to see you have listened to our music carefully. I have been listening to music since before I was born! Music was also my favorite subject at school and I was asked to sing every time I could do it. As I like jazz and rhythm & blues, I had some cover bands where I learned a lot. As I told you before, I like R&B and jazz and metal of course! My favorite singers are Aretha Franklin, Ella Fitzgerald, Peabo Bryson, Freddy Mercury, Dio and many other metal singers, so I used to sing this music too. When someone asks me to sing something from the 80s pop or rock I don't have any problem. Sometimes I sing bossanova or jazz depending on the moment and feelings. All music gives you something special but what metal is for me is part of my entire life!
"Run" implies there was more to the World Trade Center bombing than another terrorist attack. This track is a bit of a misfit lyrically among the rest of the tracks on "Behind the Sorrow". What was the inspiration to write the song? Does the band have a political edge that fans don't know about yet?
Not really. Chile was under a dictatorship for almost 20 years but we were children then. We belong to the generation that lived that but we don't have a political view of certain things. Politicians are really worried because of the lack of interest of Chilean youth. I think we are tired of politics because for many years after democracy was set in 1990 we have listened to a lot of (political) discussions in our families and also seen it on TV. And as our album is very realistic and we talk about things we really believe in, that's a song we wanted to write but we didn't know how, then the idea of making something related to this topic was very strong. What really motivated us to do this was that all of us think we shouldn't believe everything we are told. Sometimes we can lie and make other people believe we are the victims but we are not. We wanted to talk about different topics we strongly believe and we had the opportunity to record two previous albums where we didn't want to do it, but we talked about a fantastic world or mythological being from our country instead. This time, as a natural process in life, we wanted to do something different. It was also motivating because we had David Prater with us and we could share a lot of experiences about this topic, his feelings and thoughts, so it was really nice to share the ideas of an American guy with our own beliefs.
We're starting to hear of more and more bands from South America making an impact internationally. Should we prepare ourselves for the next wave of metal bands? Who are the top female-fronted metal bands we should watch out for?
I think music is a nice way to join people, countries and cultures. We have lived that! You can see how people who don't know you can have an effective approach to you just because your music could reach their heart. So I think if music is sincere it doesn't matter where it comes from. Unfortunately, I don't know too many bands from Latin-America. It can be curious, I know, but I still listen to the old ones like Angra and their derivations (ha-ha) Sepultura and Criminal from Chile.
Releasing "Behind the Sorrow" must give the band some time to work on new material. Are you working on a new album? What can we expect to hear?
The album was released just last month and, of course, we are interested in recording another album soon but now we are just concentrating on the next promotional tour and supporting our label with everything we have to get "Behind the Sorrow" the best results. We wanna enjoy this album completely first! We will see about a new record during the second semester of this year and I will let you know for sure! 😉
A new album means a tour. Where is Six Magics performing in 2010? Are you staying close to South America this year or can we expect to see you in Europe and the U.S.?
Yes, a new album means a tour. We understand that and we love it, too! We have been working with some people to have our promotional tour in Europe next semester. We are still booking the gigs so you will hear about them soon. We want to go to the USA too and we have got some invitations so maybe we will have good news very soon.
The recent earthquake in Chile was a tragedy and we at Femme Metal send our condolences and support to the Chilean people. There are many metal bands that have a close relationship with their Chilean fans and are raising money by performing in Chile or in their own countries. Does Six Magics have any performance plans to help raise funds or to participate in relief efforts?
Thanks for that and we know many bands like Chile and its people. We really thank all the bands that are trying to help or are simply sending their support. We have got many emails from different parts of the world. Fans and other bands have sent us their valuable support. It's a so sensible situation for all of us. We had returned from our promotional trip in Germany and after nine hours the disaster began. It was really scary and we are still having news about the real consequences of this tragedy. It has been something that has affected us in different ways – mainly psychologically speaking. Feeling our houses or apartments so vulnerable and feeling hundreds of aftershocks has been very hard. Emotionally, we are still affected and I think it will take a lot of time to be totally recovered. Life has changed for all of us since that day, no matter if our house was or was not destroyed or if we have relatives missing or not. As many of us are teachers so the professional situation hasn't changed too much, but our students are also affected. It's a circle, but we are trying to stand up. We have seen a lot of tragedy in our country and you suffer when your country is suffering too. We have been collaborating with different foundations as a band and also individually. We are always available to do benefits too. It's also a way to cure our souls when you can help others and you realize you must be grateful to be alive and have all your family with you. If readers want to donate to the relief effort what is the best way they can contribute? As you can imagine, there are many ways people can support Chile. If they really want to do it they will find the best way. Fortunately, Chilean foundations are very confident. One is Hogar de Cristo (Christ Home) at and here you also have another interesting link. Thank you very much for your patience and support. God bless you all guys. With love, Elizabeth and Six Magics.
Links
6 color styles available:

Style switcher only on this demo version. Theme styles can be changed from Options page.