Browsing articles tagged with " keyboards"
Interview by Ary R. and Miriam C.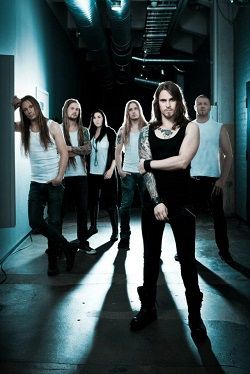 MyGRAIN is a melodic-death band from Finland. In these recent years, this 6-piece esemble gained more celebrity thanks to a few tours in Japan, Asia and especially Europe. After a long delay, the guys were able to release their 4th album via Spinefarm Records and in this exclusive interview, the singer Tuomas and the keyboard player Eve give us a few more details about the new record!
Hi Tuomas, hi Eve. Welcome to Femme Metal! First of all, I'd like to tell you that it's a great pleasure to have you here today! How are you doing there in Finland? 
Eve: Nice to have a chat with you as well! The leaves are falling to the ground here in Finland and the autumn seems to evoke a serious creativity boost… So we're working with the new songs already!
Tuomas: Hi there and thanks for having us! We're living exciting times as we're at the moment starting the Finnish shows with the new album "Planetary Breathing". And at the same time we've already made arrangements for yet newer stuff!
Label : Standby Records
Review by Tony Cannella
Picture Me Broken is a melodic hard rock/modern metal outfit from California. The band is fronted by vocalist Layla Brooklyn Allman. She is the daughter of classic rock legend Greg Allman. They released their debut album "Wide Awake" in 2010 and have now issued their new EP entitled "Mannequins". This is my first exposure to Picture Me Broken and it is already evident to me that this band has a lot to offer. "Mannequins" is only 15-minutes long and for that time the band shows what they are capable of.
The opener "Torture" is a good start with plenty of melodic and catchy hooks. The next song "Mannequins" is my favorite. Continue reading »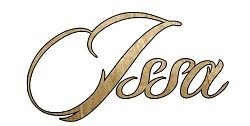 Interview by Andy Axworthy
Our dear readers I think that they already know the AOR/arena rock singer Issa (AKA Isabell Øversveen) and this time, Andy took some time for investigate about her latest release "Can't Stop", where the Norwegian singer collected and recorded some hidden gems/cover of the AOR scene. Just read this exciting interview for know more.
Hi Issa, a warm welcome back from all of us here at Femme Metal Webzine. We last spoke with you after the release of "Sign of Angels" back in 2010 and you have not taken your foot off the musical gas since, leading up to now and "Can't Stop", your latest release. How have you been and what's new in your world?
Hi there, thanks for having me back. Well I've recorded 3 albums in 3 years which has been the main priority of my time really and with each album you have an aftermath of radio and written interviews which also take up a bit of time. I also write songs with my husband James as we have a publishing deal and we have a lot of fun writing in all different styles. I've also recently added my vocals on another Frontiers Records release which is yet to have a press release so I have to keep hush hush unfortunatly on that one. But aside from the music i'm very happy in my life also. Continue reading »
Label : Valery Records
Review by Tony Cannella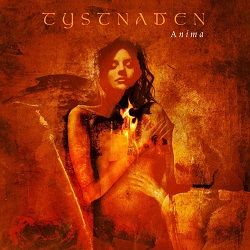 Formed in 1998 the Italian Gothic Metal band Tystnaden first came on the radar with their impressive 2006 debut "Sham of Perfection". They followed that up in 2008 with "In Our Eye" – which turned out to be an okay follow-up but not up to the standards of their debut – in my opinion. After being silent for the last few years, the band returns with "Anima" which is a return to the glory of the debut.
From the opening track "Lust" to the excellent closer "The Journey", Tystnaden are firing on all cylinders. The duel vocals between Laura De Luca and keyboardist Giancarlo Guarrera continue to be a high point for this band and they have never sounded better. Laura De Luca in particular has really risen to new heights and Giancarlo's brutal vocals are clear and really well done. "Struggling at the Mirror" is a track that really stood out for me. Continue reading »

Interview by Tony Cannella
As she enters into her 30th year as a recording artist, Doro Pesch shows no signs of slowing down. In fact, she continues to be one of the hardest working and driven musicians in all of rock, yet through it all she remains one of the nicest and down-to-earth people you will ever meet. With her new album "Raise Your Fist" being her most successful in years, Doro is gearing up for a busy 2013 and beyond. That is good enough reason to catch up with the metal queen and get low down on what lies ahead.
You were recently on tour in Europe for about a month before Christmas. How were the shows?
Yeah, we were in Germany, England, France, Czech Republic, Belgium, The Netherlands. Everybody was singing along, getting so excited. I really felt the new songs sounded awesome. The tour was mostly so out. 3 or 4 gigs were 99% full and all the other gigs were sold out. As we went on with the tour, every day we had some new news about shows selling out. It was great, so I think the record did really well and that was one of the reasons why there were so many people at the concerts. The whole tour was, I think the best tour we did in, oh god, I don't know in how many years. Playing packed places that's always so, so great. I hope when we do the American tour people will be just as excited, I'm so looking forward to it. But Yeah, I think the album was totally embraced by the fans and sometimes I saw some comments on the internet saying 'you guys don't play enough of the new album' and I didn't expect that because usually everybody wants to hear all of the classics. We did a set list where we combined all of the best songs from each album, but then sometimes we played more of the new record. In the States it came out a little later than in Europe and it made the billboard charts at number 64. I tell you, it moved me to tears, I was so happy to hear that, because you know how much America means to me, and that was the icing on the cake.  Continue reading »
6 color styles available:

Style switcher only on this demo version. Theme styles can be changed from Options page.