Browsing articles tagged with " lion"
Label : Lion Music
Review by Tony Cannella
It doesn't get more progressive or grandiose than Docker's Guild. This project is put together by Douglas R. Docker (Biloxi, Area 51) and bears his name (along with his brother Donald). The first in a five season series is titled "The Mystic Technocracy – Season 1: The Age of Ignorance" and will be followed by four more seasons. An outstanding list of musicians has been assembled for this release which can only be described as epic progressive rock and metal.
With a playing time of almost 80-minutes, "The Mystic Technocracy" is filled to capacity and there is no shortage of epic numbers. Some of the songs definitely recall old school progressive rock (like Yes and older Genesis) combined with more current prog metal and veering off into other territories. Obviously a lot of thought went into writing and crafting the songs to go along with the concept. The conceptual end of things is quite intriguing as it tells a science fiction story and there will be more chapters to come. Among some of the talented musicians who take part in this project, the only female is Amanda Somerville (Trillium). Continue reading »
Label : Lion Music
Review by Tony Cannella
From France, the melodic metal band Venturia released their debut album "The New Kingdom" in 2006. After a few line-up changes Venturia are now back to mark the "Dawn of a New Era" – that is actually the title of their 3rd and newest album, but it could also refer to a fresh start for the band due to their line-up changes.
As the heavy guitar riff for opener "Devil in Disguise" kicks in, it is clear that Venturia have a strong sense of melody with some great vocals provided by Lydie Lazulli. The next song "Secret Dream" has an infectious melody that just stays with you long after you've heard it for the first time. The shredding opening guitar riff kick-starts "A New Dawn Rising" – this is also the first we hear from the male vocalist Charly Sahona who took over following the departure of Mark Ferreira, Charly also contributes guitars and keyboards. Continue reading »
Interview by Ed MacLaren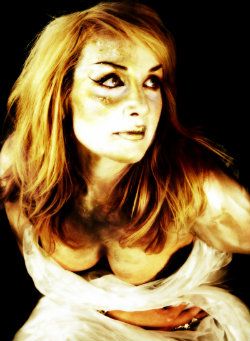 Since the mid-1990s, The Dreamside have entertained fans across the world with their unique musical vision: gothic, metal and dance music combined to create a singular sound and emotional point of view. With their new album "Lunar Nature", The Dreamside continues to push the musical envelope and prove without a doubt they're still as relevant and influential as ever. Vocalist/writer/producer Kemi Vita talks with Femme Metal about "Lunar Nature" and reflect on 15 years in music.
"Lunar Nature" retains many of the electronic elements of your previous efforts but the overall sound is more metal with a cleaner and a definitely more biting sound: much less ethereal. What was the evolution of "Lunar Nature" – especially when it comes after the "13th Chapter" CD of dance remixes?
The evolution of "Lunar Nature" took a time span of around four years and in that time a lot happened. It's a bit more rock than previous albums, also because we like the live feeling of the new material. Songs like "Higher Ground", for instance, are great to play live. However, if you get into the album as a whole you will experience much of our music in a more ethereal way. Songs such as "Hush" or "Willing to Learn" are good examples. The dance remixes of "13th Chapter" are a continuous thing of The Dreamside since we always collaborated with other bands and artists and released these kind of dance mixes in the past and most likely in the future. The Dreamside was and will always be a band full of diversity.
The cleaner production on "Lunar Nature" has brought your vocals much more up front in the mix. That vocal focus really benefits the overall feel of the music. How did you approach your vocals with this CD?
We always considered the voice as the most important instrument within our music. We did use different tube microphones and outboards for the various needs of the different songs but also my technique changes for different songs. Over the whole we tried to make the arrangements and the production clearer and leave out anything that would not feature the song as a whole. We usually record all ideas and do a selection in the final mix. Furthermore, I am as open as I can when singing and this intimacy is a red line though out the vocal recordings.
When you listen to the early CDs you can hear that your voice has changed dramatically. It's stronger with clear highs and a menacing and dark low end. Did your voice develop as you became more experienced or were you trying to vocally reflect the changes in the band's music?
I think that here you have already given the answers since it's a mixture of those two elements. With the years I gained a lot of experience and learned so much about the qualities and limitations of my voice. Nevertheless, I also still let my voice go free on the music; the tunes, songs and music trigger my inspiration and therefore my voice. Also, because Roman and I write the music together, music and voices go hand-in-hand from the start of each composition.
What do you think when you listen to your early vocal performances?
Well, I am very critical about myself so I always strive to improve. However, when you put things in perspective, I think my early performances in their own time and space always came from the core. I am proud of all of them.
Back in the mid-1990s when The Dreamside began there were comparatively fewer female singers in the genre than now. Who were your vocal inspirations? Are there any current vocalists that you admire right now?
Yes, there you are hitting a clear point – there were a lot less female singers indeed! I must admit that I listened more to bands with male vocalists but some of my female vocal inspirations were Stevie Nicks, Siouxie, Liz Frasier, Lisa Gerrard and Tori Amos. About your question of recent vocalists, I cannot see the voice without the content. This is one of the reasons that mostly I am not such a fan of highly studied voices. I like artists who are over the whole involved in their art, so I have a lot of respect for the innovation of Bjork; I like the rawnessand sincerity in the music and voices of PJ-Harvey and of Melissa Auf der Maur. Amy Lee has also done some great stuff.
The Dreamside has been going strong for 15 years and the music keeps improving with each release. To what do you owe your longevity?
It's the fact that our music comes from deep within and has to find its way out in the open! In the past, we got ripped off far too often and the fact that The Dreamside survived its hardships is actually something "supernatural" as a matter of speech.
Musically, the band has also changed dramatically over the years. How important is it to develop your sound? Is there a need to stay "current" or is it more important to stay true to your musical vision?
To us it's truly remarkable that a great majority of our fans feel and see a clear line in the diversity of our music. They dance on a remix, are romantic with the love songs, are letting go their tears at some ballads and rock with the heavier songs. They call it The Dreamside and after 15 years they know what they can expect from us. Critics and journalists always seem to question the evolution we were going through and in a way I certainly understand that since purely listening to music differs from reviewing and categorizing music. However I believe that our sound became better through the years and we are grateful that this is appreciated. We stay true to our belief in the naturally growing of our musical vision, the challenges that come along and the development of what we create – like we do in many aspects of our lives.
The Dreamside has leaned much more in the metal direction with "Spin Moon Magic" and "Lunar Nature" but split the time between CDs with a collection of dance remixes on "Chapter 13th". The band definitely has a love for both metal and dance music. How do you reconcile the differences between the two genres?
The Dreamside always was a band full of diversity and we are always looking to improve our sound and be open for new inspirations. It's not common in the metal scene to do remixes and we are lucky with The Dreamside that we have the opportunity to combine the best of all styles and create our very own thing. We consider this as a pillar of what we do.
The Dreamside is one of the standard-bearing gothic metal bands. What do you think of the current scene and how has it progressed since The Dreamside debuted in the mid-1990s?
Well, we plan to play some festivals this season and we got some invitations from overseas. But I think that this year we mainly play in Europe, Germany and Holland.
What can we expect to see on stage?
The Dreamside loves to play live and it's always an explosion of energy. I am happy to introduce a new band member who comes in with the guitar section, Louis Buurman. Although he helps to underline the heaviness of the songs when playing live, we include some very sensitive moments in our shows. There is always a sense of magic when we play live and I am very proud of our audience, the crew and our band. We like to give the people always something "extra" with the performance, the sound, the light and our outfits, etc. I would say, just come and find out.
How do your long-time fans respond to The Dreamside's evolution over the years? Do you see many of your original fans at your current shows?
The Dreamside fans respond very positive to the development we've been through. They also know that we will keep on making different songs so whatever they prefer about The Dreamside will be something with a similar vibe and hopefully even better. Yes, we get many reactions and visitors who followed us since the early days. It warms my heart to know that they come along for our long trip. Many let me know that our music really touched their being and helped to make a change for the better in their lives. That is a beautiful thing so we keep the dream alive and rocking along the way.
Latest Multimedia
Links
MySpace * Facebook * Twitter * Site
Label : Atlantic Records/Roadrunner Records/Warner
Review by Tony Cannella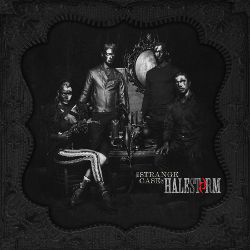 I am in awe of the band Halestorm right now. Their new album "The Strange Case of…" just left me awestruck and speechless (no easy task). From the word go "The Strange Case of…" offers a pure hard rock smorgasbord of hard rock, metal and punk infused guitar riffs, great songs that have easy mainstream appeal and a strong dose of attitude coming from this American band – especially from lead singer Lzzy Hale. To put it simply "The Strange Case of…" simply rocks. Occasionally Halestorm will slow things down on ballads like "In Your Room" and "Break In", these songs are okay, but in my opinion Halestorm is at their best when they are rocking out. The opening track "Love Bites (So Do I)" sets the tone right out of the gate and offers plenty of attitude, this is the first video that the band has done for the album and a solid choice. The second track "Mz. Hyde" thumps in and has a bouncy, infectious, addicting vibe and a melody that is just flat out contagious. The next two tracks, "I Miss the Misery" and "Freak Like Me" are two songs that features Halestorm at their in-your-face best. These opening four songs bring come at you at a relentless, rapid fire pace. "Beautiful With You" slows things down a bit and although it is not strictly a ballad it allows the listener to catch his or her breath. After the ballad-ish "In Your Room" and "Break In", Halestorm returns to rocking out in a big way with "Rock Show", "Daughters of Darkness" and the simply awesome "You Call Me a Bitch Like It's a Bad Thing". The final two tracks "American Boys" and "Here's to Us" brings things to a close with a bang. In short, don't mess with Halestorm. This is the second full-length album from Halestorm and with "The Strange Case of…" the band seems ready to ascend to the next level, based on the power and quality of the songs contained here, that only seems inevitable. 2012 could just be Halestorm's year.
Rating – 95/100
Tracklist
Love Bites (So Do I)

Mz. Hyde

I Miss the Misery

Freak Like Me

Beautiful with You

In Your Room

Break In

Rock Show

Daughters of Darkness

You Call Me a Bitch Like It's a Bad Thing

American Boys

Here's to Us
Line Up
Lzzy Hale – Vocals & Guitar

Josh Smith – Bass

Joe Hottinger – Guitar

Arejay Hale – Drums
Links
MySpace * Facebook * Twitter * Site
Interview by Miriam C.
Trascription by Kassandra Ortmann
I know, I know what are you gonna say "What's this, that's too short and we want more!". I totally understand you but the occasion was too much inviting to let it go so I took the chance, also for really short but quite, I admit to say, inviting interview with Lzzy Hale from the American new hard rock sensation Halestorm during their unique Italian gig in Milan. For sure there will be another occasion to do an interview but for the moment enjoy this exclusive! For this interview I really thanks for her collaboration and help Mrs. Morandi Anna Marzia from Roadrunner Italy/Warner Italy.
I was asking you about your second album, "The Strange Case of..". I am wondering when you started to compose this album?
Ah well, we um, we didn't have a whole lot time to think about this record and to prepare for it. We had been touring on the last record, um for nearly three years and basically got off tour, had 24 hours to pack and then went right to California to start making the record. We had a handful of ideas, ah, none of them were really finished yet. We had a couple of serious songs. We didn't really know what we were doing yet. Basically we just had to dive in and chase after whatever got us excited. And try not to think to hard about the pressure of making a record. Um, we ended up doing for the first half of the record writing probably the most aggressive songs we have ever written. A lot of riff driven songs, I'm being obnoxious and screaming my head off. And then uh, half way through um, I started really opening up and writing some of the most intimate songs that we've ever written. And it ended up to be, the finished product ended up to be this strange duality of sorts. And just the light and dark, the soft and strong but somehow it still all went together, which was surprising to me. And hopefully the message on this record is that you can be both. (LAUGHS)
I have read here and there some of your lyrics, and some of them are really straight-you-in-the face? What are the facts or things that inspired you during the song writing process?
Oh, it can be anything. First of all I live with uh, anywhere between four to nine boys at any given time, so there is always (LAUGHS) something strange going on (LAUGHS), that sometimes the guys will say something that I will have to write down because it is a little over the top. But um, to be honest, a lot of the recent inspiration especially for this record, came from the fans actually. And uh, we definitely keep in touch with our fans with Twitter and Facebook, and all of the social medias but um we started to get physical letters actually to the studio while we were making this record. And it just so inspiring to hear their stories, to hear what are fans are going through and what our music means to them. I think when we went in to make this record we really had a great idea of who we were actually singing to and um they were giving us alot of fuel in order to make a record they really deserved. In all honesty, Inspiration can come from anywhere though. I mean, I love watching people and I consider myself an observer and a sponge of sorts. So really it could be anything somebody says to you, you write it down, or somebody will be telling you a story and you say "Ja, I should write a song for them". In a lot of ways whether it's my personal experience or somebody else's, it's fun, it's fun because there is no real one way that you can write a song.
I saw "Private Parts" is a bonus track. It features the participation of James Michael. Who was working in singing with him?
He is wonderful, I love James so much. Originally he wasn't planning on singing on the record. He and I wrote the song together. And uh, he had all these ideas about who could sing this song with me was excited to see who it ended up being. And at the last minute I called him up and saying, "You know what James, nobody can sing this as well as you can". Because it is from his heart as well, so um, he ended up singing it with me and it was just wonderful cause he has such an amazing voice and he's such a great guy. So it was a great bonding experience actually.
The "Strange Case of", in the US was published by Atlantic Records and in Europe by Roadrunner Records. How about this collaboration. Any plans for the European market to re-release your past discography. For example, your debut self titled album?
Yes, I definitely think that will happen in Europe. The wonderful thing about Roadrunner Records overseas is that they are such amazing people. Even though things are kind of shaken down right now, (LAUGHS) everybody is so talented. They really knew what they were doing overseas. So the partnership between Atlantic and Roadrunner, really helped give us a leg up in Europe. Because we had come over here a couple of times with different bands and I noticed we had never really had a whole lot of press (LAUGHS) until we started working with Roadrunner Records. And uh, then we came over here for the last tour, and everyday we had something to do, and we were meeting all of these people and doing all these meet and greets. And I was like. "WOW! This is how its supposed to be!". So, I definitely think that more of our material to be released in Europe, especially considering we most likely will be doing a live CD as well as another EP. You can't really limit us to any one thing I think we, uh, we start itching to do something new after every couple of months. So there will be definitely more coming over here.
I don't know if you heard the question about Nightwish and the former singer. I don't know if you read the news. It happened that the singer has quit the band because of too long tours. I ask you, aren't you afraid to feel physically and mentally drained. I read on your website that you do a lot of touring. Are you not afraid to be tired mentally and physically?
Uhm, its definitely a battle, in fact as we speak right now I actually have a cold. But the show must go on, and we're gonna do a show tonight and rock it out anyway. Um, I think that for me the hardest is making sure that you take care of yourself, and you're honest with yourself. That when you are tired you go to bed instead of staying up till 4 AM. (LAUGHS) Or um, making sure you remember that your body is your instrument. A lot of it is just common sense, you know. If it hurts don't do it, uh, you know you try to eat right, try to get a little bit of exercise in everyday. That type of thing. Because unfortunately for singers, and this what I feel with Jacob and a lot of the other singers that are struggling now, is that you cant just go to a music shop and get a new one. (LAUGHS) We don't have that technology yet! (LAUGHS) Like a guitar player if a string breaks, you replace the string, but with singers you can't really replace whats yours, what is inside of you and your body. So, um, its just something you have to keep in mind. I know in past years I struggled, because I am very stubborn at times. So I'll want to be invincible, like, "No! I can do it!", you know, I'll stay up all night and I'll party and do the show. Maybe I could have down that when I was a young teenager (LAUGHS), but not anymore! (LAUGHS)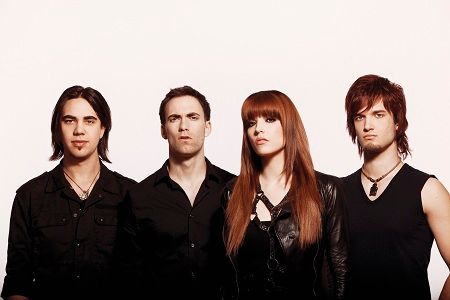 Congratulations for winning the "Hottest Chick in Hard Rock" . How do you feel about it?
I am actually quite flattered. I know there are a lot of women that look at that in a negative light. I never really did. I enjoy the attention. I enjoy dressing up. Um, obviously I am no stranger to the high heels and the short skirts. But I do have one rule and that is to make sure that if I am getting all of this attention for you know, being a girl and being sexy and the rock and roll then I have to make sure that I take care of myself. And that I am good at my instrument and good at what I do. Um, and have something to back it up! You know, because we cant ride solely on the sex because that is going to go away at some point. And one point in time I am going to be a sixty five year old woman and no one gonna want to see me in a short skirt. (LAUGHS) So I have to make sure I am good at what I do!
So you take the advantage now for the time being?
Yeah! (LAUGHS)
Unfortunately we are at the end. We thank you for this short interview and I am really, really happy to have had this talk with you? So … thanks again.
Thank you so much for taking the time for me darling. Its been an absolute pleasure talking to you.
Thank you so much!
Hopefully I will get you meet you one day!
Me too, I hope to meet you but unfortunately today I am not in Milan, I am quite far away from Milan but the best I can get today is to interview you!
No worries, we will be back. I promise you that!
So we are at the end, thank you so much?
Thank you so much! Darling. Bye.
Credit Photos
Photos by Chris Phelps & Alex R. Kirzhner
Links
MySpace * Facebook * Twitter * Site
Latest Multimedia
6 color styles available:

Style switcher only on this demo version. Theme styles can be changed from Options page.