Browsing articles tagged with " machine"
Label: Royal Noise Records
Review by Davide Torresan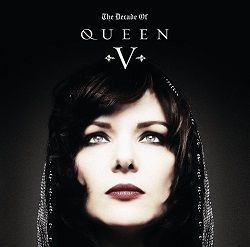 Queen V is an underground rock icon of New York. With a career of almost ten years, she has a rock style that draws fully from the bands that made history of this genre. Nothing new on the horizon if it wasn't that V's songs have an incredible energy. A rock voice, verve, charisma and the desire of kicking some ass are her main qualities. Besides you have to add the fact that she had the honor to open the concerts of Twisted Sisters and Billy Idol, so she really knows her stuff.
I said ten years, what better way to celebrate it than releasing a compilation? V seizes the moment with "The Decade Of Queen V" which sees the collaboration with some famous guitarists and of course her. Continue reading »
Label : Polydor
Review by Luisa Mercier
I loved and still love Ellie Goulding debut "Lights" and really welcomed with open arms this second official release. From samples, you could already say that she had raised the bar of quality, and after listening to the album, I can say I was right. Most impressive thing are of course her vocals: so childish, yet powerful, full of feeling and sweetness. Listen to "Hanging On", cover of Active Child (check him out too, if you haven't), she will blow you out with her groovy voice and the atmospheric track enriched with harp. Love at first listen. Other highlights of the album are "My Blood", with its ethnic percussions, the paced beat and the pathos til the catchy chorus, and "Explosions" with its operatic-tinged vocals in the background and the orchestral sound. Very nice is the single>"Anything Could Happen" accompanied by a melancholic video and the sweet ballad "I Know You Care", included as soundtrack in a movie. Really different is "I Need Your Love", featuring dj Calvin Harris (already with Florence Welch). The song is tipycally dance, on the mainstream side, but enjoyable all the same. Another song with a different style is "Figure 8", that is clearly influenced by dubstep, the trademark of her boyfriend Skrillex. The overall feeling is less festive than in the debut, more melancholic, but maybe I prefer "Halcyon" for this reason. Absolutely recommended.
Rating – 85/100
Tracklist
Don't Say a Word

My Blood

Anything Could Happen

Only You

Halcyon

Figure 8

Joy

Hangin On

Explosions

I Know You Care

Atlantis

Dead in the Water

I Need Your Love (feat. Calvin Harris)

Lights (Single Version)
Line Up
Ellie Goulding – vocals, songwriting
Links
MySpace * Facebook * Google Plus * Twitter * Site
Interview by Miriam C. & Roberta Ilaria Rossi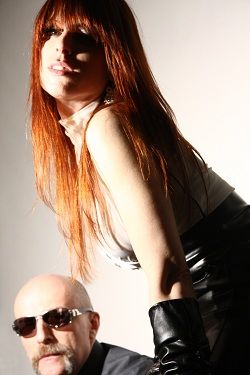 Today, we have the pleasure and the honor to give space to one of the true legend of electronic/darkwave genre. Italy's Kirlian Camera has almost in action from 30 years with a lot live activity and a lot of releases, so we took occasion to interview Angelo Bergamini, the mainman behind this project and the singer Elena Alice Fossi for know more about their tenth release "Nightglory". Also we took advantage of this asking some infos about SPECTRA*Paris and more Elena Alice's side projects….
Hi guys, welcome to Femme Metal.net. Your latest album, "Nightglory", was released not so long ago. How have reviews and feedback been for this album? Are you satisfied ?
Angelo: Perhaps it's a little too early to realize what's going on with "Nightglory", but I can say we noticed huge interest about it. Some people were surprised because of our "change of route", but Kirlian Camera are not that alien to doing what they feel, whether it's approved or not by whoever and couldn't care less of opinions around. Anyway, I think this album will be taken as a very important chapter in the Kirlian Camera history, if one is going to listen to it without any prejudices, then he can easily feel that "Nightglory" is just the highest point of our discography, the one containing our exact identity. If one doesn't like it, it means he doesn't like this band, it's so simple. This album is so filled with passion and purity that we are really proud of its presence within our life. We worked on it with unusual passion, till reaching extreme limits as far as identification is concerned. Yes, we're satisfied, totally. And proud of this "creature"…
Could you please tell us a little bit about the band's history, to get some informations for our readers?
Angelo: We were born more than 30 years ago, springtime, with incredible enthusiasm and need to survive many years to come. Doing a summary of such a long time is rather difficult and it's even more tricky due to the fact Kirlian Camera is quite an anomalous band, which has been moving freely from an atmosphere to another, throughout time. We have been a deep-underground entity, we got platinum records in the pop area, we changed a million members before getting a stable line-up with the arrival of singer/composer Elena Alice Fossi. Kind of a rollercoaster; we met a lot of people, 98% negative idiots who only tried to exploit the band. Poor grotesque characters with no real identity, you know… this band's history isn't that funny and it's filled with several bad events created by absurd people. But I must admit that my collaboration with Elena is the most beautiful event in my life. My hard work finally paid off as for personal satisfaction, thanks to her presence and great inspiration coming from her musical ideas.
Before the main release (I mean "Nightglory") you published the MCD "Ghlóir Ar An Oóche", a really, interesting appetizer that contains a rework of "After Winter" and "Nightglory" both in normal and camera version. First of all what does "Ghlóir Ar An Oóche" mean and why did you choose to have the title in Gaelic?
Elena Alice : It means "Night glory", exactly. We did choose to use a different language for the single, in order not to mix it up with the album. We opted for Irish/Gaelic because it sounds so deep and evocative. Also, Angelo's mother family has some Irish origin: South East Ireland/Waterford area, if I'm correct… I suggested to use such language, as in the last period he's sometimes digging into his far past, so I perceived something natural coming out from those words…
Having given "Nightglory" a listen , I would say the band's sound still remains within darkwave/synthpop genre. Can you please give us more insights about the creation of "Nightglory"?
Angelo: However, pop music is the point from where we started many years ago… even if we had/have in mind a very personal concept of "pop music". So, I'd like to say I don't agree so much with promo-introduction to "Nightglory". I don't think it's our most accessible work ever, or better, I guess it is, but it's misleading to introduce this album in such a way, due to the fact it offers something totally particular: it seems to be able to talk deep to heart, while it succeeds in not sounding oppressive to ears. Doing an oppressive sound to describe a drama is easy… it's (by far!) less easy to compose music about a personal drama by respecting… "Music". Kind of respect to listeners, to yourself as a listener and an attempt to create something beautiful despite the sorrow you feel within. In my opinion, Gandhi was a warrior, not a pacifist as many people think: only, he had a different idea of how a war had to be done. Just an example which is probably going to touch a "too important theme", but… as far as our small garden goes… "Whoever has ears to hear, let them hear"…
The "Nightglory" cover artwork is simply and effective – the huge black panther. What do you want to express with it?
Angelo: The Black Tiger is the symbol of the night itself, for us. That night we come from… Then, we are used to calling Elena Alice "Black Tiger" or simply "Tiger", exactly, maybe this is a little homage to her, hidden in that title… Worthy purity and loneliness…
The song "Winged Child" complete title should be "Winged Child Sitting on a Bench Watching Obscure Clouds Getting Closer While People Seek for Shelter" guys you always surprise me, can I ask where you got a a title like that?
Elena Alice: It's a vision that comes from the inside. One day, when we were taking photos in a local garden, we noticed a beautiful old bench and… the rest is dreamlike. Such a title sounds pictorial, probably. But, how could we turn such a vision into a title without explaining the vision itself…? Well, in the beginning the idea made us laugh, but now, who knows?… Maybe it's just the beginning of a weird new trend, for us… we'll see!
Elena, recently with SPECTRA*Paris you've released your second album "Licence to Kill". Can you talk a little about this other project and in specific about your latest album?
Elena Alice: SPECTRA*paris is a strange beast… one day it sounds glam, the day after goes to meet Ralf & Florian, then it finds the way to Twin Peaks and becomes an empty cinema filled with scary ghosts. S*P is a combination of noir desire, erotica, spirituality, science-fiction, distorted fashion… comics meet suicide tendencies! The last album "Christmas Ghouls" (10-track mini-album) drifted away from "License to Kill" for a while, offering acoustic and acoustic-like ballads, tormented Christmas echoes and dreamy – but worried – pages. I'm working on the third album of this saga and I can say that, at the moment, it sounds electronic, more than former ones. My acoustic/ballad side is finding a place in the cosy arms of my new project Alice Neve Fox, a quartet in which I'm mainly accompanied by musicians on grand piano, acoustic guitar and double bass, even if some theremin and vintage moog is peeping out here and there, occasionally… as well as some guests I attach great importance to. S*P will be roaring again soon with some new sounds and line-up, anyway. Kirlian Camera/Alice Neve Fox's guitarist and drummer Kyoo Nam is now part of the gang…
Talking about Spectra Paris, during Christmas 2010 you've released an interesting experiment called "Christmas Ghouls", I'm curious as to why as it's very far away from your musical visions?
Elena Alice: Making a Christmas album was an old dream, as well as making "my" own Xmas album, as it had to be as personal as possible. Moreover, "Silent Night" had to show a different side, as my Christmas is filled with imaginary toys, dreams, angels… but even with a deep sense of apocalypse. So, my German version to "Silent Night" sounds darker and more dramatic than expected, although I didn't wanna destroy original global atmosphere to the hilt! This album made me realize I need to bring my 'acoustic side' back to light, as I love electronics very much, but I even love so much that magic that acoustic instruments can create, although I sometimes like to add some electronic vintage inputs coming from Theremin and MiniMoog. Practically, "Christmas Ghouls" set the tone to my new project Alice Neve Fox!
Angelo, in the beginning, the sound of the band was more synthpop oriented, you also happened to be in Italian synthpop/disco band Hipnosis in 1982 and 1984 – would you like to tell us something about this experience?
Angelo: I joined the band while they were working on the debut single "Pulstar". After a couple months such single came out and it suddenly went platinum! I honestly must admit that Hipnosis was a funny machine to make some money, although I earned nothing at all! I cancelled the world tour a few days before it started! I left the band after some further experiments, videos and TV appearances. The label offered me some big money to remain on condition that my name didn't appear on any Kirlian Camera work for five years, so I rejected the offer and went away.
Is there any artist or band that, since the beginning, have influenced your work or has it always been your own work?
Elena Alice: Strangely enough, I guess I don't feel any big influence. I love music since when my memories start out, but music is something in the air, for me, so I can catch an idea without knowing who's hiding behind that tune I'm occasionally listening to or whatever. But I can say I like listening to Angelo Badalamenti, David Lynch, Zbigniew Preisner, Ennio Morricone, Susanna Rigacci, Jessye Norman, Giovanni Pierluigi da Palestrina, Arvo Pärt, Hildegard Von Bingen, Jocelyn Pook, Pink Floyd, Laurie Anderson, Danny Elfman, Janis Joplin, Muse, Portishead, some old rock'n'roll grooves and Kraftwerk, of course!
Angelo: In the beginning I used to listening to several bands, but, after a while, I realized that almost none of them was really so essential for me. Anyway, I have been listening to many artists, throughout time, so I had a chance to appreciate Tangerine Dream, Klaus Schulze, Nico, White Noise, Delia Derbyshire, Pink Floyd, Hawkwind, Alvin Curran, Kraftwerk, Giorgio Moroder, Ash Ra Tempel, Neu!, Amon Düül II, Popol Vuh, Peter Gabriel, Le Orme, Klaus Nomi, Joy Division, Metro, The Sound, Ultravox, Gustav Mahler, Max Bruch, Anton Bruckner, Franz Schubert, Francesco Paolo Tosti, Salvatore Licitra, György Ligeti, Marc-Antoine Charpentier, Scott Walker, Mauro Pelosi, Matt Munro, Neil Young, Johnny Cash, etc…
The band name is a clear reference to the Kirlian effect, that is mostly used in bio-physic photography. Who is the one that chose the name?
Angelo: I decided to use such a name in spring 1980, as former name Suicide Commando sounded a bit too aggressive for a project mixing together pop, krautrock and post-punk, at the time!

The band has was founded by you, Angelo in 1980. You've been on the scene for over 30 years now. What has changed since the early days to now?
Angelo: I have noiticed that today's music market doesn't offer any creative chances to a creative musician, rare exceptions aside. I wasn't that used to this "flattening". Stupid producers and idiot labels exist since time immemorial and I worked with a lot of them, but… time ago there was more confidence in some free creativity. Today's bands are boring me stiff and nothing happens since years and years!!! New "rebels" are but spineless posers with no dignity at all and the worst thing is that their music seems to be made for old dumb zombies. Freshness and innovation are two perfect strangers, in music field, currently. The problem is that the audience is accepting all that without any reaction.I feel like I'm becoming a real alien, here!!! Hopefully, nobody will notice my brand new antennas, BRRRR!!!!
You are an electro/darkwave Italian band, maybe you were one of the first band to create this kind of music and, more over, you've also been the first band ever in signing a record deal with Virgin Records. How did this happen? Would you like to tell us more about it?
Angelo: Well, signing to Virgin was so uneasy at the time – and for an Italian band was simply impossible – that when a friend called me saying they wanted us on their roster I did reply by gyawining! I don't know the reason why Virgin wanted us, but I remember that, during a TV-festival, I had been passing near the backstage of the GTR project (Steve Howe from Yes and Steve Hackett from Genesis) and I notice they were playing one of our songs, then the manager of Pet Shop Boys told me that they went crazy for "Blue Room" and Afrika Bambataa was used to performing the same song during his sets… meanwhile Air France had been broadcasting KC on its flights and I had some meetings and free time with Human League, Simply Red, Nico (Velvet Underground), Conny Plank (producer of Kraftwerk, Ultravox, Eurythmics), etc., so… I realized we were a pop band! But it was strange…maybe I didn't feel that at ease in that golden hotchpotch, at the time, as I was much more interested in the underground area and avantgarde/contemporary music…
Let's be straight and clear, I hope you appreciate my frankness, why the hell in Italy an band like you with such a musical history don't give a damn about you, I mean for me and the entire scene you're the precursor of this genre. What must change in Italy? It's because of the wrong mentality, maybe?And why Germany and Belgium seems love your music?
Elena Alice: OK, our relation with Italy is complicated: we like the landscape, we love the food, the traditional culture and even the people, but, as far as real innovations are concerned, Italy decided to give up, some decades ago. In Germany and Belgium exists a kind of "middle area" where some bands have a chance to express themselves. An area placed between underground and mainstream. It doesn't happens in Italy, unfortunately. I am absolutely sure that many people could love the music of KC and many other bands, but… it's like there was a impassable frontier whose checkpoint police is totally alerted 32 hours a day! No one can get in from that border!!! Italian music business has a clear concept in mind: you must sound "super easy"and so, even "important music composers" (some embarrassing but popular rock singers) are doing nothing but music for boring bourgeoisie, pope-boys, fast-food monkeys and tanned people drowsing on a cheerless yellow beach filled with flies. We have some fans, some good ones, in Italy, and we actually are grateful for all the praiseworthy efforts they do to make our sound become more popular, but they aren't so many, not enough to keep us alive, unfortunately. I must realize that this nation's biggest part of music listeners has no respect but for absurd clowns posing as great artists. The sad point is that there are so many good bands… and some of them are even "listenable": I'm sure they'd perfectly fit to buyers' taste! But Massive Attack is the only good alternative that Italian music industry police allows normal people to listen to, more or less, as no further name is jumping in my mind, at the very moment… anyway, I decided to try again, in my Country, as I don't wanna give up, so I guess I'm gonna sing Italian a little more often, in the future… my bridge on this wonderful Country is not collapsed…
What's in the pipeline for KC, what are your future projects?
Elena Alice: As for Kirlian Camera, we're working on the single "Immortal", a song taken from the new album which has been slightly revisited for this occasion. The single will contain some previously unreleased material, as well. We're just planning our first official live album, to be released on audio CD, DVD, BlueRay and digitally, of course. We're told it'll be recorded at the Teatro Regio di Parma (Royal Theatre of Parma) or in a old church… we'll see…
Anything you would like to share with your fans and Femme Metal readers?
Elena Alice & Angelo: Don't judge a book by its cover.
Links
Kirlian Camera : MySpace * Facebook *Site
Interview by Vard Aman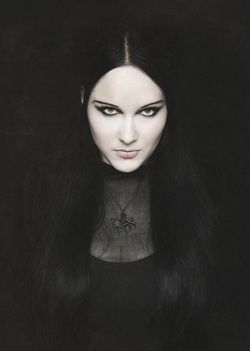 Over the years Draconian has become a household name in (Gothic) Doom Metal circles, so I'll skip any long introductory monologues here and move right on to late 2011 when vocalist and Draconian icon, Lisa Johansson left the band. It's always a difficult time, not to mention a speculative time for fans when a vocalist of Lisa's popularity leaves a band of Draconian's popularity. What would happen? Would they change their sound? (Speculation in that department driven further by the Nightwish/Tristania episodes). And most importantly; who would they replace her with (if they replaced her at all) and would she be as good? Let me just say here to all those who are understandably upset by Lisa's departure from the band that she is still there and always will be, gracing your speakers and headphones every time you listen to a Draconian album up to and including "A Rose for the Apocalypse". But most of all, I'd like to say trust Draconian, they're Doomsters who believe in the Doom they create, and trust Draconian to find the best singer for the job! And I can say with total confidence that they have done just that! How? Well, several years ago, I had the pleasure of discovering a band in my home town of Cape Town called Inferium whose vocalist, Heike Langhans (Heike van Dominic), possessed one of the most haunting and beautifully melancholic and sombre voices I'd ever heard – the kind of voice that could get all the hair on one's arms standing straight up (further confirmed when I heard her solo project, Lorelei). With so versatile and melancholic a voice, Heike's was a voice made for a good Doom Metal band, a voice that belonged in a good Doom Metal band, and any good Doom Metal band who made use of her voice would become even better (you'll see…). Cape Town, unfortunately, is not a place that is well known for such bands: sea, sun, wind, mountains, scenery, nature, shooting people – yes, Doom Metal – no… well, at least not yet. But Sweden is home to one of the best and most iconic Doom Metal bands of all time, and in late 2011 their vocalist left and…. why am I still talking? Draconian's new vocalist, Heike Langhans, will tell you the rest.
First of all, welcome to Femme Metal Webzine. If I had met you on the streets of Cape Town just over a year ago and told that within a year you would become the new vocalist of Draconian, how insane would you have thought I was?
I would have laughed and told you to stop your medication immediately. Considering how long I've been listening to Draconian and how high an opinion I have of them, I could only have dreamt of something like that happening in my lifetime.
So, how did it happen?
After hearing the news that Lisa had left, I went online and starting moaning about it like I'm sure most fans did. Some of my friends urged me to audition – should the band have been auditioning singers at all. I just assumed they'd find someone in good ol' Scandinavia – where musicians grow on trees. Some weeks later I received a link on my page (from you), sharing the update that Draconian will be accepting applications and auditioning singers to take the role of female vocalist. At that point I wasn't too excited, as I'm quite rational about such things and could see all the fan suggestions and singers throwing themselves at the opportunity. I asked if there was some deadline to it, as I was planning on moving to Europe anyway that year. I later received a message from Daniel Arvidsson, saying that I should send an application with some material. I will admit, I got a few flutters then, but still just kept it to myself and quietly sent off my application. He got back to me and said he liked it and forwarded it to the band. Not long after, Anders contacted me and asked if I could come for an audition. In February, I was off to Sweden for a week only to audition. We did some recordings of songs from the latest album and rehearsed some old songs too. Things went well on all accounts, but me being a little self-critical, I kept thinking I could have done better. I was the first to audition, so in my mind I did not know if that would've been an advantage or disadvantage. After my lovely week in Sweden, I (miserably) returned home and hoped for the best. I kept in contact with Anders very regularly to keep me from dying with anticipation. I think the wait would have killed me otherwise. At that point, I still felt like I was in a dream and kept thinking: "Wait. Did I just go to Sweden to audition for one of my favorite bands???" Eventually, I got the news that they would like me to join Draconian, but that there were obvious concerns regarding the relocation. These days it's just not easy with all the rules and borders of our world. I wasn't going to give up and set to work on the paperwork and visa applications. It was tough as hell and expensive, but I am 100% driven and given my disregard for certain authorities, I wouldn't dare let it intimidate me or get me down. I jumped through the fiery hoops, did the paperwork and in May I was off to Sweden. I'm still having my tribulations with migration boards and paperwork as it is, but I'll do it for the rest of my life if I have to. The music and the people are worth it. The doom is worth it.
What was it like meeting Draconian for the first time?
In my mind I was nervous about the idea at first – especially meeting the talented Johan Ericson. I'll admit, I've been a huge fan of Doom:vs and greatly admired his writing and creativity. I'm not really a nervous person at all, so I knew it would be fine. I was amazed at how well I got along with them and how easily I fit in. I suppose it's because of the general sense of humor and attitudes of Scandinavians. I've always related to it a lot better that that of my home country, so I felt right at home and very comfortable. The social dynamic of the band is very important in Draconian too, so I was pleased to be able to just be myself and not worry too much about those socially awkward situations a lot of us fear when meeting new people.
And Lisa?
I went with Fredrik to Lisa's flower shop before the audition. She was as pleasant and friendly as I expected her to be and just down to earth. My kind of person. We bantered a while and joked around about the big knife she was using to do the flower arrangements with. It was nice to hear that she seems content and comfortable in her life now as a mother.
How has the response from Draconian's fans been so far?
They have been absolutely sweet and amazing. I never expected such a warm welcome and such lovely responses. I was prepared for the onslaught and the angry fan mob, but I have been overwhelmed with love and good energy. It really makes all this so much more real to me and it makes everything worth fighting for. It re-installs a lot of hope in me too when it comes to people. I've dealt with a lot of attitudes from some people back home, so having the rest of the world respond so lovingly, has really brought a sense of peace to my heart.
Being a South African myself and having travelled a bit I can imagine the reaction of a lot of fans (and others) is going to be something along the lines of "What? You're from AFRICA!?" How do you react to that?
The funniest thing I get asked is why I'm white. I think the media has really put a certain idea in the minds of people in the rest of the world, so I don't blame the little bit of innocent ignorance I've encountered. I usually take the opportunity to explain how things really work and that SOUTH Africa isn't really the same as the rest of Africa. At the end of the day I'm just happy to prove that the world we live in is really smaller than we think and the only thing keeping us all apart is paperwork, money and silly governments.
Was it quite a culture shock moving from South Africa to Sweden?
For me personally – no. I knew what to expect in a way as I've been interested in Scandinavia from a young age. I could immediately sum up what was better and what was lacking. Everything is Sweden works and flows incredibly well. Generally speaking – Service is good;people are sweet, peaceful, intelligent and helpful. That being said, I won't deny that South Africans have a fiery social forwardness and I won't find anywhere else in the world. I'd definitely want to visit my hometown, but personally, I know my head and heart is in the North. Indefinitely.
Hur väl talar du Svenska?
Not too much just yet. I will be going for Swedish lessons as soon as I am part of the system, but I can understand a lot of Swedish already in reading and general talking. My Afrikaans (Dutch) and German background helps a lot in understanding Swedish. Some of the words are virtually the same, but just spelled and pronounced a little different. I'm picking it up quite fast actually.
Another question that I've no doubt some fans will ask: How do you pronounce Heike Langhans?
In the German way. That's the best answer I can give. People in South Africa have been pronouncing my name wrong all along and I've gotten used to it. It's actually pronounced something like 'hey-keh', but have mostly been pronounced 'high-kuh'. It's all the same to me really. Though I think the way Swedish/Finnish people say it is very sweet. It makes me smile. 'Langhans' is tricky. Back home English people get it terribly wrong and Afrikaans people tend to get it right, since it sounds dutch to them. It's pronounced 'lung(organ)-huns (like guns)' I suppose. That's the closest I think I can explain. Just ask your nearest German.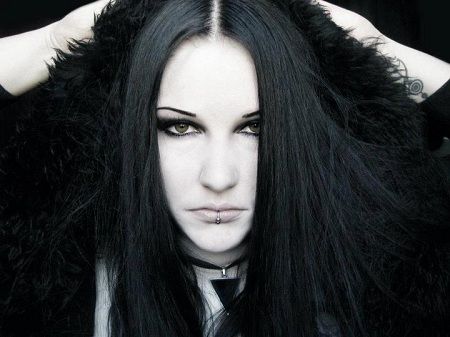 Let's go back all the way to the beginning. When and how did you first get involved with music and singing?
Singing came first. I was in school choirs since the age of 8, but got pretty sick of singing in a group, so I left that behind and started doing my own thing. I played piano occasionally, but mostly played the classical guitar. It helped a lot in my writing and I had a need for doing everything myself and not letting other people get involved. I used to sing with my dad when he played guitar at social gatherings and that's when I realized I might just have something going. I only joined my first band when I was about 15. We were all girls and good friends. It was mainly a fun holiday thing, so I kept doing music on my own until I joined a proper band when I was 19. Through it all I just kept doing my own thing on the side to stay focused and as an outlet for my frustrations with the world and my surroundings. I'm now 24 and finally feel like it's paid off.
When did you get involved with metal?
I started off soft like most young kids I'm sure. My father has excellent taste in music and I used to ninja his Pink Floyd and Meat Loaf CDs and listen to them on repeat in my room while singing along . VH1 also played good stuff like Black Sabbath back then and it just appealed to me. That was a solid foundation "rock" wise . Later, my older and way cool surfer cousin came to live with us and he introduced me to Metallica. That opened up a whole new door and I "taped" whatever metal I could find onto VHS or cassette and saved my money to buy the CDs. By the time I was 16, I had been consuming incredible amounts of metal from all sub-genres and eventually grew into what suited me best emotionally – Gothic, Symphonic & Doom metal. I only got into Black Metal a bit later when I was 20, but I was put off by all the politics and opinions. I think I enjoy Black Metal a lot more now that I've been able to make up my own mind and have spent some time researching the greats – without the input of the "elitist" forum junkies and haters.
Inferium was the first time I heard you. Tell us the Inferium story.
It was merely a case of a friend saying to me: "Hey, this guy I know has an instrumental band and I think they might want a female singer".I agreed to an audition and it just all casually came together. They were the only guys I knew doing Symphonic Metal and I liked it. We had a bit of a Nightwish/Within Temptation thing going. The band had so much potential and we were doing quite well, but we had a lot of issues with finding time and money to record and push it further. I eventually outgrew my "operatic" female vocal style and half the band were gamer nerds anyway (myself included), so we just called it quits. We were all friends, so there were no hard feelings. We were totally laid-back about the whole thing. I'll always remember and enjoy my time in Inferium and I'll forever be sad about the stellar songs that were to come, but it's a sweet memory.
How would you describe the Metal scene in Cape Town, and in South Africa in general, particularly Doom Metal?
Despite what most South Africans make themselves believe, Cape Town actually has a great metal scene and more bands than you might think. I can count on one hand the amount of friends I have there who ISN'T a musician. It's a very creative and beautiful town. Most musicians there, however, feel that the scene or industry is lacking and that support isn't high, but I could easily point the blame at our social/political structure for that. If I look at the Cape Town/Johannesburg size ratio, I can say with confidence that Cape Town has a lot more to offer. The scene there is almost removed from the rest of the country and they're totally on their own mission. Johannesburg has some stand out talent too, but I personally find that they follow more or less the same trends in terms of metal genres. Of course if you had to say that to someone living in Johannesburg, they would disagree, but I've been living in both cities and can see the bigger picture quite clearly. I also know more than a hand-full of Doom Metal fans in Cape Town. We've even made a League of Doom – an appreciation group where they have meetings and do doom covers together. Sort of like an "all-star" doom tribute show effort. It's small, but it's meaningful. Any doom fan would understand.
What attracts you to Doom Metal, both as a musician and as a fan?
Firstly, the emotional aspect. There's a certain sense of beauty in sadness that I feel is more true to one's soul than anything else. I love slow and melancholic music. It brings my inner suffering to the surface and Doom Metal makes me feel like it's okay to be an emotional being that suffers in this strange world. Secondly, I love melody. I can't listen to anything that doesn't have melody and I've found some of the most beautifully written melodies in doom. Some metal fans just don't see how much darker and heavier Doom Metal is. It certainly triggers a lot more in me personally.
Do you think that someone from South Africa singing for one of the best and biggest Doom Metal bands around will help to change the perception of Doom Metal in South Africa and perhaps inspire some good Doom Metal bands?
I certainly hope it will. I grew so tired of explaining to some people what this "slow and depressing" stuff is and why it's better than the Death Core crap they listen to. Though I mostly believe that doom is a mindset too. If they're too easily amused and think that all metal should merely be the soundtrack to drinking beer and "being hardcore and different", then I'm afraid they'll never get it. That being said, I have a great feeling we'll see some Doom Metal bands coming from SA in the future. It's a genre that has gotten little attention, but I know a decent amount of people with the skill and souls to pull it off.
Tell us more about Lorelei.
That would be my solo project – a melancholic electronic side project I've been doing on my own for years. The name Lorelei has almost acted as an alter ego in a sense. A friend once told me that my music made his mood change so much that he could easily give in to the thoughts of leaving the world entirely. It scared me, but at the same time I realized that the level of emotion it brings is something magical. The songs are raw and unpolished, but I prefer it that way. It's a "spur-of-the-moment" type project, where I just pour my heart into a song, record it and then struggle to touch it again. I've said many times that I will never be able to sing these songs live, simply because I'll be too emotional. It's hard for me to wear my heart on my sleeve sometimes, so music is the only way. Lorelei is definitely my outlet and it's quite revealing in many ways. Many people think me intimidating and secretive, but I'm more of an open book than what they care to realize.
Are there any plans and material for new Draconian album, or is it too early to talk about that yet?
We're working on new music at the moment. Throwing ideas back and forth. Anders started writing lyrics some time ago as well. At the moment, we're focused on rehearsing and getting back on stage again, everything will come together in time. It's too soon to say much about it, but a new album is definitely in the making.
And that first big show/tour?
That I can't say too much about unfortunately. There are offers for some really nice shows/tours that I'm quite excited about, but nothing can be said before contracts are signed and things are perfectly in place.
Outside of singing, what do you do/like to do?
I spend a great amount of time doing art. Mostly digital and editing, but some days I just don't want to deal with technology and I draw and do ideas for illustrations by hand. I used to paint a lot, but that hobby became a little expensive. Much the same with photography. I spend more time creating art with other people's photography than my own. I've gotten quite cocky with the sewing machine too lately. I think I'm just fed up with clothes I buy in the shops and start altering them to my taste. It's a very therapeutic hobby, I must say. I also love gaming (RPG's). I'm a total gamer-nerd chick and definitely not ashamed of it. I don't have as much time lately to play but once I'm fed up with being social again – I'll get right back into it.
Well, I think you can guess which band's next album I'll be looking forward to the most… by a country mile! Thanks for chatting with us!
It's been great and thanks for the opportunity. Luckily for you, I like to talk a lot. I did my best not to make some lame nerdy jokes!
Links
Draconian : MySpace * Facebook * Twitter * Site
Heike Langhans : Facebook * Twitter
Label : Mute Records
Review by Luisa Mercier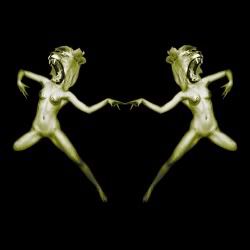 Beth Jeans Houghton is a 22 years old girl from Newcastle, who is now releasing her debut album with the monicker of Beth Jeans Houghton & The Hooves of Destiny. "Yours Truly, Cellophane Nose" is a very nice record that mixes rock, art pop, folk orchestral sounds and other influences, resulting in something that vaguely recalls Florence + The Machine but with much more attention and care as far as arrangements are concerned. The album starts with "Sweet Tooth Bird" : choirs, very nice orchestrations, vocals that only on the surface may seem raw, but that are able to reach interesting emotional heights. It was also shot a video for this track, sort of weird mini-movie; you can watch it on Mute channel on YouTube. "Humble Digs" is indie pop enriched by folk music, I'd say the influence of country music is quite evident, but does not annoy. It is very nice, indeed. The other single is "Dodecahedtron" which is slightly melancholic and baroque. I got a My Brightest Diamond feeling while listening to it. I especially loved the vocal work that shows how Beth has a certain versatility in switching from a range to the other. "Atlas" has a structure similar to the other songs in the record: choirs, orchestra, percussions and a progressive attitude that makes Beth really different from the other girls in the indie scene. "The Barely Skinny Bone Tree" and "Liliputt" are maybe the most effective songs on "Yours Truly, Cellophane Nose". The first one starts off quite slow, melancholic and gradually builds up til the final explosion, while the second starts with a delicate harp followed by strings, percussions and vocal lines which are really ethereal. "Veins" is the one closest to Florence Welch but with its own identity, "Franklin Benedict" has a nice string section and the closing track "Carousel", as the title says, is full of violin solos. This debut is really fascinating and a must for all indie lovers!
Rating – 70/100
Tracklist
Sweet Tooth Bird

Humble Digs

Dodecahedron

Atlas

Nightswimmer

The Barely Skinny Bone Tree

Liliputt

Veins

Franklin Benedict

Carousel
Line Up
Beth Jeans Houghton – Vocals, Guitar, Keyboard, Banjo, Loop Pedal

Dav Shiel – Drums, Cajon, Keyboard, Vocals, Steel Pan

Rory Gibson – Bass, Vocals

Findlay Macaskill – Violin, Vocals, Eyebrows

Blazey Blazey – Trumpet, Vocals, Guitar, Drums
Links
6 color styles available:

Style switcher only on this demo version. Theme styles can be changed from Options page.