Browsing articles tagged with " member"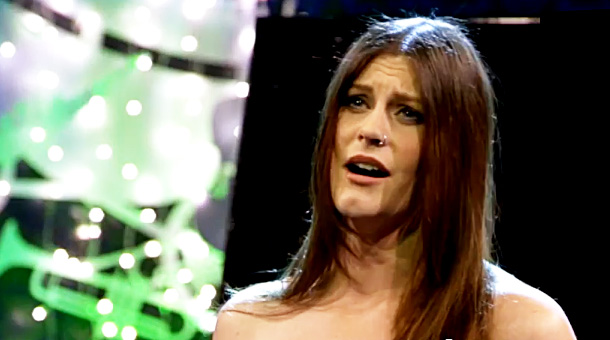 Nightwish singer Floor Jansen returned to her opera roots recently when she sang a Puccini piece on Dutch TV, broadcast earlier this week. View her performance below.
The vocalist, who joined Nightwish as a touring member following the departure of Anette Olzon last year, admits her appearance was arranged at short notice.
Jansen explains: "They invite pop singers to sing a classical piece, and even though I studied classical singing, I am not a opera singer full time. "It was great to do again. However I had no time to prepare a new aria. I wore a dress you would normally not see me wear!"
Interview by Connie Bach
Translated by Disgraced
Released on Wormholedeath, Mechanical God Creation's album "Cell XIII" is all finely-tuned fury. There is nothing but steelyaggression in MGC's brand of well-crafted death metal.
Hello, Lucy.
HI!!!
How did you come up with the dark topics "Cell XIII" discusses?
The album was born from the wish to express our inner, undeclared and huge anger. We have thought about how our society denies us the possibility to free and vent our inner rage, if not only in determinated occasions, as a matter of fact we're all chained to this concrete armchair, as was Prometheus to the mountain. From this analysis we've decided that it was time to let our voice be heard and represent this huge and inner force.
Would you say, that the combination of powerful lyrics and powerful instruments creates a kind of chemistry? Is it something that feeds itself, and you, on a deeper level?
 We tried to make music and lyrics fit together in order that no one of them abandoned each other. It was like we have tried to weave a well-stichted and tight texture that oozed all this aggressivness: the more the music was getting violent, the more my voice and my vocal lines were becoming aggressive and violent!
How did "Cell XIII" build on the foundations the band already had? How does it reflect where Mechanical God Creation wants to go?
"Cell XIII" helped us to find the perfect way to develop a composing process, a musical alchemy that sadly has been lost later on, since some members left the band. Of course the work done didn't lose its value: it's been the ground for a great, personal growth that will surely be useful for the nex record and that will help me going on on my musical road. Neither me nor the other MGC will stop, on the opposite we'll get better and better with the new line-up!
Specifically, what does the name "Cell XIII" refer to?
As I told you before, we started exploring the world of repressed anger where the body acts like a cage: the word "cell" comes from here and also the artwork leads to that concept, actually there's a person chained up in a cell. "XIII" has an esoteric and symbolic meaning, according to a worldwide tradition: it's an ambiguous number open to a myriad of interpratations and it represents the human duality, our inner and outer self.
Lucy, from your personal point of view, how does Mechanical God Creation differ from earlier projects you have worked on? Is there one thing you would bring from the past experience? If so, what?
MCG is a more personal project, I feel it mine more than the others because I created them out of nothing; I founded this band to try and create something new, something that was only mine in the world of extreme music. This is my band and not a band that I simply joined! The past lives on as a legacy in terms of songwriting and live experiences, professionality and a huge care for those details both musical and non-musical that gravitate around the band. Moreover, past experiences obviously help you to deal more easily with some situations and people and so they allow you to better understand what's going on. What nowadays is often denied is basic, without any doubt, to build an important project!
This question is for each member of MGC to offer input on. If each of you had one artist who influenced you the most, who would he/she be? Why would you choose them? Each of you probably has a different, individual answer.
Lucy: The first artist who inspired me the most was Cadaveria: I liked her vocal style a lot, very aggressive but with a feminine touch nevertheless.
Veon: There are surely three artists who had a big influence on me, which are Jaco Pastorius, Steve Di Giorgio and Jeroen Paul Thesseling. They have been in bands that I always loved. Another aspect that influenced me a lot stylistically and melodically has been the one of bringing bass-playing to a new level: not only a rythmic one but something inbetween rythmic melody and soloist parts.
If you all agreed upon a dream venue (even if it is one that does not exist yet), could you describe that ideal show, line-up, concert venue, etc.? This is sort of meant for those interested to get a sense of how you all can put this image together, by working with each other, the same way you do with a song.
Well, playing Wacken is always a dream. I've been there as a fan and I can say it's a very cool festival, so many people and interesting bands. But there are of course a lot of other places where we'd like to play. Our biggest love, so to say, are big open air festivals. Now I won't list here all the bands we'd like to share the stage with… way too many!
Another one for all of you to contribute to. What goes through your head the moment you finish a gig?
When the concert is over and you go downstage many emotions always linger on: in front of you there was someone who was there to listen to you, who was searching for something in you, who wanted to find a strong emotion in your music and therefore you hope you managed to communicate all that. You hope you played a great show, something unique because after all every gig is unique and unrepeatable and so wonderful! I take the chance to thank everyone who follows us and all those who support us in what we do!
What kind of people seem to connect with MGC's music the most? Why do you think it happens?
I think that MGC's music can appeal to several kinds of listeners: of course lovers of classic extreme metal as well as modern one and in general to whoever craves for a surge of adrenalin and wants to hear something fresh and new for some aspects. Last but not least, why not?, I think we might be appreciated also by those who want to rediscover the Italian death metal that in these last years gave us lots of nice surprises!
I have one final question, for each of you to answer, or work together on; its up to you. What is the fundamental purpose of music with darker themes?
It's surely a stylistical and harmonic research that at first is aimed to create confusion in the listener but then wants to give a sensation of rage, safety and personality to the songs, both lyrics-, musical- and vocal-wise. Nowadays being out of trends using darker themes isn't easy but there are some unxplored points of view that grant a new personality to his kind of music. It's impossible to say how through words, you have to communicate and feel it with music's own language.
Thanks to you, Lucy, and to everyone from Mechanical God Creation. I deeply appreciate everyone's contribution.
Thanks to you for this chance and for the nice and challenging questions! Hope to hear you again soon!
Links
Interview by Si Smith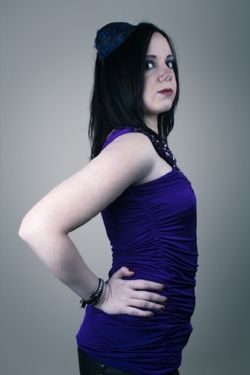 Flying the flag for Belgian metal are dedicated rockers Lovelorn, fronted by the attractively named Ladyhell (Kristell Lowagie). Melodic and passionate, they are determined to put Belgium in the centre of the map for quality metal. Links to groups such as Eve's Apple (formed by Lisa Middlehauve) only serve to solidify their rock and metal credentials. Femme Metal cornered singer Ladyhell to probe deeper….
First thanks for talking to us, and welcome from all at Femme Metal. It seems that are a lady with many faces, as you are also active in other ventures. I believe you and Corpus Christi met for "The Road to Consciousness" project in 2009. Could you tell us a little about this?
Corpus Christi had composed all the tracks of his concept album "The Road to Consciousness" and he was in search for male and female voices. He contacted me, I listened to the songs, and I said yes, I thought the tracks were great ! Later on, we met at the studio to record the songs, and we had lots of fun. We had the same view and ideas about music, we both had no band at that time and we decided to start Lovelorn.
You are also an active member in the Eve's Apple community. For those who are not yet aware, how does Eve's Apple work, and what role do you play in it?
Eve's Apple is a community founded by Lisa Middelhauve. The goal is to join together professional female singers, so they can communicate, but also to help newcomers. We also write articles, express our ideas, give some hints, interact with fans. We don't have a specific role, but we are all working in areas that we like or know better. For example, I'm better at promotion, so I'm trying to help as much as I can in that field.
Your singing career has taken many turns too, from Skeptical Minds to Valkyre to guest vocals for Psy'Aviah. Have you come to a place where you know for sure what your voice is and how it should sound for Lovelorn?
I learned that I cannot sing the songs composed by others. I really need to sing my own songs. Because I wrote it, they perfectly fit to my voice. I have a voice that fits rock, gothic rock, but certainly not symphonic metal ! Yes, I think I know exactly how it should sound.  In Lovelorn, I just make it sound like me, myself and I, and no one else !
Put simply Lovelorn tells stories about love; what is it about love that makes it great material for such a wide variety of songs do you think?
Love rules the world ! It's a subject that everybody can experience, you can tell 1000 different stories about love ! Love is not only about passion between a man and a woman, it can also be love for a god, for your family, for your friends, for nature…. anything is possible.
A track of yours was included on the World of Glass Compilation. Do you think these compilations are important in these days of downloading? Do you feel it gained you any publicity?
Yes I think it helped us, I'm sure some people who listened to the compilation discovered Lovelorn. There are still some people curious about new bands, new projects and who are not brainwashed by commercial radios and TV stations. As a band, we also made friends with other bands on the compilation, yes that compilation was not made for nothing !
I love your definition of your genre on your Facebook page – "alternative, rock, metal, electro, ambient" – well, that suitably walks over such a wide range of genres, how on earth do you decide what to record for any particular track when it comes to composing?
I can't find a good definition for our music style, that's why I've put so many !! ah ah !! If you have any opinion about which style we actually make, be my guest ! We don't decide, it just comes naturally. I couldn't really explain the composing process. Corpus Christi is coming with ideas, I put my voice on top then, we make adjustements. Sometimes we decide we want to put some electronic. It's usually because I want to give a mysterious « atmosphere ».
Why is it important to you that the band members have pseudonyms – the other two being "Hindi Rose" and "Gabriel Arkangel"?
It's not important ! It's just for the fun !! Playing music, going on stage … it's another part of you, another side of your everyday life, … so why not have other names ?

So the EP "An Intense Feeling of Attraction" is now out. The first track is "Save Me". There are a number of songs (even in the female-fronted genre) called "Save Me" or "Save Us". What do you think your song has to separate it from all the others?
I can't remember any other song called "Save Me" but I'm sure it exists, you're right. Everything has been done and said in music, it's kinda difficult to not repeat it, and find something new. This song "Save Me" could be different because of the voice, of the atmosphere, and the nice melody…
Track two is a more laid back affair with minimal backing at certain points. What is the story behind the title "Sagarmatha"?
It sounds different, because I came with the vocal line first, and Christi had to adapt behind it. I also composed all the electronic parts, to make it sound a bit oriental like the title of the song. "Sagarmatha" is sanskrit for "mother of the Earth". This song is about the damages we've done to the Earth and the end of the world.
"Cold" has quite a distinctive choral line. Where do all the ideas come from for a Lovelorn song – the musical and the lyrical ones? Do the ideas come from any specific band member or does everybody contribute?
It depends, it comes from me or from Corpus. We take what's best ! "Cold" is coming from me. I had that whole singing line since years in my head and I already tried to make it sound nice, but it was not possible, but Corpus made it possible! Thank you !!! During rehearsals, the other members become active for the live parts; they also suggest bass lines, drums, we are very open, the purpose is not our ego, but to make the best song possible.
The electronic side comes out more in the drumbeat to "Something Wrong".Was it difficult to agree on how this song should sound, or do all band members have a clear vision of where the band is going at any one time?
We are a new band; so I would lie if I'd say we have a clear vision of where we're going. We are new so we try things, if it works, that's great, if it doesn't we leave it behind. We are composing a lot and we are getting more and more certain about what we want to hear and what we don't, so that's good. "Something Wrong" has many fans, it's touching a broader audience and it still fits the EP, so we are more than happy with the result !
By contrast your final song "Little Princess Euphoria" has a more guitar driven basis, and sounds like it would be great live. Have you had many live performances of your material yet?
Live performances is the next step. We had some and we are still working on getting more. We are lucky and we have booking agencies that are helping us in the process. "Little Princess Euphoria" is great live, we experienced it on stage and every week at rehearsals, we have loads of fun with it !
Flight of the Valkyries festival is upcoming in the US for this year and I believe you have a chance to play there. How can readers vote for you if they would like to? What would it mean for Lovelorn to be a part of such a festival?
Yes, we were surprised to be on the list of the nominees, it was unexpected, so we are doing our best to get more chances to go there. People can vote for us here . It would be nice to be part of that fest, i don't know how big it is, but we will play if we are invited to !
Finally, thanks so much for talking to us. Have you any final words of wisdom for us? Anything from your heart?
No wise words, just enjoy life !
Links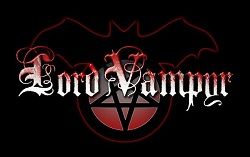 Interview by Erwin van Dijk
There are basically two branches of Black Metal: the ones with the corpse paint and great visual shows like Dimmu Borgir and Watain (but Watain is also very smelly) and the bands who compensate their lack of special effects with a cold self hatred like Skitliv and Shining. Lord Vampyr belongs to the first group. True to the genre everything seems to be shrouded in thick mists. For example, the website under construction and Myspace offers besides the names of the band members only very little info in Italian (a beautiful language but I do not speak it) but we have Wikipedia these days. Lord Vampyr (real name Alessandro Nunziati) used to be the singer of legendary Theatres des Vampires and Lord Vampyr is his solo project. This year the band has released their latest album called "Carpathian Tragedies".
Vampires seem to be very popular these days in the cinema. Do you watch those movies yourself?
Yes, but I'm not satisfied, cause all seem like a teen-movies and not a serious movies on the world of vampires.
Most of us know you as the singer from Theatres des Vampires. But have you been active in other bands before Theatres des Vampires?
Sure, my first band was Sepolcum (then called VII Arcano). Sepolcum was one of the first death metal band from Rome, then the band became more gothic style close to Tiamat, Paradise Lost, My Dying Bride.
You have been active in the music business for many years now. What are the high lights so far and what is still on your "to do" list?
If you ask me what I want to do yet, well many things. Probably put on a short project with our keyboard player, something pop-rock like 30 Seconds to Mars, The Rasmus and Muse.
As said before, you used to be the singer of Theatres des Vampires. Why did you left the band?
There were many personal problems and then on the music. Continue reading »
Label : Rare Breed Records
Review by Tony Cannella
From New Zealand comes Alpine Fault. Their debut album "Iraena's Ashes" combines old school and modern metal riffs with a pretty unique concept lyrically. Alpine Fault was formed in 2005 and their music can be described as power metal combined with symphonic metal. The story told within the lyrics of "Iraena's Ashes" is based on true events. Iraena Asher was an Auckland (New Zealand) school teacher who disappeared under mysterious circumstances in 2004 and that is what makes up the concept of "Iraena's Ashes". The songs flow nicely, starting with the power metal of the opening track "Into the Night". Lead vocalist Nadia Vanek has a wide vocal range that occasionally hits operatic territory. Guitarist Antony Royle contributes male vocals, and also on display is a full-time violinist (Yvette Van Wyk). Next is the 8-minute "Above the Storm". This is the longest song and packs plenty of power with a very infectious stop/start guitar riff being played throughout. There are some albums that have great music, and others that you pay more attention to the lyrics, "Iraena's Ashes" is one of those album where the lyrics really make an impression and help paint a picture of the story in your head. "I'll See You Soon" starts off acoustically as the mournful violin joins in and gives it a sad quality; the song eventually gets heavier, but for the most part it is a mid-tempo number and one of the best songs on "Iraena's Ashes". Other highlights include: "Requiem", "The Watcher Beneath" and "Under a Dying Sky". With "Iraena's Ashes", Alpine Fault set out to do something ambitious for a debut and it succeeds on most levels. The musicianship is excellent, Nadia Vanek's voice is enchanting and the songs are first rate.
Rating – 95/100
Tracklist
Into the Night

Above the Storm

I'll See You Soon

Mourning Has Broken (Sleep)

Requiem

The Watcher Beneath

Severance

March of the Tides (Palladio)

Under a Dying Sky
Line Up
Nadia Vanek – Vocals

Antony Royale – Vocals & Guitar

Yvette Van Wyk – Violin

Kalen Austin – Guitars

Ben Trappitt – Bass

Daniel O'Brien – Drums
Links
MySpace * ReverbNation * Facebook * Site
6 color styles available:

Style switcher only on this demo version. Theme styles can be changed from Options page.