Browsing articles tagged with " metallica"
Interview by Lindz Riot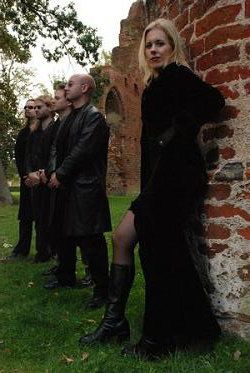 Finally after all the years of hard work the gothic metal band from Germany known as Katanga is getting the recognition they deserve. Recently signed to Massacre Records and also with the release of their debut "Moonchild" they are making waves in the femme metal community. Their lead singer Doreen has joined us here at Femme Metal to talk more about Katanga and their current successes.
Hello Doreen! I first off want to say thank you so much for doing this Interview with us at Femme Metal Webzine!
Not at all, it's a pleasure.
So congratulations on signing with Massacre Records! How has that experience been for you and the band so far?
Thank you, we are all very pleased with our new record deal. Cooperation has been as perfect as we expected of the good name of Massacre Records up to now.
How and when did Katanga form? When did you join the band?
Katanga was formed in 1999, I joined in 2004 and thus completed the current line-up.
For you CD "Moonchild" what was recording the album like? Did you enjoy being in the studio?
To work on our album "Moonchild" with producer Ron Thiele was a blast! I enjoyed being in the studio very much. Working with Ron was very professional indeed. Being in Berlin gave me the opportunity of enjoying some of Germany's finest nightlife into the bargain [smirks].
How has the response to your music been since you have released "Moonchild"?
There are mixed responses, to tell you the truth, but that is to be expected. We always try to challenge expectations and try to avoid being pigeon holed easily – that can put some people off, others are delighted.
What is the live experience like for your band? How would you describe the chemistry on stage?
We tend to be very energetic on stage, it is really a metal performance crossed with some nods toward the Gothic scene. We try to communicate to the people in the audience how much fun we have with our music – we live and die to play live.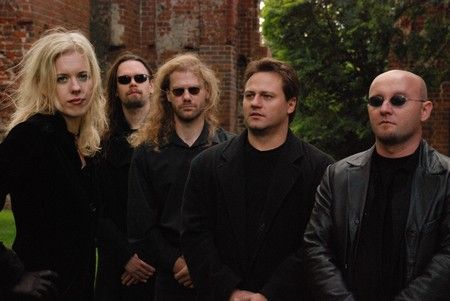 Who are some of the bands biggest influences? Who writes the music and lyrics in Katanga?
Katanga's music is almost exclusively written by our lead-singer Mario, the lyrics are a collaborative effort between him and myself. We tend to be heavily influenced by bands like Metallica, The 69 Eyes and Depeche Mode.
At what age did you start singing?
I started singing in 2001 for real; I tend not to count the nursery rhymes and stuff, though I have been known to sing prior to 2001.
What vocal training do you have?
I started working with a vocal coach in 2001 and have been working with her ever since.
Do you play any instruments?
Yes, I recently started to play the guitar.
Who are some of your favourite singers and artists?
Personally, I like bands like Dreadful Shadows, Zeraphine, Evanescence and The Cranberries.
What can we expect for the future of Katanga? What are some of your plans for the future of the band?
Our immediate future will be devoted to promoting our new material from "Moonchild", we have some shows in Northern Germany in April and Mai; stay tuned to our online presences for more news.
Thanks so much for your time and for doing this interview! I wish you all the best in the future of Katanga.
Thank you very much, I thoroughly enjoyed it.
Links

Interview by Danny Robertson
Come and check out Decadence, the female-fronted thrashers from Stockholm, Sweden. We talk to frontwoman Kitty Saric about the band's history, and the forthcoming new album "Chargepoint".
Who first influenced you to become a vocalist?
That was and still is James Hetfield of Metallica. He has always been my biggest inspiration as a vocalist, guitarist, lyricist and song writer. I'm a great fan of Metallica and that is the band (as for many others!) that got me into Metal. Hetfield's unique style got me into guitar playing at first, and later singing, especially when I started developing my Thrash influenced vocals. Ever since that time, Thrash has always been closest to my heart.
How and when did the band first get together?
I'll try to summarize the (long!) story for you. Finding and founding what later became Decadence all happened quite unexpectedly. It started in Stockholm, Sweden in 2003. By coincidence I found a nameless band looking for a growling vocalist and, being a guitarist and clean Thrash vocalist only at the time, I came to the audition by impulse. My decision to turn to growling is something that still puzzles me but that choice is something I do not regret because it lead me to the beginning of Decadence. The reaction at the audition was very positive and so it all began. Kenneth Lantz often followed me to band practices and after a while he ended up being the session bass player. The rest of the story is too long to be summarized here but as most of you probably know, since that time, I and Kenneth Lantz are the only members left from that original line-up and we have been working with the development of our sound since then as the main song writers. Our current line-up is: (me) Metallic Kitty (extreme vocals), Kenneth Lantz (guitar), Joakim Antman (bass) and Erik Röjås (drums). Here you have some of the story as an introduction at least!
Did it take long for you to get noticed by labels, and a wider audience?
Just before "3rd Stage of Decay" was released for the first time in 2006 (it has been released in three editions in total) I started the work with Decadence' own label HTI Records. Due to that, "3rd Stage of Decay" could be released and classified as a real album and it (and the band itself) also gained the exposure it needed to reach out to other labels and more people. HTI Records licenses Decadence' music to other labels and is our support in everything. In 2007 we were contacted by the Japanese label Spiritual Beast with whom we also cooperate with now with the release of "Chargepoint" on October 14, 2009. So, in 2007 HTI Records and Spiritual Beast joined forces and so the 2nd edition of "3rd Stage of Decay" (with a guest appearance by Chris Astley of Xentrix) was unleashed. Earache Records heard the rumors and soon after that we were on the 2007 new school Thrash compilation "Thrashing Like a Maniac". The next year 2008 followed with Massacre Records hearing about us from Maurice Swinkels (Legion of The Damned) and so the final and 3rd edition of "3rd Stage of Decay" was released worldwide. During these years, we've had a tight underground audience that has been following us ever since the start and that feels really amazing.
How long did it take to write and record "Chargepoint"?
The whole music material was written back in 2007 actually! We planned to have this album released in the fall of 2008 but since the unexpected re-release of "3rd Stage of Decay" by Massacre Records appeared, the release was postponed and we apologize to all our fans who have been waiting since 2006 (!) and our first release of "3rd Stage of Decay" for it. Massacre Records insisted on re-releasing "3rd Stage of Decay" first so we decided to prolong the whole recording part because of all sudden extra-time on our hands. So, we started recording the drums the summer of 2007, took it easy and stretched out with the guitars and bass and finally finished off by recording the vocals in the beginning of 2009. Since Spiritual Beast had its next fitting release period in October it was decided and set during this summer.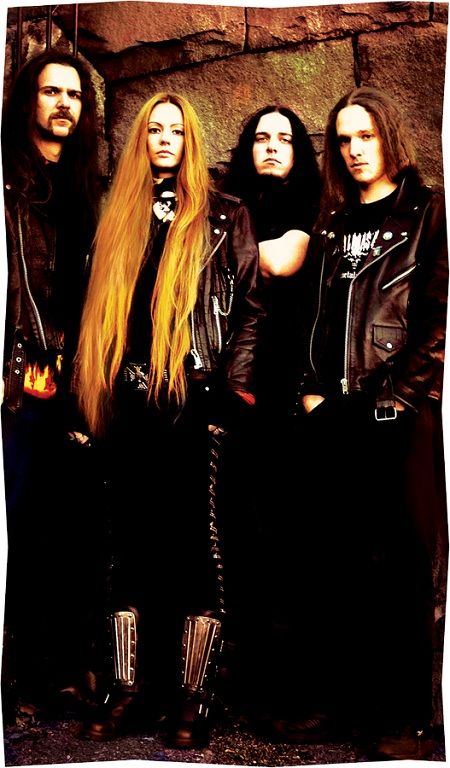 What are the main themes and influences behind the tracks on the new album?
Our influences have not changed during the years! Being the main song writers both I and Kenneth Lantz always have Thrash as our main influence and inspiration in music. In Decadence we're always experimenting with speed, rhythms, sharp vocals and technicality whilst being influenced by bands such as Death, Kreator, Testament, Metallica etc. Talking about the main theme on "Chargepoint" then, I'd describe it with words such as strength, power and intensity. One review called the new tracks and the album as a whole: "charged" – I like that!
You recently shot your first video – how did that go? Will there be more videos in the future?
It sure has been a long road to find the right people to help us out, the right song, the right plot, the right everything to finally put it into action and record our first video. We never wanted to record something rushed just to have a video because in that case our live clips are much more representative and good to watch to see (not only hear) the band behind the music. The whole recording process behind this video was great though and we had lots of fun while recording it as well! I want and hope to have more Decadence videos in the future!
Which track will the video be released for, and when/where can people expect to see it?
The chosen track is still a secret! The video is however planned to be unleashed sometime before the actual release on YouTube to give you all a preview of what there is to expect of "Chargepoint". We chose a track that we feel has lots of Thrash and Melodic Death twisted together in a Melodic Thrash Metal whirl as we like it!
What have been your career high points so far?
That's a hard question because since my life is so entwined with this band, so I have both general band career high points as well as moments that I consider personally memorable, but to mention some general ones I'd say Decadence's first big (insane and self-financed) show in Stockholm, Sweden 2005, that was our first big breakthrough that will forever remain in my memory and also all behind the scene work that was put into making that show possible. It was also a high point when we began our cooperation with Spiritual Beast/Universal in 2007 that could help us continue growing on something that has always been an entirely lonely process.
Who are your favourite current bands? Anyone you'd like to recommend?
Good old 80's Bay Area Thrash…always! To mention a bunch of bands that I recommend in general I can say: Metallica, Death, Kreator, Testament, Megadeth, Volbeat, Vader, Cannibal Corpse, Behemoth, Annihilator, Tankard, Sodom, Pantera, Slayer, Exodus and so on. As you can see, the list mostly consists of various Thrash Metal bands with some exceptions.
Whereabouts will you be touring in coming months?
The schedule for our upcoming shows is not complete yet so the best way to stay updated is through our official website www.decadence.se for news and upcoming events. Decadence works without an agency so to be able to keep up I take bigger things like this to plan one at a time – video, album, gigs! Good strategy isn't it!
Any last messages for people?
Most of you readers out there already know what to expect of my final line! I'll end it by saying something that I say quite often to myself: If there's a will, there's a way.
Links
MySpace * Facebook * Twitter * Site
Latest Multimedia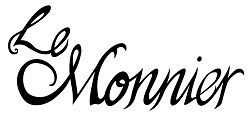 Interview by Robin Stryker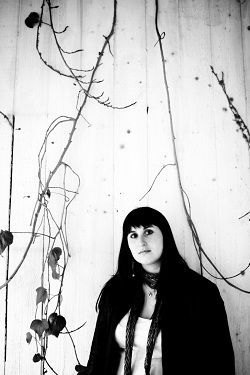 With a sound described as the love child of James Hetfield (Metallica) and Cristina Scabbia (Lacuna Coil), UK hard rock trio Le Monnier brings you their no-holds-barred debut release, "Cynic Sister". Vocalist/bassist Alexandra Le Monnier sat down with Femme Metal to tell us all about this new band. Read on to learn more.
Hi, Alex, we're glad you could join us today! Please start off by telling us about Le Monnier's new album, "Cynic Sister".
"Cynic Sister" has 14 tracks that bring you a new taste of gratifying hard rock and metal. It's jammed with spine tingling riffs, with our classical influence creeping in here and there. I think "Cynic Sister" is a great insight of what's to come from us.
If you were forced to label the album's sound, how would you describe it?
I would say it's a fair assumption that we would fall in to the categories of rock and metal. The sound is a combination of hard rock and metal influences.
What has the response to "Cynic Sister" been like?
We have had nothing but excellent comments and support from fans and reviewers, which has made the task of continuing to publicise this album all the more easier. "Cynic Sister" was born last year in Matt Keil's (guitarist) spare bedroom. We wanted this album to be the foundation we build upon; therefore, we experimented and learnt a lot in that time about each other and our music.
Which bands have influenced Le Monnier's sound the most?
Individually it's all very different. For the band's sound, we definitely have been affected by bands such as Alice In Chains, Avenged Sevenfold, Metallica, Alter Bridge, Paramore … the list goes on.
Are there any themes running that run through "Cynic Sister"?
Mainly frustration with dramatic experiences, also anger, loss, struggle and love.
As I understand it, your educational background is in Fine Arts with an emphasis on abstract paintings and photography. Which was your first love — music or painting or something else?
My first love would have to be music, as there are countless videos of me as a child singing. Music and films were a big part of my family life that we shared together. I didn't realise my creativeness for art until my secondary school art teacher encouraged me. I chose to pursue art at school simply because I enjoying the freedom within that subject. I have learnt several instruments and never enjoyed the regimented theory approach to music. I wanted to keep both in my life, but in very different ways. I find art as well as music extremely therapeutic, and when I went onto university I knew by day I wanted to do art and by night I wanted to be a musician — entwining the two together when I can, for example, the album art work etc.
Would you tell us a bit about your musical background? Did you have a watershed moment when you knew that being a musician was the right path for you?
14 was definitely the age when I said I want to do this. When I was younger, I was first influenced by a lot of female singers my father introduced me to such as Nina Simone, The Pretenders, Whitney Houston and especially Tracy Chapman, one of my favourites to this day. My dad informed me that many of the greats began in choirs. I soon joined a church choir at age 10 which gave me a lot of vocal confidence, and I started to learn piano and the double bass. At age 13, my sister's rock/grunge influence easily took hold of me, and I soon went on to begging my parents that Christmas for a bass guitar which resulted with me ending the choir and then orchestra so that I could start gigging at age 14 in rocks bands.
How did you and Matt Keil (guitarist) meet?
It was through the other two members of the earlier line up of Le Monnier. We needed a drummer, and I was introduced to Matt at the back of a Fiat Punto on the way to his audition. I made up my mind, and he joined us that night. We got on well, and it is a friendship that has grown stronger over the past few years. When the band broke up in 2007, I had no doubt who I wanted to continue working with. Although I was not expecting Matt to give up the drums, thankfully he wanted to become the guitarist. I knew Matt was a great pianist but had no idea about his love for the guitar. We started the new Le Monnier with writing "Drawing the Line" which is on the album "Cynic Sister".
In its early days, Le Monnier had the standard four-person set up, and Matt was the drummer. Why did you shift to a trio, with Matt on guitar and Terry Anderson on drums?
Matt felt restricted behind the drums. He wanted to be a bigger part of the song-writing process and tofeed his melodic side more than that rhythmical side. So we needed to find someone who loved hitting the shit out of the drums with a committed attitude. With the help of our local rehearsal studio, we quickly got a call from Terry Anderson, a drummer who had just moved to town. Terry Anderson brought that raw energy which helped complete the metal direction we wanted. This helped open a new perspective for us, and we began to move faster towards what we wanted.
What do you think readers would be most surprised to learn about each of you?
I ashamedly can't whistle; Terry's middle name might as well be OCD; and Matt unbelievably only discovered pasta a couple years ago.
Are any members of Le Monnier involved in side projects, musical or otherwise?
We are all 100% focused on Le Monnier right now, but Matt has film scoring interests which he dabbles in here and there.
What is the band's song-writing process like? Is it a team effort, or is there one mastermind behind the music?
We all take part in the writing process by communicating where we think the song is going and what it needs. We all bring songs to the table and work away at serving each. I usually write the lyrics and vocals. The material I write usually happens on my couch, I find a riff on my bass and then the vocal melody follows. I have no strict pattern, as it can be vice versa writing the lyrics/melody first and the music comes after. I love bringing it to life with the band finalising its structure and ornamenting it, really animating it and making it more powerful.
Your paintings and photographs combines beauty and fear in what is often an unsettling way. Is that same duality also reflected in your lyrics?
I use my artwork and my songs as a way to deal with whatever problems I am dealing with and record it in my own way. Once that piece is made, it really helps to move on having expressed it in a creative way. Whatever happened, something still good and beautiful came out of it. I naturally find links in life to things that are completely unrelated, and I enjoy trying to express that in my own weird and wonderful way. It is extremely therapeutic and more rewarding when it is appreciated by others.
Which song has the most personal meaning to you and why?
They all tell a different story but I would like to discuss "Ballet", the first ballad on the album. I had only ever known one grandparent and that was my French grandmother. When she past away, it was very sad even though I had not been very close to her for a long time. I wrote this song about her. She could barely speak, but her last words to me and my family were "c'est long" (translation "it's long"), meaning she was tired of waiting for the pain and her life to end. This was a very different take on death that I had not yet experienced. Whether you have time to say goodbye or not, it didn't make it any easier.
If you could go back in time, what would one thing would you change and what would you leave the same?
I am not as nostalgic as I used to be, as it can be slippery slope to overcome. I couldn't and wouldn't change anything as I have grown into who I am because of the love, losses and pain that I have felt. I try to concentrate on what is in front of me and look to the future.
What's Le Monnier biggest dream?
To play to sold-out arenas, write amazing life changing albums and be one of the biggest female fronted rock metal bands in the world.
Which was your most memorable live show, either good or bad?
Halloween 2009, we played to massive rockin' crowd that we had never played to before, and all our merchandise including our albums flew out the door. We all had a great time and it felt great having such a lively audience.
What are Le Monnier's plans for the future?
We are currently promoting/touring "Cynic Sister" and we are looking for a booking agent. We plan to have our next album material ready by the end of 2010. We hope to tour "Cynic Sister" at festivals and get our music video broadcasted everywhere.
Thank you so much, Alex! Do you have any parting words for your fans at Femme Metal?
Make sure you check out our music video for our new single "Black Dot". You can also hear "Cynic Sister" in its entirety and also get free tracks out our official site (links below). Thanks for your support, and hopefully see you out on the road soon!
Latest Multimedia
Links
Label : Napalm Records
Review by Tony Cannella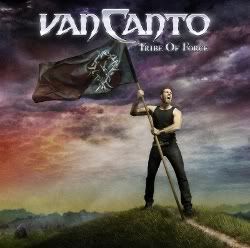 A Cappella metal. What a concept! Some may think that the idea of playing metal, minus the screaming guitars and bass would be corny and just wouldn't fit in to what most people consider to be metal. The German metal band Van Canto are sure to change that perception with their third album "Tribe of Force". The band includes five lead vocalists and one drummer, with one of the vocalists Stefan Schmidt performing the "guitar solos" with his voice. Stylistically Van Canto are not all that far removed from bands like Sonata Arctica or Stratovarius and other power metal bands.You would think that with a playing time of 55-minutes that Van Canto would have a hard time keeping things interesting throughout "Tribe of Force", but the band manages to do so. From the opening track "Lost Forever" you know that you are in for a different metal experience. The band do a good job in mixing the different vocal styles together to create an interesting sound. Each singer is given a chance to take the lead on the CD with female singer Inga, taking center stage on one of the main highlights "One to Ten". Two cover songs are included, the first one is a rendition of the Grave Digger track "Rebellion" featuring Grave Digger frontman Chris Boltendahl joining in on vocals for a great version of the track. The second cover song is a big surprise as the band absolutely tear into the Metallica classic "Master of Puppets". They do an excellent job on this track, I know it's hard to imagine "Master of Puppets" done a Cappella style, but they really do the track justice. Other highlights include: "I Am Human", "My Voice", "Last Night of the Kings" and "Hearted". The drummer Bastian also proves to be a valuable member of the band as he provides a thunderous beat that really helps drive the CD. The limited edition version comes with a DVD of the band live at the 2008 Wacken Open-Air festival and also includes some behind the scenes footage, making it an essential release for fans of the band. With "Tribe of Force", Van Canto prove that they are more than just a novelty act. The songs on "Tribe of Force" pack a pretty strong punch and they are heavy, even without the use of actual musical instruments. All hail Van Canto!
Rating – 95/100
Tracklist
Lost Forever

To Sing a Metal Song

One to Ten

I Am Human

My Voice

Rebellion

Last Night of the Kings

Tribe of Force

Water.Fire.Heaven.Earth

Master of Puppets

Magic Taborea

Hearted

Frodo's Dream
Line Up
Inga Scharf – Lead Vocals

Philip Dennis Schunke (Sly) – Lead Vocals

Ross Thompson - Higher Rakkatakka Vocals

Stefan Schmidt – Lead & Lower Rakkatakka Vocals

Ingo Sterzinger (Ike) – Doom & Bass Vocals

Bastian Emig – Drums & Percussion
Links
6 color styles available:

Style switcher only on this demo version. Theme styles can be changed from Options page.