Browsing articles tagged with " modern"
Label : IAMSOUND/Atlantic Records
Review by Luisa Mercier
Charli XCX (aka Charlotte Aitchison) is another rising indie pop artist coming from the UK, a country that has given us a long strip of stars, first of them coming to my mind is Marina & The Diamonds that Charli is supporting on tour. The album is a powerful mix of modern sounds, '80s synths, industrial, darkwave that clearly reminded me of The Birthday Massacre. Listen to the keyboards in the opener (and single) "Nuclear Seasons" to see what I mean. "You (Ha Ha Ha)" is another single that was launched some time ago and sounds like something you might hear on a mainstream radio, but at the same time it is totally unfit for people who like normal chart-hitting pop. "Take My Hand" is my personal favourite thanks to the epic synth in the background, so the danceable feeling is matched to a more symphonic sound. Continue reading »
The Sevendust, Coal Chamber, Lacuna Coil tour rolled into Hartford, Connecticut and played to a packed and crazy house at the Webster Theater.
Just joining the tour is the California based experimental metal band Stolen Babies. This is a name that I have heard only in passing, and this would be my first time experiencing them live or otherwise. Their sound is a quite interesting mix of metal, cabaret, polka – how's that for an eclectic mixture? The band is fronted by female vocalist Dominique Persi; she also plays the accordion throughout most of their set. Yep, you read that right, a metal band with a full time accordion player. They played for about 30-minutes and I was impressed with their performance. They had a lot of energy and they eventually won over the crowd. Most impressive was the drummer Gil Sharone – he attacked his kit non-stop through the whole set. They are touring in support of their new album "Naught" – which I'm told is "pretty good." Continue reading »
Interview by Alessandra Cognetta
Many of you remember her from Kamelot, but Elize Ryd's career is so rich I don't think I can fit it all in an introduction. A talented artist and a really sweet person, she agreed to answer some questions for us about her latest effort with the unique band Amaranthe (their second album "The Nexus" will be in stores by the end of March, check their website to see when it's out in your country!). You're going to read about music, dancing, Eurovision (?!), bizarre incidents on tour and, well, I'm not gonna spoil anything, see for yourselves, you're in for a truly interesting interview!
Hello and welcome once again to Femme Metal, Elize! It's always a pleasure to have you with us at the 'zine. Amaranthe's new album is about to be released, and the band has a world live premiere planned for March 2nd in Sweden. How's it going with the preparations for the event? What can we expect to see?
Thank you very much, it's a pleasure for me as well! It is going great, on Monday the band are gonna meet in Gothenburg and start to rehears of the new songs. You will see Amaranthe in full and healthy shape, we all have had some time of the scene so it will be extremely fun to gather again and start this what will be an extremely intense and exiting year
Greek death metallers SEDUCE THE HEAVEN announce they have signed with Japanese label SPINNING RECORDS and confirm the official release date of a Japanese edition of their debut album "Field Of Dreams" which is scheduled on February 20th 2013. The Japanese edition of the album is going to include two new, unreleased songs as bonus tracks which are also going to be available as digital singles. Continue reading »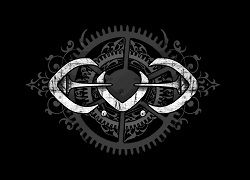 Interview by Matteo Bussotti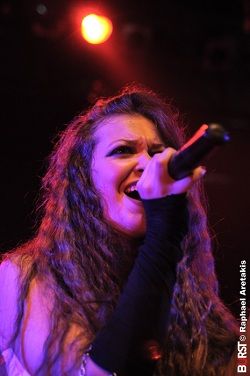 It is quite an unusual thing to have a band from Greece, but, let me say this: if all the bands from Greece are like E.V.E, I'll certainly listen to more Greek music from now on! E.V.E.'s lyrics are really deep and beautiful, and their sound is unique, special. Their goal is to share a message, a vision about contemporary world. We asked their singer and founder, Vicky, what's the idea at the base of this band, and what Greece has to offer to the world's musical landscape. Needless to say, her answers were complete, meaningful, and really interesting to read.
So, let's start this interview!
Hello Vicky, and welcome to Femme Metal! We are very proud of having you here! First of all: you started the E.V.E. project with the intention of speaking about modern society, people and their interactions, don't you? Why did you feel this need? Can you recall a moment, an event which triggered your determination to create E.V.E.?
Hello Matteo, thank you for the interview. I'm more than happy to answer your questions. The whole idea regarding the main concept of E.V.E. was something that progressed throughout the last 3-4 years. Why modern society and human interactions, you ask? Simply because the need to write about every intriguing event that I've witnessed is like an instinct to me. Especially, during the latest happenings in Greece, and many other countries as well. It's not easy to turn your back on them and pretend that we live in fairytale world.
I think that your band's name is a very peculiar one! Equations Vanquish Equality…what is the story behind that? Were there maybe some other names that you had to choose from?
Good question. To tell you the truth I was trying to find a proper name for the project for over a year. It's difficult to reflect your music's content in just 2-3 words. In the end, I decided that I'd prefer a one-word abbreviation as its name. So once the word EVE came to mind, almost instantly the 3 words "Equations Vanquish Equality" completed the puzzle.
As for what they stand for, it is indeed peculiar and complex. For me, the word "Equations" is connected to technological and scientific progress. Without mathematical equations none of these would have been achieved. The following words, "Vanquish Equality" describe the other side of the matter: even though progress is greatly valued the means in which it's acquired sometimes damage humanity itself, bringing an imbalance to the world. Overall though, I really think that it's a personal matter seeing that many people have given me their own valid interpretation. Continue reading »
6 color styles available:

Style switcher only on this demo version. Theme styles can be changed from Options page.