Browsing articles tagged with " modern"
Independent Release
Review by Tony Cannella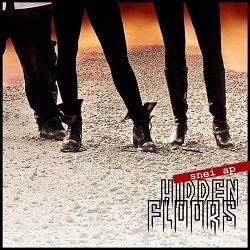 Snei Ap is an Alternative/Modern Metal all female band from Italy. Their debut EP is entitled, "Hidden Floors" and features 6-songs and 27-minutes worth of fine metal with heavy guitar riffs and biting rhythms.
The opening riff to "Feed My Rage" is an attention grabber and it maintains its pace the whole way through. "Falling in My Rebirth" is eerily haunting and is a definite favorite. "A New Choice" begins with a slower tempo before diving into a monster guitar and picking up the pace. "Spiral of Silence" and "Game Over" stays the course before an acoustic version of the aforementioned "Falling In My Rebirth" wraps things up neatly. Continue reading »
Label: Nuclear Blast
Review by Tony Cannella
Floor Jansen is simply awesome! With her voice and vocal range she can sing and adapt to any style of music, from opera, to power metal, to symphonic metal, to lush ballads, she can do it all. On her second album with ReVamp, entitled, "Wild Card", Floor and her band displays their unique ability to present a multi-tiered diversified album all within a decidedly metal framework. The band is on fire and there are not too many singers better than Floor Jansen, in any genre – not just metal.
I hate to put all of the credit for ReVamp on Floor. She is obviously the focal point and most recognizable name in the band, but she is surrounded by world class musicians who contribute plenty with their talent and writing skills. It is definitely a band effort and not a Floor Jansen solo album. Continue reading »
Label: Abandon Records
Review by Tony Cannella
From Germany, the band A Million Miles blends modern metal with thrash metal even a little doom thrown in there to create a fine metal debut with an absolutely heavy – yet melodic – in-your-face approach.
A Million Miles is fronted by the raspy, no nonsense vocals of Mona Miluski. The classic metal riff of the opener "Death and Beyond" gives way to some rapid fire riffing as the song settles into a melodic metal groove. Mona Miluski's vocals are simply huge throughout the 44-minutes of playing time on "What's Left Behind". Next up is some more relentless riffing that kicks off "Broken" as the song gallops to the finish line and proves to be a huge highlight. Continue reading »
Interview by Tony Cannella
The Swedish metal band Amaranthe recently embarked on their first ever U.S. tour. They are out supporting their excellent sophomore effort "The Nexus" and have been showing the North American fans what they are capable of in a live setting. Recently, prior to their excellent show in Cambridge, Mass. two of the vocalists Elize Ryd and Jake E. were kind enough to take some time following their sound check to discuss a variety of topics. Here is what they had to say…
The new album, "The Nexus" is out. Could you please tell us a little about it?
Elize: Yeah, this is Amaranthe's second album actually. The first one was not released here in the United States, so for the U.S. market this is our first album. There's a lot more of everything, I think, we took it a step further compared to the first one. We have a lot of different kinds of songs. We are very satisfied with the results and it's been received very well. Continue reading »
Label: Bakerteam Records
Review by Tony Cannella
From Italy, the thrash/death metal band Pursuing the End formed in 2010 and released their debut EP "Dawn of Expiation" in 2011. In 2012 the band released the three song single "Withering". Following some key line-up changes including the addition of new female vocalist Chiara Manese (formerly of Astral Dive and Inside Mankind) Pursuing the End returns with their debut full-length "The Symmetry of Scorn". To put it simply, Pursuing the End is back with a vengeance.
The opener "The Last Truth" begins with a techno style intro before evolving into a chaotic thrash tune with chugging guitars and lightning fast riffs. Male vocalist Giacomo Benamati offers some mean sounding vocals whilst Chiara Manese puts her own angelic stamp to the songs. This is only the beginning and from there Pursuing the End maintains a high level of intensity throughout the disc. Continue reading »
6 color styles available:

Style switcher only on this demo version. Theme styles can be changed from Options page.