Browsing articles tagged with " nancy"
Label: Frontiers Records
Review by Tony Cannella
For me, Heart is one of those bands that it is easy to forget how many great songs they have. Everyone knows "Barracuda", "Crazy on You", "Straight On", etc. etc. but the fact is, their catalogue is so much stronger that just the classics that get played on the radio. With their new live album "Fanatic Live…" the band shines a light on some of their lesser known songs in addition to the aforementioned classics. And oh yeah, there is Ann Wilson who continues to have one of the best voices in all of rock.
From the opening of "Fanatic" taken from their last studio album and then "Magazine's" "Heartless" the band takes the listener on a rock and roll journey that spans their career. Continue reading »
Label: Legacy Recordings/Sony
Review by Tony Cannella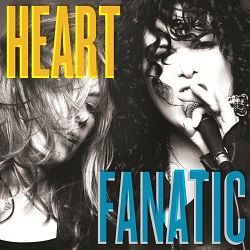 The Wilson sisters have been an iconic rock band for many years and they are one the first female fronted rock bands to have any lasting success. They have recently been inducted into the Rock and Roll Hall of Fame – which is a pretty cool thing, even the Rock Hall lost all credibility years ago, it is still good to see Heart get the recognition they deserve. On their new album "Fanatic", Heart remains as vital and inspired as ever.
It is good to see all of the endearing traits that Heart possesses are still in-tact. Vocalist Ann Wilson still is one of the most elite vocalists on the planet and is complimented by guitarist Nancy Wilson throughout the 13-track disc – which sounds very much like classic Heart with a few different nuances thrown in to keep things fresh and relevant. Heart balances classic rockers like "Fanatic" and "Dear Old America" with more ethereal softer type of songs like their duet with Sarah McClachlin on the song "Walkin' Good" and "Corduroy Road". Continue reading »

Interview by Si Smith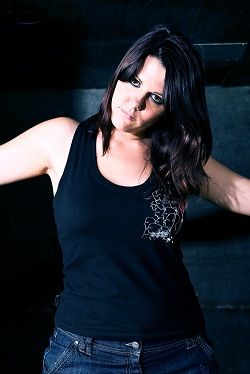 It was clear from their early days that Benighted Soul were no average French symphonic metal band. From the Greek lettering on their 2005 bonus DVD demo "Catharsis" to their themes of mythology and history, Benighted Soul trod a unique path among the female fronted bands of the time. With their 2008 EP "Anesidora" we were introduced to a character who would now become the central focus of the band's repertoire. I spoke to vocalist Geraldine Gadaut to discover more about this mysterious character….. First, may I welcome you to Femme Metal and thank you for talking to us. Also congratulations to Jeyms and we hope that little Eleonore is doing well and is in good health.

Thank you very much, it's my pleasure ! Little Eleonore is fine. She's beautiful. She's a very calm and quiet baby.

Beginning in around 2002, that is quite a long life for any band already! How did you guys come up with the theme and style of the band?
It's been a long way ! In the early days of the band, we had no real intention of becoming professional musicians. We just wanted to make a few gigs and have fun ! We did covers of Nightwish or After Forever and our own compositions were naturally influenced by these bands. The line-up changed in 2006 : our goals and aims changed too. We felt Benighted Soul could bring something to the metal scene but we had a lot of work to do. We had to find our own style. We released a first EP, "Anesidora", in 2008. We see it as a first step towards finding our way through music. This is the reason why we released an EP rather than an album. Our style was not fully grown at this time. With "Start from Scratch", we manage to make a mix between rock, progressive and symphonic metal. But this is not something absolutely still. Our style will keep evolving with the next album.

For those who don't know, would you like to tell our readers a little about Anesidora, and where she comes from?
When recording the EP "Anesidora", we were thinking about the artwork and which ideas it should convey. The lyrics were about childhood, innocence, but there was also this song, "Anesidora", about Pandora's box. The artists who were working on the artwork came to us with the idea of a little doll, symbolizing childhood and its disappointments, leaned against a chest that can be either a simple toy box or pandora's box. This little doll with red hair and wings on her back immediately won our hearts. She took the name of the character Anesidora and became sort of a mascot for the band. The fans definitely love her ! So we decided that she would be the main character of our first album.

The new album brings Anesidora right up to date as she progresses through her life in this world. How much of Anesidora do you see in yourself? After all you act her role very convincingly!
I could say she's like a part of myself that would have come out of me and made its own way. So, she's not really me and I'm not really her. She's more of a symbol. But yes, just like her, I hated growing up. I found it difficult. So I use my own experience to describe what Anesidora must face. But she doesn't react like I would. She's a bit more rebellious, I think
I see from your performance video reports that you take your singing very seriously, yet in between takes you are also a happy person with a great sense of humour. How do you reconcile these two "sides" of yourself? Do you adopt a different persona when you perform the tracks live or record? If so, who is the "real" Geraldine?……
I think these two sides are part of me. But of course, I'm not quite the same on stage and in everyday life. On stage and even in studio, there's a big part of acting that requires attention, that's why I can look very serious. I think acting is about deepening something that's already in you, a part of you that you don't necessarily show in everyday life. If I acted in normal life like I do on stage, I guess people would think I'm really crazy…
The little doll figure appears on your album covers and also in your videos. Who originally came up with the little doll characterisation? Will the doll grow up as Anesidora does?
As I said earlier, we were looking for a symbol of innocence, of childhood…That's how we adopted this little rag doll. But with "Start from Scratch", we wanted her to change, to evolve. We asked Eliran Kantor, who designed the artwork, to give her a makeover. He changed her into a doll that looks more like a little girl. We like this idea of Anesidora evolving, maybe growing, album after album.
The album is rich in orchestration and also involves a 20-person choir. How different was it having to work with all these different people? (or did you not have anything to do with them in the recording process….)
The recording of the choir was amazing. We had to find 20 people motivated enough to rehearse twice a week during 3 months. It didn't seem easy. But we found them and it was incredible to see how much these people got involved in the project. They were all very different : music students, family members, friends… But they all saw how important this was. Above all things, we really, really had fun together !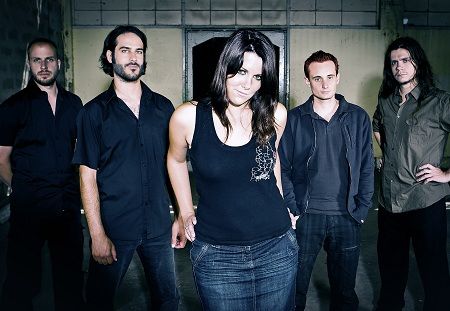 It is clear from a brief listen that despite the "symphonic" tag, there is no denying that there are some heavy riffs lurking in the mix there (for example at the beginning of "Wrong Reflection")! What are your influences as a singer and are there any specific bands that inspire you?
We don't see Benighted Soul only as a symphonic metal band anymore. As you said, there are other aspects in our music : rock, progressive metal, even pop music ! As a singer, my influences changed. When I start singing, I was a big fan of Tarja Turunen and Floor Jansen although they are really different singers. I'm still fond of their works today but I have also new influences : Pain of Salvation, Ram-Zet… bands that are not inevitably considered as "symphonic metal".
Although this album is more rooted in the "real" world, there are still traces of the old Greek mythological themes (eg the last song "No Warning Signs" speaks of the Fates and the thread of life they weave and cut). Will we see more from the Greek themes in the future, or do you think that with this album the band has really "turned a corner" into a new direction?
As you said, the band has really turned a corner. On our old demo "Catharsis", our music was really rooted in epic metal. The way I sang was very lyrical. The mythological themes suited very well then. But "Start from Scratch" brought more rock in our music and I felt the need to write something more real, maybe more personal and stop hiding behind mythological character. It doesn't mean there won't be hints about mythology anymore. I like this subject and I think it suits very well the choir's parts.
You guys have really gone to town promoting this new album. 15 reviews and 7 interviews just in February! How has the reception of the new album been in general? It would seem quite positive, achieving such scores as 5/5, 18/20 and 8.5/10! First place in the metal charts by FNAC!
We worked a lot on this album. So of course, we were hoping it would be well received by people and reviewers. But the reception exceeds what we were expecting. What was amazing is that reviewers really understood our music, they understood the sense of our work. There was no gap between what we had intended to do and what was perceived.
Even more exciting for you, you went on tour supporting Tarja Turunen on the "What Lies Beneath" tour in 2010! What was that like? Have you any secret stories to tell for us?
This was really exciting for me considering that in 2001, I decided to take singing lessons when I first heard Tarja sing on "Dead Boy's Poem". So this tour was amazing for two reasons : 1 – Being in a band supporting one of my favorite singer ; 2 – The audience ! It was incredible ! We were very happy to meet people who like our music in these countries. Any secret story ? An interesting music video was shot by Pat from Kells in the tour bus but I can't tell if you'll get the chance to see it one day !
You begin your "Start from Scratch" tour soon. What can fans expect from this tour? Any surprises in the live gigs? Will Anesidora herself make an appearance?
As its name suggests, we will mainly perform song from the album "Start from Scratch" but there will be a few surprises for people who know the older songs. Anesidora will follow us on tour, of course !

Most of your appearances are in France. Has your music travelled well across the borders? Do you get any messages from far-off fans? (this one [me] is in the UK, which is not so far…).
As we live in France, it was important for us to meet our fans in our own country. That's why most of our gigs takes place there. However, our music has already travelled. We have fans in Italy since we've performed there with Tarja on tour. But on social networks, we receive messages from South America, United States, Netherlands, Greece, Hungary…In the future, we really would like to be more active on the European scene.
I think that when the album is over, the listener has been taken through a large range of emotions from our little doll-girl. How do you guys relax after shows or recording sessions? It must be quite draining for you!!

It's a 70 minutes- album and yes, I think when it's over, the listener must be a little bit lost ! When we perform the songs live, it's always very intense. But when we leave the stage, there's always lots of things to do and we don't have the opportunity to relax until late in the night ! First, we like to meet our fans after the show so we always take the time to speak with everyone who wants to. Then, we have to pack up everything, instruments, hardware, clothes… When all is over, we can get in the car and, at last, sit down ! But there's always lots of things to talk about : how was the show, the audience, who did the wrong note during one or other song…Once in the car, we're still in the live energy, in the effervescence. But after an hour or so, everyone begin to relax and fall asleep, exhausted !
Finally, a great big thank you from all at Femme Metal for talking to us and we wish Anesidora a full and exciting time as she tours the country!! Any final message for the readers?
Thank you for your interest, thank you for your support !
Links
MySpace * ReverbNation * Facebook * Twitter * Site
Latest Multimedia

Interview by Tony Cannella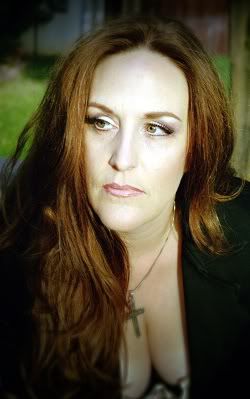 Lana Lane has long been known as the Queen of Symphonic Rock. Looking at and listening to her expansive musical catalog, it is a title that is well deserved. With her new album "El Dorado Hotel" (her first in five years), Lana returns with perhaps her strongest album yet. Recently she was kind enough to answer some questions, and here is what she had to say.
Hi Lana. I really love the new album "El Dorado Hotel". How would you describe the material on the album?
First of all, thank you for the kind words. It's nice to hear that you are enjoying the music :). I would describe the album as a musical journey through the eyes of a tired and lonely musician, but with an optimistic view of life, love and creating your own destiny.
It has been five years since your last album. Do you consider this a comeback?
Not really. Even though I haven't released a Lana Lane album in 4 years, I have still stayed busy touring and appearing on other artists productions during that time. So I never "went away", I just took some well earned "time off" from my "Lana Lane" duties 😉
Why the gap between albums?
Well, as an artist you hope that you have something new to say with each new recording. This became harder and harder to do, especially when during some years, there were two or more new Lana Lane records released. I only want to release top-quality, sincerely crafted albums rather than release an album just to release "something". After nearly 15 years of working non-stop, it was time for a little sabbatical. I wanted a break from the pressure and time to gather some perspective on my craft. And on top of that, my father was very ill and I wanted to spend as much time as I could with him. And I am very happy that I did, because he passed away in December of 2010.
Do you feel that the time in-between albums helped you sort of re-charge your batteries?
I think so. I also went through some very personal things during the "time in-between" albums which gave me a new perspective on life in general. My father had recently died; I was coming up on a milestone birthday and feeling my own mortality. All those feelings and emotions help the creative process of writing songs and give lyrics more weight.
Are there any songs on "El Dorado Hotel" that stand out for you?
Yes. "El Dorado" was the first song I wrote after my father died, so it holds quite a lot of meaning for me. This song is the one that encompasses all the feelings and emotions that are found throughout the album.
Lyrically, what inspired you on "El Dorado Hotel"?
The inspiration comes from the many years of touring and struggling that Erik and I have done for our music. We wouldn't change our choices for the world, but that doesn't mean that following our dreams hasn't come at a cost. The life of a musician is not nearly as glamorous as people perceive. It's like any other professional career — it takes a lot of hard work and sacrifice, and even then you may never achieve your goals.
Erik Norlander has produced and played on every one of your albums. What do you like about him as a producer and musician?
Yes, Erik has been my producer since the beginning – 17 years! I think the most important thing to me is the trust that we have in each other and in each other's choices. As a producer, he immerses himself completely into the project that he is working on and develops a vision that is uniquely for that project. As a keyboard player/musician, he allows the songs to dictate the mood and enhances the vibe with his wonderful sounds and musical ability.
You have always been surrounded by some of the best musicians in rock. Who are some of the musicians that appeared on "El Dorado Hotel", and how do you feel about their contributions?
I met Freddy DeMarco and Mark Matthews during the recording of Erik's solo project "The Galactic Collective". I then had the opportunity to play with them both during some live shows in 2011 when I sang with the band. After having played with the guys and getting to know them, I knew that they should be a part of this project as well. Then for John Payne, Erik has been playing with John for about 5 years now and they tour together with Jay Schellen and Bruce Bouillet as Asia Featuring John Payne. During the years of touring, John and Jay have become dear friends of ours and now that Bruce Bouillet is the guitarist, he has become a friend as well. Guthrie Govan has also been a guitarist in Asia Featuring John Payne and I feel very honored that his unbelievable talent is featured on this record. And finally for Mark McCrite, Neil Citron and Don Schiff, all three of them have been on so many Lana Lane albums going all the way back to 1995. They are lifelong friends and it has been great to work with them through all these years. I believe that the contributions that these generous, talented and willing musicians made gave each song on "El Dorado Hotel" a unique sound and feeling that would not be present otherwise.
There are always so many musicians performing on your albums. Was this new album easy or difficult to assemble?
Erik is a very organized and focused producer and does a lot of prep work for albums. I don't recall him having much difficulty assembling everyone as they were all very gracious with their time. Technology is also a wonderful thing — if someone was out of the town, or the country in Guthrie's case, the tracks were recorded elsewhere and sent to us. This makes the recording logistics MUCH easier

When can we expect to see you on tour?
No solid plans yet for a tour — but I NEVER say never. In the music business, anything is possible and can happen in the blink of an eye.
It is hard to believe that it has been 17-years since your debut "Love Is An Illusion". What has been your biggest highlight so far?
I think my biggest highlight would have to be my first big tour in Japan and performing the song "Love Is An Illusion". All the fans were singing along with me. It was such a rush to experience that! I was honored and humbled by the beautiful country of Japan and the wonderful fans — it is a time of my life I will never forget.
Looking back, what is your opinion of that debut today?
"Love Is An Illusion" is one of my favorite albums. I find that the body of work has a charm to it that I love — it was also my first release, which holds a special place in my heart.
Which one musician has most inspired you and why?
The musician that has inspired me most is Ann Wilson from Heart. She (and Nancy) blazed a trail for women fronted rock bands in a male dominated business. We've come a long way, and I feel that Ann and Nancy endured the growing pains for all of us. The music business is still dominated by men, but we have a much bigger voice now…no pun intended 😉
You've released two great DVDs, "Storybook" and "10th anniversary". Are there any plans to do another one in the future?
Erik and I have been talking about it, but no firm plans have been made yet.
Your music has been put in many different genres (symphonic rock, prog, etc.). Where do you think your music best fits?
I consider my music to be "Symphonic Rock" and I feel that this body of work sits squarely in that category. I'm proud to be known as the "Queen of Symphonic Rock"

Thank you very much for taking the time to answer these questions Lana. Congratulations on a fantastic new album. Is there anything you would like to add to conclude this interview? The final words are yours.
Many thanks to you Tony, and to the fans for all their support over the last 17 years — it has been a FANTASTIC ride and I wouldn't be here today if it wasn't for you! Recording and releasing records is a very vulnerable thing — and sometimes it's hard to sit back and enjoy what you've created. But "El Dorado Hotel" has been an absolute joy for Erik and I from the writing stage all the way through the recording stage. I hope the listeners will find the music inspiring and that they will take the musical journey with open minds and hearts — they may be surprised at what they find out about themselves

Links
MySpace * ReverbNation * Site
Label : Savage Prod/Season of Mist
Review by Tony Cannella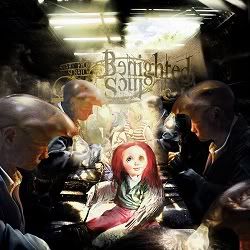 France's Benighted Soul began their career in 2003. After the bands inception, they released two Demos, a DVD and an EP. Now Benighted Soul has released their debut full-length album, "Start From Scratch". Their style a bit Symphonic mixed with elements of Progressive and even some slower doomy stuff. Some great crunchy riffs and technical, intricate musicianship are the order of the day for this bunch. The band is fronted by the powerful vocals of Géraldine Gadaut. Bassist Jean-Gabriel Bocciarelli also supplied some male vocals throughout this 11-song 70-minute disc. "Start from Scratch" is a concept album centered around the little doll Anesidora and features a 20-person choir. Benighted Soul is able to switch from a heavy approach to a more melodic style throughout the CD, with Geraldine Gadaut providing some impactful vocals. "Broken Icons" gets things off to a bombastic start and the duel male/female vocals are put on full display on this very strong opener. The male vocals are full-on aggressive in style and create a big contrast with the sweet, semi-operatic tone brought forth by Geraldine. The 8-minute "Edge of Insanity" is next. Throughout the course of "Start from Scratch", Benighted Soul offers up several songs in the 7-8 minute range. By changing tempos and speeds, Benighted Soul are able to insure that "Start from Scratch" rarely gets boring, to the contrary, despite its length there is plenty here that kept me interested for the duration. Highlights include: "Ticking Time Bomb" (my favorite track), "Wrong Reflection", "Stranger Me", "My So Called Friend" and the album closer "No Warning Signs". "Start from Scratch" is a strong debut and an album that should resonate with fans of Power and Prog metal. I am almost positive that we will be hearing much more from this talented French band in the future.
Rating – 90/100
Tracklist
Broken Icons

Edge of Insanity

Wrong Reflection

Falling in the Sin

Ticking Time Bomb

Stranger Me

The Seventh Cage

Evergreen

Start from Scratch

My So Called Friend

No Warning Signs
Line Up
Géraldine Gadaut – Vocals

Jérémie Heyms – Guitars

Jean-Gabriel Bocciarelli – Bass & Vocals

Flavien Morel – Keyboards & Orchestration

Nicolas Adam – Drums
Links
MySpace * ReverbNation * Facebook * Twitter * Site
6 color styles available:

Style switcher only on this demo version. Theme styles can be changed from Options page.