Browsing articles tagged with " norway"
 Label: Napalm Records
Review by Warren Mayocchi
Sirenia have been active for fourteen years, and with their current female vocalist – Ailyn – for seven years. It is somewhat fitting then that Sirenia have a penchant for numbers, and in particular the number seven. To date there have been songs featuring seven on most albums: "At Sixes and Sevens" from "At Sixes and Sevens"; "Seven Sirens and a Silver Tear" from "An Elixir for Existence"; "Seven Keys and Nine Doors" from "Nine Destinies and a Downfall"; "Winterborn 77″, "The Seventh Summer" and "Sirens of the Seven Seas" from "The 13th Floor"; and finally "Seven Widows Weep" from "Perils of the Deep Blue". The only album to miss out on a seven song has been "The Enigma of Life". The latest album from Sirenia has no song with seven in the title, but the album is called "The Seventh Life Path", and you will find that seven is a major feature of the album cover art. According to the artist – Gyula Havancsák – in the album art there are 7 ravens, 7 snakes, 7 roses and the scythe is a shaped like a number 7. Continue reading »
Interview by Alessandra Cognetta and Miriam C.
We have been following Sirenia for quite a few years, here at Femme Metal. We saw the Norwegian band created by mastermind Morten Veland evolve and develop their own style, which, in time, made them a distinguished protagonist of the symphonic metal scene. The recent release of their 7th full-length album "The Seventh Life Path", which provides further evidence of Sirenia's worth, gave us the chance to ask frontwoman Ailyn a few questions about the album and its conception, giving us an overview of the band's own path throughout the years.
Hello and welcome to Femme Metal, Ailyn! It's a pleasure to have us with you. Let's start with the big news: Sirenia's upcoming album "The Seventh Life Path" will be released almost all over the world on the 8th May, so how are you and the band living this important moment of your careers? What has been the reception so far?
In this moment, we are very excited! The album is finally released so we are looking forward to see people's reaction. Continue reading »
Label: Frontiers Records
Review by Tony Cannella
The Norwegian queen of melodic hard rock is back with her 4th album. Issa Oversveen released her debut album "Sign of Angels" in 2010 and through her following albums and up to her latest release ("Crossfire") she has continued to carve out a steady path in the world of melodic hard rock.
Like her previous releases Issa presents an album full of up-tempo, melody heavy melodic hard rock. I have always said that it is impossible to be angry or in a bad mood while listening to Issa's music and "Crossfire" is no different. The bouncy "Crossfire" gets us off to a high energy start that is heavy on the vocal harmonies that will stick in your head long after you've heard it for the first time. "New Horizon" is next and instantly became a huge favorite. Continue reading »

Interview by Arianna G.
In a busy environment which is the current metal scene, SAVN is the revelation band of 2014. Norwegian and dedicated to the gothic and folk melodies and led by the blonde vocalist Carmen Elise Espenæs, Stig Johansen and Anders Thue (ex-The Sins of Thy Beloved), SAVN's debut album gained positive acclaims from all over the world in a very short time. For the occasion, we exchanged a few chats with the singer of this combo and, in this in-depth interview, she tells us something about this new musical experience, without forgetting her "mother-band", Midnattsol, anticipating some juicy news as well.
Savn is a band formed by Stig and Anders. After so many years in which there were so many rumours concerning their band, The Sins of Thy Beloved, they've decided to start a new music project. Would you like to give a short biography of this new band for those people who are still not familiar with you?
Yes, of course! It was actually Stig that started the band, he felt that he needed something new in his life, something new in the music front, because nothing happened with The Sins of Thy Beloved, it was too silent for him, Continue reading »
Label: CDR Records/Intergroove
Review by Tony Cannella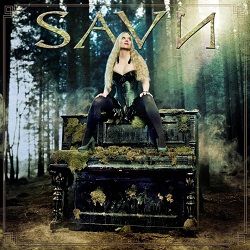 Every so often, I'll think, "Whatever happened to The Sins of Thy Beloved?" They released two albums in the late 90s and early 2000 ("Perpetual Desolation" is such a great record). Well now, two of its former members Stig Johansen and Anders Thue have resurfaced with lead vocalist Carmen Elise Espenæs from Midnattsol in a Gothic metal super group of sorts called SAVN. With that mystery now solved let's get to the matter of their self-titled debut album, shall we?
It remains to be seen if SAVN is just a one off project or will continue to record down the road. Whatever the case, this debut a pretty cool album, with some heavy and emotional moments featured within its 50-minutes of musical playing time. Continue reading »
6 color styles available:

Style switcher only on this demo version. Theme styles can be changed from Options page.