Browsing articles tagged with " norway"
Label: Frontiers Records
Review by Tony Cannella
The Norwegian queen of melodic hard rock is back with her 4th album. Issa Oversveen released her debut album "Sign of Angels" in 2010 and through her following albums and up to her latest release ("Crossfire") she has continued to carve out a steady path in the world of melodic hard rock.
Like her previous releases Issa presents an album full of up-tempo, melody heavy melodic hard rock. I have always said that it is impossible to be angry or in a bad mood while listening to Issa's music and "Crossfire" is no different. The bouncy "Crossfire" gets us off to a high energy start that is heavy on the vocal harmonies that will stick in your head long after you've heard it for the first time. "New Horizon" is next and instantly became a huge favorite. Continue reading »

Interview by Arianna G.
In a busy environment which is the current metal scene, SAVN is the revelation band of 2014. Norwegian and dedicated to the gothic and folk melodies and led by the blonde vocalist Carmen Elise Espenæs, Stig Johansen and Anders Thue (ex-The Sins of Thy Beloved), SAVN's debut album gained positive acclaims from all over the world in a very short time. For the occasion, we exchanged a few chats with the singer of this combo and, in this in-depth interview, she tells us something about this new musical experience, without forgetting her "mother-band", Midnattsol, anticipating some juicy news as well.
Savn is a band formed by Stig and Anders. After so many years in which there were so many rumours concerning their band, The Sins of Thy Beloved, they've decided to start a new music project. Would you like to give a short biography of this new band for those people who are still not familiar with you?
Yes, of course! It was actually Stig that started the band, he felt that he needed something new in his life, something new in the music front, because nothing happened with The Sins of Thy Beloved, it was too silent for him, Continue reading »
Label: CDR Records/Intergroove
Review by Tony Cannella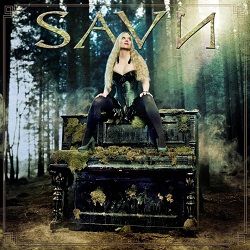 Every so often, I'll think, "Whatever happened to The Sins of Thy Beloved?" They released two albums in the late 90s and early 2000 ("Perpetual Desolation" is such a great record). Well now, two of its former members Stig Johansen and Anders Thue have resurfaced with lead vocalist Carmen Elise Espenæs from Midnattsol in a Gothic metal super group of sorts called SAVN. With that mystery now solved let's get to the matter of their self-titled debut album, shall we?
It remains to be seen if SAVN is just a one off project or will continue to record down the road. Whatever the case, this debut a pretty cool album, with some heavy and emotional moments featured within its 50-minutes of musical playing time. Continue reading »

Article by Miriam C. & Alessandra Cognetta
Sometimes people (in particular some metalheads – now don't take it personally, I'm just stating the obvious) confuse quality with commercial: at the end of the day that doesn't mean anything, 'cause if you think about it , if the music doesn't sell the artist doesn't earn. Having said that, it's now time to take a step forward and discover with me Margaret Berger, this fantastic Norwegian artist whose grace and soaring vocals are enchanting the European audience. Margaret expressed her interest in singing since she was a child, but except for some experiences in a band called Slim Void and in her local gospel choir we must wait till 2004 with her participation in the second Norwegian edition of "Idol". Although Margaret gained the second place, "Idol" was her breakthrough. In the same year, Berger released her debut "Chameleon", a Top 4 album that mixed pop, R&B and rock, that showed diversity but still denoted acerbity. It's with her second album, released 2 years later, "Pretty Scary Silver Fairy", that we can fully appreciate her musical evolution into a more electronic/synthpop sound.
Label: Control Freak Kitten Records
Review by Luisa Mercier
Norwegian Rebekka Karijord produced one of my favourite 2012 record, "We Become Ourselves" with her dark and elegant atmospheres. She is multi talented since she also is an actress and with this new project, we also discover her ability as soundtrack composer. The record is largely piano and organ based, mostly instrumental with some vocals. Unlike her previous albums, the voice here is not used to sing actual lyrics, but it is used as an instrument mixing perfectly with the other arrangements.
I found particularly striking the opener "Prologue", with its crescendo full of drama. It is wonderfully written. I would not recommend this record to start listening to her musical production, but the people who lover her more "pop" vein will also lover her as arranger and composer. Continue reading »
6 color styles available:

Style switcher only on this demo version. Theme styles can be changed from Options page.