Browsing articles tagged with " of"
Independent Release
Review by Tony Cannella
From New York City, Flames of Fury were formed in 2009 and in such a short amount of time they have already shared the stage with some great metal bands, for example: Doro, Rhapsody of Fire, Stryper and Kill Devil Hill just to name a few. They have a reputation for being a killer live band, well, with the release of this 5-song EP, they are sure to gain the reputation for being a killer band, period.
From the opener "Take It to the Limit", Flames of Fury hit the ground running. They combine elements of classic metal with modern day power metal. The songs sound fresh and are brimming with confidence. In vocalist Angelica Vargas the band has a singer who delivers with all of the power and passion of Ronnie James Dio or Doro Pesch. Continue reading »
Label: Napalm Records
Review by Tony Cannella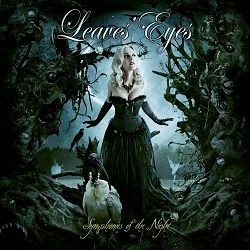 "Symphonies of the Night" is the title of the 4th full-length album from the German/Norwegian metal band Leaves' Eyes. The band – which is led by the duel vocals of Liv Kristine and her husband, Atrocity main man Alex Krull – has forged a pretty consistent and solid career for themselves based on an excellent body of work and "Symphonies of the Night" certainly rates right up there with their previous efforts.
The opening number "Hell to the Heavens" is simply awesome and my favorite track. What a great way to start things. Liv Kristine and Alexander Krull continue to be one of the most unique vocal tandems who use the "beauty and the beast" technique. Continue reading »

Interview by Laura Medina
MindMaze is an American traditional, progressive, power metal band from Pennsylvania. They released their debut album,"Mask of Lies" that is out now and has received promising reviews to date. They are making a name for themselves by touring with acts like Saxon and providing fans with an experience that will keep fans coming back for more. I got the chance to chat with Sarah Teets, lead female vocalist of MindMaze about her first memory of performing, MindMaze's debut album "Mask of Lies", her musical influences, and more.
Hi Sarah, welcome to Femme Metal Webzine. I hope you are doing well today and thank you for allowing us to interview you today.
Hello!
Sarah, you have been singing since your childhood. What was your very first memory of performing on-stage?
Continue reading »
Label: S7S Records
Review by Tony Cannella
On their 2010 debut album "Perversion LTD.", the Dutch melodic Gothic metal band Sin7sinS hit the mark with an impressive debut, now with their sophomore album "Carnival of No Tomorrow", the band has reached another gear.
The ominous intro to the opening track "Brimstone Ignition" gives way to some slamming guitars as the clean vocals of Lotus joins in. She is accompanied by some male vocals on this opening track. In addition to Lotus – who is the focal point of the band – she is surrounded by some solid musicians. The next track "Sick of You" is brimming with attitude and a killer melody; this instantly became a favorite. "Pornstar Love" keeps things on course and has an electronic vibe to it on parts of the song. Continue reading »
Independent Release
Review by Tony Cannella
My head is spinning. There is so much killer music coming out these days, particularly in the Femme Metal genre that sometimes it is hard to stay on top of everything. Not that I'm complaining, mind you. I love doing this so much and I love finding about new bands that I would never get to hear otherwise. It doesn't suck… One of the latest bands to come my way is the Symphonic metal band Beyond God from the Netherlands.
"Destination Darkness" is the opening track and begins with some pretty cool, melancholic orchestration and the soprano vocals of Cynthia Knoch come in and helps turn this song into a solid opener. The mid-tempo and melodic "Memories" is quite… um, memorable. Continue reading »
6 color styles available:

Style switcher only on this demo version. Theme styles can be changed from Options page.