Browsing articles tagged with " of"
Label: Season of Mist
Review by Warren Mayocchi
Funeral doom is not a metal genre to which I typically listen, and that is what has been created by Shape of Despair. Perhaps the dark, slow and heavy genre is an acquired taste, or maybe it requires the right mood – but most music sounds wrong if you are not in a responsive personal place. On "Monotony Fields" the band have created an album of cinematic dirge. To be clear, that was a compliment. There are many elements contributing to the expansive music created by the band which keep the sound thoughtful even without any lead vocal. This is clearly demonstrated on the opening track -  "Reaching the Innermost" – where we only hear the sound of the band for the first 5 minutes after which the lead vocal begins. Continue reading »

Interview by Ary G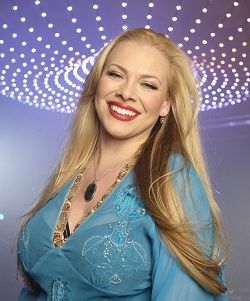 The corresponding commitments seem not to stop the couple (only in professional terms) Kiske/Somerville, that, after almost five years of silence, comes back with the second album of this project. On the occasion of the upcoming release of "City of Heroes", we had the opportunity to have a chat with the beautiful Amanda Somerville about future plans and this brand new, highly anticipated record.
Ciao Amanda

Ary's here! Welcome back to Femme Metal.net! First of all, I'd like to congratulate with you and your husband and I'd like to congratulate for the baby!

We've discovered that you'll be a great mom so congrats, really I guess you're super happy!
Ciao Ary! Thank you for having me once again.

And thank you for the well wishes! Yes, Sander and I are very happy. Continue reading »
Label: Frontiers Records
Review by Warren Mayocchi
Amanda Somerville and Michael Kiske have released a collaboration with a heroic title and similarly themed lyrical content. This is a fun album – combine a couple of great voices with a solid backing band, give them songs of heroism and inspiration, then listen to the powerful output. The music on the album stays with the rock sound displayed in the couple of videos that have been created for "City of Heroes" and "Walk on Water". To my ears, the latter is the best track on the album.
There is variety in the sound of the band with regular musical highlights from all musicians. Mostly the album has an energetic melodic hard rock approach. Continue reading »
Independent Release
Review by Mimi Robins
I really enjoyed this EP by Italy's modern metal band End of Skyline – I played it on repeat while packing up my room and preparing for a move, to the extent that I've almost got them memorized. My first impression of the songs and the vocals in particular is that they'd be the perfect to sing along to in a car.
Though I wasn't sure what to expect, I found "Protection" to be heavier than expected – it just hit me in the face. I was grinning immediately, and replayed the first track a few times because I enjoyed it so much. It's been stuck in my head for ages. "Reproach" is still moderately heavy, and I love the guitar lines in it. The bridge is stuck in my head and I love it. "Alone" is a little more low-key, and there's something about it that just makes me feel very still and quiet. Continue reading »
Interview by Miriam C.
If right now there'll be any competition for the 2015 Best Release, the winner in my personal rank might be, without any doubt, Germany's Beyond the Black. Although they don't re-invent the genre, their debut album "Songs of Love and Death" sounds so fresh and enthralling. So, it was the right occasion for chat with the singer Jennifer Haben and to get more infos about BTB and their next plans.
Hi Jennifer, first of all welcome to Femme Metal Webzine and thank you so much for dedicating some of your time to us. How are you?
No problem! I'm fine, thank you.

For our readers that still don't know your fantastic band would you like to introduce us how Beyond the Black is born?
Beyond the Black was born last year. At the beginning of 2014, I wrote some songs with the producers of Elephant Music that progressed into that sound we have now. Later, I met my bandmates through Hannes of Kissin' Dynamite. We hit it off immediately, both on a professional and personal level. After that, it didn't take long until we were standing in the rehearsal room together, practicing our songs. Continue reading »
6 color styles available:

Style switcher only on this demo version. Theme styles can be changed from Options page.