Browsing articles tagged with " of"
Independent Release
Review by Tony Cannella
Back in my formative metal years, I "discovered" many a great band because of their album cover art (that's how I first got into Iron Maiden – Derek Riggs ruled) which – back then – was the first impression you would get from a band. Of course cool album cover art means nothing if the music on the album isn't very good (and I've had those experiences as well). This brings me to the Canadian band Unleash the Archers. Their cover artwork immediately piqued my interest; fortunately the music contained on the CD came through big time – and then some, actually they exceeded all of my expectations – this band is a whole lot more than just cool cover art (although their artwork is excellent). On their latest release "Demons of the Astrowaste", Unleash the Archers deliver over an hour's worth of melodic power heavy metal, combined with thrash metal riffs and some intense Mark Janssen from Epica type screams courtesy of Brayden Dyzckowski (he also plays guitar). Continue reading »
Label: Nuclear Blast
Review by Tony Cannella
On his debut solo album, Nightwish keyboardist Tuomas Holopainen has created a concept album based around the graphic novel "The Life and Times of Scrooge McDuck"! According to Mr. Holopainen this project was 14 years in the making and written during his downtime from Nightwish.
Granted Scrooge McDuck may not be a very metal topic to tackle, but "The Life and Times…" isn't really a metal album… so there! "…Scrooge" features 10-songs and almost an hour worth of symphonic, classically influenced music with folk and cinematic influences as well – with the album artwork done by the book's author Don Rosa. There are several guest musicians, including four singers: Alan Reid, Johanna Kurkela, Johanna Iivanainen & Tony Kakko. Continue reading »
質問文翻訳 Yoshiaki Miyasaka
Voice of Divine Childrenは、いつ誕生したのですか?
さぁ?!(笑) 

私が加入したのは結成後だから分からないけれど、
2年前くらいかな。
VODCに加入する前から、Asamiさんは既にGuardian Hackerのシンガーとして知られていました。このバンドへは、どのようにして加入が決まったのでしょう? Continue reading »
Independent Release
Review by Tony Cannella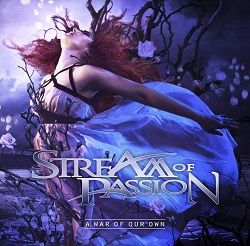 Originally starting out in 2005 as an Arjen Lucassen project, the band Stream of Passion has evolved into so much more. With their 4th album, "A War of Our Own" that evolution continues…
"A War of Our Own" is a 13-song, 1 hour musical journey that showcases what fans have grown to love about this symphonic/gothic metal band. Not the least of which are the dramatic and beautiful vocals of Marcela Bovio. Each song is meticulously crafted and is nice additions to the growing SOP catalogue. The opening track "Monster" is like a monster out of the gate. The song features some huge riffs at the beginning but shifts tempos throughout and is just plain stunning – and the best song. You have to love Marcela's voice; she's much underrated, in my opinion. Continue reading »
Label: Starwave Records
Review by Tony Cannella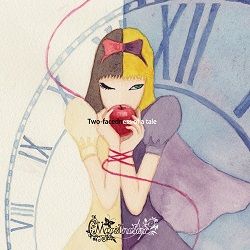 From Japan, Magistina Saga may not be widely known just yet, but on their 3rd mini-album, "Two-Facedness of a Tale" the band looks to change that, and they just may.
With "Two-Facedness…" Magistina Saga took what was cool about their previous EP and expanded upon it. The band continues to sing in Japanese, and the songs are well written and crafted. Overall their sound is not too different but the bands progression is obvious. Also, the vocals of Iori and the musical ability of this band are magical and epic.
I have already reviewed their previous EP "The Tone of Temptation" and with "Two-Facedness of a Tale", Magistina Saga has improved and progressed quite a bit. Continue reading »
6 color styles available:

Style switcher only on this demo version. Theme styles can be changed from Options page.