Browsing articles tagged with " one"
Label : Ear One Productions
Review by Tony Cannella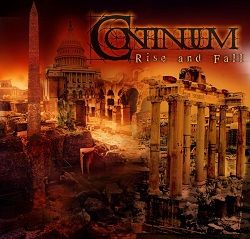 From my home state of Connecticut comes the melodic thrash metal band Continuum. They have recently released their debut full-length "Rise and Fall" and man, this is one intense slice of power thrash. "Rise and Fall" has an aggression, power and energy that doesn't let up for a second. Continuum definitely brings to mind classic thrash bands of days gone by, while still managing to add their own brutal twist. "Rise and Fall" is 9-songs and 36-minutes worth of thrash metal mayhem. Lead vocalist Brenda St. Amant leads the charge with her guttural screaming vocal delivery, but she also adds touches of clean vocals here and there. The chaos begins with "Waters Rising", a song complete with old school crunchy thrash riffs and technical proficiency that should help set Continuum apart from their peers. Continue reading »
Label : Inner Wound Recordings
Review by Tony Cannella
From Brazil, the band Vandroya has existed since 2001. They released their debut 2-song demo "Within Shadows" in 2005 and have finally returned with their power metal extravaganza of a debut full-length entitled, "One". Lead vocalist Daisa Munhoz can already be heard on the last Soulspell offering "Hollow's Gathering" and on "One" she proves to be one of the best voices in the power metal genre.
"All Becomes One" is the ominous intro track that leads us into power metal masterpiece "The Last Free Land". The musicianship is up-tempo and lead vocalist Daisa Munhoz's vocals are remarkable as they soar right along with the music. In an age when so many female fronted metal is dominated by operatic vocals and extreme vocals (not that there is anything wrong with that), it is refreshing to hear someone who just goes out there and sings in a power metal style. One of the songs that stood out for me is the stirring ballad "Why Should We Say Goodbye?" which is just phenomenal. Continue reading »
Label : One Little Indian
Review by Matteo Bussotti
Like some of you, maybe, I usually already an impression of an album that I'm going to listen, before actually listening to it. As I read Ólöf's biography, the word "Iceland" immediately jumped to my eye, and I started to think about Sigur Ròs, mostly, and about a whole kind of atmosphere (of beautiful atmosphere) which Iceland usually brings with its name and in its music. Sometimes my impressions aren't right…this time they are, they truly are. "Sudden Elevation" is a beautiful album, one of a delicate kind which is not usually found in today's music (especially outside Iceland); one song flows into another investing and fulfilling the listener like a calm sea. Let's make it clear: it is not an album made for anybody who wants strong emotions, energetic rhythms, loud guitars etc. If you're looking for a metal album, you're definitely in the wrong review. "Sudden Elevation" is Ólöf's first album full in English, and the first one she wrote without any break…sincerely, I didn't listen to any of her previous albums, and maybe this one is the worst of them all…but if these are the results of a constant, break-less writing and recording…then she probably should do all her albums this way! Continue reading »
Label : DR 2 Records
Review By Tony Cannella
From the U.K., the trio known as Die So Fluid manages to fuse elements of Metal, Punk and Alternative. Their third full-length album goes by the catchy title of "The World Is Too Big for One Lifetime". Although the band specializes in in-your-face, edgy rock music, Die So Fluid certainly has a great ear for the melodic end of the spectrum. It is hard to believe that Die So Fluid is a mere three piece band. Lead vocalist Grog also plays bass and while she may not be the most technical skilled singer out there, she certainly makes up for it in raw emotion and power. From the opening number "Figurine", Die So Fluid delivers their music with a raised fist and a sneer, behind a wall of raucous guitar riffs. "Hearts Are Hollow" has a sexy vibe to it. "Themis" is a track that really offers the listener something different, with its atmospheric, laid-back approach. The band gets back to rocking on "How Vampires Kiss". This is Just a great big, energetic track. Other highlights include: "Mercury", "If Wishes Were Bullets", "What a Heart Is for" and "Sound in Colour", which closes the CD. Die So Fluid have been plugging away for quite some time, and have already received some well deserved positive reviews for their efforts. With "The World Is Too Big for One Lifetime" the band seems ready to make the jump to the next level.
Rating – 83/100
Tracklist
Figurine
Mercury
Storm
The World Is Too Big for One Lifetime
Hearts Are Hollow
Raven
Themis
How Vampires Kiss
If Wishes Were Bullets
What a Heart Is for
Sound In Colour
Line Up
Grog – Vocals and Bass
Drew Richards – Guitar
Al Fletcher – Drums
Links
Label : Great Dane Records
Review By Tony Cannella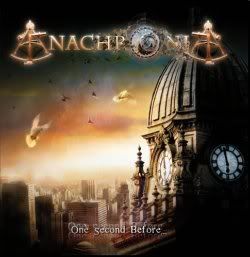 France's AnachroniA have already released one full-length ("The Endless Agony") back in 2004. Now the band has returned to showcase their brand of melodic progressive metal on the newest opus "One Second Before". For those who have not been familiar with this talented French band (like myself), then they will come as something of a revelation. Starting with the deliberate, crunchy riffing of the opener "Winter Always Turns to Spring", AnachroniA gets things off and running with a barrage of riffs and blasts of heaviness. The next track, "Chimaira Builders" is just as heavy as the previous song but also features plenty of atmosphere and a main guitar riff that you just can't shake. Lead vocalist Fay has got a cool, bordering on (but not quite) operatic style. Suffice it to say she can hit some pretty high notes but she is more concerned with her vocals fitting in with the music (which they do, quite well) than performing vocal gymnastics. Zwayn is also there to lend his harsh vocals to the material. On the third track, "Inflamed" the two vocal styles are displayed equally, but this is also one of the best songs here, thanks to an undeniably infectious melody. The 2-minute ballad "Last Prayer – Part One" gives way to the all-out thunderously technical, bordering on thrash metal assault of "Last Prayer – Part Two". Following the brutality of the previous track, AnachroniA change things up a bit with folk metal vibe of "What Dreams May Come". The closing number is "Epitaph". This is a great way to end it and the band concludes the CD with quite possibly their best song. This song is a multi faceted tour de force and I can't think of a better way to end the CD. With "One Second Before", AnachroniA has laid the foundation for something potentially very special. It is always a cool feeling when a new band comes along and reminds you of why you love this form of music in the first place. For me, AnachroniA are one such band.
Rating – 96/100
Tracklist
Winter Always Turns to Spring

Chimaira Builders

Inflamed

Last Prayer – Part One

Last Prayer – Part Two

What Dreams May Come

Secret of Sciences

You Were Wrong – Part One

You Were Wrong – Part Two

The Least

Sekhmet

Epitaph
Line Up
Fay – Lead Vocals

Zwayn – Grunts

Adrien – Guitar

Ben – Guitar

Fab – Bass

DJP – Drums, Samples
Links
6 color styles available:

Style switcher only on this demo version. Theme styles can be changed from Options page.