Browsing articles tagged with " peston"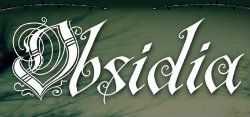 Interview by Marc "Peston" Sels
Obsidia is a five-piece metal band from Austria, with not one but two women in the group : Tajy on the keyboards and Lucrezia on vocals. They have just released a 5 track EP, "Back to Darkness". So this was a good reason to ask Lucrezia some questions.
How's the weather in Austria (February)? Can you ski over there? And do you do that?
Here in Austria the mountains are white and the weather is quite cold. Usually we have temperatures some degrees Celsius, below zero. There is enough snow on the mountains that skiing would be possible, but I go skiing seldom due to lack of time. You know, I prefer our warm cellar where I can play music.
I haven't heard your cd "Back to Darkness" yet, so can you describe it for me? (Lyrics, musicstyle…)
As the title might say we tried to go some years back in time. We aimed to merge the great atmospheric Gothic metal played at the end of the 90′s with our own style and we think that the result is quite presentable. The lyrics are considerable mixed – from the Greek Mythology via vampires to "simple" stories about life.
Is there a big Austrian Female fronted metal-scene? I only know you and Siegfried.
Oh, also very well known female fronted bands like Edenbridge and Darkwell are from Austria. Anyway, the scene in general isn't that big as in other countries. Especially in our area the metal-scene is very Death- and Thrash-dominated.
Austria has been in the worldnews lately with a few less items, Natascha Kampusch, and Hayder (extreme rightwing politician) getting killed in a car accident after leaving a gay bar. Does it has any influence on the music-scene? I can see punkbands jumping on this, but how do the metal bands react?
I have to grin 'cause for me it's quite amusing what Austria is famous for. I don't think that such happenings influence our scene. Punkbands often make their music as protest whereas Gothic Metal should be the kind of music which helps to get out of the daily routine – a way to relax – a way to forget all daily problems.
Okay, now the lighter version. Can you live of being a musician, or do you (and the other bandmembers) have jobs, like most of us (hopefully)?
At least we are not able to live from our music. We spend our freetime for our music because this is our hobby. To earn our money all of us have a profession. Beside some of us study on university.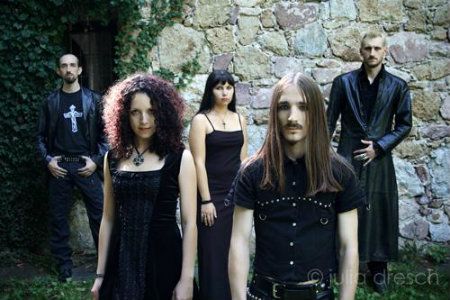 For as far as I know, this is your first CD. Have you got enough material to do a live performance?
Yes- as we're already into song-writing for an upcoming full-lenght-album, we're able to play live. We have played some headliner- and supportshows in Austria and Italy last year and will have our Germany-premiere in May this year.
Do you sing under the shower? If yes, what? What is your all time favourite cd? And what do you play on a sunday morning?
Oh, I sing more often than I know myself; like last week when I recognized that I sing while doing housework. Sometimes I sing totally unconscious – I think this is for me a way to relax. The songs I sing are totally different : sometimes songs of my favourite bands, of course Obsidia songs and sometimes ideas for new songs allthough Sir Iwain (guitar and vocals) is our creative head. All time favourite cd – difficult to say… I love gothic/symphonic metal in general, so albums from Tristania, Epica, Within Temptation, After Forever, Therion, Nightwish….change in my CD-player.
Best book, cd, comic, movie, concert of 2009? And what's your favourite pet, drink, food?
I can't say this is limited on 2009 but I can do it in general. Hopefully this is okay for you.
Best book : I love reading crime-stories like "Speak No Evil" (Rochelle Majer Krich) and I really love reading specialized books about nature, supernatural phenomenons and psychology.
Best CD : I'm really impressed by the "Live Gothic" of Therion.
Best comic : I'm not a big comic fan. Sometimes I watch The Simpsons on TV.
Best movie : Absolutely ungothic, but I love the film "Patch Adams" with Robin Williams.
Best concert : There are many concerts wich impressed me very much but I think the greatest gooseflash that I have got was the After Forever show at Wacken 2004.
Favourite pets : Cats. Because they have this mystical aura.
Favourite drink : Nonalcoholic drink : herbal tea. Alcoholic drink : white wine and gin.
Favourite food : International food from typical Austrian food to Indian cuisine. But I seldom eat fastfood like McDonalds because food has to contain a little bit of love.
What are the plans for 2010? Touring? A new cd ?
As already mentioned, we are hardly working on material for a full-lenght album but we actually aren't able to say anything about a release date. Of course we want to play live as much as possible but we don't know whether we can manage to play a full tour.
And here it is : Can you give us a short history of the band?
Obsidia was founded in the middle of the year 2006 by Sir Iwain and me. We started with writing some songs and then we searched for musicians, which is quite difficult in our area. First live concert was in May 2007, and now we released our first CD.
Especially for the fans, any "Famous last words"?
Obsidia would like to inspire their audience and we hope that we can bring all of our fans "Back to Darkness". In the meanwhile I have heard their first born, and I must say I liked it. Good heavy goth with musicians who know their instrument and a good, strong voice. I see a successful future for this young band, and I hope to be proven right.
Links
Interview by Marc "Peston" Sels

Kivimetsän Druidi is a Finnish band that plays folk/gothic metal. The name means The Druid of the Stone Forest. In 2008 Leeni-Maria Hovila (ex-Exsecratus) joined the band and they recorded their first full cd, "Shadowheart". At this moment (November 2009) the band is on tour in the States and Canada, together with Eluveitie (Swiss), Belphegor (Austria), Alestorm(UK) and Vreid (Norway). Normally the new cd will be released in April by Century media. I had a short interview with the beautiful lead vocalist Leeni-Maria.
Hello Leeni-Maria. How is the American Tour going?
So far so good. We seem to have been a success allthough we had to make several shows without Joni – he's got the swine flu or something. Since we have been selling an increasing number of CD's and shirts regardless of his absence, he has said something on the lines that he's "never coming back, you guys do just fine without me. I'm going to be your manager or something". D, not likely, heh. OK. He'll be back on stage in San Antonio.
Can you tell us how you became the singer of Kivimetsän Druidi?
They called me. I was currently the vocalist of Exsecratus and Kivimetsän Druidi's manager had made a review of exce's first album so when Druidi wound up needing a new female lead, they basically called me at work. This was, I recall, spring 2008.
The first cd was mostly in Finnish. Don't you fear this may be an obstacle for fans outside Finland ?
So, one would think but no one has ever actually bothered to tell us so. It doesn't seem to be any problem to anyone. Record company has said nothing on the matter, quite the contrary. I remember them being supportive about the matter. Fans mostly come to tell us that they've self-studying Finnish to understand the lyrics first hand.
I saw you at the Metal Female Voices Fest this year and I found Kivimetsän Druidi one of the most impressive bands of the festival. How did you experienced it?
MFVF was certainly one of the biggest and best organized festivals we have ever been toand it felt like the perfect audience to us although we felt we were definitely heavier and more extreme than most acts there. And Brussels was a great city – we had a day off there afterwards because of flight arrangements.
A whole lot of bands are from Finland. Is there a reasonable explanation for it?
It has to be that dark nordic mentality.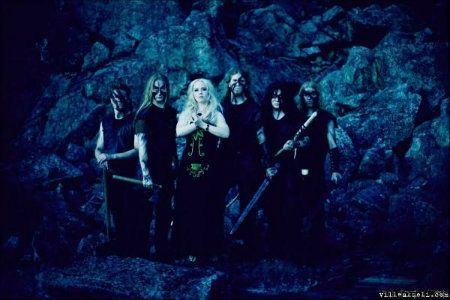 In your bio you mention Floor Jansen as one of your influences. What is your favorite cd of After Forever, and why?
"Invisible Circles", which is a great performance of switching between the styles.
Women are more and more placed as the face of a band. Doesn't that divert from the music?
It depends what they're there for. It depends on whether they go there to divert from the music or make it. There's nothing wrong with having a great rack and a pretty face. You still don't have to sell with them.
Can you tell us someting about the upcoming album, or is it top secret?
Well, it's going to better than the first.There's going to be songs composed and lyrics written by more members of the band than before. It's going to have so much variety it's actually a little horrifying. It's hopefully going to be out sometime late next spring, I think in April. It's going to kick ass!
Do you prefer to sing live on stage, or recording songs in the studio?
Augh!! Sometimes I hate them both, other times I love them. They are so different situations with such different sides that you really can't even compare.
At last, what are the plans for 2008?
Release the album. Promote the album like our lives depend on it. Tourish-kinda-things would be nice. Another Europe, maybe? Start making new songs for so far hypothetical number three, early enough so we won't be slightly buggered with it, as usual.
Thanx, and give my regards to Santa Claus!!!
I'll tell him to be nice to you this year. All the best, Leeni-Maria.
Latest Multimedia
Links
MySpace * Facebook * Twitter * Site
Interview by Marc "Peston" Sels
Another band from Finland is Lunar Path. They call their music "Epic metal with a hard hitting rock edge". They released a demo (2007), a single (2008) and a EP (2009) so far, so it's time to have an interview with Janica, leadvocalist of the band.
What the hell do you mean with "epic metal with a hard hitting rock edge"?
Well, it's of course really hard to describe music in general, to its full rights. The "epic" part comes from the atmosphere in it, our music gives room for hope and maybe to escape to an other place in the songs, there is more to it, than you may see/hear at first notice. The "hard hitting rock edge" we use to describe the attitude in it. We're strong and firm in our music and still catchy enough to get to your deepest core.
By the way, have you found a new bassplayer yet?
The search is still open, but we have some really good candidates on our hands.
Can you introduce the members of Lunar Path to us?
Ok. Lunar Path is Jonas, the music writing, stay-at-home-dad with a huge knowledge about music. He is also always on top of things and has always got new ideas for the band. Tuukka is our beautiful adonis, hard working, strong and owning a big passion for the music and especially for the stage. Pete is the entrepreneur, who is always (and seemingly often the only one) on time, like a klicktrack. Pete is really passionate about his playing as well and with him nothing is ever impossible, he will always fix it somehow. Me, I'm the organizing, fixing, glueing, calling, making all the practicall arrangements one and I try to make it my point to always know everything that is going on in the band. I'm also the bitching, mean one who always is late and always yell at the others but in between I have time to be very loving, warm and huging as well.
The concurrence must be enormous in Finland. How do you manage to stay alive and get a record deal?
I believe we stay alive cause of the will to do this. It really is the core and the essence of us all and we always come back to it, no matter how many other things there is on the way. For me it's an escape and a must, it comes naturally and whenever something is fucked up its music I turn to. It has also been a joke between us that music is the only thing we know, so we can't really do anything else.. hehh.. and so far all of our recordings have been released by our own company…
How would you present Lunar Path to a person who has never heard of you?
Lunar Path is a melodic metal band with female vocals. We have a great deal of balls and fire and attitude, on stage in particular. Lunar Path's music is something you can sing along too but bang your head to at the same time. The orcestrations play a really big role in creating the atmosphere, depth and flow, while the guitar wall knocks you down and keep you grounded.
Do you read the reviews/critics of your CD's and shows? If no, why not? If yes, what do they mean to you?
Yes I do. I wanna know what is thought about the creations I've made with my own blood sweat and tears. Since I'm also very eager to learn I try to get as much inspiration and new ideas as possible. Of course I don't blindly do all the things that they suggest should be done in the reviews, then we would have a deathmetal band rapping about magic swords and I would be a transvestite by now, but all constructive criticism is always welcome and even prefered.
If you could take just five cd's to a deserted island, wich five would it be? And why of course.
Hmm.. hard one! If it's a warm and tropical island I would probbably take something suiteing for that. Ulver – "A Quick Fix of Melancholy" is a brilliant record, and always makes me peacefull and creative, so that would be good for coming up with fresh ideas to get food. Rammstein – "Mutter" is a workout record for me, so that I would take to stay in shape. Velcra – "Hadal" is also a brilliant piece, that one I would take to prevent myself from dying of boredome. Shpongle – "Ineffable Mysteries from Shpongleland" would be my party/island explooring music. And then I would take Within Temptation – "Heart of Everything" to have some good sing-along music as well.
Which band(s)/singer(s) do you admire?
I really like Loreena McKennit, to mention one, but there is so much and many brilliant ones out there that it's impossible to list them all.
Is there a song you wish you had written?
Umm, not really, but if there had to be one, I wish I'd written Nightwish – "Bye Bye Beautiful", because it's a great hit and cause the girls in the video look so cool that I would really have loved to star in the musicvideo. Hehee…
What are the plans for 2010?
The recording of our first full-lenght album is gonna be the main thing of the year. We should have started already, but since Jonas broke hes leg really badly in the arson at our rehersal place earlier this year, we´re forced to reschedule the recordings with a couple of months, and since we want to make it something really special, we do not want to rush into it either.
And last but not least, any "famous last words"?
Excuse me for the mess – Hunter S. Thompson
Links
Interview by Marc "Peston" Sels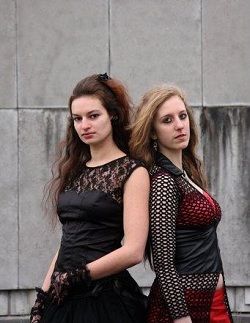 Sad Siberia is a gothic metal band from the French speaking part of Belgium. In November 2008 they had a serious change of bandmembers. Singer Laetitia, Jean (Bass) and second guitarplayer Nico left the band and were replaced by Jamie Lee on vocals, Christophe on guitar and Gaelle, new on keyboards. She's with her that I had this interview.
Sad Siberia has changed a lot. Did the change of musicians had any influence on the music? (Do you play harder, softer, more keyboards-orientated?)
Yes, of course! Each person has her own way of playing and has different influences. On the new songs we have written the last months I write my melodies, and I bring my own sound to the band. With three new members it's logical that we can notice some changes in the interpretation of the old songs, but also in the music itself.
How did you become a member of Sad Siberia?
I'm always looking for new experiences, and as the band was looking for a keyboardplayer, I've contacted them. And here I am, in Sad Siberia.
You also play keyboards in Valkyre. Isn't that hard to combine?
Not really. Valkyre has made a break for one year, looking for a new singer and a new drummer, so I had all my time to give to Sad Siberia. Now Valkyre is back on stage again, I still manage without problems to combine the two bands. I live for music, so two bands is not too much.
Can we expect a new cd in 2010?
A CD I don't know, but an EP, I think so. It's time in 2010 that the audience can hear the voice of the new singer, Jamie Lee and our new songs, but the priority of Sad Siberia is first to perform live and to compose in order to present some good material.
You're taking part in the Metal Female Contest at the Biebob. If you could play at the Metal Female Voices Fest in October 2010, would you see that as a step forward?
I've played there in 2007 with Valkyre (and they weren't bad at all, M.S.), and it really was a great experience. I would be glad to play there again in 2010 with Sad Siberia. Yeah, I think, for a band it would be a step forward. 2009 has already been a new beginning for the band : we've played at Raismes Fest in september, and the band has progressed a lot after this event. The Belgian scene now offers more and more good metal bands, and, in my opinion, Sad Siberia is one of them. So if MFVF could be on our road in 2010, that would be a fantastic opportunity.
Are there any plans on touring or playing some festivals in 2010? If yes, which festivals?
Yes of course, we love being on stage and many shows will be announced soon. As festival, we'll be playing at the Anthinoises in April 2010. Our next show will be in the north of France, on the fifth of december with Rozz, and we'll perform in Antwerp on februari 6 with Amartia and Skeptikal Mind. But check our MySpace to see all the events!
How did you find of the first Sad Siberia cd?
Difficult to answer…I really like the strong voice of the former singer who was singing on it. Today we play 5 songs of this album live and I like them! Sorry, I can't tell you more about this CD.
Links
Interview by Marc "Peston" Sels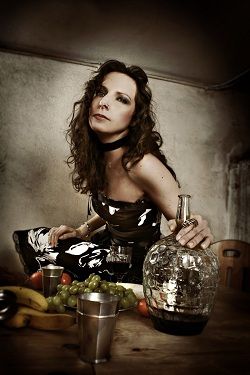 Elis is a band from Liechtenstein and was formed in 2003 after the split from Erben Der Schöpfung. In 2006, on July 8, their vocalist Sabine Dünser died of a celebral hemorrhage. She was replaced by Sandra Scheleret, well known as guest-singer on some Samael-cd's and ex-vocalist of Dreams of Sanity. It is with this Austrian musician that I had this interview.
How is the Beauty and the Beast tour going?
The tour was really nice! I think it is very rarely that you have so many nice people together without any exception. We enjoyed it a lot. I even had the chance to join Atrocity for the tour as a guest vocalist. This came very surprising as it was a spontaneous idea, but I had lots of fun.
Can you tell us something about the new album "Catharsis"? Some favourite numbers?
"Catharsis" is very important for me, the reason is that it is like a new chapter, a new beginning for me. About a year and a half before I joined Elis I got the diagnosis Morbus Hodgkin which is a kind of lymph node cancer. In the months that followed I had to go through chemo- and radiotherapy, and it was a very hard and harrowing time for me. I completely changed my way of living, and since then I see things totally different. When I started working on the vocals for "Catharsis" all these feelings broke their way to the surface, and so most of the lyrics are very closely connected to what I experienced at that time. All songs are very dear to me but I guess my favourite numbers are "Firefly", "Mothre's Fire" and "Das kleine Ungeheuer".
Was it hard to replace Sabine, emotionally and musically talking?
Yes it was hard, I think for all of us. When somebody passes away so young and so unexpected it is hard to continue. Although we really liked eachother a lot from the beginning on, for me it was difficult to find my own place in the band, and for the guys it was hard to start a new chapter. We took some time to find together. Musically wise it was not that difficult because Sabine's lines are nice to sing and her lyrics touched me a lot, so I feld connection to the songs very quickly.
Is it easy to produce the same sound on stage as on the albums?
No, I wouldn't say so. In the end it is very difficult to get a good live-sound. Mainly it depends on the sound engineer, and we are not often able to bring our own one.
"Griefshire" was a concept CD. Isn't it difficult to play some songs live, or don't you use these songs on stage?
We are playing the "Griefshire" songs life, but never in the context of the concept. It is not so difficult because we see each of them as an indipendent individual, with it's own message. For example "Show Me the Way" has a great statement.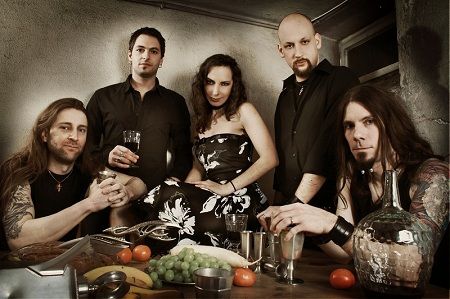 With the digipack edition of "Catharsis" comes a DVD from the gig at the MFVF 2007. What memories you have of that festival?
It was very touching because the audience welcomed us so well. The were happy with us that Elis is back on stage again, and we felt very comfortable that evening. I'm happy that this was the concert that was recorded for the live-DVD!
The band keeps the tradition of putting a few German songs on the album? Do you think non-German fans can enjoy this?
We hope so! Just see how people can enjoy Rammstein…hehe In the end the German language simply has a very different sound than English and it is tempting to use it as a stylistic device.
You also sing in Siegfried. How do you keep both bands apart?
As Siegfried was not so active in the last years there was never any problem for me. It is just coincidence that both albums were released at the same time. I do not do the lyrics for Siegfried and just contribute some vocal lines, so there is no "creative problem";). It is very nice to have the chance to show also another side of my voice, and the guys from Siegfried are really cool people, we have lots of fun when we are working together!
Is Elis, like a red somewhere, from the Greek Elis, land of Helia, or is there another explanation?
The name comes from the poem from an Austrian poet (Georg Trakl) "An den Knaben Elis" (to the boy Elis). Sabine made a successful song about this when she and the guys still were calling their band Erben der Schöpfung. They then decided to rename the band after this song.
What are the plans for 2010? Touring? A new cd? Etc…
So far nothing concrete but we are working on this! Touring would be very nice and of course we have to work on new material.
Links
6 color styles available:

Style switcher only on this demo version. Theme styles can be changed from Options page.