Browsing articles tagged with " release"
Independent Release
Review by Tony Cannella
Back in my formative metal years, I "discovered" many a great band because of their album cover art (that's how I first got into Iron Maiden – Derek Riggs ruled) which – back then – was the first impression you would get from a band. Of course cool album cover art means nothing if the music on the album isn't very good (and I've had those experiences as well). This brings me to the Canadian band Unleash the Archers. Their cover artwork immediately piqued my interest; fortunately the music contained on the CD came through big time – and then some, actually they exceeded all of my expectations – this band is a whole lot more than just cool cover art (although their artwork is excellent). On their latest release "Demons of the Astrowaste", Unleash the Archers deliver over an hour's worth of melodic power heavy metal, combined with thrash metal riffs and some intense Mark Janssen from Epica type screams courtesy of Brayden Dyzckowski (he also plays guitar). Continue reading »
Independent Release
Review by Tony Cannella
Canada's Unleash the Archers formed in 2007. In 2009 they released their debut album "Behold the Devastation". "Behold the Devastation" contains 8-songs and almost 40-minutes worth of music, which while okay is nowhere near as good as the band's latest album "Demons of the Astrowaste".
"Behold the Devastation" is pretty devastating, to say the least. The songs are faster paced than on their latest "Demons of the Astrowaste". The screaming male vocals are more prevalent on this album, than their latest and it lacks the variety that UTA have displayed on their latest album. From the very first song "Eat What You Kill", the band displays more of an aggressive thrash/death metal vibe. Continue reading »
Independent Release
Review by Tony Cannella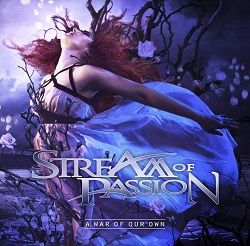 Originally starting out in 2005 as an Arjen Lucassen project, the band Stream of Passion has evolved into so much more. With their 4th album, "A War of Our Own" that evolution continues…
"A War of Our Own" is a 13-song, 1 hour musical journey that showcases what fans have grown to love about this symphonic/gothic metal band. Not the least of which are the dramatic and beautiful vocals of Marcela Bovio. Each song is meticulously crafted and is nice additions to the growing SOP catalogue. The opening track "Monster" is like a monster out of the gate. The song features some huge riffs at the beginning but shifts tempos throughout and is just plain stunning – and the best song. You have to love Marcela's voice; she's much underrated, in my opinion. Continue reading »
Independent Release
Review by CriX
Memoria is a prog-goth metal band from Pori, Finland, that merges technical playing, melancholic melodies, and symphonic atmospheres. Their second album "Memories, Tragedies, Maquerades" has been released at the end of 2013, and certainly is an album not to be missed for fans of bands like ReVamp, Sirenia, Symphony X and Dream Theater. The album start with "Recoil" a complete and energetic track with good plots between guitar and keyboards. "Failure to Commit" gives us deep emotions, the catchy "Medusa" is a pretty fast song in which is significant the part of bass and guitar. Continue reading »
Independent Release
Review by Tony Cannella
From Japan, the all female band exist†trace have been around for a number of years and have already released quite a few albums and EPs. Their latest EP was actually released in 2013 and it is called "Diamond". The EP contains only 3-songs and about 15-minute minutes worth of music and is a testament to far ranging, global appeal of metal. The opening track, "DIAMOND" sets the tempo with an electronic influenced beginning before launching into an infectiously wicked fast paced tune. The next track "Kuchibiru" has a definite 70s classic rock vibe to it and a guitar riff that would make Jimi Hendrix or Eric Clapton proud. For the final track "Just One" the band speeds up the pace and introduces more modern influences.  Continue reading »
6 color styles available:

Style switcher only on this demo version. Theme styles can be changed from Options page.