Browsing articles tagged with " rhode"
Independent Release
Review by Tony Cannella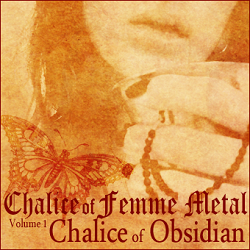 The new compilation from Chalice of Femme Metal is a pretty varied collection of songs from ten bands on the current Femme Metal scene. Among the 10-songs/bands presented here, the quality remains remarkably high throughout the 48-minutes. Things get off to a slower tempo start with "Salvation" by the always excellent Apparition. The orchestral Akoma is up next with "Forgotten Hero". The power metal riffing of Pythia highlights the next song "Tristan". "Shadows on the Tide" by Tainted Grace starts off with a cool, eerie guitar intro before the band joins in all guns blazing. Omega Lithium provides a modern metal sound with "Andromeda". Mask of Judas picks up the heaviness and intensity even more with the machine gun riffing of "To I Your Conscience". Fateless Tears showcases their brand of progressive Goth on "My Endarkened Self". Rhode Island Red brings more of a blazing hard rock slant with their offering "Kerosene". The symphonic Goth of Therion is up next with "Hellequin". A live bootleg recording of "World of Glass" by Tristania from Stuttgart in 2005 with Vibeke Stene on vocals is a great way to bring this compilation to a close. On "Chalice of Obsidian" I was familiar with some bands and others were new to me, which is always the best thing about compilations. With so much music out there and not enough hours in the day to listen to all of it, compilations such as these provides a great service to metal fans.

Rating – 90/100
Tracklist
"Salvation" – Apparition

"Forgotten Hero" – Akoma

"Tristan" – Pythia

"Shadows on the Tide" – Tainted Grace

"Andromeda" – Omega Lithium

"To I Your Conscience" – Mask of Judas

"My Endarkened Self" – Fateless Tears

"Kerosene" – Rhode Island Red

"Hellequin" – Therion

"World of Glass (Live)" – Tristania
Independent Release
Review by Tony Cannella
Saint to Sinner are a young melodic metal band from Rhode Island. Their independently released debut is titled, "The Unveiling". It is an impressive mix of moods and tempos that help to make, "The Unveiling" an enjoyable listen. The album is also dominated by some crunchy guitar riffs, courtesy of Rich Bova."The Unveiling", features 5-songs worth of heavy music with some serious modern sounding, heavy riffs. Desiree Villegas is the lead singer and her style comes across very strong and full of attitude and swagger. "The Unveiling" comes on hard and fast from the opening tune, "Fallen Generation". This is really an excellent way to begin things, the riff is crunchy and Rich Bova adds some male vocals which can be heard on other parts of the CD. "Careless", slows things down a bit and evolves into an atmospheric 6-minute track, the song changes tempo several times and Desiree turns in her best vocal performance on the CD, in my opinion. "Anti-Corporate" and "Vindictive" are just full of anger and energy.The 1-minute outro, "Tampere" brings the CD to a close – this instrumental piece reminds me a bit of Metallica from the "Master of Puppets" era. All-in-all, "The Unveiling" is a pretty intense 21-minutes. Saint to Sinner have a lot going for them, cool songs, great presentation and an undeniable attitude and raw power that comes through loud and clear.
Rating – 85/100
Tracklist
Fallen Generation

Careless

Anti-Corporate

Vindictive

Tampere
Line Up
Desiree Villegas – Lead Vocals

Rich Bova – Lead, Rhythm Guitars & Vocals

Dave Vogel – Bass

Nick Tolias – Drums
Links
Independent Release
Review by Tony Cannella
Rhode Island Red are a London, England based unit. Their self-titled debut has just been issued and it features 10-songs and 41-minutes worth of classic sounding hard rock, led by the soulful and quite expressive vocals of Lyla D'Souza. Musically, Rhode Island Red is a bit of a throwback to classic rock bands of the 70's. Lyla D'Souza has a bit of a Bluesy quality to her voice. Their songs have been described as The Cult meets Garbage, and that is a fair assessment I suppose. The songs have a definite raw energy and power to them, but the band also has shown some great attention to the melodic end of the spectrum. Highlights include: "Kerosene", "Slip Away", "Over & Over" and the acoustically ballad "Fate Insists" which closes the CD. With their debut album, Rhode Island Red has released a strong rock record that pays homage to a bygone era, while still keeping their feet planted firmly in the present.
Rating – 78/100
Tracklist
Kerosene
Slip Away
Stalemate
Over & Over
Hollow Man
Little Wizard
Too Far Gone
Untouchables
Supernatural
Fate Insists
Line Up
Lyla D'Souza – Vocals
Dave Garfield – Guitar
Andrea Basiola – Guitar

Mike McGinness – Bass

Marco Tiano – Drums
Links
Rhode Island Red : MySpace * Facebook * Site
Kill for Eden : ReverbNation * Facebook * Twitter * Site
6 color styles available:

Style switcher only on this demo version. Theme styles can be changed from Options page.