Browsing articles tagged with " rotterdam"
Interview by Erwin Van Dijk
An interview with Lotus from Sin7sinS, update Summer 2009. Last year I had an interview with Lotus, the singer of Sin7sinS. They have released three new tracks on MySpace so I thought it would be time for an update interview.
Your last two gigs were in March (in the cities of Antwerpen, Belgium and Dordrecht, Holland) What have you and the band done since then? Besides spending a lot of time in the studio 😉
We were after those gigs very busy with writing new material and rehears this (we have a kick ass new set list!) Further as you said we spend a lot of time in recording the new songs. And we have done a new photo shoot…
You have recorded three new songs. Ronald Landa from Delain was responsible for the producing and mixing while Ad Sluyter (of Epica fame) did the mastering. How did you get in touch with these two guys Ronald Landa and Ad Sluyter and how was it to work with them?
Ronald Landa is a friend of Paul and me, we played before Delain and Sin7sinS in the same band. Ronald is very good in producing, so he wanted to help us. Ad Sluyter is a friend of Ronald and he is into the mastering…
And, did they have any influence on the sound of the new songs? This is because Delain and Epica are not exactly in the same genre as Sin7sinS.
Not really, the songs were already written before recording. But of course they did help create the sound which we were looking for.
Song by song: what can you tell us about the new songs? Music & lyrics? ("Dead World", "Eye Want All", "Insult #7")
The new songs are louder and better then our older work. We tried to focus more on the songs as a whole. This implies that vocal work (etc etc…) follows a more natural path. Each song has a different meaning which is best hear able in the lyrics, most songs are inspired by things and events going on in our own lives.
Are these songs much different from your older work?
As an artist you naturally grow, however the songs are still in the same line as our older work. But due the fact that we have grown as a band our music has grown to.
This was not your first time in a studio. What have you done different this time?
We recorded most of it ourselves this time!
And which studio did you use this time?
We used the home studio of Ronald Landa.
Will this stay an online affair or will there be a possibility to legally download it or even a CD version?
The meaning of this promo CD, is to score a record label! We are ready for this next step! So a CD will be there when a record label signs us. The 3 new songs are listenable but you can not download them.
This is maybe a bit of topic but do blondes have more fun? Because you have changed your hairstyle since the last time I saw you on stage (at the Mix, Uithoorn).
Hahaha, no I don't think blondes have more fun. I like a change from time till time… not always the same look! But I still have as much fun as I had when I had black hair. The only good thing about it, is that my bathroom has a chance to become white again (as it was before I started painting my hair black, 2 years ago).
Links
MySpace *Facebook * Twitter * Google Plus * Site
Interview by Andy Axworthy
Everything eventually comes down to the individual. Whether it's the influences of the films you see, the books you read, the music you hear, or that of family, friends, colleagues it all colours our view of the world and defines our tastes. Now imagine all that filtered through the medium of a metal band – one with seven members – who are as comfortable being staid and grounded as they are running wild off the edge of the map – and who have a pressing desire to share that with you. Welcome to eclectic. Welcome to the world of A New Dawn. Femme Metal tracked down lead singers Jamila and Alysia, now back in Holland after their first UK gig at Beauty & Brutality, to talk about the show, current release "Finally…" and what lies ahead for the band.
Hi girls! A warm winter welcome from Femme Metal. How is the festive season treating you?
Jamila: Well, I can't say that I like winter, I like the summer – I want sun and beach. I really hate the rain, snow and hailstone. But I do like Christmas and New Years Eve. I always spend the holidays with my family and my closest friends.
You played your first UK gig with the Beauty & Brutality Halloween Party on October 31st in Birmingham. What was the experience like for you both? Any standout moments that you could share with us?
Alysia: I've had the best show ever. For me it was a double party because of Samhain. I'm amazed how everyone was cheering us on, and how enthusiastic people were. I had a blast! Meeting the other bands was really nice as well.
Jamila: It was the first time that we played in the UK. I really had a great time. I was pretty tired all the way, but that was because I didn't sleep at home that much, so I left tired and came home almost dead hahaha. We had great fun with all the band members the crew and the other bands. When we were on stage, everything just went like it's supposed to be. We gave a great show and they really enjoyed our show.
Although that was the first show on these shores, A New Dawn has been around in one form or another since 1997. As more recent members how has this depth of existing experience helped you, together and individually?
Alysia: The most important thing for me is that the way the band "works". We prepare and just "do" it: we put on a show and have fun. I always feel that we're in this all together and that the band is supporting each other fully. This makes us capable of putting on a show as we did in Birmingham.
Jamila: Well, I'm one of the oldest band members next to Elbert. I must say that I have the feeling that we finally found a group of people that "works". Of course you have your differences and you do not always agree but this group listens to each other and we work pretty well together. So naturally I feel that it's good right now.
You are both regularly described as opposites – light versus dark. Well they say blondes have more fun but they also say that the devil has all the best tunes, so who has the halo, who has the horns and do you ever get the urge to swap?
Alysia: Blondes do have more fun. I tell ye! 😉 Yes, we have me as the light halo type of character in the band, where Jamila is more the strong nightcrawling woman.
If you are curious for the whole story behind the light vs. dark thing, keep an eye on our upcoming album. I won't spoil any details before the album is out! Jamila: You know, I wouldn't want to be anyone else then myself. Also on stage the "light versus dark" thing is a tiny bit true. And in that light I think we both want to switch sometimes, because we are not only what you see on stage. But that's to the fans and audience something that they just have to find out for themselves. Most of it is a stage act, but people like to put you in a box: she is blond and sweet, she has black hair and is a bitch … but you'll never know what the story of someone is. You need to talk to the person and ask questions instead of making your own stories about what you've heard. If you don't, you will never know the whole truth. There is a story behind all the "blond versus dark" and you will know when our second album is finished. How about the rest of the band? Can you introduce us and tell us about the current line up?
Jamila Ifzaren – Vocals

Alysia van Horik – Vocals

Mike v.d. Heuvel – Grunts/Growls

Michiel Glas – Guitar

Peter Groen – Bass

Elbert de Hoog – Guitar

Rik Bruineman – Drums

Elbert is the founder of AND (if you want to know more about how it all began, you can take a look at our website). In the first couple of years there were other people in the band. When one of the singers left the band, AND went searching for a new vocalist and they found Jamila. You can almost say that AND fell apart in the year 2008 but the ones who were still standing, kept on going. They found Rik and Michiel. In that time Michiel was the grunter. The year 2009 was an awful year for AND, especially on personal level (home situations and stuff). Finally in the year 2010 Elbert, Jamila, Michiel and Rik found the other 3 members (Mike, Alysia and Peter). Since then everything went smoothly – writing songs and getting ready to record our 2nd full-length album.
Your EP "Finally…" builds on the good work of 2008's "Falling From Grace". With 3 tracks coming in at just over 18 minutes it has something for everyone and is your first release together as leading ladies. How does it feel to have now done that and how was the recording experience for you individually?


Alysia:
Recording the demo was a wonderful experience. New songs to make my own, and another voice to blend with. Jamila and I have found each other in our singing and we complimented each other. I had never been in a studio before, never had the chance to make a song with other people and to make the music my own. It was amazing.

Jamila:
I love being in the studio. I was pretty excited to record 3 new songs. We've had a radio-silence for quite a while and the time was there to record something new. So we did. Working with Alysia was very easy. She understood everything and did her homework. The songs were done in no time hahaha.
Musically, each release seems to be an evolution in the band's sound. With eclectic and varied tastes and influences amongst the members things must be pretty lively at times. How do you both help and contribute to the music and arrangements during the song writing process?
Alysia:
The best part about being a band with seven individuals is that everyone contributes to his best to the process of making a song. We all write music, Mike, Elbert, Jamila and I are working on lyrics, and all together we come up with ideas and themes.
Jamila:
Everyone is working really hard on the music and the arrangements but the song writing is more our part (and of course Mike's). Most of the time we all work together in the writing progress of a new song.
The cover of "Finally…" is intriguing. At first glance it looks like a normal mask/masque but take a closer look and you can see the seven deadly sins etched into its surface. Can you tell us the story behind the artwork?
We created the mask because everyone wears a mask every now and then. But we wanted the mask to have "lived a life full of emotions". So, looking at the lyrics of the songs of the EP, there were the seven deadly sins ("Final Verdict") and the name "Desire" in a Japanese Sign and of course the mask itself ("Masque of the Red Death"). We just thought it was funny but it also has something to do with the new story that can be found on our 2nd album.
As a band you ask your fans to share their experiences with you – to take inspiration from everyone, in everything and of everywhere. Is that something that you still look to build into the song writing? Also, what would you both say is your current favourite/inspirational AND song and why do you feel that way about it?
Alysia:
Definitely. My inspiration comes from other people's stories and things I see and experience in daily life. Also, showing the crowd what we, as AND, have been through is very important to all of us. It shows that we're human. My most inspirational song is on the new album. The music is awesome, there are nice guitar solos in it and the story behind it is really grabbing you by the throat. We call it "ToF". You'll hear it soon!
Jamila:
Everything I've ever written is about life. My life, the life of my family and friends, what I see on television and so on. So people in general are a big inspiration to me. You have sad, happy, evil, angry, disappointed, crazy, loving and caring people … and they all have their own stories. I'm really interested in what it is that moves people to do things or to never do that special thing. This is my big inspiration. Lately I've been having contact with a French fan and this person told me a beautiful story (with tears and happiness) about his life. It grabbed me by the throat and I just wrote like an idiot hahaha. My favourite song is "Final Verdict" because of the different styles of music in one song, but there's something really personal for me in one of our new songs. You will hear the story as soon as the album is finished.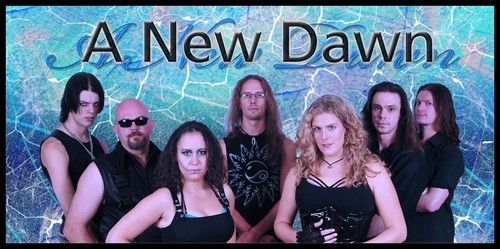 You have a strong fan base, two EP's and a full-length cd as a fully-fledged band and despite this you have stayed unsigned for now. What plans do you have in this area and would you say there are any advantages or drawbacks when balancing total freedom to do what you want against restrictions that might be placed on you if you were signed?

This is a difficult question. Because of course we want a label that wants to work with us (and we really have a lot to offer) but it's difficult these days. We are so ready to entertain a bigger crowd and that's what we also hear from a lot of people: "You belong on a bigger stage". And this is something we believe in. Sometimes you need a period of a few years to find your ideal partner (or band members in this case hahaha) and make it work. This new album is something we've all worked really hard on and are very proud of. Next to creating/writing the songs, we are also very busy to create a big show to look at. We like to put on a big show but sometimes we need a bigger stage. But believe you me … we will rock your socks off with this next album and especially on stage.

What is it like, living the metal dream? How do you both handle balancing the call of the wild with those moments when reality comes knocking?

Alysia: Sometimes it feels like my reality only starts when I'm playing with the band or performing. Work, obligations are dull things. It feels like I start "living" when I can make music. I need to get used to people speaking their appreciation about what I do, but it's wonderful. Jamila: Living the metal dream? I think it's just beginning. You're in a band and you make the 1st full-length album. Everything goes well, a lot of gigs, fans, autographs, pictures. But you need to keep on going. Sometimes that's very difficult if a lot of things happen in a band. But like I said a couple of questions ago, we've got a great group of people, who work together really well. We've got our 2nd full-length album coming on, this will still sound like AND but of course also very different. It's more progressive and louder, maybe even a bit heavier.
But reality did come knocking on my door a while ago (r.i.p. daddy) and I still have problems to cope with all that and still try to give the band my full attention. It's a constant learning progress but I'm doing better and better. Music is a great medium to express yourself and for me, singing is the best way for me to express my emotions when I just don't want to talk.

You have played the MACC (Metal Against Child Cancer) Fest. How does raising awareness with this type of show figure in AND's overall philosophy and are there any other similar events that you can or will support and which you can tell us about?

Alysia: Unfortunately our band has lost beloved ones to cancer. We wrote a song in that theme and we were more than happy to contribute to MACC. In December we did a show as a tribute to a deceased fan who died of leukaemia. Speaking on my behalf, I will always be up for charity. Jamila: It's just like Alysia already told you, unfortunately, our band already has lost loved ones to death (mostly because of cancer), so playing at a festival where they make people aware of cancer definitely fits in our overall philosophy.
What do you each do to relax and let off some steam when you are not actively involved with AND?
Alysia:
I play the piano and I love to play computer games. I also enjoy sports, although I haven't had much time to do so.
Jamila:
I read books, watch movies, talk and go places with my loved ones and take walks in the forest.
How about your alternative reality – what would each of you be doing if you were not singing with AND? Do you have any ideal jobs, burning ambitions or an itch you would just have to scratch that you can share with us?
Alysia: I'd be having my own practise (working with troubled children), stuck to my huge mansion somewhere on an abandoned piece of land behind a forest. I'd have an enormous kitchen where I could bake cookies and cakes all day and I'd have at least four dogs (and a pony!). Jamila: I'd probably have my own private practice in painting (ß in the biggest meaning of the word, face-painting, body-painting, mural painting and other types of painting) or I probably would have saved up all my money to go to the other side of the world to work as a volunteer helping out disadvantaged people.

How about your ideal gig? If money was no object and you could take the band, crew, rig and set up anywhere in the world to play, where would you go and why? Alysia: The Royal Albert Hall! Because it's enormous! And, and, and, yeah. Or Wacken Open Air! Or Pinkpop! … Lowlands! Oh dear, these dreams are getting ahead of me. Jamila: I don't really care where that is, but there has to be a beautiful big stage with a lot of lights and where everything is well arranged with lights and sound. A stage where we can do our show like it's meant to be (maybe even bigger hahaha) with a minimum of 5000 people who really enjoy the music and show of AND.
You teased us with a new track "Madness Within" at Beauty & Brutality and you are back in Rotterdam's Excess Studios at the end of January to continue work on the new album. Can AND fans expect any teasers or samples of the new material to help get them through the bleak midwinter?
We didn't want to say anything yet but of course we will show you teasers and let you hear and see new stuff.
Finally, when do you hope to release the new CD and do you have any touring plans that you can share with us?
The release of the new album will be before the summer. The presentation will be a blast. We've got a lot of great ideas for our album presentation – it will be a big show. We are all very excited and a bit nervous, because we just want it to be a great show.
Thank you both for talking with Femme Metal and best of luck recording the new album. Before you escape, any last words for the fans & readers? Alysia:
Hope to see you guys soon, stay up to date through Facebook, Twitter and our website! Stay metal!
Jamila:
As you've been reading, we have lots of plans for our new album and we will keep you posted on everything. Just keep checking our websites. We hope to see you all at one of our shows and thank you for reading this interview.
Photo Credit
Photos by Cristel Brower
Links
Interview by Erwin Van Dijk
Did you always want to become a singer?
No. I always wanted to become a designer (which I did by the way). I started singing because I heard the singer of the highschool band and thought: I sing better than she does! Allthough I didn't mean to actually take her place in the band, that's what happened…
Did you follow any singing lessons and what do you do to keep your voice in top condition?
My secret recipe: coffee, late nights and lots of beer! But I quit smoking though..
Is Cardamon your first band and do you have any other bands or projects besides Cardamon?
As mentioned above there was the school band. After that I sang in a cover band for a couple of years, which was a lot of fun too. Right now I really don't have time for other projects with my business AND Cardamon to run, but I would love to make electronical music! I've got some friends who are in producing and turntablism and we always make big plans for some kickass experimental electronic sounds, but we never get there thus far. I have high hopes for the future, when I'm rich and have too much time on my hands.
To what kind of music do you listen yourself and who are your favourite bands and artists?
Back in the days I was all about punkrock and hardcore, not missing a show or an album of my favourite bands, travelling across Holland and Belgium for every crappy little festival with my friends. We hated anything mainstream or commercial about music, so we stuck to our scene. Later on I discovered that mainstream wasn't all that bad and started to listen to a lot of different stuff. I think wisdom comes with age, haha. Right now, I'm a sucker for good songwriting and beautiful voices. For example, Imogen Heap is one of my favourite artists. She does everything herself, both when she's recording and live! Her songs make me laugh and cry at the same time. Another special musician is Teitur. His music is so beautiful and small, his lyrics are magical, his voice is different from anything I've heard before. I have the luck of knowing him personally and therfor I got some inside information about his music which makes it even prettier. Some other names: Ane Brun (cute girl, beautiful songs), Fink (former producer, you can hear the electronical influence in it), Elbow (fantastic songwriting). Apologies to the metal fans for my list, but I urge you to check out this wussy music anyways!
According to the bio on the Cardamon website you hate the Black Eyed Peas. Do you mean the band or the beans?
Definitely the band. Most unmusical and overrated stuff I ever heard.
How would you describe yourself with three words?
Er… Are we really doing that?
What are your favourite movies?
I'm more of a series-person. Dexter, Prison Break, Arrested development, and -believe it or not- Lost. And although usually after the 3rd season the quality hits rock bottom, I keep watching it, don't know why, really..
And books?
I tend not to finish books anymore, last ones I finished were American writers: Palahniuk, Easton Ellis, Coupland. I like the writing of that generation. Furthermore I read in my "Vraagbaak", the mechanical guide to my old Beamer (e30). I would like to understand the principle of an engine. And than be able to fix it. So that I don't need to bring it to the mechanic.
Do you have any hobbies besides singing?
As we speak I am in Switzerland. For work, but also for my biggest thrill besides music: snowboarding! Beautiful, powerful mountains, maximum freedom, speed, adrenalin… Love it!
Cardamon is a very unusual name for a band. Why did Koen Romeijn and Thomas Kalksma choose this name for their new band?
Actually, it was my dad who came up with the name. I don't see why it's unusual, is that because it isn't half a sentence? Or because it doesn't involve pain, darkness or depression? We thought it was catchy and it represents our spicy side..
How would you describe Cardamon's sound and what makes Cardamon different compared to all those other female fronted bands in the world?
If asked we call our music usually melancholic rock/metal but to be honest: we don't really know what to call it.. In reviews we end up in the gothic department, and female fronted rock in general is usually considered gothic anyway lately. But we don't really care what people call it, and whether we are so different from other bands. We make music with our hearts, the way we like to make it, and we believe that we are a worthy contribution to the Dutch scene this way.
Can you introduce us to the other members of Cardamon:
Interview them! They are way more interesting than I am… Everyone of these guys are driven, talented, funny, blunt, sensitive, true and full of crap. Thomas Kalksma – drums, acoustic guitars; Koen Romeijn – guitars; Kevin Storm – guitars, soundscapes.
The newest member of Cardamon is Luuk van Gerven, who also happens to be the bass player of After Forever. How did you get in touch with Luuk?
We were looking for a bass player and all of a sudden Luuk sent us an email! He had heard about us through a mutual friend and was looking forward to jam with us. Of course it was fantastic to play with him, I mean, he is a GREAT bass player, so we aimed to keep him.. Since than he has really become a part of the bunch, co-writing, playing gigs, making stupid jokes..
On your first promo CD you had Ben Mathot as session violin. What happened to him and would Cardamon use a violist on stage someday?
Hans Pieters helped us out with that. We wanted a violin part, he knew Ben. I think his recording was a one-taker. He's very active in the music scene! He has his own band Dis and he's in Ayreon.. We are proud to have one of his arrangements on our album.
Speaking of old Cardamon members, what happened to Patrick Velis, who used to be your bass player during the recording of "The Primrose Path"?
Yes, good ol' Patrick.. He got caught up in too much activity. He got a promotion at his job, ergo he had to work more,. Combine that with 4 bands and a girlfriend, and than you realize you gotta drop something! Job and girlfriend were no serious options, so he chose the band he entered last. And that was Cardamon. It was hard for him and for us. But we still love each other, that will never change!
Can you tell us something about the songs on "The Primrose Path"?
The album has some returning themes that appear in the songs. They are about betrayal, mostly by people you trusted. About loneliness, even though you are amongst others. About the urge to find peace, in a place which is filled with noise. Contradictions, failure, desire and truth.
And what is the idea behind the title of the album?
It's about being tempted to pursue happiness coming easily, knowing it's not going to happen.. You're deceiving yourself, others deceive us, be careful not to let your guard down, nothing comes easily.
About the song writing: is this teamwork or is there one mastermind behind Cardamon's music?
Most of the songs are eventually a product of us all, we work on it in our rehearsal room. Especially the newest songs are really written together, 'cause we found out we really like that. It keeps the spirit high. Everyone has good ideas and lesser ideas, together you can fish out the genius ones and laugh abouth the horrendous ones. On "The Primrose Path" the arrangements were mainly written by Thomas. The melodies, fills and poo-hah were done by us all. Lyrics are Thomas or mine. "Echo" is Kevin's. Cardamon's music is more or less the opposite from Detonation, Koen Romeijn's other band. Would you like to do some faster and more aggressive songs on a new Cardamon album? Definitively. The more gigs we play, the more we realize that it's gotta ROCK! So, out with the half-way acoustic stuff, in with the rythmic drums and rocking riffs. But don't worry, I won't grunt!
A lot of bands have recorded their albums at the Rotterdam Excess studios. What have you learned from your experiences during the recording of "The Primrose Path"?
We owe a lot to Hans Pieters.. He reeled us in at the time we wanted to record our promo in 2004. After some years we still didn't have a record deal, and yet he agreed on recording our full length for a friendly price. The Excess sound is awesome, to work with him is a pleasure. Because besides his super-skilled engineeringhoodism he is a very funny guy, I always laugh my ass off.. And Hans apparently believes in us! We owe it to Hans to get this album all over the world, let's work on it.
What is your favourite song on the album?
Sorry, can't say. All songs stand for different times and feelings. They are all true and therefor have their own value to me.
Speaking of favourites: what are your highlights with Cardamon?
Hopefully 2009 will be full of highlights! Lot's of shows, a record deal for "The Primrose Path" and maybe we'll go abroad for some shows too! Personally, that is my biggest wish for the band, that we can make a nice tour, the farther the better! But from a different perspective, I am already so excited that there are people who buy our album, come to our shows and support us in any other way, that will always be a highlight.. thanks guys..
And, have you already experienced some "Spinal Tap" moments with the band?
We still have the same drummer…
What are Cardamon's plans for the future?
We would like to play as much as possible to show the world what we're worth, and in the mean time we're working on our second album.
And, the last question, is there anything the reader should know that I have not asked?
More cowbell!
Links
Latest Multimedia
Interview by Erwin Van Dijk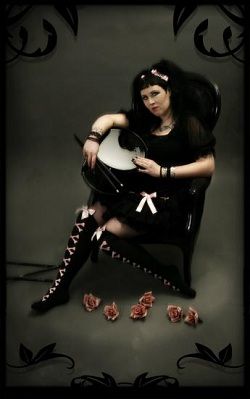 An interview with Karin from Asrai. Karin is the drummer from Asrai, a Rotterdam based gothic band.
To what kind of music do you listen yourself?
What I like most is Gothic Rock and eighties stuff.
And what are your favourite bands and artists?
There are several bands I like, In random order; The Damned (was great that we had the opportunity to be on stage with them), Nick Cave, Bauhaus, Dreadful Shadows (pity that they split up, I had real high expectations from them), Siouxie and the Banshees (Damn good drummer), The Birthday Massacre (One of the nicest bands we ever met, nice music too), Goth Minister (Fun on demanding), The 69 eyes, Scream Silence, Rammstein, Leave's eyes, Death Stars (Great entertainer), and there were some artists who recently made a good impression on me, one of them was Samuel, I was impressed by their stage act and attitude when they play at the Waterfront after some disasters with their tour bus. Also Cradle of Filth and Gaahl from Gorgoroth. Tiamat (they were very impressive live) , and so on….
While women in metal are more common these days than some ten years ago a girl behind a drum kit is still rare. Did you always wanted to become a drummer?
I never thought about it like that. We just wanted to make music. I started to play guitar and did that for three years. At that time, you could find me more often behind the drum kit when our drummer left the band years ago. We decided that I would become the new drummer and we would look for another guitar player. Although at that time not an easy decision, but one I never regretted it.
And what drum kit do you use?
From the beginning I use a Pearl Export, I like the black hoops and especially the solid quality of the kit. I still use my first kit at the rehearsal studio and that one is almost 20 years old. I have an endorsement for my cymbals and sticks. The sticks are from Balbex with my own signature on it and the Cymbals are Amedia the Vigo rock series.
What is your favourite Asrai song?
Difficult , I have more than one… "Running", "Alice", "Recall", "Tower", "Stay", "Roses", "Touch in the Dark"… I guess much more then just one…
Did you have any other bands or projects besides Asrai?
Not at the moment, although a while ago I had another project together with Martin and Johan. Years ago I played in another band for some months. For me: in the end nothing compares to Asrai
Where did the name "Asrai" come from?
The Asrai are small, fragile, female beings who turn to a puddle of water when they are captured or exposed to sunlight. It makes them unreachable….
There are a lot of female fronted bands in Holland and most of them started much later than Asrai. What makes your band unique compared to all those other bands?
There are quite a few although most "female fronted" beholds only the singer. I don't know if Asrai is more unique because we have three women in the band. I have the impression that we are more unique because of our background. And our friendship is at least special for us personally.
Last year Asrai released the album "Pearls in Dirt". What are the differences between this album and "Touch in the Dark" or "As Voices Speak"?
First of all the big difference is "As Voices Speak" is analogue recorded. We did all recording within three days and the whole production in a week. Recording of "Touch in the Dark" and "Pearls in Dirt" was all digital and we had a month time for recording, also together with a producer. "Touch in the Dark" was produced by Roman Schoensee and "Pearls in Dirt" has been produced by Sascha Paeth. Also a big difference for us will be that Manon and Martin joined the band while recording "Touch in the Dark". So therefore, we didn't write the songs with the five of us. The CD "Pearls in Dirt" is written by the five of us.
And what is the idea behind the title of the album?
It's the title of the song that was originally written for this album but was never finished. Three songs grew out of this one so we thought that it the album should name after this. To us it means beauty in a rotten society.
And can you tell us something about the songs on the album?
The songs are all about things you experience in life. Last two years was a personal hard time for some of us, with difficult and sad situations. You can hear that in our lyrics. These themes mixed with raw themes like abuse, global disaster and some fantasies. We don't like to explain this one deeper, because everybody has his own emotion to a song. We don't want to fill it in for the audience.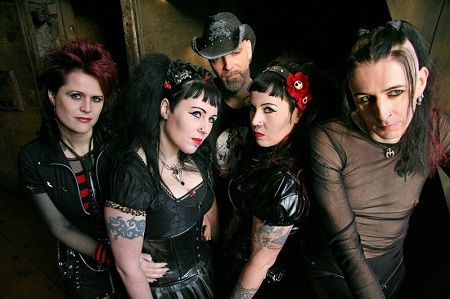 Which one is your favourite live song?
My favourite songs to play live are "Awaken" and "Sour Ground", "Delilah's Lie", "Touch in the Dark".. also more then one.
About the song writing: is this teamwork or is there one mastermind behind Asrai's music?
For us making music is teamwork.
Asrai is clearly a "gothic" oriented band. In this case the gothic from the eighties like Bauhaus or the Sisters of Mercy. This gives your music a real "eighties" vibe. But most Gothic bands of today have a lot of "metal" influences. Have you ever thought of writing more oriented "metal" stuff?
We don't write our music with a concept in mind, of course we're influenced by other music styles and that's automatically combined in our songs. I think that you can find metal influences. Although don't expect a guitar solo… we don't like them.
Can you tell us something about the other members of Asrai?
Rik – Guitars
Rik joined Asrai about eight years ago and in the end we wondered ourselves why we never met before, because we know a lot of the same people from the early days. When Jos (Grendel) played guitars at Asrai we wanted to experiment a bit more with our music and Jos knew Rik and so he introduced him to the band. One of the best parts of him, besides he's a good guitar player is that he doesn't like solo's too.
Manon – Keyboards
We know Manon from the city we live in. She was hanging around with a guy who played guitar at Asrai when our regular guitar player had broken his leg. As soon we got to know each other there was a connection and Just after recording the demo for "Touch in the Dark" Manon told us that she could play the violin, we invited her to play with us… well in a couple of days she went with us on stage… Unforgettable.
Martin – Bass
We know Martin for such a long time; He played together with one of our friends in a band. That's how we met him. For more then ten years he played together with our brother in Vanity 4 and I played with him for a while in the band Popes from Hell. When we wanted to record "Touch in the Dark", our bass player went ill. So we asked Martin if he want to join us… We're still glad that he said yes.
Margriet – Vocals
Margriet is my twin sister, best mate and to me (one of) the best vocalist I know. She is a special person, like the rest of the band. We're lucky with this line up. We have a really good time with each other.
How did you get involved with the Hellhounds fest?
We still were looking for a tour after releasing "Pearls in Dirt". And when the first idea was born for the Hellhound festival we were suppose to join that tour. It took a while before all the bands could be confirmed and in the meantime we got the opportunity to do the Darkest Tour. And with our days off in mind, it wasn't possible to do two tours in a row. So it was nice to do Dutch show at the Boerderij at Zoetermeer.
Asrai did a tour with Cradle of Filth last year. What have you learned from this tour?
The Darkest Tour was a festival tour with Asrai, Septic Flesh, Moonspell, Gorgoroth (now God Seed) and Cradle of Filth. It was a great experience to be a part of something big as this. We did learn a lot of it and it was really nice to meet some diehards in the music scene. Now I'm not only talking about the bands, also the crew, one of the light techs said it so nice: "The band is for the Rock and the crew makes it Roll". And some basic stuff we learned was that first make sure that you are one of the first who can take a shower; with so many men and facial paint you never know when will be the next opportunity of a nice hot shower. The crew of Cradle of Filth was awesome and they gave us some good technical advice. Sleeping in a nightliner bunk and waking up every morning in another country is something special too…. and don't think that we see much of the countries we visit. You don't have the time for it. Although at our days off we did some sight seeing.
What are your highlights with Asrai?
Through the years we had several highlights, every time it is something special to release an album. Being singed by a record company, the first time we saw our video clip at MTV, also our Mexico tour was so awesome.
With a band you are a lot of time on tour. Is it easy to combine Asrai with your personal life?
It's not always easy to combine; we all have a daytime job… so we're not drowning in days off. So sometimes we have to make choices because of that. When I couldn't get a day off for the gig at WGT years ago I even wanted to quit my job, gladly suddenly there were opportunities to get that day off.
And do you have any negative experiences in all those years with Asrai?
Of course we have, I guess one of them was at the beginning when a German record company were supposed to release a compilation CD, we had to pay for that one. And in the end the organisation run off with the money. And about 20 bands lost their money and gained one disillusion more.That some recensists put the album already on internet before the release date… that our record company went bankrupt, not only for us. But personally I think it's hard to see something end like this. Specially when somebody put his heart and his soul into it. Travelling a long time to a gig and at the day that we would play the organisation run off with the money, so the rest of the festival was cancelled… All important papers were been stolen from our dressing room and Rik's guitar was been stolen from the rehearsal room… well that one had a happy end, he got it back.
What can we expect from Asrai in 2009?
It's hard to tell, we have the feeling that the financial crisis has his reflection at the music scene as well. Too much organisations (bookers, festivals etc) are struggling to survive… so I hope everybody else will survive this all (I know Asrai as a band will!) and that we can do some nice stuff.. Like nice festivals etc. In the meantime we decided to work on new material.
Links
MySpace * ReverbNation * Facebook * Twitter * Site
Label : Ravenheart Records
Review by Tony Cannella
The Dutch Melodic, Gothic metal band A New Dawn returns with their second full-length album, "Seven Faces of Truth". For this album, the band continues its unique style when it comes to the vocals. Two females are joined by Death Metal style male vocals from Mike Heuvel. Seven members, "Seven Faces of Truth", I sense a correlation here. Actually "Seven Faces of Truth" is probably the most ambitious undertaking that A New Dawn have attempted – both musically and lyrically. The main character is Dawn and throughout the course of "Seven Faces of Truth", her story is told as she wrestles with emotions ranging from happiness to sadness and everything in between, this is something that we all can relate to and A New Dawn captures perfectly the fact that what is going on in someone's mind and heart are not always what they seem. The opening intro "My Name is Dawn" gets things started with Dawn's own narrative, as additional voices (which also could be Dawn's emotions, lending their own voices) join in to help exemplify the various emotions that the main character feels. Following the intro A New Dawn launches into the Maiden –esque "Contradiction", which is followed by a re-recorded (and much more forceful) version "Desire" (originally heard on the "Finally…" EP). These two songs embody the relentlessness of the material contained on "Seven Faces of Truth", throughout pretty much the entire one hour of playing time. Lyrically the band write what they know about, real emotions that reside within us all, consequently there is something that all of us can relate to on "Seven Faces of Truth". Musically, there are a lot going on in the songs. Some albums are hard to describe song-by-song and this one of those moments where descriptions just simply will not do this album justice. Suffice it to say, A New Dawn tears through the material like a band on a mission mixing in tempo changes and longer songs like the excellent 7-minute "Battle In Twilight (Contradiction Part 2)". With shorter songs like "The Madness Within" – which disarms the listener with a violin solo before it develops into an all out thrash/death metal number. The interplay between the three vocalists is so well done and a huge strength for A New Dawn. Two more songs from the "Finally…" EP turn up as the re-recorded versions of "Masque of the Red Death" and the 8-minute "Final Verdict" sound better than ever, before the outro "Bellare Ad Aeternus" takes us to the end of the story and closes out "Seven Faces of Truth" reflectively with just a symphony and acoustic guitar. Even though A New Dawn formed way back in 1997, it is hard to believe this is only their second full-length. In between they have released several demos, EPs and even a DVD but this is their sophomore full-length effort, and in my opinion, this is the best thing they have ever done. As far as melodic, power, gothic metal (or whatever you want to call it) goes; it doesn't get much better than this.
Rating – 95/100
Tracklist
My Name is Dawn

Contradiction

Desire

Composition of Life

Prelude to Farewell (Part 1)

Theatre of Fears

Battle in Twilight (Contradiction Part 2)

The Madness Within

Masque of the Red Death

Final Verdict

Bellare Ad Aeternus
Line Up
Jamila Ifzaren – Vocals

Alysia van Horik – Vocals

Mike v.d. Heuvel – Growls

Michiel Glas – Guitar

Elbert de Hoog – Guitar

Peter Groen – Bass

Rik Bruineman – Drums
Links
MySpace * ReverbNation * Facebook * Twitter * Site
6 color styles available:

Style switcher only on this demo version. Theme styles can be changed from Options page.