Browsing articles tagged with " saga"

Interview by Erwin van Dijk
An interview with Liv Kristine from Leaves' Eyes. This interview is all dedicated to the forthcoming album "Njord".
"Njord" is the third full length Leaves' Eyes album. (the other two were "Lovelorn" and "Vinland Saga").
I am absolutely happy and satisfied with the album. We've never worked this hard before with a production, but we've reached our goal. I would even say, we even went further than we thought was possible, technically seen. It has always been important to me that our sound and art is authentic, i.e. that you can hear from the very first tunes that this is Leaves' Eyes! We also want that our audience really get the feeling of being on a wonderful journey. I feel that our music needs a special well-written and interesting concept which is just as important as the sound, and "Njord" gives you all this.
"Vinland Saga" introduced the Viking elements in Leaves'Eyes. But "Njord" also seems to have some Irish themes, like the songs "Emerald Island" and "Irish Rain" . With "Njord" comes the EP "My Destiny", which contains besides the song "My Destiny" in two versons also an acoustic version of "Scarborough Fair" and two non album tracks.
"My Destiny" is a song you can easily "tune into". It's a good way to introduce the album (out 28.08.), although you will of course have less commercial songs on the record, too. On "My Destiny" is actually an EP, for the price of a single, with four non-album tracks, and one extra album song.

"Vinland Saga" was a concept album. Is "Njord" written with the idea to tell a story or are it twelve individual songs?
The lyrics mainly deal with characters from northern mythology (e.g. "Njord", "Fröya's Theme", "Nine Wave Maidens", "Ragnarok"), or with places and historical happenings (e.g. "Scarborough Fair", "The Battle of Maldon", "Emerald Island","Irish Rain", "Les Champs de Lavande"). This is why I found it necessary to deal with all these different languages. "Vinland Saga" is based on Leif Eirikssons discovery of America, even the EP, "Legend Land", which followed soon thereafter. "Njord" has a much broader concept, travelling through history, and into Nordic mythology. It has always been important to me that our sound and art is authentic, and that our audience really get the feeling of being on a wonderful journey.The lyrics are written in 8 languages (english, middle-high german, old-english, gaelic, norwegian, icelandic, french and one "self-made" linguistic fictional phonetic sequence)… I even sat down to study a bit French to be able to write one French lyric. I did study Old-English and Middle-high German, so it was really nice to be able to use this knowledge. Gaelic is completely new to me, though, but fortunately I found a wonderful person who helped me. "Njord" is an album that demands an expansion in linguistic terms.
This is your third album. What are the differences between "Njord" and "Lovelorn" and "Vinland Saga"?
Our debut "Lovelorn" was very refreshing and a wonderful start for the band, also the press and the audience were surprised. However, you shouldn't forget that we all have a huge experience and knowledge as musicians of Atrocity and former ToT (Theatre of Tragedy) to rely on. This brings Leaves' Eyes a wide step forward, so we were really no newcomers in our genre. Moreover, I really have to say that Atrocity + Liv Kristine is a magic formula! I took my experience from my favourite ToT releases "Velvet Darkness They Fear" and "Aegis" as a basis for Leaves' Eyes music. Our second album "Vinland Saga" was a manifistation of the music of Leaves' Eyes – we had "settled" in the genre gothic metal with female vocals. "Njord" is the perfection of both our 2 former albums. Since the first demo recordings for "Njord" we have been able to achieve goals that we thought back in 2007 after the "Vinland Saga" release would be quite impossible. I am so proud of my band members – "Njord" is a dream coming true, and all the hundreds of sleepless nights were worth it. We all have developed as musicians and technicians and this is experience that is unpayable. "Njord" (producer: my husband Alexander Krull) has a power to it that even is more intense than any previous production I've been part of. Technically, we constantly have new ideas and aims. We have our own studio and therefore we have the opurtunity to specialize in technical tasks concerning album and DVD productions. "Njord" has even a more bombastic but delicate sound that "Vinland Saga", because techniques allows it. We recorded the classical parts in Minsk (Lingua Mortis, supervised by Victor Smolski), we had a complete local choir (Al Dente) singing the choir parts, moreover, a special artist playing solos on special instruments like the uillian pipe and the whistle. All this makes this album a multilayered and highly interesting experience for our listeners, for your ears, hearts and minds. If I should describe "Njord" in four words I would say bombastic, emotional, contrastive, and pure.
Where do you get the inspiration for the songs. Some sources are clear, like Ireland and the Norse mythology but what really inspires you to write a song?
It's first of all my love for my homecountry, the Norwegian Nature, history, my family, the culture – everything I grew up with! I feel that our music needs a special well-written and interesting concept, and I want to travel through time and space. For me history has always been extremely interesting, and even when I left my homecountry Norway and moved to Germany 12 years ago, I had more books about the Vikings with me than clothes and shoes. I have travelled a lot and been able to see a lot of the world. History, languages, and geography has always interested me. Thorsten is the main composer of Leaves' Eyes, he works out his ideas on his guitar. "Irish Rain", however, was an idea I had one early morning. I hurried to the studio and worked out the tunes with him. Sometimes, ideas just appear to my mind, like a complete "song".

And can you tell us something about the songs on "Njord" and "My Destiny"?
We recorded 18 (eighteen!) songs, and all of them are placed on the single "My Destiny" (out now) or the album "Njord" (out late August). Our listeners will get a lot for the money. That's a way for us saying "thankyou" to our fans and friends all over the world. To mention a few examples, "Fröya's Theme" is one of my favourites on the album, too, next to "Irish Rain". "Fröya's Theme" is about eight minutes long, it includes five languages, inclusive two "speaking" parts done by Alex and myself respectively. It tells the story about Fröya, the Goddess of sex with her extreme power of beauty. However, her lover Od leaves her as he has "wandering eyes" for other beautiful women. Fröya travels around and through the worlds in Northern Mythology to find him. Her tears are made of gold and they heavily strike the earth. This song is an epic masterpiece composed by Tosso, our guitarist.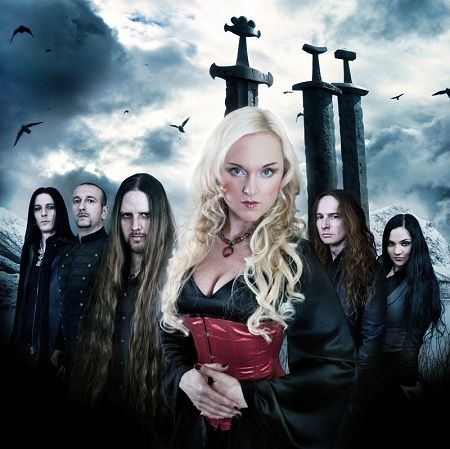 Is "Scarborough Fair" a Simon and Garfunkel cover and if it is, why did you choose this song?
I was an exchange student in the English town Scarborough, and I got very interested in their culture. This song is a folk song sung in the middle ages, also by the Vikings, on a trading market, in Scarborough. I wanted to rewrite the tune into a more heavy version and I am very happy with the result!

"Les Champs de Lavande" is a French title. Lavande means Lavender and the South of France (the Provance) is famous for its wide fields (champs) of lavender.
Can you tell us something about this song and why is it a bonus track?
As we had composed the instruments for this song, I thought about France immediately! I immediately sensed the smell of my favourite flower and scent, lavender! The Provance Lavender was famous already in the Middle Ages. I sat down and tried to put together a Franch lyric, and a friend of mine in France corrected it. This song just had to be about Lavender, and it sounds more authentic and special when it is sung in French.
While recording "Njord" you were supported by The Lingua Mortis Orchestra under the aegis of Victor Smolski and a classical choir. Most people will know Victor Smolski from his work with Rage. And this band does not exactly belongs to the same genre as Leaves'Eyes.
How did you find him and what was his influence on "Njord"?
We met Victor during a Rage/Leaves' Eyes' show in Greece in 2007. We are so happy that he liked the idea of working with us. It adds the important depth and bombastic character in our music.
The Special Edition will have a Drakkar (viking ship). What can we expect?
This is a way for us saying thank you to our fans and friends. Remember, many of them are collectors. I used to collect Madonna and Black Sabbath/Ozzy special merchendise objects.

One of the things that would make a lot of fans happy is a duet between the Espenæs sisters. (think of Beyonce and Solange Knowless doing a duet). Have you ever considered this for "Njord"?
It's not that easy since my sister moved back to Norway a couple of years ago, however, I am planning a duet on our fourth album, which will be a folk-oriented album, planned to be released in summer/fall 2010.

Do you already have some details about an upcoming tour?
Europe in November 2009, USA/Canada December 2009, then Europe and Russia in the beginning of 2010, and another long tour in the Autumn of 2010. Moreover, we have planned an acoustic tour between 28.08.-02.09 (please check the news!). We will play a capella in some of the Media Markets, for free for our fans, and we will have a lot of time to make photos with everybody, have a chat with our fans and friends and write some autographs. I enjoy acoustic tours. It's a nice way to keep up our close relationship with our audience, moreover, we are able to show that we are good musicians and can play live without a huge stage with a huge technical plan behind everything.
And which songs can we expect live?
A set-list still has to be decided on.
Although I think you will be very busy with the promotion of "Njord" this year and 2010 I would like to ask when we can expect a new Atrocity album and a new Liv Kristine solo album?
It's been 3 years since "Enter My Religion", and it's always good to gain a different aspect of your own art after some time has passed by. Right now, I am just about to finish the final recordings of my third solo album, and I see things in a new perspective now. "Enter My Religion" was an expensive production on a major label, however I made the decision in 2008 to release my third solo album on a another label, with a smaller budget, but having more freedom about the whole process, from the very first demo track, until the final master. I am very proud of "Enter My Religion", however I have developed as an artist and technician and my third album will be a huge step forward. I have put my focus on sounding just like myself, recording songs in one take, so you "get" me with everything I am, my character, my emotional level, my breathing, sometimes perhaps perfect, sometimes maybe not. I just want the audience to hear ME, not some singing lady with a pretty nice voice. I want to creep up inside your hearts and senses. I wrote all the songs together with Torsten (guit. Leaves' Eyes), all the lyrics myself, and my husband Alex is the producer of the album. Atrocity are already finishing their next Atrocity feat. Yasmin "Calling the Rain", which will be out end of 2009/beginning of 2010.
Links
MySpace * Facebook * Twitter * Site
Latest Multimedia

Interview by Roberta Ilaria Rossi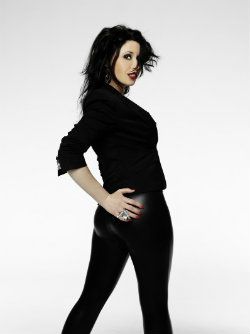 We've got to know them thanks to their debut album "Divanity". Now the Swedish band The Murder of My Sweet comes back with a new record, "Bye Bye Lullaby", released via AFM Records. To introduce better this new effort, the lead singer Angelica spoke with us and she explained with details something concerning this new record and her own work inside the band.
Hi Angelica and welcome to Femme Metal. Let's begin this chat talking about the band you sing in: it's the gothic metal band from Sweden called The Murder of My Sweet, which has been founded in 2007. Would you like to tell us something about your biography?
Hi guys! Yes, it's true that we started out in 2007. I got a phone call from drummer Daniel Flores that September and he asked me to come by his studio and listen to a couple of songs. I instantly fell in love with the project, and about two years later we released our first single shortly followed by our debut album "Divanity". We spent 2010 and 2011 playing festivals and venues and combined that with writing and composing for our second album "Bye, Bye Lullaby", which we recently released!
The band's name refers to a noir movie of the '40s called "Murder, my sweet" by Edward Dmytryk. How did happen the choice for the band's name? Are you a fan of noir movies?
Yes…. When Daniel and I started to work together and got to know each other better we soon realized we had a common interest in movies and movie scores. One of our passions is the art form 'film noir', so we wanted to include that element in our music and our appearances.
You're currently promoting your second record, "Bye Bye Lullaby", that has been released two weeks ago. What could you share with us about this latest album, starting f.e. from the original title of the album?
Well, it was hard at first… I had to struggle to get back into writing mode and to feel inspired 'cause we'd been really busy in the intervening years. The time before and after the release of our debut album was so intense and we wrote so many songs, both for our own band and for other bands and projects, that I felt I had nothing more to write about. It's really silly but I guess I was slightly burnt out? "Bye Bye Lullaby" sort of represents my way back; finding inspiration and joy again! We came up with an album that is a bit more contemporary but darker and in my opinion, heavier at the same time.
This is your second record. Your debut album, "Divanity", came out in 2010 and it has got a good success. If you were to describe this album with your own words, which adjectives would you like to use?
Aware, heavy, contemporary and dark, with an artistic twist in the last three songs.
Your sound style is described as "cinematic rock". Could you provide some more information?
I think the "Cinematic" rock description evolved from the fact that when we compose the symphonic parts of the songs, we do it in the same way that they do it in movies so that every song on a given album could also be part of a movie. The fans have picked this up too and there are a lot of fan made videos on youtube, where our songs are featured with video games and TV series…
Your label allowed us to take a listen to the album. From the premises offered by the card presentation, it seemed that this album had many innovations, which, unfortunately, I have not seen since the first listening. Actually, the sound seems a normal gothic metal sound combined with a touch of symphonic metal, instead of being "cinematic rock". What did cause the choice of adding electronic effects into your sound?
If you have been to the movies lately and seen, for instance "Tron; Legacy" or "Inception", there are a lot of electronic sounds and effects going on. We got hugely inspired by that. Going to the movies is a big part of our research for writing new songs, so I would say we still do Cinematic rock. The art form is evolving though and so are we…
As I've seen in some other bands, you've put some little orchestral arrangements in your sound. Will we ever see a third chapter of your discography that will star a real orchestra, like many bands like Epica or Nightwish did in their career?
It would be a dream come true to record and perform with a real orchestra, but sadly that sounds really expensive. Considering the situation in the music industry today, I don't see that for us. But you never know!
There are some great guests in this record: in fact we could notice the presence of Jesper Strömblad (In Flames), Peter Wichers (Soilwork) and Fredrik Åkesson (Opeth). This last guest really made me curious. How did you feel like working with these people and, especially, with Fredrik?
It can be a really mind blowing journey, or a completely flat feeling, inviting other musicians into your creative sphere but this time it definitely was the former. These guys are 3 very talented and experienced musicians, all, top of the line. You might say I was a bit star struck!
Will we ever see a bizarre duet between Opeth and The Murder of My Sweet?
Wouldn't that be sweet? Again, you never know…
Originally, there were 30 tracks composed for this new album, but they were reduced to 13. Was it hard to choose the 13 tracks that would have create your second album?
It is always hard to kill your own 'darlings, but it has to be done. Eventually, when you listen to all the songs together you soon, naturally hear which match together and which don't.
What happened to the remaining tracks? Do you think that you will use some of them in one of your future work, perhaps as bonus tracks?
Well, we have a great plan for our next album that will take off from right where we ended "Bye, Bye Lullaby", so keep your eyes posted. We intentionally composed the last three songs, "Waiting for the 27th", "Black September" and "Phantom Pain", as a mini saga that will bloom into full grace on the next record…
We can find a bit of everything in this record. There's a ballad ("Meant to Last Forever"), groove songs like "I Dare You" and so much more. What could you tell us about the song-writing and about the music process? How did you create these songs?
Either Daniel comes up with a groove or an idea for a chorus (and we start working from that perspective), or I come up with a story or an interesting sentence and we get off from that. And of course, as I've already said, we spend a lot of time doing research by going to the movies, etc…
To better promote this album, you have also shoot ​​the video for the single "Unbreakable", which will be out soon. Can you please reveal us something about it?
We actually shot the video in an abandoned rail tunnel and that put a really magical atmosphere on the set. It was freezing cold in there and we shot for about two days, which gave me a really bad cold afterwards, but I would do it again and again because it was so much fun. You can watch it here.

How are you living this great music experience? Do you have any expectation for the future?
I have great hopes and dreams for the future although the music industry is going through some rough times. I will try and stay floating and hope that our fans will continue supporting and sharing our web sites to everyone they know. The power of the fans is not to be underestimated!
Do you have several different projects on the go? You mentioned a lot of writing…
No, at the moment we all focus on The Murder of My Sweet and our latest release; and then, it's time to start composing the next album, so we're all concentrating on this!
This was my last question. Thanks for your time, Angelica. Feel free to share something with our readers and your fans!
Thank you for following us and reading this interview. You know we love you all and cherish the support and feedback you give us. Help us get our music out there and visit us at www.themurderofmysweet.com…. The sweetest rock and kisses!!
Links
MySpace * ReverbNation * Facebook * Twitter * Site
Latest Multimedia

Interview by Erwin Van Dijk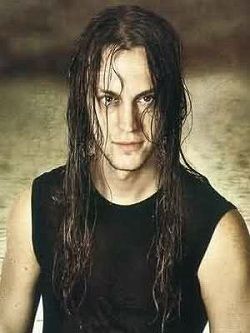 An interview with Mark Jansen from Epica. The band Epica does not really need an introduction. 2009 was a busy year for the band. Epica did a festival tour this summer and released a live album,"The Classical Conspiracy – Live in Miskolc, Hungary". Even better is the news that Epica will also release a new studio album in October. This interview is with Mark Jansen, the mastermind behind Epica.
Did you always wanted to become a guitar player and singer?
No, I wanted to become a cyclist and I also have a master degree in psychology but none of these made it to a profession. When I was 15 years old I went to a show of the Dutch death metal band Gorefest and from that moment on I knew I wanted to be on the stage as well. By then I didn't have the intention to become a singer. I started playing guitar and that was fun enough but when the male singer of my previous band After Forever left I started singing as well.
And did you have any other bands before After Forever?
No, After Forever was my very first band and Epica my 2nd. I never played in any other band.
How do you see yourself, as a guitar player that can do some grunts or as a singer who also can play the guitar?
As a guitar player that does some grunts as well. But above all I see myself as a composer who plays the guitar (… and do some grunts as well haha).
And did you follow any singing/grunt lessons?
No, it was more or less trial and error, grunts should not hurt your throat but everybody who tries to grunt for the first time won't feel comfortable doing it, you just need to find the right way and there you go

What kind of guitars and amplifiers do you use?
We just signed an artist deal with V-empire guitar amps, it's a Polish company and they make damn good amps. We were using Mesa Boogies before and they were good as well but when you have the possibility to sign a deal and get all these great amps for free you just have to grasp that chance with both hands

To what kind of music do you listen yourself and what are your favorite bands?
I often listen to bands which I liked when I was a teenager: Dream Theater, Megadeth, Guns N' Roses etc, it brings back nice memories. A band that I discovered 5 years ago and listen to a lot is Opeth. Besides that I also like to listen to film scores and classical music.
Is it difficult to combine Epica with your personal life?
It's a challenge and I need challenges in my life. My girlfriend lives in the US, so you can imagine it's not easy to combine, but nothing is impossible. At the moment we are 1 year and 8 months together and we see each other quite a lot in spite of the distance. Besides making music, we also manage the band ourselves, we don't want to throw money in the pocket of a lousy manager. The disadvantage is that there's a lot of extra work. But I still manage to have some free time and during this free time I like to enjoy the beauty of nature, sport and watch football

What are your favorite Epica songs?
It's hard to choose as I like many of them. But if I'm forced to make a selection with a shotgun pointed on my forehead I would say: "Cry for the Moon" ("The Phantom Agony" – 2003); "Consign to Oblivion" ("Consign to Oblivion" – 2005); "Fools of Damnation" ("The Divine Conspiracy" – 2007); "Kingdom of Heaven" ("Design Your Universe" – 2009)
I think that the trouble with Transmission Records was without doubt a negative experience for Epica. But what are the highlights so far?
There are many highlights, to name a few: – Lowlands and Pinkpop, playing these great festivals in the Netherlands were highlights; Wacken Open Air (2009) Germany, for me a dream come true to finally play the biggest metal festival of Europe; – "The Classical Conspiracy" and the show itself with orchestra and choir, the biggest highlight so far; Signing with Nuclear Blast, the record company I always wanted to be on since I started playing guitar; Being the first metal band from abroad to play in Tunisia, people were crying of joy, I will never forget that.
And do you have any updates about the Transmission Records situation?
Yes, the label owner signed a deal with Nuclear Blast to re-release the old albums and the previously unreleased "Live in Paradiso DVD".
Epica has two new band members now, both from God Dethroned. The God Dethroned music is very different from the style Epica has. Will the new blood in the band have much influence on the new songs? This is because I've noticed at live gigs (like Wâldrock) Epica has far more energy on stage.
You're right, since these two guys joined us we are a way more energetic band, not only music wise but also the stage performance has become more energetic. The guys have also an influence on the songs as everybody in the band influences the songs so some differences are due to them. But I like it this way, new blood means also the chance to integrate new elements (like solo's) and we did

Where do you get the inspiration for the music and lyrics?
Inspiration is a fantastic thing, you don't know where it comes from and what causes it, it's a mystery

What is the idea behind the name of the album?
"Design Your Universe" basically refers to the capacity to take control over your own life and create your universe. Many people don't live their dreams as they think it's unrealistic and out of reach. I am one of the many prooves that you can succeed, don't fear the unknown and take risks

And can you tell us something about the songs on "Design Your Universe"?
We went quite deep into the details this time. We want to make improvements on every album and as "The Divine Conspiracy" got great critics by press and fans we had to come up with something better this time and that's quite a job! haha. So we worked our asses off to try to make an even better album. My favorite song is "Kingdom of Heaven" a very long song but we managed to keep it interesting, long songs can easily get boring but I think we finally found the perfect ingredients for the longest song of Epica 'till now.
Three songs on "Design Your Universe" are a part of the "A New Age Dawns" saga. This saga has now six chapters. What is the relation between the "Design" chapters and the "Oblivion" chapters?
The relation is that we need to make a change, we lost contact with nature, each other and the earth. We need to get rid to some of our addictions which will destroy us in the end. Like our addiction to earn more money than our neighbour, money is the "antichrist" of our civilization..
You have also recorded a song with Tony Kakko from Sonata Arctica. How was it to work together with him?
Great, we toured with Sonata in Europe and asked him one of these days if he would be interested to record a song with us. Fortunately he was and with his very unique voice he lifts the "White Waters" song to a next level.
There are plans to record DVD at the Metal Female Voices Fest in October. What can we expect?
We will record DVD material, so whatever turns out great will reach a future DVD but if we're not satisfied nothing will happen. The facts are that we are gonna do a big show there, probably the biggest we have ever done. So probably you'll find at least some of this footage on a future DVD together with other concerts. MFVF made advertisements with the message that we will record a DVD there but we don't want to disappoint our fans as long as we're not sure.
Besides the upcoming tour, what else can we expect from Epica in the future?
We don't look to much ahead of us, so I don't know but until the summer of 2010 the whole schedule is fixed already so for like 1 year we know already what to do haha.
And the last question, is there anything the reader should know that I have not asked?
Erwin, you covered it all

Thanks a lot!
Links
MySpace * ReverbNation * Facebook * Twitter * Site
Latest Multimedia
Interview by Erwin Van Dijk
Monaco is a miniature state the size of some football fields. It is mostly known as hangout for the rich & famous in the world. But metal? Until very recently I would not have thought of metal from Monaco. Enter Black Knight Symfonia. The band has got two female singers (an operatic female singer and a melodic female singer) and this interview is with Arya, one of singers and Saga, the guitarist, composer and male singer of the band.
Arya is your artist name. Why did you choose this name for your work with Black Knight Symfonia?
Arya: Arya is the name of the main character in the french comic book of Michel Weyland, a solitary woman, dark, incredibly strong and pretty, in Persian this name means pure and noble. The courage of this young lady guided me when I was younger, a nice warrior, doing terrible quests… Black Knight Symfonia tells legends of battles, troubles, I think this name suits well our universe.
Did you always wanted to become a singer?
Arya: I've always listened to classical music, the first disc I heard was a compilation of solos from Maria Callas. The need to sing came way later. I fist studied piano at the conservatory, but I was missing something when I played this instrument. To be able to change every note, make it vibrate, change its colour just like I want, only the voice could do it. So when I was 14 years old I changed my course and learned opera singing at the conservatory. When I take a breath to start singing, I feel, already fine inside. Some people say eyes are the mirror of the soul, but I think that it's the voice.

And did you follow any singing lessons and what do you do to keep your voice in top condition?
Arya: I studied music, piano and opera singing at the conservatory, but also in the children's choir of the opera of Nice. To keep my voice in condition I work everyday. I have a library full of old vocal techniques, anatomy and musical interpretation books. Most of my techniques when I sing were learned from ancient masters. I have the habit before singing for Black Knight Symfonia to sing some technical baroque airs, "to warm up" my voice, like some Handel, then I finish my warm up with operas, like some Gounod or Cilea. And then I am prepared to sing "Dragonland".
Is Black Knight Symfonia your first band?
Arya: Black Knight Symfonia is the first band where I am a lead singer, I sang before in Nohellia but I was just doing backing vocals. This is the first time that I have the opportunity to work on the music and the lyrics, this is very hard but the result is that I can try new and more exciting things.
The other female singer of Black Knight Symfonia is Nymphadora. What are the differences between your and her voice?
Arya: Nymphadora has a very "rock" voice, very pure and I have a operatic voice. When we recorded the chorus in the song "Akasha", we were astonished by the fact that our voices were mixing really nicely. We complete each other extremely well.

To what kind do you listen yourself and what are your favourite bands?
Ayra: On the classical music side, I really love baroque from Italy and England, and contemporary French music. Baroque music was technical and elegant, contemporary music manages to let us enter the world of dreams. Well, that's for classical music. And now the underground music…. I am a big aficionada of black metal. If I had to list just a few bands, I would choose Burzum, Satyricon and Summoning. I don't really listen to other metal band with female vocals because I never find the power of the music, songs are focalised on the voice, what Black Knight Symfonia took the risk not to do. Music first and that's what I like to have real strong emotional compositions with orchestrations and not just "common songs" to be trendy.
Why did you choose to become a member of Black Knight Symfonia?
Arya: I was introduced to Saga by a mutual friend. We talked about our visions of music and Saga played me a few songs, like "Emerald Kingdom", and I immediately fell in love with his musical personality

The dialogue between Saga, Nymphadora and me was evident. We quickly began working together and the trio was marvellous. Time passed and since then, we became close friends.
Like with Arya, Saga is your artist name. Why did you choose this name?
Saga: First a Saga is an Epic story and Epic is the main characteristic of our music and the second reason is that Saga is also the name of a Knight in Saint-Seiya that like me is a Gemini and has an equally evil and good spirit.
Did you always wanted to become a guitarist and who are your favourite guitar players?
Saga: I wanted to become a guitar player when I heard Yngwie Malmsteen and Megadeth albums. I was really surprised and loved immediately the virtuosity of the neoclassical approach of Yngwie Malmsteen melt with the intensity of Metal songs. I am a self taught guitarist and I learned pretty much everything from analysing the playing of the guitarists that I like the most. I also practised some typical neoclassical structures in my playing because I like Metal as much as classical music. My favourite guitar players are Yngwie Malmsteen because he created neoclassical metal, Steve Vai that is a genius of the guitar and plays like nobody else on earth, Michael Romeo, and Jeff Waters from Annihilator that has some kick ass rhythm patterns.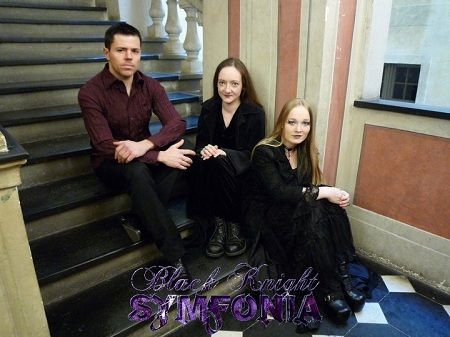 What kind of guitars and amplifiers do you use and why?
Saga:I'm playing on a Vigier Excalibur Ultra (French hand made guitar) and on an Ibanez UV777 Steve Vai signature 7 strings guitar and I play on VOX and Marshall amplifiers.
Did you have other bands before Black Knight Symfonia and what are the differences between them and Black Knight Symfonia ?
Saga: I am also a member and the main composer in the international Viking folk metal bands Folkearth and Folkodia. In the past I played in a Black Metal and in a Technical Death metal band and I also played a few years in an instrumental guitar band. Black Knight Symfonia is the band I always dreamt about because it allows me to compose using elements from all metal genres and to add powerful and emotional Epic orchestral arrangements.
With the exception of the female vocals (which is logic) and the drum parts you are responsible for all the other aspects of Black Knight Symfonia. Do you see Black Knight Symfonia as a real band or more as a solo project ?
Saga: Black Knight Symfonia is a real band. Arya and Nymphadora are full time members and they bring their musical background and lots of emotions into the vocal melodies and they also participate in the writing of the lyrics. Composing all the music is just the way it works for me to create an original musical world. I can't afford bringing someone else to compose music for Black Knight Symfonia because someone else would probably be influenced by another band. It is sad but most of the band are just copying others people work… I really hate followers … For me Music is a sort of art and I always stay focused on my goal that is to create my own music without getting distracted or influenced by any other bands music. Creativity is the most important thing in my music.
What is the idea behind the name Black Knight Symfonia?
Black is related to the dark mood of our music, I don't like really much happy "cheesy" music.Knight is related to the Epic and kind of medieval or fantasy themes of our lyrics and the Black Knight is a really Dark strong and tortured Knight. Symfonia is related to the orchestral aspect of our music. I really consider the orchestral parts as important as the metal parts, and finally I can say that Symfonia is written with an F and not a PH because it is written in Polish and it is a wink to Fryderyc Chopin (who was Polish) that is one of my favourite classical composer with Johan Sebastian Bach.
"Heavenly Chaos" is your debut album. How would you describe the music on the album?
The music on our album could be best described as a really emotional dark and epic trip into a fantasy world.

Where did you get the inspiration for the music and lyrics?
To create music I just follow what my heart want to "share" with listeners , I compose mostly when I am in an appropriate emotional condition. For the lyrics on the first album we thought of a tragedy in an epic and fantasy world. Our first album is a concept album based on the "fall" into evilness of the Black Knight after being betrayed by the one he was protecting.
What are your favourite songs on the album and why?
My favourite songs are "Dragonland" and "Emerald Kingdom". I love "Dragonland" because it shows the intensity of our music and the really important role of combining real operatic vocals with a more rock female vocals and some black/death vocals. "Emerald Kingdom" is probably the most epic song in our album, and brings a lot of different ambiances. I love the orchestration and the story related in this song.
How did the press receive the album?
We get lots of excellent reviews, and it seems that the press recognize us as a really original band that can bring the audience into new unknown territories.
Can you introduce us to the other two members of Black Knight Symfonia, Leviathan and Nymphadora?
Nymphadora is a young talented female singer in charge of the non operatic female vocals parts. She has a strong and emotional voice. She was the first female singer to join the band in March 2008. Leviathan is a long time friend and our studio drummer. He is a professional drummer and can play almost everything from Metal, technical death metal to speed metal or even jazz rock. He played some really nice and original drums on our first album because we didn't wanted to have just a common Symphonic metal drum playing. He really got into our musical world and involved in the recording of the drums really more than we were expecting. We will definitely work again with him for our next releases.
What are Black Knight Symfonia's plans for 2010 and beyond?

I am already composing second album and we will soon work on vocals parts and in 2010 we will go back to studio to record our second album. You can expect our next album to be much more intense and the orchestrations will also have an even more important role to bring you into something you never heard before. We will also keep focused to get signed by an open minded label that will release our first album. And beyond 2010 I would say that as long as my imagination and emotions allows me to bring some more very original and unique music Black Knight Symfonia will live on.
And the last question, is there anything the reader should know that I have not asked in this interview that might be important?
Arya: Just a little word of love and kindness to all our listeners, hundreds kisses !
Saga:
We just want to thanks every listeners and fans that are sending to us some really nice compliments and support messages. We are really grateful for your support! We also want to thanks the femme Metal Webzine for showing interest in our band. We are still searching for an open minded label to sign our band and release our album "Heavenly Choas" ! So if you are working in a label or know someone running or working in a record company and if you love our musical world please just contact us we will consider every propositions. Stay Epic and Metal !
Links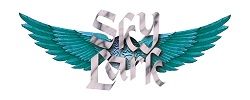 Interview by Miriam NocturnalConcerto
Well, it's time for some Italian bands, don't you think? So I think that we must give to a piece of the Italian metal history called Skylark some well deserved space. History because are rolling down the street from 20 years and like always there's the right time for some changes and hereby we present the débutant Ashley Watson that, along with Brodo, we will discuss about their ninth album "Twilights of Sand" and some juicy curiosities about the Far East.
Ashley : Hi, I'm doing great, thank you!
Brodo : Hi to all Femme Metal's readers! It's great to be here with you.
First of all to whom maybe don't know really well your band can you present it with a little biography?
Brodo : Skylark has a long history, we are very close to 20 years of activity. As most of the times it happens to a band with a long history, our music style has gone through some changes during the years and every album we have released is slightly different; however, I can surely say that you can always recognize Skylark sound: the strong combination of powerful and fast rhythm session, the extreme melodic vocal lines, the massive use of keyboards balanced with symphonic and neoclassical atmospheres and a touch of Hard Rock. Thanks to this uncommon combination we achieved a great success in some really important market of Far East, including emerging countries like China where we had the longest Pan China Tour for a Western Band, being also the really first one that have played in some of the most important province's Capitals like Kunming, Changchun or the really remote but famous Harbin. We also getting a more than decent feedback from South America. We are one of the first band, in the melodic metal scene, that decided to have a female singer performing with a full body melodic voice instead of the more traditional male "front-man". This was a complete different direction compared with the Opera's style (such as Tarja) that was already really famous in that period.
Ashley, since you're the last new member, can you talk about you, your musical training. And connected to this, when was your first contact with the Skylark universe? Despite Skylark, what metal bands do you like or you are new to this genre?
Ashley : I started singing when I was just a toddler but my formal vocal training started when I was 13 years old with a vocal program called Speech Level Singing by Seth Riggs. I've been taking lessons from SLS teachers ever since. Apart from that, I like to attend vocal seminars in my spare time. I love learning little tricks to help make my voice better. Aside from my formal training, my family is very musically oriented. My Dad was a professional session musician in the 80′s in the LA music scene so I had a lot of guidance from him. My first contact with Skylark was the summer of 2011. We were recording at the same studio and they asked me to sing the hook for "The Princess and Belzebu" and after that, everything just fell into place! As for metal bands, I am pretty new to the metal scene. My family is a country music family (hence the country band in a later question). However, Eddy has definitely gotten me interested in some metal bands, such as Iron Maiden. I love finding new music and I'm always up for new genres. Although I may be new to the Metal genre, I've always been a sucker for hard rock like Aerosmith and Bon Jovi and then classic rock like The Beatles. Apart from the hard rock, I listen to a lot of Pop Rock such as Avril Lavigne, The Summer Set, Taylor Swift, The Jonas Brothers and of course American rock bands such as Paramore.
Ashley, for being so young you're quite navigate in the show business but the impressive fact that thanks to Gardener Cole you have already recorded an EP with Arrowheart, an all girl country band, what you can say about that experience?
Ashley : Recording with Arrowheart was definitely a great experience. It was a good way to get my feet deeper into the business, and it was an amazing experience working with Gardner. You can always learn something new when working with someone like him.
Well, let's introduce your ninth album "Twilights of Sand". What can you tell me about its genesis and lyrics? I know that was recorded in Arizona, USA….
Brodo : "Twilights of Sand" is a record that I'm really proud of. In my opinion, it is, simply, an excellent album, without any "B-side" song. Every track could be a potential single. Even if we released a DVD in the 2009 and a special CD in the 2010, our last standard studio album was recorded in the 2006 and published in 2007. That's one of the unconscious reason why we wanted to give to our fans something really special. We felt we had prepared 70 minutes of great music so we decided to record in one of the best studio in the world where metal bands like Megadeth, Soulfly and great voice like Alicia Keys have recorded some of their albums. I cannot tell you many things about the lyrics because apart from the main concept (Divine Gates saga telling the marvelous fight between good and evil, White Warrior against Belzebu and so on…) that is again featured in the song "The Princess and Belzebu" all the lyrics are written and cured by Eddy. And he doesn't speak a lot about it because he thinks that even if every song is born from a personal experience, a personal feeling or a personal dream, everybody has the right and the freedom to exploit his personal view from each songs, creating his own world and feelings.
Scrolling down the site, in the section dedicated to the new album, I have seen that a lot of female/male singers has participated in it. Can you unveil more details about them?
Brodo : Yes, you are right, in total there are nine singers, six female and three male. To tell the truth, nine are the singers present in every version of "Twilights of Sand" but considering all the different versions and their bonus tracks (a full length bonus CD for the European Edition), the number is even higher. Besides Ashley that is the official Skylark's singer, the others are guests. The rich 24 page booklet of the album is full of pictures and some special credits about all of them. As it has often happened in the band's history, the album appears like a rock opera with singers joining us from different States all around the world, covering three different continents: Europe, Asia and America!
"Sands of Time" was written by you, Ashley, what's its subject?
Ashley : In my mind, the song is about a love interest and how he never really gave me a fair chance. That's why the main question really pops up; "If I fell in love with the morning sun would you cry" meaning; would you really even care if I fell in love with someone else. However, the song is really up for interpretation so it could be about something totally different to someone else.
I would like do a little step back, because reading your wide discography, the albums that really pop up are the ones denominated "Divine Gates Part". In a few of lines what you can describe what's the Divine Gates?
Brodo : The saga started with "Dragon's Secrets" (even if that one is the central chapter of the Saga). Like I said before this story is about an eternal fight between Good and Evil, the Dark and the Light. Many characters appear in the lyrics: some are related to historical tradition like Belzebu (someone might see a religious view but our intent is only historical) some others are simply our brand new creations. They have been interpreted by skilled and important singers from the Italian and International scene. "Dragon's Secrets", "Gate of Hell", "Gate of Heaven", "The Last Gate" are all focused on this fighting. But there are single songs connected to this theme also in "Wings" and in "Twilights of Sand" for example. For those who don't know the story already, I have one suggestion: listen to the CDs and follow all the lyrics. For me, a song like "Light", that is long almost 24 minutes, is one of the most important chapter in Skylark's history.
So, we can say that with "Twilights of Sand" the Divine Gates saga is closed, right?
Brodo : Never say never. There might be some more stories and secrets to tell about the Divine Gates saga! Like I told you before, you can now listen to the song "The Princess and Belzebu". After the coming and the adventures of the Princess of The Snow it might be the time for a new Princess… The Princess of the Desert.
The thing that hit me so much, being an Italian band, that you have a lot of success in the East Countries like China and Japan. Why such explosion? I know that sounds stupid this question but I still don't understand what worked so well. If we want do a comparison that's the same that happened to Lacuna Coil in the USA.
Brodo : I'm sure that our melodies and Skylark's sound itself are the secret of this success. In every Skylark's song, from every album, it is easy to recognize our sound. As I said at the beginning of the interview, our sound is a strong combination of melodic lines together with wide image keyboard and a fast, strong rhythm session. I like your example, but this aspect of Skylark and Lacuna Coil's career is different in some parts. After they had signed for Century Media, the record company introduced them to the American market, and, mainly, thanks to the work of Century Media they finally got a good success there. Skylark, in the really beginning of its history, didn't have any record company in Asia. We didn't have the support of the traditional music business and its standard channels like magazines or radios; our success was born and grown up straight from fans that imported our album from Europe and promoted our music through different ways like DJ event, listening party and the innovative, at that moment, web. In the really beginning of the 2002 the name of Skylark was already present massively in almost every Rock music's forum even if just one album, ignored by the press, had made the Japanese domestic market only for a limited edition ("Dragon's Secrets"). Only in 2003, after almost 8 years and after being number one in the major import album charts (happened for several album), we signed a contract with a Japanese record company and, finally, got access to the traditional music business' channels. And from that moment we have been increased our fan base even more, reaching really important results.
I've seen some funny photos on your Facebook Page about the Japan tour 2011/2012 and you, Ashley, sounds that you have enjoyed it a lot! How the Japanese fans welcomed you and what's the funny fact/thing that happened to you during this tour that you want to share with us?
Ashley : The Japanese fans are amazing and very welcoming. I can't wait to do our next tour in Japan. When you are on tour and spend so much time with your bandmates, there is a tendency to play a lot of practical jokes. I was shopping in Japan and bought this really cute hat. I came back from the store and Eddy really didn't like the hat at all. Since he made it clear how much he hated it, I wore it for the rest of the tour just to spite him. It opened up a whole bunch of doors for funny situations. The band members ended up tag teaming me in the hallway of the hotel and stole the hat from me, holding it captive for the last few days of the tour.
Brodo : Japan and Japanese fans are amazing! The Metal music scene in city like Tokyo or Osaka is an everyday life experience, especially in the evening and night until 5 am of the following day. For those who have never been there is difficult to imagine how exactly it is. In the last years I've improved my Japanese language enough to be able to talk with many people there and, in the free time, lead the band to some typical and secluded places otherwise quite hard to be reached and, even if you found them, it would be impossible to handle any conversation without an interpreter. I can consider Japan my second home!
Also sorry if I insist, but I'm really fascinated with all that concerns the East. Any curious facts that you want to share, Brodo? I mean how's the average Japanese fan?
Brodo : The greatest thing of Japan is that everyone can be a metal fans, from students to bank managers. Also, it's really not a problem if, for instance, a Buddhist Priest likes Metal. There are many examples of this in Japan and I know a Priest that is used to cleaning up around the Temple wearing Death Metal T-shirts.
On the contrary what didn't work in Italy? There are a lot of really excellent bands but no one have had the real blast, I mean except for the specialized media, no one promote metal…
Brodo : Italy is a great country for science and arts, most of the biggest artist in the history are Italian or lived in Italy for a long period. Two of the very top artists in the music, John Bon Jovi and Madonna, are clearly from Italian families. Rock music in Italy is not well promoted nor in the center of the global scene. For sure, always regarding Rock and Metal music, there is a big difference between Italy and countries like Sweden or Finland where every good bands have had the support of their country. In the North of Italy there are much more possibilities compared with the South: more music schools, more instruments shops, more concert venues and so on. Before, you mentioned two bands: Lacuna Coil and Skylark, both from Milan. I think it gives a good view of the Italian situation.
Instead talking about tours et similia, what are your next plains?
Brodo : After the Japanese market, where the album has been published in January, "Twilights of Sand" is undergoing a releasing process in the other territories and will be sold in different versions. Soon we will reach 20 years of activity and, of course, we are planning something special for this anniversary. From 1994 Skylark we already released 9 albums and we cannot miss the chance to make 10 albums in 20 years! Our fans we'll get a special present from the band… really soon!
Well, we're at the end. Please greet our readers as you want!! Thanks for everything, Brodo and Ashley!
Brodo : Thank you so much, it has been a pleasure to share this time with you and with all Femme Metal readers.
Ashley : Thank you for this interview and all your support. I love meeting new fans so I hope to see all of you on the road or on one of our fan pages. Thanks again!
Links
6 color styles available:

Style switcher only on this demo version. Theme styles can be changed from Options page.