Browsing articles tagged with " steel"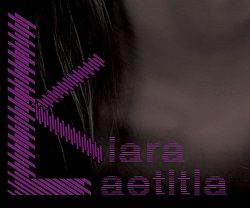 Interview by Miriam C.
It's time for the Italian artist Kiara Laetitia, mainly know as the former vocalist of the symphonic power metallers Skylark, to write another chapter of her artistic life. With her debut EP "Fight Now" she inaugurates a  brand new start that can only be shining for her future. Discover with us what Virgin Steele's mainman Mr.De Feis has helped in this rebirth!
Hi Kiara, first of all how are you?? I'm really honoured to speak with you!
Hi Miriam! I'm great thanks! And thanks for this interview, pleasure it's mine!
Let's start, so recently, after being for 8 years the lead vocalist of the Italian power/symphonic metal band Skylark, you have decided to go solo and release the EP "Fight Now". What you can say about its genesis? When you have started to compose the lyrics for this release?
Well, I've always had the idea of a solo project, a parallel project to Skylark, but then I had so much going on with the band that I never found the time to sit down and write some material. Continue reading »
Label : AFM Records

Review by Tony Cannella
Originally released in 2009, "Metal Nation" is the second full-length album from Poland's Crystal Viper. In my opinion, this is also the album where the band began hit their stride and establishes themselves as one of the lead bands in the traditional metal movement. Like their debut, "Metal Nation" has been re-released by the bands current label AFM with a ton of bonus material. Let's face it, throughout their history Crystal Viper has not strayed too far from what they do best and that is one of the things we love about them, it doesn't mean however that they don't add a new twist or two along the way. "Metal Nation" opens with the intro "Breaking the Curse" and the band dives straight in with the ferocious title track. Yes indeed, classic metal is alive and well and played at a high quality by this band. "Bringer of the Light" is next and is one of my favorite songs the band has ever recorded. "1428", "Zombie Lust" and "Legions of Truth" are more highlights. The bonus material includes: a cover of the Agent Steel song "Agents of Steel" and a cover of the Running Wild song "Libertalia" – Crystal Viper has always chosen interesting songs to cover and these are no different. Some alternate versions of Crystal Viper songs are also included here. Crystal Viper is one of those bands that have such a strong catalogue of music that everyone who is a fan of the band has a favorite. "Metal Nation" is my favorite, but in the grand scheme of things, how do you choose a favorite from a band whose body of work is this strong? AFM put a lot of care into these re-releases and fans of the band should be pleased with them.
Rating – 88/100
Tracklist
Breaking the Curse
Metal Nation
Bringer of the Light
1428
The Anvil of Hate
Zombie Lust (Flesh Eaters)
Her Crimson Tears
Legions of Truth
Gladiator: Die By the Blade (I-III)
Agents of Steel (Agent Steel Cover)
Axeman's Revenge (Live intro 2008-2011)
Metal Nation (Karaoke Version)
The Banshee (2011 Version)
The Anvil of Hate (Demo Version 2007)
Bringer of the Light (Karaoke Version)
Libertalia (Running Wild Cover)
Line Up
Marta Gabriel – Vocals, Keyboards and Piano
Andy Wave – Guitars
Tom Woryna – Bass
Golem – Drums
Links
MySpace * Facebook * Twitter * Site
Interview by Ary R.
With an upcoming album that will be released for Nuclear Blast, Finnish metal band Battle Beast is ready to bring its music around Europe. Femme Metal had the honor to exchange some words with front woman Nitte Valo, who revealed to us something about the new album and she also spoke of her own impressions about the amazing tour that will see the Finnish guys with one of the most famous Finnish band around: Nightwish.
Hi Nitte and welcome to Femme Metal.net First of all, let me thank you for having stopped here and giving us a chance to have a chat with us. How are you doing?
Hi! I'm doing great! I'm preparing for Christmas in cold and rainy, but not so snowy Finland.

You're the lead singer of the Finnish heavy metal band Battle Beast. Would you like to introduce yourself to those people who still don't know you and/or your band?
Battle Beast are Anton Kabanen (Guitar, lead and backing vocals), Juuso Soinio (Guitar), Pyry Vikki (Drums), Eero Sipilä (Bass and backing vocals), Janne Björkroth (Keyboards and backing vocals) and then there is me, Nitte Valo (Lead vocals) .
Recently you've signed to one of the biggest companies ever: Nuclear Blast. How did this happen?
Well… It happened so fast.. Nuclear Blast contacted us. Then sooner than we even realized the fact we got signed to them… And that was really good thing.
Your debut album is called "Steel" and it will be released on January 27th 2012 for Nuclear Blast but it was previously released in April with another company. Why did you decide to reissue again the album?
Because it wasn't released anywhere else than in Finland and so many people from around the world was very willing to get that album. So why to make a new one yet, if we can release a good 'old' one for Nuclear Blast.
Why have you chosen this title for the album? And what could you tell me about the artwork? It's a very curious one…
We are hard as steel! And of course it's the one of the songs in the album. Roman Ismailov does our artwork. He is a good friend of Anton and he's been working with the band since the official foundation which occurred in 2008.
How did the process of the song-writing happen?
Anton does all the songs with every detail in his home alone. And when a song is composed and arranged he'll presents it to us and then we start rehearsing it.
What is the most beautiful part in recording an album?
Most beautiful part…well.. maybe the most beautiful part is when you get your 'baby' in your hands
Let's talk about lyrics: where does the inspiration to write music and lyrics come from?
Because Anton is the guy wo does all the lyrics and writes music for Battle Beast by himself, he could be the right person to answer this question.. but he gets his ideas from cyberpunk related movies, literature and pictures. Also he get's inpirations from the Japanese dark fantasy manga and anime series called "Berserk" by Kentarou Miura. Of course some of the older action and sci-fi movies inspires him too. Personally I'm not so huge fan of all those inspirations what Anton has but most important thing is that I can still reveal those feelings and moods what Anton wants to tell to people with his lyrics and songs.
And about the arrangement and music?
Again I have to answer that Anton is the guy who does all the magic!
How much of yourself do you put in the writing/recording an album?
Even if I'm not participating writing or song making process I put my whole soul in it. I give my everything to album with my voice and my feelings.

Talking about your voice skills, someone has said that you are like the female version of Fabio Lione (with much more vocal extension) which meets a little part of Manowar. Do you agree with this statement?
I don't feel that it's necessary to compare my voice with someone else voice(s). Every singer, female or male has their own voice to sing. For me, it's more important that I have my own sound and style to sing. I can't, or I don't even want, to have same kind of singing style or voice than someone else has already. I just want to sing with my own style.
Vocally speaking I've also noticed that you use "a little" vibrato. Is that the result of some innate talent or have you done some study to use it?
It has to be somekind of innate talent because I haven't taken much singing lessons. When did you start to sing?
I've started to sing before I started to talk… But first time when I was singing with the band was when I was twelve or thirteen years old. Did you ever think, even when you were a child, that this passion for music would have lead you to these levels? Carrying you with your own band touring Europe with bands that have a great reputation worldwide, like, for example, Nightwish…
Of course it has been my dream for a long time. So I guess that nowadays I have to be careful what I'm dreaming because now I've seen that my dreams can really come true! I"ve listened to "Steel" and I"ve noticed that your voice is quite versatile, as I"ve heard for "Savage and Saint" or "Iron Hand", where there's also some classical singing (albeit slightly). I like these two songs so much and your voice shows off a great ability in fitting perfectly the songs and the music itself. What could you tell about this?
Like I said before, I just try to reveal those feelings and moods what Anton wants to tell to people with his lyrics and songs. If some part of song needs to be sung with classical or operatic style then I'll just do it. And of course I have somekind of sense in myself how I should sing in different parts in different songs. As I"ve mentioned, there's a track, called "Savage and Saint", that there is a ballad, actually. Why have you decided to put a ballad in this album? Was it previously decided or was it decided randomly?
"Savage and Saint" fits just perfectly in our first album. And I think that "Savage and Saint" is great warrior-ballad. It's not so soft and cry-baby ballad, it get's heavier from the middle of that song. Actually I don't even think that song as a ballad. What kind of music has inspired you and your way of singing? Is there anyone who influenced you, musically speaking?
I've always liked and listened the bands like W.A.S.P, Judas Priest, Iron Maiden, Manowar.. etcetc. I know that I can't sing like those guys are singing and actually I don't even want to. I want to be me with my own voice. Strangely I haven't listen so many female singers. Except Angela from Arch Enemy. But I have to say that Marco Hietala (Nightwish, Tarot) inspires me a lot with his style of singing. As I"ve mentioned a few lines above, you'll join Nightwish in this upcoming tour. What do you think of this great experience you'll start with these guys?
This was one of the greatest things what has happened! We are waiting eagerly to get on tour with them. This is so great opportunity for us and we are grateful to Nightwish that they wanted to take us with them on tour. How did you react when you discovered that Battle Beast would have toured with Nightwish?
First I thought that somebody is joking with me but then after a while I realized that tour with Nightwish is really true. Maybe I ran around screaming for happiness and excitement for a while but I bet some of you have done the same thing too. What is your own opinion about female fronted metal bands?
Some of female fronted metal bands are so similar with each others… same kind of clothes, same kind of way to sing… I'm not saying that it's bad thing, but in my opinion you always have to have something how you stand out from the mass. Is there a particular band you would like to cooperate with in future? Maybe for a studio project or… why not… a tour?
I can't say any specific band. I think that each band with whom we are cooperating in the future will teach us something. What's new now for Battle Beast?
To make a killer second album in some point in the future and to get more tours abroad. And all the while having a blast doing it! Ok, thank you so much Nitte for the great chat. Is there something you would like to tell to your own fans and Femme Metal readers?
Thank you very much! Thanks for reading this interview. I hope you guys and girls come to our shows and become Battle Beast fans! Remember to buy our album "Steel" as well if you don't own it yet! And a big thanks to our fans who listen to our music, come to the shows and keep spreading the word about us.
Links
Latest Multimedia

Interview by Robin Stryker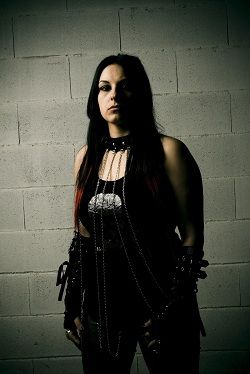 Fifteen hundred years ago, Verona was the stronghold of Theodric the Great and his army of Goths. Today, it is the stronghold of metal quintet, Shining Fear, which is seeking to conquer Italy (and the rest of the world) with its aggressive heavy metal sound. Waving a white flag of truce, Femme Metal sat down with vocalist, Barbara Mischeri, to learn more about Shining Fear's battle plans.
Barbara, welcome to Femme Metal! Would you start off by giving our readers a short history of Shining Fear?
Shining Fear was formed in the early February of 2004 by me and Matteo Migliorini (Guitar).
In a second time, we added Pierluigi Lazzarini at the drums, Lorenzo Tomelleri at the keyboards and Jacopo Ravagnani at the bass. We start the project with the idea to form a gothic metal band like Nightwish, in fact in 2005 we recorded the first demo "…Catch the Breathe".
We have played with important bands of the Italian metal scene like Necrodeath, Stormlord, and Dark Lunacy. In 2008 we recorded the first full-length named "ApocaLife" and in October 2009 we signed with Heart of Steel Records who distributed the album on digital stores all around the world in 2010.

If I'm not mistaken, the line-up has not changed since the band first formed in 2004, despite the relatively long wait between Shining Fear's demo ("..Catch the Breathe" 2005) and full-length debut ("ApocaLife" 2010). What is the biggest thing that has held the band together all these years?
Ahaha… When I told to my companions about this question they laugh and the answer was "Laziness"!! Joking aside, our story it's a little curious because the band it's a family — me, Miglio and Pigi are friends 10-12 year-long. Why are we a family?? Now I tell you some gossip news (ah ah!!) Miglio (guitar) is my mom's partner, yes my mom (mommy metal for the masses!!) and Jack is my partner! But the real answer is that we work well together and we have the same ideas for the future in the composition and because we are really friends!

What do the members of Shining Fear – yourself, Matteo Migliorini (guitars), Pierluigi Lazzarini (drums), Lorenzo Tomelleri (keyboards) and Jacopo Ravagnani (bass) – do in your "normal" lives, when you are not creating and performing music?

I work in a supermarket, Miglio paints ancient style furniture even for the USA, Jack works in the advertising sector, Lorenzo studies Musicology at the University and Pigi works in a factory but I don't know the sector he works in. In our free time, we do the normal activity just as normal people 'cause we are normal people!! We go to the live gigs, listen to music, everyday life.
The band's "…Catch the Breathe" demo was recorded in just 16 hours. How was it possible to record an album in such a short time?
It is possible! In the past we had a low budget but nevertheless "…Catch the Breathe" plays well!
The new album "ApocaLife" is noticeably more raw and aggressive than Shining Fear's demo. Could you tell us about how the band's sound evolved between the two albums?

In the last years, many bands with a female vocalist formed and all of these bands seem like the same for the kind of music. We wanted to change our genre to stand out from the masses and return to the origin of heavy metal like Doro Pesch, Judas Priest etc, with modern contamination, Death Metal influence like Arch Enemy style with clean vocals.
Which musical genres or bands have had the biggest influence on the band's current sound?
As I already said, our influence is Doro Pesch, Judas Priest and Arch Enemy. I can't explain the real genre we play because each one of us listens to a different kind of music and there's many influences in our songs. I listen to, for example, Swedish Death Metal, Thrash Metal (Bay Area) all the 80's metal music, even Glam but I DON'T LIKE GOTHIC METAL!!!! Ah ah
Because Shining Fear is a female-fronted Italian band, music reviewers cannot resist comparing you to Lacuna Coil and other (mostly symphonic) bands with female vocalists. In your view, how accurate are these comparisons?

Anybody! I'm sorry but I don't like Lacuna Coil, I don't feel "inspired" by them, neither by Cristina Scabbia. I think that the reviewers compared me and Shining Fear to Lacuna Coil because I have the same "colors", Shining Fear, honestly I don't know! I respect Lacuna Coil for their career, it's not simple for an Italian band, in a certain sense they are an Italian spokesperson not just for wine, pizza or spaghetti! But not all Italians female fronted band must be compared to them!! Many reviewers forget bands like Sinergy, Zed Yago, the real one Goddess of Metal Doro Pesch and much more from the 80's.
What was the song-writing process like for "ApocaLife"?
"ApocaLife" it's an instinctive album, some songs were composed after the demo. In fact some songs kept the influence about it like "Two Worlds Collide", while for "Come from Hell","ApocaLife", "Caresses in Darkness" it was right for the album. "Haunting Damnation", instead, to go back at the demo and we had already changed the genre evolving to raw and aggressive sound. The one exception is "Caresses in Darkness" that I was wrote for my mom, I never told that to anyone. The lyrics are quite thought-provoking, especially the tracks concerning how disrespectful people sometimes are towards each other and the planet. What runs through your mind when you read the news about oil gushing into the Gulf of Mexico, melting polar icecaps, volcanic eruptions, earthquakes, giant sinkholes, and other disasters around the world? That's a human default, always. Apparent silently Earth rebels against us for pollution, toxic waste, garbage, cash, raw material, energy abuse. I write many things about the planet. Anyway, I wonder about people's behavior during the day, I take this experience and I try to analyze it. I work since I was young, I've learned many things.
Have any of these global events inspired new lyrics?
Absolutely pollution, I am careful about the garbage, I try to separate right all the materials and I don't throw on the ground anything. How the future we leave to the next generations? But I have many minds about the new lyrics but I can't tell you any preview…hihi..

Please tell us about your favourite live performance and what made it so special for you.
We were formed just 6 months, for a lucky opportunity we had played with only 4 songs, with Necrodeath, that night was there 200 persons. A first live performance that it was very exciting! The release party gives more satisfaction, to prove ourselves about the future.
And least but not last, a recently live gigs in another city in center of Italy, where we are unknown for the people but we had fun together!

If you could create the ideal concert for Shining Fear — including choosing the other bands, stage effects and venue — what would that concert be like?
I put the horns up and I say Wacken!!! The bands are not important, to play with the important bands of the metal scene it's enough!!! We are doing need of live effects, not now, because we are not ready for pyrotechnic effects, the people must be focused by the music not for game lights. I'm dreaming on!!
Are there any upcoming gigs that you are particularly excited about?
Not yet, I'm looking for new live shows in Germany, Finland, Sweden, UK. We have some upcoming shows now, nothing to be very excited, but I'm always happy to head bang my head on stage!
Thank you so much, Barbara, for taking the time to speak with us today. Do you have any parting words for your fans at Femme Metal?
Don't be afraid to be yourself and explain your opinion! Have fun, and respect. Horns up!!!
Links
Label : Nuclear Blast Records
Review by Tony Cannella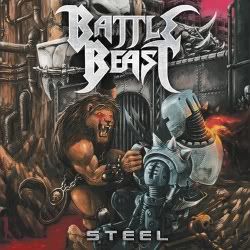 You like true heavy metal? If bands like Manowar, Crystal Viper, Holy Hell, Zed Yago and Accept are your speed, than this band is must-listen metal. They are Finland's Battle Beast and they have just released their excellent, gloriously over-the-top heavy metal debut "Steel". To put it quite simply, "Steel" is an album will not relent. It just keeps hitting you over the head with loud, heavy guitar riffs and all things heavy metal. The opener "Enter the Metal World" is great and a perfect introduction to Battle Beast. Just by looking at the song titles, you can pretty much tell what this band is all about and where their inspiration lies. "Armageddon Clan" is next and is quite simply phenomenal. Is that Udo Dirkschneider on male vocals? No it isn't it's one of the other members of the band (not sure which one, sorry) but he does sound a lot like Udo to go along with Nitte Valo's vocals that remind me – at times – of Jutta Weinhold from the criminally underrated band Zed Yago. "The Band of the Hawk" is next and features some tempo changes and a catchy and memorable as all hell choruses, that reminds me of Accept in their "Restless & Wild" glory days. Nope, there is no let up with this song either. "Justice and Metal" is next and starts off with a bit of Uriah Heep vibe maybe? All be it, much faster and heavier. This song is just a straight-forward, head banging heavy metal anthem. The opening riff to the next track "Steel" has a bit of a similarity to "Balls to the Walls".This is another great anthemic track which the band does very well. Battle Beast is not just a group of people living out their heavy metal fantasies. The songs on "Steel" are good and musically well played. Just check out the songs: "Die Hard Warrior", "Cyberspace" and the excellent "Savage and Saint" which starts off as a ballad before bringing back the metal half way through and vocalist Nitte Valo offers her most passionate vocal performance. I really grew to love the directness of Nitte's vocals. Her vocals are just pure in your face metal vocals. The final track "Victory" ends "Steel" as it began in a blazing glory of heavy metal thunder. Battle Beast will surely not appeal to everyone, but there is always a fan base out there for a heavy metal band like Battle Beast. There is no doubt that they sound like they could have existed in another era, but that doesn't make them irrelevant today. On "Steel" Battle Beast proudly and loudly flies the flag for heavy metal and in the process has released a damn good debut.

Rating – 95/100
Tracklist
Enter the Metal World

Armageddon Clan

The Band of the Hawk

Justice and Metal

Steel

Die-Hard Warrior

Cyberspace

Show Me How to Die

Savage and Saint

Iron Hand

Victory
Line Up
Nitte Valo – Vocals

Anton Kabanen – Guitar & Vocals

Juuso Soinio – Guitar

Eero Sipila – Bass & Vocals

Janne Bjorkroth – Keyboards & Vocals

Pyri Vikki – Drums
Links
6 color styles available:

Style switcher only on this demo version. Theme styles can be changed from Options page.