Browsing articles tagged with " stefano"
Label: Bakerteam Records
Review by Tony Cannella
"Paint the World" is the full-length debut from the Italian power metal band Sinheresy. They already made a positive impression with their 2011 EP "The Spiders and the Butterfly" and with this new full-length the band has certainly raised the bar to an even higher level.
The orchestral opening to "Last Fall" segues into full-on power metal riffing and the power metal vocals of male singer Stefano Sain starts off before Cecilia Petrini joins in with her soaring vocals on the chorus. This is song is just a heavy-as-hell exercise in top-notch power metal. "The Gambler" follows seamlessly with more straight-forward, hard charging riffs and "Paint the World" continues to find its groove. Cecilia takes the lead on this track with some hefty contributions from Stefano and this is a song that packs some serious heaviness combined with a combustible melody and those riffs are just huge. Continue reading »
Live Report and Photos by Stefano Liuzzi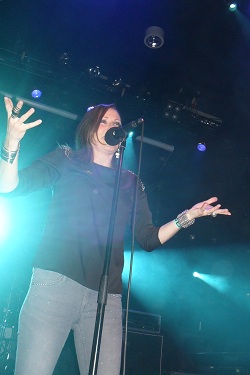 After the succesful 2012 tour, celebrating the 20 years release of the first album "Always", the dutch band The Gathering is back on the road. The last CD "Disclosure" was released on September 2012 and due to Silje Wergeland's pregnancy (she had a baby girl in August), only now, beginning of 2013, the promoting tour can start. The P60 is a medium sized club near Amsterdam,these are the standards now for the band, not a sold out but a full crowded venue. Over the years The Gathering gained a serious reputation, first on metal scene, now as independent rock, integrity means everything, developing music despite of the golden rules of the music business, these are the trademarks of this band and the first show in Amstelveen makes no exception,o n the setlist no "classics" like "Saturnine" , "Travel" or "Eleanor" but almost the new album and few oldies unplayed since ages. This line up (Renè Rutten-guitars, Hans Rutten – drums, Frank Boeijen – keyboards, Marjolein Kooijman – bass and backing vocals, Silje Wergeland-vocals) had the last gig one year and half ago, but everything click on the first song "Paper Waves" (the opener of "Disclosure" too) then we have one of the most bizarre of TG recent history, "Meltdown" with Frank singing and the beautiful trumpet of Noel Hofman to add colors to this 8 minutes track. With "Green Ocean Road" even the sleepy Dutch audience got involved on this musical trip, then "Heroes for Ghosts" ,11 minutes track that had the premiere live 2 years ago on the same venue. When there's big change in the line up of a band, then everything could collapse…this is not the case of TG.. "Heroes" is the highlights of Silje's work so far, she never tried to fill Anneke's shoes or tried to radically change the image and the philosophy of the band, we have to give her some serious credit for that. Continue reading »
As you may have noticed from the pics taken during the last shows, it is some months already that two new faces have been on the stage in Overtures' line up: after more than 9 years together, both former members Daniele Piccolo and Marco Falanga – for personal reasons that the whole band understands and accepts – had to give up the stage. Marco and Daniele have been two of the guys who created Overtures, they helped the band in its growing up, they have been vital in the development of the sound and it is thanks to the choices made together that Overtures reached some important goals. They are and they will always be part of Overtures' history and part of the family, and we all wish them all the best! At the same time we are really proud to announce that STEFANO D'AMORE and ADRIANO CRASNICH will officially take their place as stable members of the band. Stefano D'Amore already was the lead guitarist of Speed, Adriano Crasnich already plays with Frame of Pain and Hammered. Since a few months they already are part of Overtures and as you may have heard (and seen) during the last shows, their great taste and their good choices let the band continue its course exactly where it was stopped with the previous members, without changing or modifying anything. Both Stefano and Adriano already took part in the recordings of the third album ENTERING THE MAZE, that will be released in the first half of 2013 with our label Sleaszy Rider Records. At the same time we are happy to announce that the recordings are actually over: in the next days we will close the mixing of the album to pass, in a few weeks, to the mastering process. There are some more important news yet: we are really pleased to announce the new collaboration between Overtures and the German agency B.MUSIK MANAGEMENT, that will be pub in charge of the booking and management of the band. B.Musik boasts in its rooster Iron Savior, Athorn, Elvenking and worked with Edguy, Rage, Hammerfall, Gotthard and many others. For the details: b-musik-management.de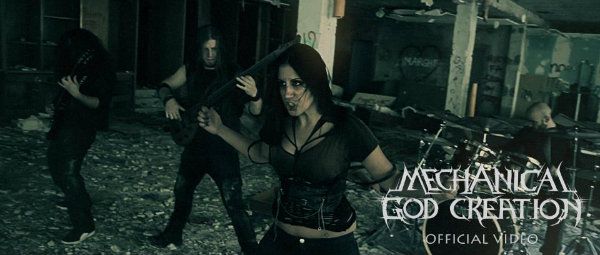 Technical deathsters Mechanical God Creation launched the first video for their upcoming album "Artifact of Annihilation". The Clip for the song "Terror in the Air" has been directed by Stefano Pasotti and can be viewed here:
Support the band, like their page:
https://www.facebook.com/pages/Mechanical-God- Creation/178845978792633?fref=ts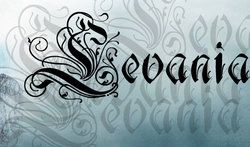 Interview by Roberta Ilaria Rossi
Still unknown by someone, but slightly known, the gothic band from Ferrara Levania emerges this year on the international metal scene with the first full length album, released by Wormholedeath/Dreamcell 11, trying to get step by step the way to success. Femme Metal has had the opportunity to have a nice chat with the cheerful and friendly frontwoman Ligeia, who took us into her world and told us some juicy news. Our interview below!
Hi Ligeia, welcome to FM. Let's start this interview saying that you're the female singer of the gothic band from Ferrara (Italy) called Levania. Could you please introduce us the band and give us a short biography for those people that still do not know anything about you?
Of course! I'll be glad to introduce my band to the Femme Metal's fans! First of all, thank you for this interview! I've been following this webzine for years and it's a little dream that become true…! The band was formed several years ago. The other guys of the band had this dream.. but all of it started like a game.. you know.. We want to play music and for many years they played just for fun. Two years ago they played these songs for some people who suggested them that they may try to be serious about it. So our songs are literally the result of our dreams.
As I said, you play in a "small and young music reality" called Levania, which has started to "get famous" also thanks to Wormholedeath/Dreamcell11 that signed a record deal with you last January. Would you like to tell us how did this music adventure happen?
Ehehehe!! Personally I came into this gig a bit by accident! But the same was for the other guys of the band and the same for me, it' s a dream that came true! Wormhole is the label of one of my favorite group, Theatre des Vampires!!
With this label, you had the chance to release your debut album, "Parasynthesis". I assume that this was your first time in a studio to record your songs. What could you say about this experience?
This was my first experience at all! Previously I only studied singing for years with a teacher, but only for myself. Last year it was a very troubled period of my life seriously, it was a very difficult year for me, I was completely in the midst of trouble when they called me to audition for Levania. I felt alone, abandoned and a little bit depressed. I had just split up from a relationship that was important and one day an old friend call me and said "There's a band looking for a singer, wanna try?". It has been a real breath of fresh air. It literally pulled me out of my troubles! I owe everything to the band. Only two weeks after entering in the group I was catapulted into the recording studio with produced Frank Andiver. And it was my first time in a recording studio. It has been an invaluable training!!!! This experience gave me so much. I literally married the cause of the band, and I can say that although I am in the band for just over a year, the band feels like part of me. The boys gave me confidence and invaluable friendship.
I had the opportunity to listen to the album, but I have to say that I didn't find so many things described as "epic gothic music, son of the Scandinavian death metal". Have you been inspired by some of the "founder bands" of this music genre or have you wanted to experiment a couple of different sounds on this first record?
This album is so varied! It encompasses many different sounds! "Eroica", for example, has an epic medieval atmosphere; instead "Narrow" is very gothic. You know… it's hard to define us. Epic gothic is the more accurate definition… If you really want to label us. Every song starts by a little dream, little fantastic story brought forth by our fantasies. Our music has a personal touch but actually in this album we are still searching for ourselves, our precise identity of a sound. We're finding it, in fact our next pieces exploit harsher sounds, as in "Narrow or Sybil".
"Natural Motion" is the only track that has a Latin part. Why have you chosen of writing some parts written in this ancient Language, following Epica's wake?
Eheh, it isn't the only song with Latin.. even in "Narrow", where I sing a poem of Catullus. Also in the next album (we are working on it right now) there will be a lot of Latin and Greek. I tell you a little secret: I'm a classicist and a teacher. I teach these languages. I love those languages and I think that are so exotic. They fascinate me. They are exotic because they belonged to so ancient people that we can only study and dream about … I spent all my life studying this ancient culture. I don't know Epica's lyrics, but I'm happy to have something that unites us!
In this album it's possible to listen to the male clean vocals (in the track called "Basteth's Kiss") and it's quite rare to find a band who use a clean male vocal in a gothic band nowadays, because as you know lots of metal bands are used to use the scream and the growl in their songs. What's the reason about this choice?
A simple reason: we like it! Originally there were three singers in the band: clean male, female and growl. Still, the keyboardist, sings even growl, and luckily he very good clean voice as well. The other two singers left the band shortly before entered the recording studio. Some songs were meant to be sung by clean vocals and female. We had to completely rework the songs when I came along. In some we have replaced the clean vocal with growl, but … "Basthet" could not be changed. I still remember the day when Still and I started to write the new vocal line! It sounds so good with his clean vocals .. why not use it?
Have you already got to see the results obtained with the sales of the album? How was your full length received from fans and media? Have you got good reviews?
Not yet! But we've sold all our copies. On the whole we have got very good reviews. Sure, there are observations, some have compared us to Nightwish (which left me quite perplexed, but also flattered) but in essence we are very happy that our work has been accepted! Reviews have confirmed things that we already thought, about the sound, and in fact our next job will be much "harder", almost electric! We've read all of our reviews, and put word around all over the web!
How does a work labeled Levania come to life? Who is the major composer inside the band, that person that writes the music, the lyrics and so on, but above all, where do you take your own inspiration for the songs?
Maybe! The major composer is the keyboard player, Still. He lives for music. Literally. Every moment he can, he takes out is keyboard and writes music. He is a very closed and private person, he expresses himself through music. Then the songs go to the bass player, Andrew, who puts the bass line, then to the guitarist and finally to me. I take care of the vocal lines (so if you do not like them, you with whom you have to complain). Maybe each song may have more input from one member or the other, but they generally a joint effort!
I've read over the Internet that you're currently working on the new album and that you'll film a videoclip at the Certosa cemetary in Bologna, which is a quite curious location to shoot a video! Could you please mention something about it?
Of course!!! We're so excited for this project! We'll shot the video clip at the end of August. Now we are writing the plot, looking for some stuff, deciding the clothes(mmmh… really only me, for the clothes I meant). It's the only location possible for the right plot execution. It's already been made, isn't it? But I love it! I've a big skull's collection in my house, and I'm very delighted for this location! We thanks the city of Bologna for letting us use the cemetery for this. The most spectacular thing is that we have been allowed to use the cemetery after dark! Our guitarist, Nick, who is a bit superstitious, at beginning was not very happy to play in a cemetery! but now he is stoked like us!
Let's talk about the latest band activities: I've discovered that you have composed the soundtrack for "La Riviera degli Esarchi", which was presented in Roma on May 23rd. How was working for such a project? How did you feel like?
I'm grateful for your question!!! It was a very exciting experience. We worked with a team of University professors. it's a completely different way of working and thinking about music. Minimalist composer Stefano Jannes appears as well on the soundtrack having worked on another part of the music. We had to make our own version of a traditional song from Venice: the song is called "The Great Turkish" and we have proposed it in a philological way but with a gothic sound. It was a very rewarding experience and we have to thank Professor Cavallini which allowed us to take part in this project.
Is there something new for the band, at the moment?
Heheh, yes indeed! We have recently undergone pretty heavy changes in the line up. The guitarist who has recorded the guitar in the album has left the band for personal reasons, while the drummer who founded the Levania moved to Ireland to work. The two new members, Nick on guitar and Moon on drums are already fitting perfectly in Levania.
Now that you're album came out, will you have the chance to schedule some live show?
Yes, but at the moment we're working hard on the new album, the second. We've composed about 15 new songs. We've only one live show, on the 18th of August. We are playing at Notte Bianca a Monghidoro and in September we'll play in a festivals organized by the gothic webzine Gothic World, but for now I can not reveal too much, since it is still in planning stages.
Thanks so much for your time Ligeia and for having allowed us to have this interview. We give you the chance to say something to Femme Metal readers and to your fans, that are waiting for you out there…
It was an honor for me to be interviewed by you, since I'm one of your most loyal followers! For years I have been following blindly your webzine with your interviews and articles! Thank you very much and I send a big kiss to all who follow your webzine like I do!
Links
MySpace * Facebook * Twitter * Site
6 color styles available:

Style switcher only on this demo version. Theme styles can be changed from Options page.