Browsing articles tagged with " sweden"
Label: Doolittle Group AB
Review by Tony Cannella
From Sweden, My Endless Wishes was formed in 2005. In 2009 they released the 9-song demo "Never Walk Alone" and four years later have just issued their self-titled debut. "My Endless Wishes" features 12-songs and 44-minutes worth of energetic hard rock and heavy metal with infectious hooks and melodies and lyrics that accentuates the positive over the negative.
The undeniably catchy "Follow the Light" gets things headed in the right direction and are followed by the heavier, more deliberate and bombastic "Cry For Deliverance". The majestic "A Part of Me" is up next and is a melodic radio friendly treat with a solid rumbling guitar riff. Lead vocals are provided by Frida Viberg and her style is along the lines of Amy Lee from Evanescence – a band which My Endless Wishes site as an influence. The band keeps things coming at a rapid pace on songs like "Lost Without You", "Angel" and "Waiting for a Sign".  Continue reading »
Label: Inside Out Music
Review by Tony Cannella
The Swedish folk/progressive rock has been with us since 1975. Actually Kaipa is a band with a pretty eclectic pallet and is hard to pin down to one category, although their progressive-ness is undeniable, there is also something very retro about Kaipa and their new album "Vittjar", it certainly has a 70's feel to it, but updated for 2012 of course.
"Vittjar" is Kaipa's 12th album and features 8-songs and well over an hour's worth of music. For the most part the songs are long progressive numbers with a few exceptions. The opening 3-minute instrumental "First Distraction" gives way to the 12-minute "Lightblue and Green". This is a pretty cool song that has a bit of a Queen feel to it and vocalist Patrik Lundstrom reminds me a bit of Freddy Mercury at times. Continue reading »
Label: ProgRock Records
Review by Tony Cannella
On their fourth album, "Some Kind of Poetic Destruction" the Portuguese/Swedish progressive rock duo Factory of Dreams returns with their biggest, most ambitious and grandiose release yet. With their previous albums, Factory of Dreams set a definite standard of being one of the best progressive rock/metal bands on the scene, now with their latest (70-minute) opus the band has raised the bar even higher.
For "Some Kind of Poetic Destruction", Hugo and Jessica have crafted a well written concept revolving around a girl named Kyra, who holds the key to the fate of mankind. This complex tale is the focal point of "Some Kind of Poetic Destruction" and for the album; Factory of Dreams has utilized some very talented musicians. Among the guests joining Hugo Flores and Jessica Lehto are: vocalists Magali Luyten (Beautiful Sin, Ayreon, Epysode) and Raquel Schuler from Hydria. Continue reading »
Interview by Tony Cannella
The Swedish metal band Amaranthe recently embarked on their first ever U.S. tour. They are out supporting their excellent sophomore effort "The Nexus" and have been showing the North American fans what they are capable of in a live setting. Recently, prior to their excellent show in Cambridge, Mass. two of the vocalists Elize Ryd and Jake E. were kind enough to take some time following their sound check to discuss a variety of topics. Here is what they had to say…
The new album, "The Nexus" is out. Could you please tell us a little about it?
Elize: Yeah, this is Amaranthe's second album actually. The first one was not released here in the United States, so for the U.S. market this is our first album. There's a lot more of everything, I think, we took it a step further compared to the first one. We have a lot of different kinds of songs. We are very satisfied with the results and it's been received very well. Continue reading »
Label: High Roller Records
Review by Tony Cannella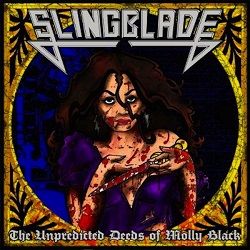 The world of female fronted metal has never been stronger. There are great bands representing each genre (and sub-genre) of the metal universe. Whether or not they have a female singing is irrelevant, there are so many good bands, period. Personally I love the current crop of traditional heavy metal bands like Benedictum, Crystal Viper and HolyHell. Now you can add one more band to that list… Ladies and Gentleman from Sweden, I give you SlingBlade. Sorry, I don't mean to be overly dramatic, but once in a while a band will come along that will remind you why you got into heavy metal in the first place. For me – thanks to their fantastic debut album "The Unpredicted Deeds of Molly Black" – SlingBlade is one such band. Continue reading »
6 color styles available:

Style switcher only on this demo version. Theme styles can be changed from Options page.