Browsing articles tagged with " tony"
Label: Chiral Records
Review by Tony Cannella
Ganglion is an all female hard rock band from Japan. Their style is an eclectic mix of genres, but mostly focuses on hard rock and alternative which can be heard on the second mini album "Rising".
The track "Rise" opens things and this is a pretty much straight-forward hard rock tune with a rumbling guitar riff. The next song is where the band delves into experimentation a bit. "Beyond the Screen" offers a bit of an electronic flavor at the beginning and has a funky bass line, but it also has its bombastic moments. The next track "Loser" has a punkish vibe to it and the following track "Wonderland" is a beautifully played instrumental with a techno/alternative sound. The EP is concluded with the hard rock and pop flavored "Tonight". Continue reading »
Interview by Tony Cannella
The German metal band Xandria are currently on tour in North America with Sonata Arctica and Delain. This is one of the better tours out there. On a sweltering late summer afternoon I was able to sit down to talk to new front lady Dianne van Giersbergen, about her first recording experience with Xandria, her inaugural U.S. tour and… pancakes. It was an enjoyable experience and this is what she had to say…
First off, please tell us a little about the new album "Sacrificium" and how would you describe it to anyone who may not have heard it?
It's a symphonic metal album of course. It tells many tales, some of them are really about how to sacrifice yourself for a loved one, for a goal you believe in or for a better life. That when you die, the idea doesn't die with you. That's really the vision we had in mind. In the end, not all of the songs are about this. I must also say that when I joined Xandria all of the songs were already written, so the vision is way more with the guys. I share their view completely, but I don't know exactly how everything originated. Continue reading »
Label: Frontiers Records
Review by Tony Cannella
From Sweden, Adrenaline Rush is a band with a sound that harkens back to the 80s. Not that it's a bad thing, to the contrary it is always cool to hear a band that has an influence from the 80s, and as long as it's done well – with power, conviction and integrity – than all the better. With their self-titled debut, Adrenaline Rush pretty much nails it.
Adrenaline Rush is an album that is sharply produced and comes fully loaded with a great sound and solid performances. Heavy guitar riffs abound, starting with the opening track "Black n' Blue" and continuing on with the infectious video track "Change". This one in particular is an instantly memorable song thanks to a catchy hook, a great guitar driven groove and an unforgettable chorus. Continue reading »
Independent Release
Review by Tony Cannella
Clocking in at 37-minutes, "Haven, Lost" the debut from Italy's HavenLost lies somewhere between an EP and a full-length. Whatever the case, this symphonic metal band was formed in 2010 and this debut was released in 2013.
In addition to symphonic metal, the band throws in other influences such as Gothic metal and classic heavy metal. The three singing styles on display are a male gothic sounding clean voice (similar to Vintersorg), screaming male vocals and operatic female vocals. "Carillon" is a strong opener and focuses more on the clean male and female vocals. The main riff has a classic metal vibe to it and the violins give the song a mournful-ness to it. The piano intro to the next song "Haven, Lost" creates a melancholic vibe before the song picks up in tempo, before… coming to a halt with rain and thunder sound effects and the melancholy returns. Continue reading »
Independent Release
Review by Tony Cannella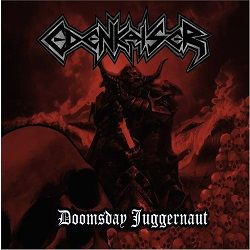 Edenkaiser is a "Thrashened" Black Metal band from Spain. The band formed in 2009 and has just issued their debut EP "Doomsday Juggernaut". After the opening intro "Obsidian", "Enter Mephisto" kicks in and comes on fast, loud, heavy, blasting and just freakin' insane. Lianne's vocals are wickedly brutal and way over-the-top (and I mean that in a good way). Next is "Inner Kingdom" which continues the brutality of the previous track but also mixing in tempo changes and rain sound effects which succeeds in giving it an eerie feeling. Musically the band comes across like a juggernaut. "A Jewel in My Skull" is a pure intensity and heaviness. The final two songs "Kill For the Crown" and a cover of the Vomitory song "Inferno" brings things to a fittingly vicious conclusion. I loved the simplicity of the production. Continue reading »
6 color styles available:

Style switcher only on this demo version. Theme styles can be changed from Options page.
Archives