Browsing articles tagged with " tony"
Label: Strange One Records
Review by Tony Cannella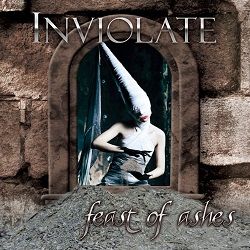 From Atlanta, Georgia the alternative electro-metal band is led by front woman, belly dancer Kadria. The uniqueness of their shows has already created quite a buzz for this band, but their potent music should not be undervalued. Inviolate released their debut EP in 2007 and now return with a new 7-song 28-minute EP titled "Feast of Ashes".
The industrialized opened "Condemned" gives way to a truly pounding and aggressive rhythm. Lead singer Kadria proves she is up to the task as she more than manages to keep pace with the thrashing rhythms flying around her while still injecting the song with a melodic tone – particularly on the chorus. This is my favorite song – hands down! Middle-Eastern like rhythms open the next tune "Illusion of Mercy" and like the previous song, it soon evolves into a hard charging up-tempo metal song. Continue reading »
Label: Pitch Black Records
Review by Tony Cannella
From Denmark, Illnath is a female fronted extreme metal outfit. They were formed in 2000 and in 2011 released their third album, "Third Act in the Theatre of Madness".
In lead vocalist Mona, Illnath has a singer that is sure to give Angela Gossow a run for her money in the extreme metal field and musically the band provides enough technicality, melody and talent to make each song interesting. The bombastic opener "Third Act" sets the tempo and from there on songs like "Scarecrow" and "Lead the Way" Illnath provides plenty of heavy moments. There is no doubt about it, Illnath is certainly an aggressively relentless powerhouse force but on songs like "Tree of Life and Death" they also bring a melodic element to the table. Continue reading »
Label: Black Lodge Records
Review by Tony Cannella
The Swedish all Female heavy metal band Hysterica returns with their second album "The Art of Metal". Their debut "Metalwar" was issued in 2009, with their follow-up, Hysterica has grown so much in the three years from between their first album and this new one. As good as "Metalwar" was/is, "The Art of Metal" is a huge leap forward for this excellent band.
One obvious improvement that Hysterica has made with "The Art of Metal" is the song writing end of things. Lyrically and musically the band has come so far in the last three years between albums and it shows. Hysterica has also shown that they could be extremely melodic whilst still being very heavy. Continue reading »
Label: Sleaszy Rider Records
Review by Tony Cannella
Hand of God is a power metal outfit from Greece. The band is fronted by lead vocalist Marissia and guitarist Theodore Ziras. Their debut album, "The Hand of God" is out now.
"The Hand of God" features 11-songs and 38-minutes worth of soaring, melodic power metal. From the mid-tempo, majestic opener "Falling" the band treats us to well played sophisticated metal music. "Signs" is a great melodic track and one of my favorites – it features a pretty cool rapid-fire guitar riff. Lead vocalist Marissia has a strong vocal presence that works well with Theodore Ziras' guitar playing. Other noteworthy tracks include:"Start Again", "Collapse", "Endless Circle" and "Reach the Light". Looking at the entire album, I was impressed with the level of songwriting and musicianship that Hand of God displays. Continue reading »
Independent Release
Review by Tony Cannella
From New York City, Flames of Fury were formed in 2009 and in such a short amount of time they have already shared the stage with some great metal bands, for example: Doro, Rhapsody of Fire, Stryper and Kill Devil Hill just to name a few. They have a reputation for being a killer live band, well, with the release of this 5-song EP, they are sure to gain the reputation for being a killer band, period.
From the opener "Take It to the Limit", Flames of Fury hit the ground running. They combine elements of classic metal with modern day power metal. The songs sound fresh and are brimming with confidence. In vocalist Angelica Vargas the band has a singer who delivers with all of the power and passion of Ronnie James Dio or Doro Pesch. Continue reading »
6 color styles available:

Style switcher only on this demo version. Theme styles can be changed from Options page.