Browsing articles tagged with " toronto"
Live Review & Photos by Jesse St.Clare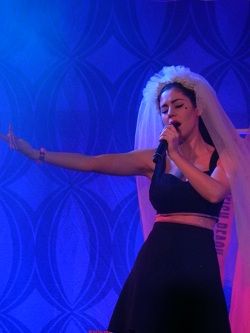 Welsh recording artist Marina and the Diamonds (or Marina Diamandis) is well known for being the quirky, Anti-pop star whose music often depicts American Pop Culture in a rather unflattering light. These days, most pop acts have a gimmick or a "thing" to compensate for a lack of voice. Marina proved on Monday night that this is simply not true about her. The Kool Haus was packed for a cold, windy Monday night and was filled with people of all ages who had drawn hearts on their faces in a trend that Marina herself started with them. Marina took the stage about 9pm with Madonna's "Hollywood" as her introduction music. It fit the theme of her show very well as one could say, Marina's works are like a continuation of where Madonna left off in 2003. Marina came on stage in a two-piece black skirt and halter-top and began with her semi spoken word piece "Homewrecker". She played plenty of newer songs off of "Electra Heart" as well as some older ones off her debut "Family Jewels". Marina's voice is much more powerful live and occasionally flirted with operatic notes in songs such as "Obsessive" and "Fear and Loathing". She also demonstrated musicianship when she sat down at a keyboard and played some songs acoustically and by herself. Throughout the night, Marina had two costume changes as well as many props to help visualise her story. The most dramatic of which was when she returned from the encore in a sparkly silver prom dress that would make even the prettiest of Prom Queens jealous. She had a coat rack on stage which she would very often pull hats, coats, scarves and just about anything imaginable so she could change looks without having to waste time running off-stage. She also had props such as a very massive hamburger on a tray and pompoms for "Hollywood" or a light-up heart belt for "Radioactive". Marina's stage presence on its own would have been engaging enough for the audience, but these props brought the show to a whole new level and made it all the more intriguing. The most memorable moment of the night was when Marina held up a toy dog that walked and balked. She proclaimed "I cannot have real pets because I'm a musician and pets die so quickly. This is my dog and I rescued her from the Betty Ford Clinic. She was addicted to meth". The show lasted for just over an hour and everybody left the show impressed. There was a massive sing-along party outside the show afterwards while fans waited for Marina to come out and sign autographs. Even though there were a lot of people outside waiting, and it was so freezing cold, Marina came out and signed something for every single fan that was waiting. She even took some time to interact with a very young fan who was attending his very first concert with his mother. The Kid picked a very good first concert to attend as it was everything you could have ever wanted to see: Incredible voice, great stage presence and all around visually stunning.
Setlist
Intro (Hollywood by Madonna)
Homewrecker
Oh No!

Mowgli's Road

Lies

I Am Not A Robot

The State of Dreaming

Power & Control

Bubblegum Bitch

Starring Role

Obsessions

Sex Yeah

Valley of the Dolls

Primadonna

Shampain

Hollywood

Radioactive

Fear and Loathing

Teen Idle (Encore)

How to Be a Heartbreaker (Encore)
Links
Interview by Miriam C.
And today with us we have Elizabeth Blackwell introducing us the witch trio Castle. Don't what is it? Just continue to read the interview and you'll know more about their new album "Blacklands"!
Hi Elizabeth first of all, thanks for replying at this interview. Would you mind presenting the band with some biography?
The band started with Mat on his own. I know he worked on the songs for the first album for a few years and tried to put a band together to play live without success. When I met Mat about three years ago and heard some of his demos I was knocked out! He may have even set the project aside at that point but at my urging we started to work on putting vocal melodies to what was mainly instrumental music. Shortly after Mat contacted an old friend from Toronto and we recorded our first record never having played live.
What's the genesis of your second album "Blacklands"? For what I know it was composed in neither six months, right?
The second album was written in period of four months. Mat spent his days working on the demos and pre-production for recording. As he wrote I began to work on vocal melodies and collaborate with him on the lyrics. We were very deliberate on the time table of the albums creation. We wanted it to be alive and have a raw feeling to it, which really captured the essence of the music.
The album title is "Blacklands", quoting the title in your opinion what are (or where are) the black lands and specifically what you wanted to express with such title?
The Blacklands are a place of void of all spiritual movement and a place that exists on the in between. We felt the music was, as a whole, a description of the space and the emotions felt when entering this place. All the songs are used to paint a vivid picture of this barren existence.
Instead talking of the artwork, we have this queen and the baby near her sitting on a sort of throne but it's all really confused like was a nebula near the explosion (ok, now I'm letting go too much my imagination).. doing a step back, can do you describe the cover? Also who's the author? And how, in some ways, is related to the lyrics inside?
The cover art was done by Russian Artist Denis Forkus. We contacted him to create a piece for us and we were fortunate to get him interested in the project. He drew inspiration from listening to our music and reading our lyrics. The picture is actually a sacrificial offering on the witches' Sabat and the things she uses to draw power. He was inspired from his own research and more specifically Goya's black paintings.
Since I haven't the chance to interview you during the "In Witch Order" promo, can you tell us more about its genesis? It took, for what I know, like 5 years, right?
Mat had worked on and off for a period of over four years. The sound developed over time and he had no deliberate intentions while writing. It wasn't until we met that he decided to move forward with a professional recording.
Talking about the "In Witch Order" art, we have this simply this lawn where some sheep are staying there and on their back there are some rocks lying in distance and on the right side a castle wall. I would add that's pretty genial, sounds anachronistic but genial. Again what was the target? What you wanted to express?
From what Mat told me, he had that photo from the very beginning of his song writing for the first record and in a way that photo captured the spell of the record.
Maybe I'm doing a difficult questions since for the artists all their songs are like their babies, but you, as the singer and the bassist, where do you feel that you have improved in this second album compared to "In Witch Order", your first album ?
The feeling I get when listening to this album is energetic, I feel like it takes me to an amazing place. It was not written with a theme but since it was created during a short time there is a underlying feeling that runs through the albums sound. I would say that my singing style is definitely more realized and confident in this album and it complements the music and adversely the music compliments my voice.
Doing some steps back, how you get in contact with Van Records? Your label seems quite interested to promote doom metal acts, if you count that it has The Devil's Blood in its roster…
I wouldn't say that Van records targets Doom metal nor would I say our sound is entirely doom. I think Van Records have great taste in high quality music and because of this has some great diversity in the labels roster.
In a musical panorama where a lot of female doom metal/proto doom singers are nowadays coming out, you stand out for your vocal abrasiveness and spit-in-your-face attitude. It's maybe the thrash influence or its your natural way to do?
I am happy to stand apart from other female fronted acts, and hopefully other musicians as well. My style is completely natural and holds absolutely no fronts, how I act and how I sing comes from deep within myself. If I come across rough and harsh I can admit that as a woman in the metal world I have learned that it is best to face forward with no fear, so I am not afraid to snarl time to time.
Mat, in various interview, uses the terms "witch thrash" and "power trio", mind giving us your point of view?
We are a three piece and our sound, live, is very big, we have orchestrated our songs to fill the room completely which gives us the powerful effect. "Witch thrash" describes our style and how we play live where we evoke a menacing and wild feeling.
While writing this interview, I'm also listening/watching to your brand new promo video "Blacklands". Did you have fun shooting it? Can you share with us some details? Also what you can say about the first one "Descent of Man" taken from "In Witch Order"?
"Blacklands" was filmed with Toronto based director Jaan Silmburg of Pistoltrixx. We enjoy working with him and love his filming and editing style. He also directed the "Decent of Man" video, which turned our amazing. We are currently in preproduction for two more videos to be released in the coming summer months. Making videos is a fun way to share and express our music, and it is always a great experience.
Flash question: do you like more the CD format or the vinyl format? And why?
I enjoy vinyl and the ritual in which you listen and flip records; there is something very kinaesthetically pleasing about it. However, I do travel a lot and Vinyl is the less practical listening medium so I take pleasure in the convenience of CD's.
Well, Liz, we're at the end, what are the next Castle projects? I hope a live album too..
A live album in definitely in the works for us. Aside from that a North American tour and an EP are due out in time for the coming fall season!
Please feel free to greet our readers and fans as you want at Femme Metal Webzine. Thanks again for this interview, I hope you like it.
I would just like to say thank you for this opportunity to talk about Castle's music and art and like metal, stay hard!!
Credit Photos
Elizabeth Blackwell photo by cloakture.com in Tilburg, NL
Band Logo by Eric Haines Photography
Links
MySpace * ReverbNation * Facebook * Twitter * Site
Latest Multimedia
Interview by Lindz Riot
So many forms for femme metal exist, the most common being in symphonic or heavy metal. But what about straight up metal that just rocks? I've been searching high and low and when out at a local show recently I found Canadian rockers Embracing Soul. Fronted by singer Chelsea Pisano and guitarist Brandon Iajecznyk, though this band may be young, they bring the energy and the old school spirit of a metal/rock infusion. Also, it's just fun and a guilty pleasure to dip back into music that heals and fuels teen angst. Of which, this band brings forth that feeling well and honestly, especially in their recent EP "Shadow". I (Lindz Riot) was able to catch up with this local act to ask them what Embracing Soul is all about and how it works for them at such an early stage in their musical lives.
Hey guys! I want to thank you both for joining us here at Femme Metal for this interview. First off please tell me about how Embracing Soul came to be?
Thanks for this opportunity! Well, Brandon and I met in 2007 at our high school. Brandon was already in a band playing metal that sounded kind of like Trivium and As I Lay Dying. They broke up at the end of 2008, he joined another band, and we decided to create a side project. We created it because we had all these ideas of what we wanted new metal to sound like. Also because Brandon's current band was very progressive and he had ideas that didn't fit into that genre. A bit after we started writing and recording, we recruited a bassist and our guitarist Tom. Brandon was our drummer. Now, we still fight with member changes, and I've taken on the role of bassist, but we've found steady ground.
Sounds like quite the switch up, but glad to hear its working for you guys now. How would you describe Embracing Souls sound?
We've been trying to figure that out! hahaha. So many people tell us different things like our riffs sound like Pantera or Death, our vocals sound like a collaboration between Evanescence and Opeth, and our music sounds like a mix of death metal and melodic metal.
Brandon: It ends up just being a thing that we make, and it sounds cool and we like it.
Chelsea: I just go with 'gothic, rock/metal' and hope that works.
You've released your first LP "Shadow", how has the response been?
We always sell more at each show, so it's going well! It was finished January 2010 so we look at it now and knowing so much more about recording, we're not as pleased, but we still love all the songs just as much.
So this release was a self-produced effort?
Yes. We produced it, we got the copies made up, and we distribute it at shows. Slow paced, but we have big plans for our next one.
Well congrats! That takes a ton of time and effort. And how have people responded to your live show?
We've noticed we get a really good response from the crowd at our shows. We don't bring a room full of people, but normally once we start playing, the room fills out and the crowd thickens. People have a good time and they tell us afterwards, so we're happy about it.
From your experience so far how do you feel about the Toronto hard rock and heavy metal scene?
Brandon: It's terrible.
Chelsea: There's a lot of good talent in Toronto, our only problem is that we play shows with the wrong group of metal heads. We've ended up playing a lot of death core shows and that's not who we are at all, but that's the main genre out in Toronto now. The people out here don't seem to like it live as much if they can't mosh the entire time or if a whole song isn't only growling
It is quite a mash up, at least we have good bands tour through, but you are definitely right about local show grouping. With the strong underground Femme Metal movement, do you feel things would be different for Embracing Soul if you were relocated in Europe?
I think we would get a lot more recognition. Even looking at our list of Facebook fans, the more dedicated fans are from European countries. The arts scene and appreciation for women and music, no matter the genre, is also a lot greater there. I think it would be fun to tour there lol
Amen to that! So briefly tell us about your musical training and backgrounds?
Brandon: HA! None. I taught myself guitar and basically everything I know about song writing. I just screw around until it sounds good.
Chelsea: I've never taken vocal lessons and I learned all I know about guitar and writing musical compositions from Brandon and I learned bass on my own. Neither of us have taken lessons for anything, nor even have taken music in school. Well, I don't think the year of Clarinet helped Brandon in high school…
Brandon: No… not at all lol
That certainly is impressive guys. K next question: Top 10 most influential bands for both of you! GO!
Evanescence, Opeth, Korn, Godsmack, Disturbed, Tool, Slayer, In Flames, Trivium, Epica.
Wicked. If you could play with any three bands, who would they be?
Korn, Evanescence and Disturbed.
Outside of the band, what do you guys do in your daily life?
The band is our daily life! Well, not all the time, but when we do break, it's for school and video games. We do spend a lot of our time just jamming, writing and recording though. It's what we find fun and what we're studying in school anyway.
What is it that you two study in school anyways?
Chelsea: I am studying Entertainment Management. This is basically for managing bands or artists, getting to know all the legal aspects of the industry and all the right ways to get bands higher up in the music industry.
Brandon: I study Audio Engineering. Basically I want to record bands in the studio.
You guys seriously sound like a super team of which any band would be jealous of, or well, wish to have. So with all of this being said, what does the future hold for Embracing Soul? Can we expect to hear some new music soon? Any other big plans?
We are currently taking a writing break. With all the stress involved with school, we don't really have time to practice too much, but we're always writing. We've already started on some new recordings actually. These will just be promotional copies until we get into the studio (which we plan on doing after school). Our song writing is constantly improving, so the songs we're currently working on, we're very excited about. So yes, there is a lot to come from Embracing Soul in the next year! We're looking forward to it.
Links
MySpace * ReverbNation * BandCamp * Facebook * Twitter * Site
Interview by Lindz Riot
Out of California comes a quirky band by the name of Clandestine. They came together in early 2006 and has since been a powerhouse of musical releases for those into complex alternative rock and heavy riffed progressive metal. Their biggest achievement so far is the creation of their full length album "The Invalid" mixed by producer Sylvia Massey. Just being signed to Nightmare Records, the album will be released worldwide in early 2011 along with a music video. The band is in hopes of making it over to Europe soon to perform to their growing fan base there. Fronted by the powerfully voiced June Park, a South Korean native who's endured quite the adventure over to North America, I had the chance to interview her via email to pick at her brain and see exactly what the bands all about:
It was a natural choice to express this sound and image for us. Progressive music and ideas, human psychology and surrealism have influenced us both musically and mentally. The challenge is how purely and effectively we can deliver such visions without being forceful or redundant.
Clandestine stands for mystery, secret, deception and a hidden meaning. Do you find this word describes your music perfectly?
I think it's quite effective in the sense that I'm lyrically expressing what is beneath our minds – the thoughts or ideas that you know are there but you try to suppress, ignore or hide from others. I'm not a psychologist but I tend to overanalyze the state of mind and strive to find the personal interpretation of it. The music we write goes along with that theme to complete the showcase of our world or secrets.
Are you the main lyricist and song writer of
Clandestine
? What is your favorite part about creating your music?
I'm the only lyricist in the band and writing the vocal melodies is also entirely my job. For "The Invalid" I and our guitarist Dan Durakovich equally collaborated on writing the music. I expect to involve everyone else in the band to take part in the writing process for the next album, because one of my favorite parts about creating music is fusing different influences into something that is fresh and not easily expected.
So which song is closest to you? Did you fully write it?And what's the story behind it?
The album's title song, "The Invalid" is about a patient who is suffering from an incurable disease longing for their right to die. First of all, I'm not one of such patients but I used to get very ill for no apparent reason. It kept coming back periodically for almost 10 years, haunting and paralyzing me in agony each time it hit. That really made me think about the people who are experiencing much more pain than me, such as the ones with a terminal illness or unidentified disease. I tried to imagine the unfathomable amount of pain they must go through while I was sick. In the song, I'm not trying to say that people in such conditions should be able to choose life or death. What I wanted to express was the physical and mental suffering that cause some people to involuntarily yearn for such an extreme choice. I truly support the idea that every minute of life is precious, but also can see how every minute of it can be so cruel.
You have quite the education behind you. Are you a believer that knowledge is power?What's the most important lesson you've learned along the way?
Knowledge could be a powerful thing but it depends on how we utilize it. I have learned that there is nothing wrong with not knowing something but having no desire to learn is a problem. It's not from the academic stand point; it's about life in general. Some people hold the idea of changing in abhorrence because they are used to what they think they know.They always say they hate this and that for no apparent reason. They don't want to accept the fact that someone else knows more about something than themselves and disapprove of others for their efforts to change the world to be a better place. I could have been one of those people if I didn't continue my education. I used to have a very unidirectional attitude toward what was happening in the world. I believe it was because of my fear induced from the lack of knowledge. Now I can better embrace different aspects of society with comfort.
The Musician's Institute is world renowned for its excellence in producing top quality musicians. How has your experience at M.I. been for you? Do you find it super challenging?
It was great!I learned to come out of my shell which was a very valuable lesson. I grew as a person too because I was taught what my strengths and weaknesses were.They were honest about it and willing to help. MI is full of resources – not only the faculty or musical content, but also the people you meet while you're there. As long as you stay on top of things and be a good student, you will get a lot from it.It gets challenging if you challenge yourself but I wouldn't say that's everyone's case.
I read on your personal MySpace page that you have been to Canada for schooling. Are you originally from there? How did you like Canada? How did you find the music scene? And what do you miss about Canada?
I was born and raised in South Korea. I decided to relocate to North America to pursue a music career and I arrived in Toronto when I was 17. First I went to college for ESL programs and then I went to an audio recording school in London. I miss that city because it was such a lonely place but I felt very creative. It was very safe and clean and the people were nice too. I don't have much experience with the music scene in Canada which is a shame. I didn't go out because I was still a minor and wasn't very comfortable with English at that time. I wish I could go back to experience Canada all over again.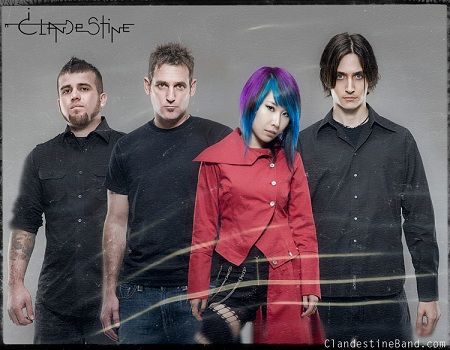 At what age did music start for you? Who influenced and supported it?
I always liked singing since I was a little girl. My mother is a great singer. Although she never pursued it professionally, just being around her influenced me to sing. I started listening to rock/metal when I was around 13 and I realized that I found what I really wanted to do. I told my parents that I wanted to learn electric guitar and they thought I was crazy. My mom felt sorry for me and sent me to classical guitar lessons which I didn't enjoy very much. A few years later, my parents finally decided to support me. My father bought me an electric guitar when we took a vacation to America. I started writing on my computer when I was 15 and soon after that I left home for my journey.
How long have you been singing for? What is your background with singing? And is there any style of singing that you prefer?
I always sang by myself but didn't have any lessons until I was 20. I prefer to sing with range and power. Although it's a lot of work, I tend to sing that way because my voice has the most quality in that style. I would like to develop different styles that are more comfortable and relaxed though.
Who are your biggest influences that have made you the musician you are today?Who are some of your favorite singers?
I know it's going to sound cliché but I will have to say it was my mother who influenced me to sing in the first place. She had a powerful voice, artistic visions and personality that surprised everyone and I wanted to be like her. On the other side, I was involuntarily affected by the negative side of my life. I was quite dark through my childhood and teenage years, mostly because of family problems and being ill-adjusted in school. Although I'd rather not recall those memories, I know they developed me into who I am today. I could be doing something different if I didn't have those kinds of experiences. My favorite singers are Maynard James Keenan, Bjork, and Jonas Renkse from Katatonia. They all have their unique ways of expressing themselves which is brilliant.
Rock and Metal for many years has been mostly dominated by males, but things have changed drastically the last decade for female musicians sharing the stage.Are there any women in music that have hugely influenced you ever at any point?
There are a lot of great female musicians in rock and metal but I never thought about becoming a rock singer because of a woman who was doing it. I was influenced by the music itself and most of the bands I liked had male singers.It didn't bother me because I was never insecure about being a girl. I accepted the fact that I can't sound like a male singer but I was confident that I could perform the task in my own ways. Just like anything else, there will be people who like it and don't like it, and it's their choice to listen to my music or not.
Are there any bands out there currently that you are really taking a liking to?
I've been listening to Katatonia a lot.Their recent two albums have the right amount of doom and progressive influences, beautiful vocals and words which I enjoy very much.
Either that singing do you play any instruments?
I play some guitar and keyboard.
What's something really interesting about yourself that no one would expect to hear? Something like a weird talent or unique hobby you have?
When I was little I was an unprecedented animal impersonator, but I lost that superpower as I approached adulthood. Now I'm just an avid animal lover. I live with four small parrots that eat much better than me.I would cook for them even if I have only time to eat ramen or frozen food. I trained some of them to talk, shake hands, fetch a ball, play basketball and roll over on the ground. I also love horses and go for a ride once in a while to unwind. I was once the youngest equestrian in a jumping competition in Korea.
Links
MySpace * Facebook * Twitter * Site
Latest Multimedia
Label : Metropolis Records/Repo Records
Review By Erwin Van Dijk
The Birthday Massacre is a band from Canada, the country that gave us Melissa auf der Maur, Poutine and the Wolverine (X Men).The Birthday Massacre is from Toronto, Canada. Combining their interests in various musical and artistic styles, the band has successfully accumulated an impressive international fan base, press accolades, and defied categorization with their unique sound and visuals. The Birthday Massacre operates in the dark shadows between pop, goth and hard rock. Like a spooky version of The Misfits with Kim Wilde on vocals. The first time I saw them was at the Summer Darkness festival in 2006 in an overcrowded Tivoli (the mayor venue of the city of Utrecht). Their show (they were booked between some electro goth bands lasted for about 50 minutes and after that I had lost my Birthday Massacre virginity. It was a very impressive energy packed show and each of the spooky members of TBM knew what to do.They did another gig at this year's Summer Darkness and this show easily outclassed the Lacuna Coil gig (which was also very good). Live The Birthday Massacre is far more metal than on the studio albums. But for some reason this album has no real live feeling barely audience and guitars safely mixed in the background.The show was recorded in Hamburg, Germany (which is also the home country of their current record company). Yes, that's right: no "I Think We're Alone" now (as done by Tiffany in the eighties and not the Tommy James & The Shondells version) Live this song is one of the absolute highlights of any The Birthday Massacre gig and will crush any resistance left in the sceptical visitor. Too bad it is not featured on this album but I guess this is because of the copyright. In my opinion The Birthday Massacre could have better released a live DVD right now instead of waiting with the DVD release until the end of this year – that will catch the feel of their shows much better than this CD. But it is still a nice Greatest Hits album. If I'm brutal honest I think you can better wait and save your money for the DVD.
Rating -78/100
Tracklist
Before Dark (Intro)

Video Kid

Lover's End

Goodnight

Falling Down

Violet

Red Stars

Looking Glass

Remember Me

Unfamiliar

Walking with Strangers

Weekend

Horror Show

Kill the Lights

Blue

Happy Birthday
Line Up
Chibi – Vocals

Rainbow – Guitars/Programming/Vocals

M. Falcore – Guitars

Owen – Keyboards

O.E. – Bass/Vocals

Rhim – Drums
Links
MySpace * ReverbNation * Facebook * Twitter * Site
6 color styles available:

Style switcher only on this demo version. Theme styles can be changed from Options page.