Browsing articles tagged with " unsun"

Interview by Andy Axworthy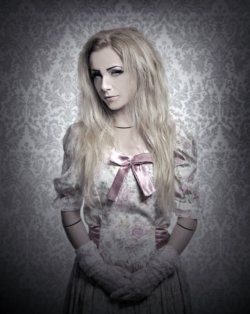 Light and dark. It's not unusual to hear this phrase in connection with gothic metal music although not all bands have melded these two dynamics together in quite the way that Unsun managed with their first album "The End Of Life" in 2008. Two years on and Unsun are once again in the spotlight with their second album – "Clinic for Dolls" – and their blend of sweet melody and bitter melancholy – a lyrical iron fist in an intense riff-driven velvet glove – sounds better than ever. Femme Metal caught up with Aya during their recent European tour to find out more about the band and the new album.

Hi from everyone at Femme Metal Aya. I suspect we have caught up with you at the start or in the middle of your European tour in support of the new album. How is it going, and what is the best thing about being in Unsun right now?
Unfortunately doing interviews on tour wasn't possible because we didn't have an internet very often and no time on the other things not conected with tour. The best thing about being in Unsun is that I can fulfil my dreams, my passions.

For those Femme Metals readers that do not know UnSun well enough yet, could you tell us about the band ? First off, when and what inspired you to start singing and how did you take your first steps into the rock world?
Unsun was formed in 2006 by me and Mauser. We are from Poland. Our actual line-up: Me as a singer -Aya- (Anna Stefanowicz), Mauser (Maurycy Stefanowicz) on the guitar, Gonzo (Wojtek Blaszkowski) and on the bass Patrick (Patryk Malinowski). The music of our band is like mix between darkness and light, day and night. Heavy guitar riffs with my vocals do the same contrast like is in the name of our band, Unsun. We play heavy metal with elements of alternative, rock and nu-metal music. We've record 2 albums so far. First album "The End Of Life" was released worldwide by Century Media Records and now our second album "Clinic For Dolls" is available in Europe via Mystic Production. You can buy this album in Japan and North America too. My first steps in rock music were when I started sing in UnSun. Before I started sing in UnSun I played other kind of music – that was something like lyrical, a little jazz, soul… I love when I can jam on the stage but in UnSun it's impossible…The most inspiring moment to start sing was when I performance in my home town about 10 years ago. I sang a very lyrical song for veterans from my town, Szczytno. The auditorium was full and almost every man was crying when I sang the song
Moving forward, how did you come to join UnSun and can you tell us something of your fellow band members?
This band was formed by Mauser and me, so we are the first members and founders of UnSun. I didn't have to join to this band becouse that was my and Mauser's idea, our "child".
When Mauser was touring with Vader I wrote my own songs, then I wrote the song called "Memories" and when Mauser came back to home I ask him for help arranging this song and recording it in our home studio. He did it and I've record the vocals then. When we're listening to the final effect we've decided that we have to try to do something heavier together and then Mauser has wrote something heavier ("On the Edge"). Everything has started from these two songs.
You've just released your second album "Clinic for Dolls" and it has the tag line: "…Creativity is the art of taking a fresh look at old knowledge…". Can you tell us more about this concept and how it has influenced the new record?
From the beginning we didn't try to put UnSun's music to any kind of genre. We simply write music – we are artists and express ourself by music. I think that's why it's so hard for all reviewers finding what kind of music we play exactly. We dont want to confine ourself to write only gothic music or symphonic metal – there are too many similar bands in these genres and they always do the same – they wanna to sound like Nightwish, Within Temptation, Tristania and other famous bands from the genre. I think we can't be afraid of the new sounds and ideas and we should use our new fresh ideas. This is the way to create something good, maybe strange but unique.

It's an interesting name – "Clinic For Dolls". What has inspired this choice of album title?
"Clinic for Dolls": it's a place full of sick people with aching souls, with empty hearts. These people are like dolls – faces with any expression. They are plastic. They are not real people anymore. "Clinic for Dolls" is the story about some sensitive girl who wants to know how is the world. She has a great heart for everyone but she realizes that the world isn't so good as she thought about them. The people in this world are creatures without a soul with empty hearts – they are affected, never say what they think. They want to destroy her happiness. "Clinic for Dolls" is some kind of hell on Earth.
How about the 'look' of the album? The cd cover is beautifully simple and striking, yet at the same time there is a sepia-tinted, almost steampunk feel to the artwork and your website, something which is also seen in the teaser snippet of "Home". Can you tell us more of the theme behind the artwork, of the 'look and sound' of the album?
The cover is a picture for the second song on the album. This song is called "Clinic for Dolls". The layout of the album's cover and the rest of pictures from the album refer to the title of album and the all lyrics' content. We wanted to do the all things relating with the album like one whole. So the title of album is "Clinic for Dolls" and that's why we decided to do a photo session with the final effect you can see on cover for example. Me as a doll (like on the lyric of "Clinic For Dolls") with empty heart and sick soul. Mauser like a creature from the song "Mockers". He represents the dark side and I am on the side of shine but I was destroyed by the creatures from the dark side. This whole concept exactly expresses our music, lyrics, even the name of our band and especially the title of the album. The similar concept is in our newest music video for song "Home".
2008's "The End of Life" was a cathartic album, dealing as it did with love, loss, life, death, endings and new beginnings. Have these themes been carried over to the "Clinic For Dolls" or is there a different or maybe broader inspiration for the songs on this record?
I think the songs on the second album are more mature as I'm more mature. They are very personal, the same like on the first cd. I describe this time the universal themes like death, love…the two most important things in my life. The themes of the lyrics are very similar to lyrics from our first album but they are more mature as I said before
"Clinic for Dolls" builds on the high standard of songwriting that was set with "The End of Life". How do you and Mauser work to bring your ideas together – how is an UnSun song written?
Mauser is responsible for writtening our songs. On this album all songs were composed by him, on the first album I've wrote two songs ("Memories" and "Face The Truth"). I'm responsible for lyrics and the vocal lines.
I already have at least four (and counting…!) favourite tracks off the album, including "Mockers" and "I Ceased". What is your personal favourite and could you tell us the story behind it?
It's hard to choose one favourite song. Each of these songs has something special for me but I can tell something about "Mockers". This is very personal song for me. I describe in the lyric people who are like monsters. They are sitting in their homes and writing stupid and hurtful things about most celebrities. These words really hurt. I dedicate this song for all the internet "trolls". Remember all people are the same and have the same feelings. The most stupid thing in their behaviour is that most of them coming after the shows, they want to take a pictures and get the album signed. I can't really understand it. If you think that I'm a ugly whore don't come to me for a picture and don't stay under the stage – and don't sing our songs…this is the story behind this song. Some people are simply evil.
Talking of songs, there is a bonus track on the Japanese edition. Will that get a wider release in time and do you have any more unreleased tracks planned for b-sides, special editions or future releases that you can tell us about?
Yes, we want to publish this song for all our fans. At this time we have some unpublished tracks and we'll definitely use them in future on special editions of our albums.

You are now working with Mystic Productions in Europe and have deals with Armoury/Eagle Rock in the States and Avalon/Marquee in Japan. How do you feel about this and how are the labels planning to help bring Unsun to a much wider audience?
Our all labels are supporting us in every way. They are very good and believe in us.
You are currently touring with Tristania. Do you have any plans to get out and about with a headline tour of your own? If so where would you like to take the Unsun live experience?
We want to go on our headline tour but we have to get more experience on stage. We would like to play in every coutry of Europe and we want to do a tour in the USA.
Who or what would you say has been your biggest influences, musical or otherwise, in your life so far?

It's hard to answer on this question because I listen to many kind of music and I like many of artist… my favourite singer is Jewel and Myles Kennedy from Alter Bride.
What is your most burning ambition at this point in time?
I wanna be famous like Lady Gaga ;))) and Michael Jackson…I wanna be a star!!!! :)))))))))))))))))))
What do you do to chill out and relax when you are away from the band? What do you look forward to the most when you have some spare time?
I like spend time only with my 7-year old son Ignacy, practising with him on violin, helping him with his homework and learning how to read, playing in some games and watching cartoons or collecting fossils. I really like spend my time only for him. I don't have too much spare time for my child so every free hour I spend with him.
You are in Paris when the album is released on the 11th. Anything special planned for that day?
When we played in Paris we forgot about that. Every day was the same (from town to town and all time on road we were sleeping) and we have no time on count which is day now exactly.
Finally, where next for Unsun? Are there any future plans for videos/singles in support of "Clinic For Dolls" that you can tell us about?
I can't tell for sure that we'll do another videos for songs from "Clinic For Dolls" – everything in this case depends on our label. We plan another tour in Europe on the beginning next year .
Thanks for taking the time to talk to us Aya. Any closing thoughts for the fans & readers.
Thank you for your attention. All the best for all and greetings from Poland.
Links
Latest Multimedia
Label : Femme Metal Records
Review by Tony Cannella
Here we are again. This is the latest compilation album put out by Femme Metal Records and like the ones before it, this is as comprehensive a look into the Femme Metal scene that you are going to find anywhere. "Melody and Malice" features 32-songs and over two hours worth of music spread out over two discs, in short, this compilation is packed to capacity with some great music. The beauty of compilations such as this is that it displays how wide and varied the Femme Metal genre is. All styles are well represented here, from power metal to symphonic metal to goth metal to prog metal to thrash metal, well you get the point. CD 1 begins with the modernized metal warfare of Deadlock with the track "Virus Jones". Exoterik is next with the great track "Revive", another modern metal song with some great moments of melody. Kittie is ferocious as ever with "Cut Throat" and In This Moment are on hand with the ultra melodic "A Star Crossed Wasteland". Mongrel contributes the chugging, marching vibe of "Zombie War". This compilation does a great job in mixing the well known bands such as Kittie, Lacuna Coil and Arch Enemy with some of the more obscure acts like Regardless of Me, Katra and Alerion and it all flows together quite nicely. The first disc is completed by the raucous hard rock of Jaggedy Anne (who also gets my vote for the best band name). It would be difficult to go track-by-track (not to mention long), but suffice it to say there is something for everyone here. Some other highlights that can be found on disc one are: the great classic metal outfit from Poland, Crystal Viper with "Blood of the Heroes", "And Their Eulogies Sang Me to Sleep" by the Canadian metalcore troupe The Agonist and the UK's Sarah Jezebel Deva with "The Corruption of Mercy". Disc 2 begins with the Romanian Power Metal band Magica with "Wait for Me", which is one of their very best songs (in my opinion). With compilations such as this, it is possible to find those gems that otherwise you might not be privy to. One such band for me, would have to be Witchburn from the U.S. I was completely blown away by this band and their down tuned contribution "Bleed the Stone", just excellent. After that, we get the more familiar with Austria's Edenbridge and The Mariana Hollow. Luna Mortis contributes "Ash", sadly this band is no longer with us, but "Ash" is a pretty good representation of what this band from Wisconsin had to offer, which is a lot. Two of my current favorites Triosphere (with "The Anger and the Silent Remorse") and Solsikk ("Relish in Nervous Delights") are two more highlights. Other highlights that can be found on the second disc are: Achilla (another revelation as I had never heard them before), Amberian Dawn, Evil's Desire and Rising Dream. I can't imagine the work that goes into compiling a compilation such as this. It must be a daunting task, but the end result is a resounding success. Like the compilations before it, this is a great place to start if you would like to investigate some great Femme Metal bands.

Rating – 95/100
Tracklist
Disc 1
Deadlock – "Virus Jones"

Exoterik – "Revive"

Regardless of Me – "Until I Die"

Kittie – "Cut Throat"

In This Moment – "A Star Crossed Wasteland"

Mongrel – "Zombies of War"

hAND – "Fate Sewn On"

Decadence – "Vulture"

UnSun – "Whispers"

Katra – "One Wish Away"

Crystal Viper – "Blood of the Heroes"

Winter Storm – "The Embrace"

The Agonist – "And Their Eulogies Sang Me to Sleep"

Alerion – "Turn of Fate"

Sarah Jezebel Deva – "The Corruption of Mercy"

Jaggedy Ann – "Skin of Your Teeth"
Disc 2
Magica – "Wait for Me"

Witchburn – "Bleed the Stone"

Edenbridge – "Higher"

The Mariana Hollow – "Your Halo"

Luna Mortis – "Ash"

Beneath the Stares – "Guilty Bystander"

Achilla – "Mirrors"

Amberian Dawn – "Talisman"

Lacuna Coil – "Spellbound"

Triosphere – "The Anger and the Silent Remorse"

Solsikk – "Relish in Nervous Delights"

Noctis Notus – "Scarlet Storm"

Arch Enemy – "I Will Live Again"

Further From The Truth – "Drifter"

Evil's Desire – "Touched by Insanity"

Rising Dream – "Religion for the Weak"
Label : Mystic Productions
Review by Tony Cannella
The Polish Gothic Metal band UnSun first came on the scene with their 2008 debut "The End of Life". Now the band led by ex-Vader guitarist Mauser and vocalist Aya return with their sophomore effort "Clinic for Dolls". It is good to see that UnSun has maintained their gift for melody that made their debut so enjoyable. The opener "The Lost Way" and the next track "Clinic for Dolls" are two great examples of what UnSun has to offer. The songs are up-tempo, fast paced and feature some strong, soaring vocals from Aya. The next track "Time" immediately became a huge favorite, thanks in large part to the great guitar work by Mauser (check out his solo on this track) and a passionate vocal performance from Aya. The piano ballad "The Last Tear" offers something a little different as the band shows their sensitive side. Other highlights include: "Mockers", "Home" and "I Ceased". "Why" brings the 44-minute CD to a close. UnSun maintain a steady, melodic direction throughout the course of "Clinic for Dolls". With "Clinic for Dolls", UnSun has definitely continued to expand upon their impressive debut. "Clinic for Dolls" should definitely please fans of "The End of Life".
Rating – 82/100
Tracklist
The Lost Way

Clinic for Dolls

Time

Mockers

Not Enough

The Last Tear

Home

I Ceased

A Single Touch

Why
Line Up
Aya – Vocals

Mauser – Guitars

Heinrich – Bass

Vaaver – Drums
Links
6 color styles available:

Style switcher only on this demo version. Theme styles can be changed from Options page.