Browsing articles tagged with " white"
Label: Napalm Records
Review by Tony Cannella
The Dutch Symphonic metal band Delain returns with their fourth full-length album "The Human Contradiction". This is the follow up to their excellent "We Are the Others". After that album, it was interesting to see how they would follow what many consider to be their best album. Would they be up to the task? Well, the answer is a resounding yes.
The opening track, "Here Come the Vultures" is a wonderful way to start. It begins with a haunting intro before transforming into a bombastic metal track and Charlotte Wessels is fast becoming one of my favorite singers. "Your Body Is a Battleground" is even more awesome than the previous song. Continue reading »
Interview by Disgraced
Thanks to my dear friend Miriam (yeah, that's me!) I finally have the chance to submit an interview to one of my all-time favourite bands… sort of dream interview, then

It's been a long, long time ago when I started listening to Tristania and just like I went through tons of changes in my life, the Norwegians themselves underwent a plethora of earthquakes, sometimes softer sometimes harder – and I think there's no need to say in 2013 that the Norwegians are now 1/7 Italians… And it's right with their Mediterranean siren Mariangela Demurtas that I have the pleasure to talk with, even though via mail; it'll feel weird not to do the interview in our language but webzine-wise it's better to do it directly in English, so let's have this blast of questions!
First of all, thank you Mariangela for taking the time to answer these questions. Hope I won't sound too fanboy-ish but since I'm a great supporter of you it's really an honour to have this opportunity. And, second but not less important, big congratulations on the release of the latest album! We'll immemdiately in-depth-dissect it. Continue reading »
Label: Ravenheart Records/Valkyrie Rising
Review by Tony Cannella
La-Ventura is a melodic hard rock/metal band from The Netherlands. They formed in 2007 and released their debut album, "A New Beginning". Now the band returns with their sophomore effort "White Crow".
"White Crow" features 40-minutes of infectiously melodic, guitar driven, hard rock and metal. La-Ventura has no delusions about what they do and their songs draw you in instantly. Right from the start, the opening track "Falling Down" is an excellent way to open things and the band proves they have a great ear for melody – which their songs have an abundance of. Song like "Human Vanity", "Song for an Idiot" (great title), and the track "White Crow" are all solid and showcases what La-Ventura are capable of. Continue reading »

Interview by Tony Cannella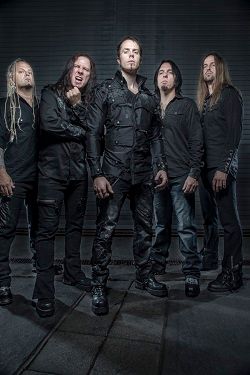 Line-up changes are all too common in the music business for various reasons, not only in metal but all genres. It's often hardest to change a lead vocalist which is what the Florida based metal band Kamelot were faced with when popular singer Roy Khan left the band and was replaced by Swedish vocalist Tommy Karevik of the band Seventh Wonder. Well with the Release of "Silverthorn" (featuring the debut of Karevik) and relentless touring even the fears of the most die-hard fan should be put to rest. Tommy Karevik fits Kamelot like the proverbial glove and the band are better than ever – as I witnessed when they played the Palladium in Worcester, Mass on their current North American tour. The entire band were on fire and just plain awesome throughout their entire set; a set that featured a good mix of new songs with older favorites. Following their sound check I had the huge pleasure to sit down with Kamelot's guitarist Thomas Youngblood to talk about a variety of subjects. Here are the highlights of our conversation…
Continue reading »
Label: Century Media Records
Review by Tony Cannella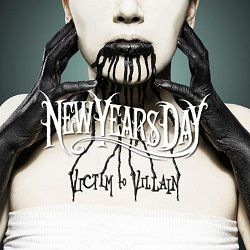 From California, New Years Day plays infectious alternative hard rock with a punk edge. Their third album "Victim to Villain" comes 6-years after their debut "My Dear". NYD released their sophomore effort "Headlines & Headstones" in 2010 and now comes their aforementioned third album.
"Victim to Villain" features 11-songs and a manageable playing time of 34-minutes. Musically, New Years Eve takes what Paramore does and turns it up to 11 and beyond. Lead vocalist Ashley Costello has a clean yet hard-edge to her vocals and they are just dripping with attitude. The opener "Do Your Worst" begins with some ominously, lilting piano before the song develops into a pounding, hard rock tune. Continue reading »
6 color styles available:

Style switcher only on this demo version. Theme styles can be changed from Options page.