Browsing articles tagged with " 2004"
Label : Season of Mist
Review by Luisa Mercier
The death-metalcore French band Eths has recently released their fourth effort, which I highly enjoyed, and in the meanwhile has also re-released their debut album with the addition of four demo tracks. I have to say that even if it is the debut, the record still sounds fresh, the vocals by Candice are still brutal and the bass is powerful. Back in those days, the band was less melodic than now (in "III" you can even find some symphonic elements and more clean vocals) and drew most of its inspiration from nu-metal scene, especially Korn with the addition of extreme metal, death and thrash above all. Candice is an impressive vocalist, she is so sweet in appearance, but able to deliver harsh vocals, melodic vocals in the same song. Compared to the last album, this one maybe it is a little less varied, the tracks are very similar among them, but still is a solid album. The demo tracks in the end are a mere curiosity, that lovers of the band will love for sure, as the fans always appreciate this kind of initiatives. I can only warn that "Soma" is very long, sixteen tracks, so it may result hard to understand completely at first listen, but if you love real metalcore, you cannot miss this album.
Rating – 70/100
Tracklist
Méléna

Crucifère

Détruis moi

Septum lucidum

Le fruit des anges

Infini

Rutsah

Je vous hais

L'instant sourd

Simiesque

Ailleurs c'est ici

Elle s'endort

Crucifère (demo)

Détruis moi (demo)

AlepH (demo)

Je vous hais (demo)
Line Up
Candice Clot – Vocals
Stéphane "Staif" Bihl – Guitars, Programming
Grégory "Greg" Rouvière – Guitar
Marc "Roswell" Burghoffer – Bass
Guillaume "Yom" Dupré – Drums
Links
MySpace * Facebook * Twitter * Site
Interview by Roberta Ilaria Rossi
On the wake of the most famous bands like Arch Enemy, The Agonist, In This Moment, a "newbie" French band is moving its steps in the European metal scene, with one only easy target: spreading the words on the other side of the French boundaries. We're talking about Eths, a new French metal core/nu metal band, already known by many in their native home. Now that a few months have passed from the official release of "III", FM had the pleasure of exchanging a short chat with Candice Clot, that has revealed us something. This is the result of our brief jaw.
Hi Candice. Welcome to our website. How are you doin'?
Fine, thanks!
Let's start our interview. Recently, one of your first records, "Soma", released in 2004, has been issued again by Season of Mist. What's behind the decision of a new reissue?
It seemed to be clear for us to continue the road with SOM, we live in the same town it's easy and we really know each members of the house. We have a great deal with them.
Talking about this new record, I think it's a new and "fresh" one, quite strong. For a moment, please correct me if I'm wrong, my mind associated your sound to the album called "Follow The Leader" by Korn, because of the more robust sounds, which quite remind the thrash of Sepultura or the hardcore of Biohazard, embellished of course by your voice, which is the main point of the sound of the band. Do you agree with this statement?
"Soma" has been released in 2004 so it's quite so long ago.
The first thing clearly noticeable in the listening of Eths music is surely your voice which is quite versatile, because you use a very cutting, sharp growl, showing a first-rate performance, maybe one of the best ever listened in the "female fronted" metal, going through then a use of the clean vocals which result more mellow and persuasive. How do you manage to lead these vocal passages? Do you train your voice a lot or is it a pure and natural talent?
15 years in the metal world breaking my voice but I worked a lot for my clean voice and find a way to mix both voices was with the help of a good breath and a coach. When you have the vocal technique you can afford a lot more things and it's not just talent but only work and experiences.
Step back for a moment: we talked about your voice and maybe some fan has made some comparison with some famous growler vocalist like the German Angela Gossow or the Canadian Alissa White-Gluz. What do you think about these two women? Do you like their music, their vocals?
I know the music of Arch Enemy the singer is a real front woman, she really knows the job but I don't know the other sorry.
Talking about "aggressive" vocalists like the ones I mentioned, is there any other person/female singer you like to listen to the most?
I don't have any references about female voices, but I've always respected the work of Tarrie B from My Ruin.
Eths is a nu metalcore band from France, you are already known and famous there and you're trying to get step by step the way to success all over Europe, but the project was mainly born in 1996 as "What's the Fuck" and right after you changed the name in Melting Point, reaching at the end the final name: Eths. Could you please share something more about the band biography?
We played in Chile Brazil, Russia, England, etc. Done big festivals like Graspop, Szigets, Dour, Wacken etc .So we garnered a lot of good stage memories and saw many big bands, I think we're lucky.
"III" is the latest and newest album, recently released by Season of Mist. The thing that captured my attention in this record was the choice of putting some tracks sang in French and also in English and I've noticed that the same has been done by your "colleagues" and friends Kells. What did cause the choice of putting these tracks in this latest record?
We made 4 songs in English it wasn't easy to rewrite these songs because poetry in French is not the same in English, it's the same subject but not the same words. It was a compromise to record it but the label didn't force us to do it but they let us know it could be a big plus for the band so we made it.
The production of the record has been given to Fredrik Nordström, which has worked in the past with masters like The Haunted, Dark Tranquillity, Dimmu Borgir, Arch Enemy and more and the final result is more than excellent. Why have you chosen to trust this man to work on your material?
Fredrik is a great producer, he's pushing you to your limits to have the best but always let you decide what is the best cause it's your disc, in front of him we could feel his experience in some details, he absolutely don't want to complicate the things, so he was really efficient and we learned to go straight to the point. It was the first time we worked with of a real metal producer and we're really happy with the sound he did, by the way I have to say that Henrik Udd (his acolyte) did also a great job and working with them learned us a lot.
Also the artwork of the record is quite curious. Would you like to talk about it? What is the concept behind it?
This is a post apocalyptic goddess who is the link between our songs. Nicolas Senegas did a real good job we are totally satisfied with the result.
'Till now, your music has been chiefly written using the French language. Will we ever see a record totally sung in English in the future?
No, as far as I write the lyrics I can't write an whole album in English even if it 's only a translation it's a lot of work. Everything has to be changed even sometimes the meaning because of the musical with words. Everything has been simplified for an optimal hearing and I don't like to write like this.
"Tératologie" (2008) was your last album and "III" has been released recently after 4 long years of silence. How come have you decided to wait for so long to release some new material?
After the "Tératologie" tour we were very tired, I've had a kidney infection at the end of the tour and Staif a hand tendinitis so we needed a break. It took a long time to Staif to be in a good shape because he couldn't play guitar anymore. I took time to a have my daughter and time to reconnect to music. Also we realise we needed a break to tell new things, new stories to renew the music and it's very important to create different songs.
Talking about your music career, I know that you've taken part in the track called "La Sphere", by Kells. What could you tell about this cooperation and about your personal friendship with Virginie Goncalves?
I know her from quiet some time, we played on a gig with our bands and one day she asks me if I would sing on a Kells song. Yeah, it's my friend even more today because we've been on tour together and we're mothers, so we share a lot, we understand each other and the simple fact is that we scream, we sing and raise our children that's funny.
Let's talk about lyrics: who is the main person who do write the lyrics in the band? Where does the inspiration for the creation of your music come from?
I write the lyrics and everything could inspire me. Humanity is a great inspiration and I like to shell every part of it. Now "III" reflects a fact of life and a desire for change, a renewal for humanity. We talk a lot about 2012 in general but mostly I'm inspired about the different eras of our earth, the intelligence and the predictions of ancient civilizations disappeared which are necessarily developed the process of "III". The planet has gone through several apocalypses and we are the fruit of it… it helps to ask many questions like birth and death.
Recently you've embarked on a mini-European tour with Kells. What could you tell about this experience?
It's always cool being on tour with friends or other bands now the different thing was that I wasn't the only girl so it was more girly but you know on tour. It's always the same for every band known or unknown. You soundcheck, you wait, you play, you drink, your party and you sleep… with your friends.
What is the most beautiful thing in living on the road?
For sure not the road but to be on stage.
What could you tell, instead, about the relationship you have with the fans?
I'm not a fan of Facebook and I prefer talking after shows than reply to emails it's a better way of communication. I generally do not like fanatics minds and I do not understand them but I owe them respect. We are often associated with young teenagers and I always try to remember when I was 15.
Unfortunately, I've noticed that Eths tours in Belgium and France only. Will you ever embark on a full European tour, setting foot on every single European country and, why not, all over the world?
And we need a good European agent or world agent

it's the only way to see us the band is not so big on Europe so we need someone who believe in the band to bring it abroad.
Any future goal for the band or yourself?
The best for everyone.
Thanks so much for your interest in us and thanks for having allowed us this interview. You have carte blanche in order to speak and say something to our readers and your fans! Thanks so much again!
Thank you all!!!
Credit Photos
Candice Clot Photo by Nicolas Sboub Delpierre
Band Photo by Eric Canto
Links
MySpace * Facebook * Twitter * Site
Latest Multimedia
Label : Metal Mind Productions
Review by Tony Cannella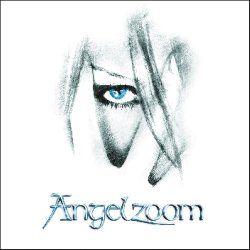 Germany's Angelzoom is a non-metal project led by Claudia Uhle. In 2004, Claudia released her self-titled debut album under the Angelzoom banner and now that album has been re-issued via Metal Mind Productions out of Poland. Not only is the original album presented here but there is also some cool bonus material included on the re-issue. So fans of the band will have an added incentive to include this CD in their collection. First off, Claudia Uhle has got such an expressive voice and vocal style. The debut from Angelzoom is an albums worth of dreamy, soundscapes. This re-issue is filled to capacity with great music. Songs like "Turn the Sky", "Back in the Moment" (which I believe she made a video out of), "Guardian Angel" and "Fairyland" all highlight the strong material contained within. Instead of playing Metal, Angelzoom offers a unique mixture of Classical, New Wave, Dark Wave, Gothic and Electro Pop. Whatever Genre, Angelzoom lies in; there is no denying that Claudia packs plenty of atmosphere into the songs on her debut.
Rating – 75/100
Tracklist
Turn the Sky
Back in the Moment
Blasphemous Rumors
Otium
Falling Leaves
Guardian Angel
Crawling
Bouncing Shadows
Fairyland
Dream in a Church
Lights
Newborn Sun
Into My Arms
Christmas Dreams
Peace of Mind (Bonus Tracks)
Fairyland (video clip) (Bonus Tracks)
Fairyland (Radio Version) (Bonus Tracks)
The World Between (non-album track) (Bonus Tracks)
Sapphire (non-album track) (Bonus Tracks)
Fairyland (Blutengel Club Remix) (Bonus Tracks)
Fairyland (Sacrifight Army Remix) (Bonus Tracks)
Line Up
Claudia Uhle – Vocals & Piano
Rene Siodla – Male Vocals
Joachim Witt – Male Vocals
Pitti Piatkowski – Guitars
Bernd Wendlandt – Keyboards, Piano & Programming
Links
Label : Artoffact Records
Review by Tony Cannella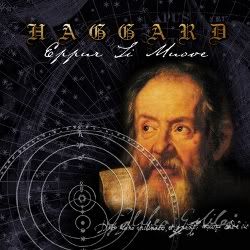 The German band Haggard recently had two of their CDs re-issued by Artoffact Records. Good thing too, because otherwise I would never have gotten the chance to check out this seminal band. "Eppur Si Muove" originally was released in 2004 and it was the bands third release. It is a concept album based around the life of Italian Astronomer Galileo. Of course, one thing you'll notice is that Haggard is a huge band, maybe not in terms of success but the band/orchestra features about 20-members. The impressive thing is that frontman and band visionary Asis Nasseri really makes it all come together to create a sterling piece of art. The total playing is 50-minutes and 10-songs. The opening "All'Inizio è La Morte" is a strong orchestral/symphonic opener that features male extreme vocals along with female operatic vocals. The band utilize many different instruments that are often associated with with a symphony or orchestra and different vocal styles (male and female) are present throughout this recording as well. There are plenty of complex songs featured including "Minuetto In Fa-Minore", "Of a Might Divine" and one of the many highlights "Herr Mannelig" which is also included as 'shorter version'. The songs on "Eppur Si Muove" are all quite beautifully arranged and performed, but this CD is also not without it's metal moments (a perfect example of this is "Per Aspera Ad Astra", which is just brilliant) that help to make it a truly unique piece of art from Asis Nasseri and the gang. Kudos to Artoffact for re-issuing these great albums and hopefully getting them out to a new fan base. Haggard are a band that require attention while listening – in other words, you can't just put these CDs on as background music (well okay, maybe you can) but it is fun to see what is coming around the next corner, musically. I would love to see how Haggard pulls all of this off live and on stage. "Eppur Si Muove" is a great album that is difficult to put into words – suffice it to say, "Eppur Si Muove" features some of the highest caliber of Symphonic Metal and so much more. A true musical journey.
Rating – 90/100
Tracklist
All'Inizio è La Morte

Minuetto in Fa-Minore

Per Aspera ad Astra

Of a Might Divine

Gavotta in Si-Minore

Herr Mannelig

The Observer

Eppur Si Muove

Larghetto / Epilogo Adagio

Herr Mannelig (Short Version)
Line Up
Asis Nasseri – Vocals, Guitars

Luz Marsen – Drums, Kettledrums

Fiffi Fuhrmann – Tenor, Crumhorn, Bassoon

Hans Wolf – Piano, Harpsichord, Keyboards, Organ

Steffi Hertz – Viola

Michael Stapf – Violin, Piccolo

Claudio Quarta – Guitars

Veronika Kramheller – Soprano

Gaby Koss – Soprano

Johannes Schleiermacher – Cello

Ivica Kramheller – Contrabass

Michael Schumm – Timpani, Bells, Classical Percussion

Giacomo – Bass

Ingrid – Piano, Harpsichord, Keyboards, Organ

Nicolo – Bass Baritone

Manu – Soprano

Ally Storch-Hukriede – Violin

Patricia King – Cello

Andreas Peschke – Flute

Linda – Oboe

Andreas Fuchs – French Horn, Percussion

Andi Hemberger – Vocals

Mark Pendry – Clarinet
Links
MySpace * ReverbNation * Facebook * Twitter * Site
Label : Metal Mind Productions
Review By Tony Cannella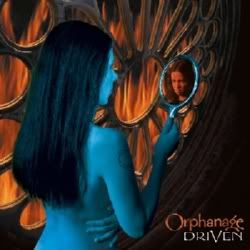 Holland's Orpanage have long been one of the most influential and respected bands in the Dutch gothic metal scene. Unfortunately, the band called it quits in 2005 after releasing 4 widely praised full-length CDs. Their final release "Driven" is considered one of their best by the bands loyal following, now that final piece of work by Orphanage has been re-issued, thanks to the great Polish label Metal Mind Productions. Orphanage is centered around the duel vocals of George Oosthoek who handles the grunt vocals and the angelic vocals of Rosan van der Aa. This is clearly the case as soon as the opening number "The Sign" kicks in. The two vocal styles work well together and the rest of the band adds in their talent as well, painting a complete picture of atmospheric metal. "Black Magic Mirror" continues things with a disarming intro, that is really a surprise for a band such as this before getting heavier and maintaining a consistent pace throughout the duration of this 4-minute song. "Cold" is another strong track, that has almost a psychedelic vibe to it. This one quickly became a favorite and it shows that the band were not adverse to adding different influences to their sound. The 3-minute intro track "Back Gate" is also really cool, it begins and ends with the sound of rain falling and some tribal sounding drums are played and it brings us into "In Slavery" – one of the heavier songs this CD has to offer. There are many strong moments to point out, to name just a few: "Truth or Lies", "Driven" and the closing track "Ender's Game" - which, all things considered is probably an appropriate end to the last CD that this band would record. The whole 14-song opus clocks in at over an hour long, and it is definitely time well spent. After listening to "Driven", it's a shame that Orphanage called it a day when they did, and it is easy to see why they were so influential. "Driven" is a great final statement for the band to make and thanks to Metal Mind for not allowing this great CD to fade into obscurity.
Rating – 85/100
Tracklist
The Sign

Black Magic Mirror

Cold

Prophecies of Fame

Dead Ground

My Master's Master

Back Gate

In Slavery

Truth or Lies

Driven

Infinity

Addiction

Beyond the Fall

Ender's Game
Line Up
Rosan van der Aa – Vocals

George Oosthoek – Grunts and Screams

Guus Eikens – Guitars, Keyboards and Vocals

Lasse Dellbrugge – Synths

Remko van der Spek – Bass and Guitars

Sureel – Drums
6 color styles available:

Style switcher only on this demo version. Theme styles can be changed from Options page.