Browsing articles tagged with " 85"
Label: Century Media Records
Review by Tony Cannella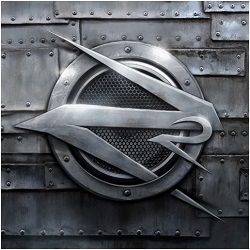 Devin Townsend is one talented dude. I don't think that's really a revolutionary statement. He's a multi-instrumentalist, lyricist, showman, multi-tasker, all of the above and more, not to mention he's got a wicked vocal presence. He's also played with a myriad of bands and projects over the years. His latest round of aural assault is the 2-cd, 2-hour extravaganza, entitled "Z²" (short for "Ziltoid 2″). In addition to Devin, the album features a multitude of guests including Anneke van Giersbergen, Dominique Lenore Persi from Stolen Babies and WWE superstar Fozzy and frontman Chris Jericho among many, many others.
Each disc has its own title. Disc 1 is entitled "Sky Blue" and disc 2 is called "Dark Matters". Continue reading »
Label: Massacre Records
Review by Tony Cannella
The symphonic metal outfit from Germany, Voices of Destiny returns with a new singer Ada Flechtner (ex-Coronatus) and their 3rd album "Crisis Cult"; since changing vocalists is often one of the biggest decisions a band can make, you had better make sure that you have found the right one. Well, in listening to "Crisis Cult", I couldn't help but think to myself that Ada is the perfect choice to be the bands new female voice.
"Crisis Cult" is basically a concept record. Lyrically it is perhaps the bands best and musically they straddle the line between head banging metal and a more melodic tone, but all of the songs have a bombastic element. The majority of the vocals are handled by Ada, but keyboardist Lukas Palme also contributes with his grunting vocals. Continue reading »
Label: No Remorse Records
Review by Tony Cannella
"Lacrima Dei" is the 3rd album Greece's symphonic metallers Meden Again. "Lacrima Dei" sees lead vocalist Maya making her debut with the band as she replaces Iliana who now fronts Enemy of Reality.
First off, the addition of Maya seems to be a really good decision. Her voice fits in well with the bands intricate musical arrangements and the few songs where she is paired with a male vocalist are some of the highlights. The male vocalists range from traditional metal to extreme metal and either way, Maya's voice gels perfectly with them. Songs that stand out in particular are: "Divine Wrath", "Embrace the Sorrow", "Portal of Fear" and "Commemorate the Fallen". Another song that stands out is the tear jerking ballad "Loss". Continue reading »
Label: Despotz Records
Review by Tony Cannella
The thing about Sweden's Crucified Barbara is that you always know what you are going to get. Sometimes familiarity is good and that holds true on their new album, "In the Red".
The Motorhead style rocker, "I Sell My Kids for Rock N' Roll" starts things off and provides a thumping, powerhouse of an opener. "In the Red" features 11-songs and 40-minutes worth of powerful music that is wonderfully, unapologetically classic Crucified Barbara. The band is on quite a roll with the last few albums and that continues with "In the Red". Songs like, "To Kill a Man", "Electric Sky" and "Lunatic #1″ are sure to please the fan base, whilst also gathering new followers. Continue reading »
Label: Epic/Sony Music Finland
Review by CriX
What happens if you put an actress, a cellist and 2 established musicians in the same band? An explosion of energy and pure rock music. Cherry & the Vipers is a Finnish rock band is formed by singer and actress Kirsi Ylijoki, the guitarist is Samuel Leminen, the bassist is Jarkko Strengell and finally we have Apocalyptica's  Eicca Toppinen playing the drums instead of his cello. Someone could think that's something peculiar but you have to absolutly check out their debut album, it's a good work, and if you like rock music, well, this is the band that you were looking for. "Rakkauden punk" introduces the album and it gives the right boost with Kirsi's scratchy vocals that give us an overall vision about their explosive music style. Continue reading »
6 color styles available:

Style switcher only on this demo version. Theme styles can be changed from Options page.
Archives