Browsing articles tagged with " athens"
Independent Release
Review by Matteo Bussotti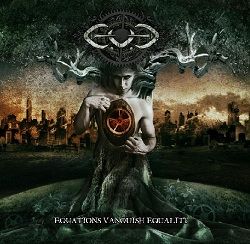 E.V.E. (Equations Vanquish Equality) are a band formed by Vicky Psarakis, a greek/american singer in 2010, and, as their bio says: "The main concept behind it is the world we currently live in, everyday human situations and interactions, "disease", and the kind of corruption that comes from within."
In fact you'll get caught up in their lyrics and songs very, very easily. These 4 songs have some of the most poetic lyrics ever written, in my opinion, at least recently. Moreover, Vicky has a beautiful voice, and she can unite many styles. In "Poetic Injustice", for example, Vicky reads the lyrics, almost like if she's acting, more than singing. The final effect is very impressive and beautiful. Of course, her voice really comes out in the other songs when she sings; her style is between prog-rock and melodic metal, and it surely is catchy, neither too powerful, nor too melodic or calm.
Lots of praise go to the other members of the band, of course, whose rhythms create a perfect mixture of different sounds. It's really strange, maybe, while listening to this EP you'll think "I've already heard stuff like this", but there is something….inexplicable, which will keep you focused on this album.
As I said before, in my opinion, it's the lyrics which really keep so high the EP's levels, they are simply beautiful. E.V.E. really accomplished their task, by writing lyrics which deeply speak about humans, relationships, how this society is falling apart while we can't even notice it, and how much damage we are doing to our planet. Look the lyrics up on the Internet, or simply stay focused while you listen to this EP, and you'll love every single second of it. The only comparison, even if it doesn't fit well with E.V.E., is with Gojira, a French metal band who speaks about environment and society, and whose lyrics are really, really deep. E.V.E. are at the same level, and may appeal to a bigger variety of people, with their soft but also powerful music, and their beautiful rhythms.
This EP is a trip for your ears and your mind. If you have the chance to listen to it, be sure not to miss it, I can assure you won't regret it. We are very eager to listen more from E.V.E., and we can't wait until their first album comes out! Continue reading »
Label : Massacre Records

Review by Tony Cannella
On their new EP, "Killing My Dreams" the Greek Gothic metal band offers some new and alternate versions of songs from their 2009 debut album "Silent Scream". The EP is opened with two versions of the title song. The first is a regular studio version of "Killing My Dreams" and is followed an acoustic version of the song. I've always liked this song, so it is cool to hear it done in acoustic form, but you can't beat the original version, it is just so catchy and has a melody that sticks in your head long after you've heard it for the first time. An acoustic version of "Don't Say a Word" follows and this is well done also. Following a demo version of "Never Forever", the EP is concluded with four live songs: "Dreamer", "Killing My Dreams", "Walk Away" and "The Rules". For fans of Elysion, "Killing My Dreams" is definitely well worth owning and even newer fans who appreciate female fronted metal bands; this is a good sampling of what this band has to offer. It's not exactly a new full-length, but it will do for now. "Killing My Dreams" is a digital only release and can be downloaded at the usual sites: iTunes, Amazon, etc.).
Rating – 83/100
Tracklist
Killing My Dreams
Killing My Dreams (Acoustic Version)
Don't Say a Word (Acoustic Version)
Never Forever (Demo Version)
Dreamer (Live Version)
Killing My Dreams (Live Version)
Walk Away (Live Version)
The Rules (Live Version)
Line Up
Christianna – Vocals
Johnny Zero – Guitars
NID – Guitars
FXF – Bass
Laitsmann – Drums
Links
MySpace * Facebook * Twitter * Site
Independent Relaese

Review by Tony Cannella
Normah is an all female heavy/progressive/doom metal band from Greece. Their independently released EP is called "Darkest is the Hour Before the Dawn". Normah are definitely on the heavier side of the metal spectrum, so don't expect anything nice, poppy or sweet. This is pure metal and pure metal that is played with passion. The fiercely powerful riff of "Iron Mother" opens the EP. The song is so heavy and has no shortage of heavy riffs with a classic metal vibe. Having a drummer that is also your lead singer is a rarity in metal but that is the case with Normah with Marianiki pulling double duty. Her vocals are not bad but nothing special either, but they did tend to grow on me as the EP progressed. The drum intro leads us into the chugging opening riff of the haunting "Tormentor 22" which develops into a thrash-like number. "Spirit of the Night" maintains the albums' heaviness whilst slowing down the tempo just a bit at the beginning before speeding up and becoming one of the more ferocious songs on the 5-song, 20-minute EP. The oddly titled "Readheadz" is next and the eerie track "Clown" closes the album. Let's face it clowns are scary and I guess that is the theme behind this song. Musically this song is all over the place. It has some massive riffs (which you can pretty much say about every song), and it also features progressive elements, some movie samples and some extreme metal vocals. This was easily my favorite song. Overall, I have to say that Normah impressed me. "Darkest is the Hour Before Dawn" possesses some good musicianship and the songs are well written and performed.
Rating – 75/100
Tracklist
Iron Mother
Tormentor 33
Spirit of the Night
Redheadz
Clown
Line Up
Marianiki – Drums, Vocals
Sofia A. – Guitars
Tenia – Guitars
Sofia I. – Bass
Links

Interview by Si Smith
They say that two is always better than one, and this is definitely the case with Julian's Lullaby. The dynamic frontispiece of this band involves TWO female vocalists, equally enchanting and providing the band with a double dose of femme metal magic.The bonus is that the music is also as enchanting, involving romanticism but also a dose of heaviness and mystique. Femme Metal had the pleasure of the company of both Julian's Lullaby vocalists, so we asked them to spill the beans on the true nature of the band….
First thanks so much for joining us at femme metal for this interview, and welcome from all of us. The band formed back in 2004, were you both there at the start? How did the band build up to what we see today?
Margina:
Well, when I joined back in 2009 the band was already focused on "Sand on Your Hands" using male – female vocals. Then Elias thought it would be really fascinating as well as interesting, to experiment using 2 front female vocalists. So a few months later Aprilia joined us, and since then we all stick together successfully.
Aprilia:
I also joined the band in 2009, after a series of coincidences… The band was already formed as it is now at that time and they were recording "Sand on Your Hands". Elias had the idea that a second female voice would be interesting, so I joined in.

In the four years before the first demo release, you must have spent much time working on material and practicing together. How did the band go about building up its profile "out in the world" at this time?
Aprilia:
Most of the material is composed by our rhythm guitarist Elias. When a new idea comes in, all of us work together, through rehearsing, and everyone puts his own touch on the piece. In the end, though the initial idea is there, the result is something new, reflecting the whole band in it.
Margina:
The original ideas mostly come from our guitarist Elias as Aprilia already said. He composes and gives "life" to the songs. Good thing is we all work together as a team and each one of us has always some sort of a new idea to propose/add. So with Elias's implementation, team work and the personal touch, the final project is unique, and it certainly represents the whole team's expectations.
On your Facebook page you quote differing bands such as Slipknot, Epica and Queen as your influences. What elements would you say go into making a great Julian's Lullaby song?
Aprilia:
As I mentioned earlier, the major element of making a great song is the involvement of the whole band. Since each of us has different influences and likings as far as music is concerned, putting them all together, in the right amount, makes our songs what they are.
Margina:
Differing bands is because each one of us has a different musical background and that's what practically helps us in proposing new ideas and keeping experimenting on them. Now the exciting thing about teamwork is that we somehow manage to mix and match all these ideas/influences yet retain a balance, without having to "sacrifice" our original idea of the project. The basic elements are: the fact that we seem to interact in the best possible way and of course the fact that we are friends besides being Julian's Lullaby.
Your first demo "I Can Hear You Thinking" was released in 2008 – and then Julian's Lullaby tracks appeared on a number of compilations. How did these opportunities come about? Did it all come on the strength of the demo release?
Aprilia:
At first, the demo was the reason for our appearance in these compilations; we approached MNR guys initially and really jumped into this opportunity. Then Elias saw an ad placed by "Kiss Army" fan club and Rock-Hard magazine (GR) recruiting bands for an upcoming Kiss tribute CD, we recorded "Beth" they liked it so also joined! After that we were asked to join again on MNR's next volume CD with a song, this was the time when the whole line-up changed; so we decided to go on with something new, a song outside the demo and "Sand on Your Hands" came to be.
You guys seem quite "romantic" in your approach to music – from the artwork of the latest album cover to the quote on your website, "no angels, demons or dark desire can keep us apart". Where does that come from? Is this something you all share?
Margina:
This quote is from "Sand on Your Hands" and I must admit I really love this song probably 'cause it was my 1st song to record as a Julian's member. Well we all certainly have our "romantic" side and the artwork also proves that, still not all of our songs share this orientation. We try to keep a balance between "hard" and "soft" and our album proves that!
Aprilia:
Well, we all have our lyrical parts. And the combination of the compositions with the female voices brings out something "romantic". But don't be fooled. Not all of the songs are "gentle".
It must be a great support for each other to have TWO vocalists on stage together. Do you girls spend much time together outside of the band – get up to any mischief when no-one's looking…do you get time to work on your rapport outside of just live performances?
Aprilia:
The fact is that we do spend time together outside of the band – but no mischief done! Especially this past year we got closer, and we combine working out for the songs and having fun.
Margina:
Of course we share moments and have fun besides singing together, since we are good friends. Actually even on rehearsing we are having fun. On stage things are not different for us I guess, since we do share a nice chemistry and we fully interact. We generally combine practice with having a good time.
I notice from your videos that one of you moves around a lot more onstage whilst the other sings – does this represent quite different personalities for you both, or you both similar kinds of people and singers?
Margina:
Different personalities and music backgrounds I would say, yet the same goals. We both seek the best vocal output. I just go on stage and do the things I feel like doing (things I would probably do when rehearsing as well), while at the same time focusing on the best possible singing performance. Feeling "free" on stage is what good chemistry and interaction does like I mentioned before.
Aprilia:
We are different personalities but the "secret" of our performances lies elsewhere… I am very self-conscious about my singing performance onstage. So I prefer to sacrifice some movements to have the best result on the singing part…
Hailing from Greece must seem like a bonus, as the Greeks are well known for their classical and romantic traditions. Is there a particular Greek element to your music or lyrics would you say?
Aprilia:
I don't think there is anything in particular that connects us to the Greek classical and romantic traditions, apart from their being in our DNA of course.
Margina:
Classical and romantic traditions are part of our history and they are somehow in our nature. I have the impression though, that besides some romantic "stigmas" that you already discovered in our music, there is no other particular element.
Signing with STF Records must have been a great boost to the band's morale. Has it changed the way you work at all?
Aprilia:
Having a label deal is a good PR and really wonderful in the sense of additional promotion – guys at STF work right and serious – but I believe that with hard work and focus you can live up to your standards.
And so the new album is out now, "Dreaming of Your Fears". What is the significance behind the title?
Margina:
"Dreaming of Your Fears", just came to us naturally as we were deciding about the title. We all liked the idea since it had some sort of relevance with some lyrics and song titles in our album.
Aprilia:
There isn't any hidden meaning behind the title. It was just a brainstorming of what would sound "appropriate" as an album title. And like "I Can Hear You Thinking", "Dreaming of Your Fears" reflects the concept of the album in a beautiful manner.
You seem to manage to keep a balance on the album between the heavy and the melodic. Is this a hard balance to keep? Are there any in the band that would pull more in one direction than the other?
Aprilia:
You bet they are. But since we know our style the balance is easily preserved. In the end we all get to be happy with the outcome, whether it is heavier or more melodic.
Margina:
Keeping balance is never easy when it comes to different people with different opinions, preferences etc. Our intension was to compose the songs in a way so that any of us would be satisfied with the outcome no matter what. Since we are fully aware of what we want from our project we just collaborate and exchange ideas. This leads us to a more "heavy" or "romantic" aspect, but what matters is that we all like it.
For me "Would It Be" is one of the finest moments of the album, where all the elements come together in just the right way to create the perfect alchemy. What are the best and worst moments of the album for you? Were any of the songs particularly problematic in the recording process?
Margina:
Glad you like it! I love this song as well and I bet many people under certain circumstances have come to wonder… would it be that hard…I never had the chance to study music as much as I wanted to or take any vocal lessons thus I cannot say that I encountered problems during the recording sessions. It is well known that one cannot have the very same performance every day and of course there will always be songs that do require more focusing and effort. Actually recording sessions have been really fun, because Elias and Aprilia were always there to help when necessary so everything turned out to be ok.
Aprilia:
There were some difficulties, I admit that. But with the help and persistence of Margina and Elias in particular I overcame the obstacles, and I want to thank them for that. I wouldn't say there was a song that was particularly problematic. We all had our ups and downs during the recording sessions but everything came out just fine.
I have to ask why you have included two versions of the last song, is there something special about that song that needed emphasizing?
Aprilia:
The reason is that we all like the acoustic version as much as the original one. So we wanted to share this emotion with our audience.
Margina:
Oh I guess we all liked acoustic as much as the original one and we could not easily decide, so we thought it would be really nice to include both versions in our album. I believe listeners will like the idea.
Now that the new album is well out there, what are the next aims of the band? What are your next targets as creative individuals and as a band?
Margina
:
We will definitely need time to promote our album the best way we can. In the meantime we are already working on new songs and ideas…
Aprilia:
Once the recordings for the first album were finished we started working on new ideas and developing new songs. We have to work on the promotion of our album and after that, who knows?
Finally, thanks for talking to us. Are there any final messages to the world you would like to get out there?
Aprilia:
We would like to thank you too. And a thank you to everyone for their support: the audience, our label and the other members of the band for making this happen.
Margina:
It's been a pleasure talking to you, thank you for this interview. A big "thank you" goes to our friends, fans and our label for all the support so far. Thanks to the people who contributed to the album and every single member of Julian's for making this dream come true!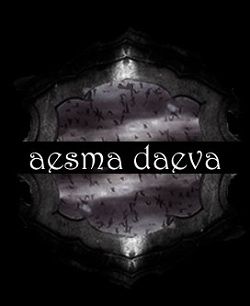 .
Interview by Erwin van Dijk
On June 1st the compilation double CD "Demonic and Divine" is released by Femme Metal. The CD is to support the Macmillan Cancer support and Cancer research UK. Aesma Daeva appears with the song "The Loon – Thalassa mix". This song originally appeared on the album "The Thalassa Mixes". Aesma Daeva is a symphonic metal band from the USA. Most people in Europe will know this band because former Visions of Atlantis singer Melissa Ferlaak was a member of this band and Therion singer Lori Lewis is the singer of Aesma Daeva. This interview is with John Prassas – Composer/Guitarist of the band.
Did you always wanted to become a guitar player?
Only for a short time did I want to be a guitar player – after that I started to see guitar as a compositional tool.
Where did you get the inspiration for the music?
Nature is a big influence for me. Sometimes life experiences – but I try to not focus on my own experiences as much as I try to focus on the experiences of others.
And to what kind of music do you listen yourself?
I listen to a lot of different music – I find it changes with the seasons. Lately I have been listening to Leo Kottke Blue Man group, Dan Swano, and S.U.P.. When fall hits I will probably start to something slower.
Did you have any other bands before Aesma Daeva?
No not really, I have a few things I am working on that will not be released under Aesma Daeva. They have yet to be completed though.
How do you work together with Michael Platzer, the lyricist of the band? Do you have a general idea about the lyrics before he starts writing or is Michael free to use his own imagination?
Both – "The Loon" – is adapted from a poem he had written. Where as "The Bluish Shade" was a song where I gave him just a few lines and phrases.
Aesma Daeva is an unusual name for a band. What does it means?
Shining One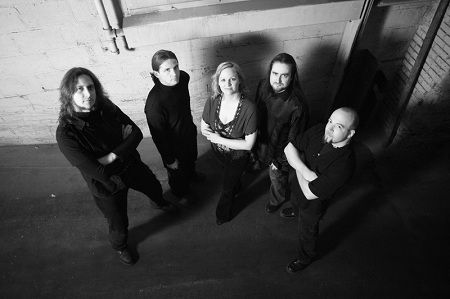 How would you describe Aesma Daeva's music? Because many bands describe themselves as Gothic – Metal – Progressive and the name of your website is "symphonicmetalband".
I think of it as Symphonic Metal – Mainly because I have so many classical and symphonic influences. Especially when it comes to colour and dynamics. We can debate all day as to what bands are symphonic and what ones are not.
Can you introduce us to the other members of the band?
Lori is the main vocalist, Chris plays bass, and that is about it for main members. I have been working with a lot of guest guitarists and musicians. At the moment I write 90% of the music, but they certainly are good at bringing it to life (which is not something that easy to do).
Aesma Daeva contributed a song to the "Demonic and Divine" double CD. This song was "The Loon". Why did you choose this song for the album?
It was the only new track I have under 5 minutes. 😉
Thalassa is Greece for "sea" and the goddess Thalassa was the personification of the Mediterranean Sea. And another Greek connection is "The Garden I Long For" which is performed by classical guitarist Kostas Grigoreas. How did you get in touch with him and what are the differences between this version and the original version?
Kostas and I have been friends for a while. I suppose the main difference is that this version is played and recorded much better than the original. I also adapted it to have a bit more "water" influence.
What is the idea behind this EP and why did you choose these songs for it ?
I was in Greece visiting friends and family. I did not have much for musical ideas, but when I left I found I was thinking about the sea and all of the colour's within the sea. My original idea was to make a remix that would give the impression of the sea. Like "Le Mer".
Speaking of Greece again, does the band have something with this country because the album "Dawn of the New Athens" which was released in March 2007 has also a very Greek name. Or is it about New Athens in Ohio (USA)?
No, it is about the "New Athens Colony" in the book "Childhoods end" by Arthur C. Clarke. However to assume it had something to do with Greece is completely understandable since so many other things I have done are influenced by Greece. Arthur C. Clarke is the writer of "2001: A Space Oddyssee". Together with Isaac Asimov he is one of the most important SF writers of the 20th century.
When can we expect new Aesma Daeva music?
We are re-releasing our first album with a bunch of bonus material. However at the moment I am working hard at a new approach to music. Which means working with different singers and musicians. The new material probably will not be released under the band name Aesma Daeva.
And will it be different from your previous work?
Very much. I hope you can always stop by our web site symphonicmetalband.com. Their you can go to my personal web page where you can hear bits and pieces of new material. Thank you for the interview and support!
Credit Photos
Single photo by Jill Vansickle
Band photo by Debbie Stiller
Links
MySpace * Facebook * Twitter * Site
6 color styles available:

Style switcher only on this demo version. Theme styles can be changed from Options page.