Browsing articles tagged with " blade"
Label: Metal Blade Records
Review by Alessandra Cognetta
If I had to describe Mount Salem, I'd go for something along the lines of "female fronted psychedelic doom metal", but I'd still be far from properly describing the peculiar vibe of their music. The Chicago-based band released "Endless" as an EP back in 2013 and, after signing with Metal Blade Records, they published an extended version with brand-new songs in the spring of the following year. It's easy to think of Black Sabbath upon first listening to "Endless", but that would mean only scratching the surface. Mount Salem delivers a solid debut album which sounds vintage and new at the same time.
The opener "Good Times" begins in medias res, with an action-packed arrangement and the haunting but powerful vocals of Emily Kopplin, followed by the evocative "The Tower", a song of wide musical landscapes and laid-back tempos. Continue reading »
Label: Rise Above Records/Metal Blade Records
Review by Matteo Bussotti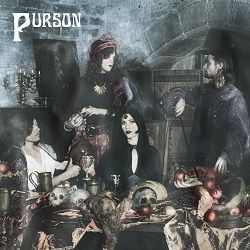 Have you ever heard of Baroque 'n' Roll? No? Then you don't know about Purson! This band from London really, really put out an excellent album. I don't know how else to define it. Of course, I'll say this from the beginning: for definition, Purson's sound is nothing new, so don't approach this album expecting to hear something that will make your head explode because you've never heard something like this before.
Instead, if you really love 60s and 70s psychedelic rock, you'll fall in love with this album immediately, I warn you. The thing I appreciated the most about "The Circle and the Blue Door" is that every song, every note, every nuance, every rhythm is crafted perfectly to recreate the sound from which Purson get their inspiration. It truly sounds like an album recorded in 1972 and discovered only today. You don't find much dedication in many bands these days, especially when they have to sound like a particular band, or genre. Continue reading »
Label : Metal Blade Records
Review by Luisa Mercier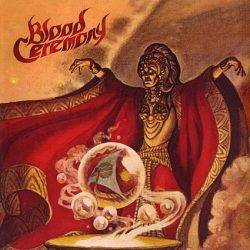 After four years from the first release, Blood Ceremony, Canadian doom band is reissuing their self-titled album. Sometimes happens that some young, new bands decide to pay a tribute to old school masters. Therefore they compose albums that are very reminiscent of the past, adding their own elements and creating something which is old and new at the same time: an original music album.
This is what Blood Ceremony has decided to do, so we can listen to their omage to the old masters Jethro Tull, Black Sabbath, Saint Vitus, Pentagram and also the reknown Italian prog rock school of the seventies. We can also find a certain influence of the horror movies of the same period, both in the lyrics and the visual imaginary that the band has been able to create.While the band we have listed as the main inspiration sources for Blood Ceremony lean more on the doom or the prog side, the two aspects are well balanced in their compositions. "I Am Coming With You" is a good example. Continue reading »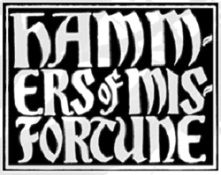 Interview by Luisa Mercier
After listening to their latest release, Femme Metal Webzine had the chance to have a quite interesting chat with John Cobbett, mastermind of Hammers of Misfortune. He has explained us a lot about what lies behind the complex lyrical content and musical content of the record!

Hi John, first of all congratulations for your new album. I enjoyed it a lot! Unfortunately, there might be folks out there who have never heard of you before. Could you introduce yourselves to our readers?
Hello, my name is John Cobbett and our band is called Hammers Of Misfortune. We are a band from San Francisco, California, USA. We began as Unholy Cadaver in 1997 and became Hammers of Misfortune in 1999. Our first album came out in 2001. I'm glad you liked our new record!
May you talk us a little bit about the concept that underlines the album?
Each song has its own concept. Some of them tell stories, some of them describe situations, some of them can be taken on several different levels at once. Many of the songs deal with common people dealing with hard times, a few of them deal with the people that created the hard times. There is a thread of lost innocence and disillusionment in the songs, but each one has its own story to tell. I was doing a lot of research about chronic unemployment, foreclosure, student debt, the credit crisis, the bailouts, bankruptcy etc. Not just the facts and allegations but the stories of real people who are going through these things, including myself and several of my friends. It's interesting that the #ows movement (Occupy Wall Street) sprung to life right around the time this album came out. I guess I wasn't alone in my concerns. This is a real crisis with real victims. At the same time, the lyrics could be about any situation of loss, heartbreak, resignation in the face of impossible odds, I could go on. I should reiterate that it's not accurate to put all the lyrics under one thematic umbrella. Some are more specific, some are purposely so vague that they could describe almost any situation.

This cover artwork is quite different from the previous ones. Is it somehow related to the concept?

The photo on the cover is a long exposure shot of us standing on Bernal Heights, overlooking the Mission District of San Francisco, where 5 out of 6 of us live. It's us in our natural environment. I guess if so many metal bands are taking pictures of themselves in the woods behind their house, we could do it too!
Your album is a unique one. It blends many of the genres in heavy metal. How do you incorporate so many influences in the music? Is it programmed or they just flow freely?
We really don't make any effort blend influences. We write songs. It's a very natural process. The key is to ignore influence, genre, trends etc. We simply don't think about it in those terms. It's all about the song.
That's not to say that I'm not influenced by anything. As a songwriter, I'm influenced by songs. Any great song will do. A great song is timeless, it could be the Beatles or Bob Dylan, it could be Discharge, Bowie or Cole Porter. I think most bands decide what genre they want to be before they even play their first note. Why get caught up in the endless parade of trends and genres? We want the songs to be good, and the albums to be good. Whatever tools or ideas we have at our disposal are put toward that goal.
Since we are a female fronted music-themed webzine, would you introduce us the two female members of Hammers of Misfortune? How did you get in touch with them?
I was introduced to Sigrid Sheie at a punk show in 2002. She was originally playing bass with us (she can play almost anything). When we realized that she was a classically trained pianist, we saw the opportunity to add piano and Hammond B3 organ to our sound. I've always loved those instruments. It's been quite a learning experience, writing and arranging with keyboards in a metal band. Sigrid showed up to her first rehearsal with a binder full of sheet music – she had transcribed our songs! We were quite impressed. She is now an adjunct professor of piano at University San Francisco.
Leila Abdul Rauf, along with Sigrid, also plays in a band called Amber Asylum. It was Sigrid who suggested we invite Leila to join the band. We were big fans of Leila's band Saros. We saw them many times and played some gigs with them, so I was already a fan of her guitar playing, and she was already part of the family, so to speak. She's also pretty good on keyboards and a fine singer, but mainly it's her detail-oriented, technical approach to guitar that I'm a fan of. She can also bust out a soulful guitar solo. It's a privilege to work with both of Leila and Sigrid.

You've been in at least three other bands before Hammers of Misfortune, did the experience with them influence the work with HoM in any way?

Hammers has always been my number one. The other bands were much less complex, more of a release for me. Mainly because I didn't have to write any lyrics. It was fun to just sling riffs and play the guitar. You learn something every time you go on tour or make a record, regardless of what band you're with. Hopefully, you learn from your mistakes, especially in the studio. Making an album is a massive undertaking and the lessons learned in the studio are the ones that you bring to the next session. Those experiences and lessons definitely come into play every time you make a new album.
I've read about previous difficulties with labels and such. How's Metal Blade treating you since last year?
We haven't had too much trouble with record labels. There's very little money left in this business, so there's not that much to argue about, haha! So far our dealings with Metal Blade have been very professional and fair. They stayed out of the way when we were making the album and now they have stepped up to help promote it. They've done a great job so far.
Do you have any idea yet on what the future might bring for Hammers of Misfortune? Any thoughts on a tour or a new album?
There will be 4 shows in the Pacific Northwest US in December, then we're playing Roadburn 2012! After that, who knows? The next album is always on my mind but it's just forming right now. Once this new line-up gets our "stage legs", we'll have more chemistry as a group. I'm looking forward to that. Thanks!
Links
John Cobbett : Twitter
Interview by Danny Robertson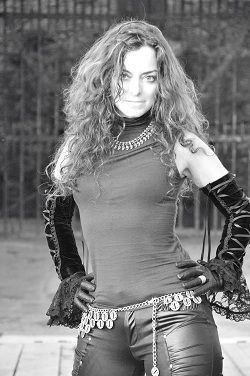 Giorgia Gueglio, singer and founder for heavy/melodic Italian metal act MasterCastle, spoke to us to discuss their debut album "The Phoenix" (released April 2009) and the band's history.
How and when did the band first get together?
I founded the MasterCastle band together with the guitar player Pier Gonella on 2008. We had many bands and collaborations in the past and we decided to put all experience and energy in something different. Pier wrote many hard rock/heavy metal songs and riffs using a particular baritone guitar, and we experimented my female voice on them. The result was an amazing mix for us. We went away composing and we called Steve Vawamas as bass player and Alessandro Bissa as guest drummer. We had known them for many years, as musicians and as people and their arriving changed the project into a real band. We finished 4 songs and we send them to the Lion Music label. They immediately proposed us a deal and we released the album "The Phoenix" on April 2009. We are grateful to all of Lion Music staff's work and promotion for us.
Who first influenced you to become a vocalist?
My musical background is based on British and American hard rock. My first influence was David Coverdale of Whitesnake. I like his voice because it's full of energy and very expressive.
Who/what are the band's main influences as a whole?
Of course Whitesnake was a great influence for me. Then many 70′s, 80′s stuff like Led Zeppelin, I like very much Robert Plant's voice also.
What inspired you to name the band MasterCastle?
We choose the MasterCastle name during travel after a gig. We were searching for something that could represent Giorgia Gueglio and Pier Gonella. Finally we found "Master" because of the great experience of Pier, as guitar hero, composer and producer and "Castle" because of my travelling passion. I visited many castles, especially in Scotland, and they've given me great emotions. So the two words are very common, but putting them together they become something different and original. You can translate them as "Main castle", or "castle of the master", and we like all those meanings.
How long did it take to write and record "The Phoenix"?
We sent a 4 tracks demo to Lion Music on August 2008. And at the end of December 2008 we sent to Lion Music all the stuff: the master of the album, three bonus tracks for the Japan release (Japan's edition was released on September 2009 for the label Spiritual Beast), all graphic and booklet files. I consider this as a record! We worked very hard, but without stress, because all the band really believed in MasterCastle's music and this has given us all the necessary energy.
What are the main themes and influences behind the tracks on the album?
I wrote all the lyrics and I get inspiration from human nature as well as forgotten tales and events. For example, the song "Greedy Blade" tells about the disaster of Vajont, a dam on the Italian alps that after a landslide, created a giant wave that destroyed towns and villages in the valley. The titletrack tells a story of human nature that needs to be as strong as the phoenix, the legendary bird which dies and is born again on his ashes. The song "Princess of Love" is a mystical tale about the magic presence of a clan of witches dancing in the forest. I really like this song and we made a videoclip that people can see on our MySpace.
How would you describe your sound? Are you comfortable with labels?
It's not easy to describe our personal style. When we sent the stuff to Lion Music, they described my voice as "very powerful" and I'm very proud of this. Thinking about female (vocalists), expecially metal heads, they always think simply about a voice that is higher than a male voice and frame this in the gothic style, with very few exceptions. I don't wanna do this. I try to be different from all female singers, putting all my energy and power in my voice, not necessarily going so high in frequences. Some months after the releasing of MasterCastle's album, I'm happy that people understood this and considered my voice as an original and particular. All MasterCastle sound was considered unique, not only because of my voice but for the original way in combining heavy metal and hard rock with classical influences.
What would you say has been your biggest non-musical influence?
Many non-musical things influence me, expecially in the lyrics. Maybe the biggest is nature. I like mountains, the sea, I like the color of nature, expecially in autumn and the sounds of nature. In the song "Cradle of Stone" I talk about this and about how man often kills nature with progress and technology. As I said before, I also like travel and visit uncontaminated places. They give me a lot of emotions and inspirations.
Who are your favourite current bands/acts? Made any recent CD purchases?
My last purchase was "The Resistance" by Muse. I like their music and their personal way of mixing rock with classical stuff.
Which other bands/acts, past or present, do you feel you share the most common ground with?
I think Whitesnake, Led Zeppelin, Kate Bush, Mike Oldfield.
What's next for the band? Any tours in the pipeline?
After the release of the album we made some gigs, expecially in Italy but we started immediately composing other songs because our plan is to release another album in April 2010. Lion Music have given us another deal, so we are currently working towards the next MasterCastle album. The album is called "Last Desire".
Any last messages for people?
First of all, thanks to you for this interview. Then I invite all listeners to MasterCastle site, where you can find our videoclips, unreleased songs and many other stuff. See you soon on stage!
Links
MySpace * ReverbNation * Facebook
Latest Multimedia
6 color styles available:

Style switcher only on this demo version. Theme styles can be changed from Options page.
Archives