Browsing articles tagged with " elina"
Interview by Alessandra Cognetta
Today's guest here at Femme Metal is Elina Laivera, the voice of Seduce The Heaven, one of the newest rising talents from Greece. Their debut album, "Field of Dreams" is definitely worth listening, a strong release that gives us all the elements to be sure we will hear only better and better stuff from them in the future (they got a 97/100 on our review for a reason!). Elina kindly talked with us about Seduce The Heaven, her own personal experience as a singer, a person and a songwriter, record labels and much more…
Hello and welcome to Femme Metal Webzine, Elina! I've been really looking forward to this interview since I first got the chance to listen to Seduce The Heaven's music. So, how are you and how's it going for the band so far?
Hello dear! Thank you very much for having me. I am doing pretty well and so does the band. Our debut album "Field Of Dreams" has been released a couple of months now and we are enjoying an amazing feedback!
Continue reading »
Greek death metallers SEDUCE THE HEAVEN announce they have signed with Japanese label SPINNING RECORDS and confirm the official release date of a Japanese edition of their debut album "Field Of Dreams" which is scheduled on February 20th 2013. The Japanese edition of the album is going to include two new, unreleased songs as bonus tracks which are also going to be available as digital singles. Continue reading »
Independent Release
Review by Tony Cannella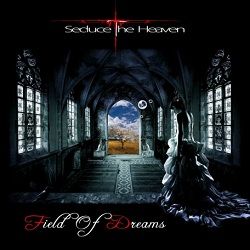 2013 could be a big year for the Greek melodic thrash, death metal band Seduce the Heaven. In 2011 the band released a well received 5-song promo CD, now the band has finally released their full-length debut album "Field of Dreams".
Seduce the Heaven utilizes the duel vocals from Marios Mizo (male growls) and Elina Laivera on clean female vocals. They use these styles as well as – if not better – than most bands. The songs are aggressive, but not so aggressive that they are unlistenable.
Elina is excellent and the chemistry she shares with Marios is one of the main highlights for me. Some highlights include: "Reflection", "Leave Me Alone" and the wonderfully, non-stop energy of "Field of Dreams". Those are just some key examples, some other favorites are: "Illusive Light" and "Falling". From the word go, "Field of Dreams" is a relentless exorcise in aggressive, yet melodic and beautifully crafted songs. I was so impressed by their promo CD and saw a lot of promise in Seduce the Heaven; with "Field of Dreams", that promise has been fully realized.
Greece modern metal act Seduce The Heaven will release debut album "Field of Dreams" on January 15th, 2013 with pre-orders available at this location. You can also check out a music video for the track "Illusive Light" below. The full album's track listing is as follows:
Reflection
Walls of Oblivion
Leave Me Alone
Field of Dreams
Illusive Light
Falling
Ignorance
Helpless Mind
Baseless Addiction
In Close Distance
Check the Facebook page for more infos.
Independent Release
Review by Lithium
When one thinks of metal, the words 'sophisticated' and 'sexy' are not exactly the first that spring to mind. In the case of Greek metallists Darcode, however, these descriptors are not only acceptable but altogether fitting. Darcode play an interesting brand of what I would describe as jazz-influenced, progressive metal. Their self-titled, seven-track demo includes six original songs and a cover version of Sade's "No Ordinary Love". This choice of cover tune provides a glimpse into what what Darcode is all about; if you look in the dictionary under the words 'sophisticated' or 'sexy,' you will find a picture of Sade. The basic sound on this recording is eclectic and rather unique. Guitar and bass blend together into a distorted, sometimes non-descript buzz, as keyboard-driven melodies and haunting vocals float above the menacing turmoil. Opener "Never Alone" is a good example and one of the demo's high points. A catchy, repeating piano part anchors the song as the irresistible vocal melody joins in. Meanwhile, the sinister low-end riffing lets us know that this is, in fact, metal. Another high point is "Wall of Demons". Its spooky array of voices gives shape to the composition, as guitars dispense nifty, rhythmic pulses in bursts of three. Jazzy rhythms, sinister-sounding electronics and the plinkity-plink of a piano add to the other-worldly atmosphere and give the song a very creepy edge. Vocalist Elina Marquise delivers a first-rate performance that is both memorable and convincing. Her soft, evocative tones vary from soothing to frightening and back again, as she weaves her ethereal web, traps you in it, and devours you with the deliberateness and efficiency of a Black Widow spider. In "I Do Not Breathe" a choir is added to the usual mix of sounds to create a yet even more-ominous atmosphere for Elina's chilling refrain: "I can hear your thoughts. They pierce my brain. I can feel your fears. They drive me insane." Not what you would call typical metal lyrics, but Darcode is not your typical metal band. In fact, my only real complaint with this recording is with respect to the sound production. I thought the guitars could use more air in them, while the drum sound struck me as a bit hollow and thin. At times it seemed as if there were holes in the mix, and the whole thing sounded too bright. Still, with this demo Darcode has produced a fine piece of work. Their talent, creativity and potential are on full display on this disc, and with it they have proven themselves worthy of serious attention. Though their approach and sound ultimately may turn out to be a little too hip for the metal masses, this effort earns high praise and a positive recommendation. Male vocals: Minimal and limited mainly to a few brief choral parts. No growled male vocals.
Rating – 70/100
Tracklist
Never Alone
Walls of Demons
Play Dead
I Do Not Breathe
A Sea of Whispers
Calling
No Ordinary Love (Sade Cover)
Line Up
Elina Marquise – Vocals & Lyrics
Antony Cyan – Guitars & Programming
Links
6 color styles available:

Style switcher only on this demo version. Theme styles can be changed from Options page.