Browsing articles tagged with " epic"
Interview by Alessandra Cognetta
Anaè is the lead singer of the French metal band Adrana, a combination of progressive metal, heavy metal and classical music, enriched by a strong literary component. The mix of different influences as well as forms of art makes Adrana a unique musical experience and we're here to find more about them.
First of all, welcome and thanks for taking the time to answer our questions, Anaè. How has 2012 been for Adrana so far?
Thank you for giving us the opportunity to present our music and artistic work! I am really thrilled! The year 2012 has been fairly quiet so far. After the release of "The Ancient Realms" and the first part of the French tour we were given a little time to work on new songs, work toward a movie clip and prepare a surprise regarding our future gigs to all of our fans!
One of the things I enjoy the most about your music is the "story" (I won't dare to call it a concept because in my opinion it's far more than that) behind your whole production. Can you describe for us the main themes of Adrana's adventures?
We would like that it becomes much more than a concept. We are working on it, but we are still far from what I wish to do in terms of total art (featuring theater, music, stories, dance, and a whole fantasy world). Our music tells the adventures of the warrior princess Adrana desperate to reclaim her fallen kingdom. It contains many elements of heroic fantasy like the character's actions or places in a rather dark atmosphere, darkening progressively with each new album. Although the story revolves around a princess, this one is more gloomy and sanguine. There are many battles, betrayals, murders and unmentionable secrets that punctuate the epic story of Adrana. Adrana talks about the difficulty of bringing people together in their diversity, and the difficulty to win the trust of others. Adrana shows us that very often we find ourselves alone with our destiny. Finally, this quest leads the Princess to ask the recursive question as to whether the pursuit of a right cause, right as it is, justifies having to kill thousands of human and nonhuman creatures to get there?
We know what influenced your music, but what influenced your lyrics? How were Adrana and her Ancient Realms born?
The band name was invented, without special intention by Ludo and Maxime (guitarist and drummer, the founders of the band). They then included Grhyll, our keyboard player, and me to write the story. The first songs whose lyrics had no relationship between them (stories of vampires, putrefied nymphs, or warrior princess), have become the pillar of the epic story of Adrana. Now, Grhyll has taken charge of the story and I work exclusively on writing lyrics around the story created by Grhyll.
Label: Wormhole Death/Dreamcell 11

Review by Tony Cannella
Levania is a Gothic metal band from Italy. The band formed in 2007 and has previously released three demos, with the first one coming only a year after their creation in 2008. They have just released their debut full-length titled "Parasynthesis". Levania employs three lead singers each of varying styles. First you have the female angelic and semi-operatic vocals of Ligeia. She is joined by guitarist Raven and Keyboardist Still, who supply extreme male vocals (both growly and screaming) and the other one adds clean, male Gothic-y type vocals. "Midnight of Silence" gets us started and straight away, it is one of the better songs. It has a doom-y, melancholic feel at the start, before speeding up. All three vocalists are introduced on this song, which is pretty cool. First you have the female vocalist and extreme vocals singing together, than the extreme and male gothic vocals together. The song includes a number of tempo changes. I would describe the general vibe of "Parasynthesis" as melancholy. The synth opening of the next song "Eroica" reminded me of early Nightwish. The song starts with some narration by the male gothic voice and he is joined by Ligeia. This song reminded me a little of Vintersorg and it actually has an almost progressive feel to it. "Natural Motion" starts with a heavy straight-forward guitar riff accompanied by violin and it moves at a rapid pace. Again, all three vocalists are represented on this track, a tactic that they use throughout "Parasynthesis" and it works quite well. Other highlights includes: "The Narrow Way of Juliette", "Basteth's Kiss" and the "Agharti" trilogy. There is some really good stuff on "Parasynthesis" and I would have no problem recommending Levania to my Gothic metal friends.
Rating – 73/100
Tracklist
Midnight of Silence
Eroica
Natural Motion
The Narrow Way of Juliette
Basteth's Kiss
Agharti I
Agharti II
Agharti III
Cathago Nova
Sybyl of the Dark
Line Up
Ligeia – Vocals
Raven – Guitars & Vocals
Still – Keyboards & Vocals
Fade – Bass
Gianz – Drums
Links
MySpace * Facebook * Twitter * Site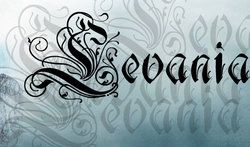 Interview by Roberta Ilaria Rossi
Still unknown by someone, but slightly known, the gothic band from Ferrara Levania emerges this year on the international metal scene with the first full length album, released by Wormholedeath/Dreamcell 11, trying to get step by step the way to success. Femme Metal has had the opportunity to have a nice chat with the cheerful and friendly frontwoman Ligeia, who took us into her world and told us some juicy news. Our interview below!
Hi Ligeia, welcome to FM. Let's start this interview saying that you're the female singer of the gothic band from Ferrara (Italy) called Levania. Could you please introduce us the band and give us a short biography for those people that still do not know anything about you?
Of course! I'll be glad to introduce my band to the Femme Metal's fans! First of all, thank you for this interview! I've been following this webzine for years and it's a little dream that become true…! The band was formed several years ago. The other guys of the band had this dream.. but all of it started like a game.. you know.. We want to play music and for many years they played just for fun. Two years ago they played these songs for some people who suggested them that they may try to be serious about it. So our songs are literally the result of our dreams.
As I said, you play in a "small and young music reality" called Levania, which has started to "get famous" also thanks to Wormholedeath/Dreamcell11 that signed a record deal with you last January. Would you like to tell us how did this music adventure happen?
Ehehehe!! Personally I came into this gig a bit by accident! But the same was for the other guys of the band and the same for me, it' s a dream that came true! Wormhole is the label of one of my favorite group, Theatre des Vampires!!
With this label, you had the chance to release your debut album, "Parasynthesis". I assume that this was your first time in a studio to record your songs. What could you say about this experience?
This was my first experience at all! Previously I only studied singing for years with a teacher, but only for myself. Last year it was a very troubled period of my life seriously, it was a very difficult year for me, I was completely in the midst of trouble when they called me to audition for Levania. I felt alone, abandoned and a little bit depressed. I had just split up from a relationship that was important and one day an old friend call me and said "There's a band looking for a singer, wanna try?". It has been a real breath of fresh air. It literally pulled me out of my troubles! I owe everything to the band. Only two weeks after entering in the group I was catapulted into the recording studio with produced Frank Andiver. And it was my first time in a recording studio. It has been an invaluable training!!!! This experience gave me so much. I literally married the cause of the band, and I can say that although I am in the band for just over a year, the band feels like part of me. The boys gave me confidence and invaluable friendship.
I had the opportunity to listen to the album, but I have to say that I didn't find so many things described as "epic gothic music, son of the Scandinavian death metal". Have you been inspired by some of the "founder bands" of this music genre or have you wanted to experiment a couple of different sounds on this first record?
This album is so varied! It encompasses many different sounds! "Eroica", for example, has an epic medieval atmosphere; instead "Narrow" is very gothic. You know… it's hard to define us. Epic gothic is the more accurate definition… If you really want to label us. Every song starts by a little dream, little fantastic story brought forth by our fantasies. Our music has a personal touch but actually in this album we are still searching for ourselves, our precise identity of a sound. We're finding it, in fact our next pieces exploit harsher sounds, as in "Narrow or Sybil".
"Natural Motion" is the only track that has a Latin part. Why have you chosen of writing some parts written in this ancient Language, following Epica's wake?
Eheh, it isn't the only song with Latin.. even in "Narrow", where I sing a poem of Catullus. Also in the next album (we are working on it right now) there will be a lot of Latin and Greek. I tell you a little secret: I'm a classicist and a teacher. I teach these languages. I love those languages and I think that are so exotic. They fascinate me. They are exotic because they belonged to so ancient people that we can only study and dream about … I spent all my life studying this ancient culture. I don't know Epica's lyrics, but I'm happy to have something that unites us!
In this album it's possible to listen to the male clean vocals (in the track called "Basteth's Kiss") and it's quite rare to find a band who use a clean male vocal in a gothic band nowadays, because as you know lots of metal bands are used to use the scream and the growl in their songs. What's the reason about this choice?
A simple reason: we like it! Originally there were three singers in the band: clean male, female and growl. Still, the keyboardist, sings even growl, and luckily he very good clean voice as well. The other two singers left the band shortly before entered the recording studio. Some songs were meant to be sung by clean vocals and female. We had to completely rework the songs when I came along. In some we have replaced the clean vocal with growl, but … "Basthet" could not be changed. I still remember the day when Still and I started to write the new vocal line! It sounds so good with his clean vocals .. why not use it?
Have you already got to see the results obtained with the sales of the album? How was your full length received from fans and media? Have you got good reviews?
Not yet! But we've sold all our copies. On the whole we have got very good reviews. Sure, there are observations, some have compared us to Nightwish (which left me quite perplexed, but also flattered) but in essence we are very happy that our work has been accepted! Reviews have confirmed things that we already thought, about the sound, and in fact our next job will be much "harder", almost electric! We've read all of our reviews, and put word around all over the web!
How does a work labeled Levania come to life? Who is the major composer inside the band, that person that writes the music, the lyrics and so on, but above all, where do you take your own inspiration for the songs?
Maybe! The major composer is the keyboard player, Still. He lives for music. Literally. Every moment he can, he takes out is keyboard and writes music. He is a very closed and private person, he expresses himself through music. Then the songs go to the bass player, Andrew, who puts the bass line, then to the guitarist and finally to me. I take care of the vocal lines (so if you do not like them, you with whom you have to complain). Maybe each song may have more input from one member or the other, but they generally a joint effort!
I've read over the Internet that you're currently working on the new album and that you'll film a videoclip at the Certosa cemetary in Bologna, which is a quite curious location to shoot a video! Could you please mention something about it?
Of course!!! We're so excited for this project! We'll shot the video clip at the end of August. Now we are writing the plot, looking for some stuff, deciding the clothes(mmmh… really only me, for the clothes I meant). It's the only location possible for the right plot execution. It's already been made, isn't it? But I love it! I've a big skull's collection in my house, and I'm very delighted for this location! We thanks the city of Bologna for letting us use the cemetery for this. The most spectacular thing is that we have been allowed to use the cemetery after dark! Our guitarist, Nick, who is a bit superstitious, at beginning was not very happy to play in a cemetery! but now he is stoked like us!
Let's talk about the latest band activities: I've discovered that you have composed the soundtrack for "La Riviera degli Esarchi", which was presented in Roma on May 23rd. How was working for such a project? How did you feel like?
I'm grateful for your question!!! It was a very exciting experience. We worked with a team of University professors. it's a completely different way of working and thinking about music. Minimalist composer Stefano Jannes appears as well on the soundtrack having worked on another part of the music. We had to make our own version of a traditional song from Venice: the song is called "The Great Turkish" and we have proposed it in a philological way but with a gothic sound. It was a very rewarding experience and we have to thank Professor Cavallini which allowed us to take part in this project.
Is there something new for the band, at the moment?
Heheh, yes indeed! We have recently undergone pretty heavy changes in the line up. The guitarist who has recorded the guitar in the album has left the band for personal reasons, while the drummer who founded the Levania moved to Ireland to work. The two new members, Nick on guitar and Moon on drums are already fitting perfectly in Levania.
Now that you're album came out, will you have the chance to schedule some live show?
Yes, but at the moment we're working hard on the new album, the second. We've composed about 15 new songs. We've only one live show, on the 18th of August. We are playing at Notte Bianca a Monghidoro and in September we'll play in a festivals organized by the gothic webzine Gothic World, but for now I can not reveal too much, since it is still in planning stages.
Thanks so much for your time Ligeia and for having allowed us to have this interview. We give you the chance to say something to Femme Metal readers and to your fans, that are waiting for you out there…
It was an honor for me to be interviewed by you, since I'm one of your most loyal followers! For years I have been following blindly your webzine with your interviews and articles! Thank you very much and I send a big kiss to all who follow your webzine like I do!
Links
MySpace * Facebook * Twitter * Site
Interview by Marc "Peston" Sels
Another band from Finland is Lunar Path. They call their music "Epic metal with a hard hitting rock edge". They released a demo (2007), a single (2008) and a EP (2009) so far, so it's time to have an interview with Janica, leadvocalist of the band.
What the hell do you mean with "epic metal with a hard hitting rock edge"?
Well, it's of course really hard to describe music in general, to its full rights. The "epic" part comes from the atmosphere in it, our music gives room for hope and maybe to escape to an other place in the songs, there is more to it, than you may see/hear at first notice. The "hard hitting rock edge" we use to describe the attitude in it. We're strong and firm in our music and still catchy enough to get to your deepest core.
By the way, have you found a new bassplayer yet?
The search is still open, but we have some really good candidates on our hands.
Can you introduce the members of Lunar Path to us?
Ok. Lunar Path is Jonas, the music writing, stay-at-home-dad with a huge knowledge about music. He is also always on top of things and has always got new ideas for the band. Tuukka is our beautiful adonis, hard working, strong and owning a big passion for the music and especially for the stage. Pete is the entrepreneur, who is always (and seemingly often the only one) on time, like a klicktrack. Pete is really passionate about his playing as well and with him nothing is ever impossible, he will always fix it somehow. Me, I'm the organizing, fixing, glueing, calling, making all the practicall arrangements one and I try to make it my point to always know everything that is going on in the band. I'm also the bitching, mean one who always is late and always yell at the others but in between I have time to be very loving, warm and huging as well.
The concurrence must be enormous in Finland. How do you manage to stay alive and get a record deal?
I believe we stay alive cause of the will to do this. It really is the core and the essence of us all and we always come back to it, no matter how many other things there is on the way. For me it's an escape and a must, it comes naturally and whenever something is fucked up its music I turn to. It has also been a joke between us that music is the only thing we know, so we can't really do anything else.. hehh.. and so far all of our recordings have been released by our own company…
How would you present Lunar Path to a person who has never heard of you?
Lunar Path is a melodic metal band with female vocals. We have a great deal of balls and fire and attitude, on stage in particular. Lunar Path's music is something you can sing along too but bang your head to at the same time. The orcestrations play a really big role in creating the atmosphere, depth and flow, while the guitar wall knocks you down and keep you grounded.
Do you read the reviews/critics of your CD's and shows? If no, why not? If yes, what do they mean to you?
Yes I do. I wanna know what is thought about the creations I've made with my own blood sweat and tears. Since I'm also very eager to learn I try to get as much inspiration and new ideas as possible. Of course I don't blindly do all the things that they suggest should be done in the reviews, then we would have a deathmetal band rapping about magic swords and I would be a transvestite by now, but all constructive criticism is always welcome and even prefered.
If you could take just five cd's to a deserted island, wich five would it be? And why of course.
Hmm.. hard one! If it's a warm and tropical island I would probbably take something suiteing for that. Ulver – "A Quick Fix of Melancholy" is a brilliant record, and always makes me peacefull and creative, so that would be good for coming up with fresh ideas to get food. Rammstein – "Mutter" is a workout record for me, so that I would take to stay in shape. Velcra – "Hadal" is also a brilliant piece, that one I would take to prevent myself from dying of boredome. Shpongle – "Ineffable Mysteries from Shpongleland" would be my party/island explooring music. And then I would take Within Temptation – "Heart of Everything" to have some good sing-along music as well.
Which band(s)/singer(s) do you admire?
I really like Loreena McKennit, to mention one, but there is so much and many brilliant ones out there that it's impossible to list them all.
Is there a song you wish you had written?
Umm, not really, but if there had to be one, I wish I'd written Nightwish – "Bye Bye Beautiful", because it's a great hit and cause the girls in the video look so cool that I would really have loved to star in the musicvideo. Hehee…
What are the plans for 2010?
The recording of our first full-lenght album is gonna be the main thing of the year. We should have started already, but since Jonas broke hes leg really badly in the arson at our rehersal place earlier this year, we´re forced to reschedule the recordings with a couple of months, and since we want to make it something really special, we do not want to rush into it either.
And last but not least, any "famous last words"?
Excuse me for the mess – Hunter S. Thompson
Links
Label : Nuclear Blast Records
Review by Tony Cannella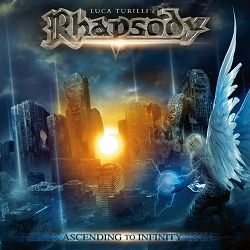 Several years ago the members of the virtuoso Italian metal band Rhapsody found themselves in a unique situation. The band – rather amicably – split into two factions with one half going on to be known as Rhapsody of Fire and the other side (this one) being led by guitarist Luca Turilli and being known (cleverly enough) as Luca Turilli's Rhapsody. While Rhapsody of Fire has already gone on to release several albums, "Ascending to Infinity" is the debut from Luca Turilli's band. With this album Luca Turilli's Rhapsody continues on the path of cinematic metal and brings it to a whole new level. Every song on "Ascending to Infinity" sounds like it could be the sound track to some epic movie. The scope of the music is so huge, ambitious and majestic. Luca Turilli's Rhapsody is not female fronted. Their lead singer Alessandro Conti does a competent job throughout the disc and has the perfect style to go along with enormity of the material – he's also got quite the vocal range. "Ascending to Infinity" includes some songs with choir-like backing vocals and some female vocals as well. Some of the highlights are: "Dante's Inferno", the 8-minute "Excalibur" and the 16-minute "Of Michael the Archangel and Lucifer's Fall" which is divided into three parts and is quite the epic to close things out. Another favorite is the slower tempo song "Luna" which features a female singing some of the lead parts. This song is interesting in that the female parts are sung in English and the male vocals are in Italian. If you are already a fan of Rhapsody than you should love "Ascending to Infinity", if you are not a fan of this band however than it probably won't win you over. Nevertheless, "Ascending to Infinity" is a huge sounding record that should further cement their reputation as purveyors of 'cinematic metal'.
Rating – 75/100
Tracklist
Quantum X

Ascending to Infinity

Dante's Inferno

Excalibur

Tormento e Passione

Dark Fate of Atlantis

Luna

Clash of the Titans

Of Michael the Archangel and Lucifer's Fall (

I.

In Profundis, II.

Fatum Mortalis, III.

Ignis Divinis)
Line Up
Alessandro Conti – Vocals

Luca Turilli – Lead Guitars and Keyboards

Dominique Leurquin – Lead and Rhythm Guitars

Patrice Guers – Bass

Alex Landenburg – Drums
Links
Facebook * Google Plus * Twitter * Site
6 color styles available:

Style switcher only on this demo version. Theme styles can be changed from Options page.