Browsing articles tagged with " jeff"
Interview by Eetu "Ene" Niskanen

We have reached Kittie singer Morgan Lander for let know to all our readers the latest news about the brand new album "In the Black". Enjoy!
Hello Morgan and thanks for doing our interview!
No problem and thank you for chatting with me

This year you released your new album, "In the Black", how much work did it take to get it done and released?
This album was actually written and recorded over a fairly extended time. Most of the ideas and songs were at least sketched out while we were on tour last summer and fall, but nothing was really set in stone until after we were released from our label and were free agents. We then decided it was time to get down to the business or writing, and then once we felt that we had some great material, we went into the studio for 3 weeks to record. It was a very relaxed, laid back experience. No pressure what so ever!
Do you see any improvement compared to the earlier albums?
Comparing our previous works to "In the Black" is like night and day. We are a totally different band ability-wise and maturity-wise. We have come a long way since our "Spit" days.
Also with this album you changed labels, how was the change and how is the new label?
It was amazing to finally be signed again in Europe through Massacre Records, and through E1 Entertainment in North America. Everyone has been so accomidating and helpful with every aspect of the release. We are proud to be a part of the E1 and Massacre families.
You also have a new bassist, how is it working with her?
Ivy actually joined the band in 2007, and she has been a great addition to the band. She is super talented, driven and really just wants what we all want, which is to make Kittie the best that we can be. We all get along and have such a good time playing together, its nice to have that kind of stability finally!
Was it important to get female bassist to stay as all-female band?
Yes and no. While we were waiting to fill the void left by Trish when she exited the band in mid 2007, we had our friend Jeff Phillips join us for a few tours. He also played with us for a few years early on in our career. We honestly just wanted someone who knew the songs and was good at what they do, so it was never really an issue. When it came time for a permanant replacement, however, we knew that reputation-wise, we should be looking for a female. It's actually not that important to find a woman, but in a way thats what most people expect when they hear the name Kittie.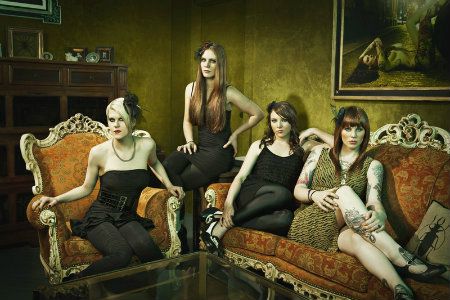 I just did interview with Masha from Arkona so I'll ask you the same question, there are still very little bands with female growler, how did you come up with the idea of extreme vocals performed by you?
Honestly it was something that came naturally to me. It was a way to express how I was feeling and in order to match the dynamic and power of the songs we were writing, I needed to scream. It was never really a very conscious decision, it was all very organic and my style and abilities developed over time.
From the new album, what are your favourite songs and why?
I love songs like "My Plague", "Forgive and Forget" and "Cut Throat" for their speed and intensity, and I especially love "Sorrow I Know" for its dark feel and somber mood. I love the entire album, but these are stand-out tracks for me!
After all these year with Kittie where do you see girls in 5-10 years?
I see us continuing to make music and tour. We are all still young and have so much more to learn and to offer musically. There is no slowing us down!
What kind of music do you listen yourself and how often?
I have quite a diverse set of songs in my iPod that I listen to on a regular basis. I listen to something extreme and heavy just about every day while I am at the gym, and I find that bands like Carcass, Behemoth, At The Gates and Metallica all work really well for high-intensity purposes! I do have alot of more rock based stuff that I listen to often aswell, like Kings of Leon too, for the more chill moments!
Who are your biggest influences?
Personally I don't really have too many idols musically, but I was shaped early on by bands like Van Halen, Heart and Ted Nugent. I respect and admire so many bands though, especially if there is hope or perseverance in their story. Bands like Pantera and Metallica give me hope for the future of the greatness of heavy metal.
In the end, are you working on any quest performances, if not would you like to do?
And by quest do you mean tours abroad? Because we are definitely hitting up Europe and the UK this January in support of "In the Black"!
Links
MySpace * Facebook * Twitter * Site
Latest Multimedia
Interview by Ed MacLaren
Harkening back to the heavy metal heyday of the 1980s, Kentucky's Hydrogyn are keeping the sound alive with its raunchy guitar crunch combined with the powerhouse vocals of singer Julie Westlake. On their latest release, "Judgement", Hydrogyn keep one foot in the past while looking directly into the future, putting a modern spin on a classic metal sound. Julie took some time to talk to Femme Metal about image, the lasting influence of hard rock and how sometimes one good guitarist is all you need.
It's clear from the opening riff of "Lost Reality" that Hydrogyn brought the metal on "Judgement". The guitars are beefier and the overall tone of the album is heavier. You guys really mean business!
Yeah, you're right. It wasn't anything we did as a plan – it's just the way it happened. Jeff Westlake has always liked the real heavy guitars but I don't think until this recording we had the drummer he felt he needed to back that guitar tone up. He really likes Joe Migz's drumming and he said it really helped to bring out the heavy playing to its full capacity this time around. I like the heavy stuff as well so for us this was a great blend of melody and heaviness so to speak.
Hydrogyn plays blues-based hard rock but you're getting progressively heavier with each release. Even with the increasingly "metallic" influence, you've never compromised your hard rock core. Did you have a clear idea of where you wanted to take the music when you hit the studio?
No, not really Ed. We go into the studio with a theme in mind for every CD – we almost always have the CD title in mind before Jeff and the guys start putting the music together. We don't do anything that is pre-meditated so to speak for the songs. Nothing like, this one's going to be heavy or this one's going be this or that. Jeff has many different sides to him as a writer, as do I, but we just have this certain thing we do as Hydrogyn and we let it take its course without planning in advance.
Are you still working towards finding the perfect Hydrogyn sound?
No, not really. I think we have established, as you stated earlier, our base sound. Outside of that, however, we are always looking to push the boundaries in different directions. One thing I'm proud of is the fact that we have not made CDs that sound like each other. Each release has progressed from the previous ones and has its own character and that's very, very important to the band to be able to accomplish that on every recording. That's something we do consciously in the process. Someone will say, that kind of sounds like such and such, a part from such and such a song and then we go…well that's gone… on to the new part. *laughs*
You and guitarist Jeff Westlake are the nucleus of Hydrogyn (sorry, bad pun!). How would you describe your relationship? How has it evolved over the years?
Besides the fact we tend to fight like cats and dogs during the writing and recording process, we do pretty good together… *laughs*. We both are pretty intense at times and sometimes butt heads a bit. But for the most part, we've done well together over the years and have become a stronger team during the writing process and work really well together.
There aren't many bands making the kind of music you're creating right now. They're either going in a more pop rock direction or towards a more extreme metal sound. There seem to be very few straight-ahead hard rock bands out there. Why do you think that is? What is the attraction of that style of music for you?
It's just what we do. If you look at all the fans that go to the festivals and how people like Dio, Heaven and Hell, Maiden, Whitesnake – the list could go on – and continue to pack places, there's a big call for it. I'm not interested in extreme metal and I'm not interested in pop music per se. I'm interested in good songs and something I can relate to. If something extreme would come up in the process, that's fine if we can make it a great piece and the same goes for pop-oriented rock as well. If it works then it does but as for the screaming from beginning to end I can't give that more than five seconds but I do think if you mix that extreme stuff in properly to what you do – like we do – it can work. Now this is strictly my opinion but I see those crowds of people packing places for that type of music – melodic heavy rock – and as we have seen with Ronnie James Dio's passing, someone is going to have to fill that void once these guys are no longer with us and I would love to fly that flag. I'm not saying we're like them – we have our own sound and that's a fact – but we are a heavy band and if you strip the vocals away the band is killing it. The added vocals make it melodic, and that I love, as do the guys.
It's amazing to listen to your vocals on "Judgement". There are few singers that can command a vocal like you do. There's real attitude in your voice –a power and vocal control that permeates tracks like "Self Destruct" and "Medicate". But at the same time, you can give a track like "Gold Dust Woman" an emotional root that's essential to the believability of the song. Have your vocals always been so confident? What has changed in your voice since the early days of Hydrogyn?
Thank you, Ed, for those comments. It hasn't always been that way. The voice has always been there but it wasn't until I met Jeff Westlake and Jeff Boggs that I really started taking singing in a big direction. I always wanted to sing professionally but hadn't done so until those two pulled me into Hydrogyn. We've done a ton of music together over the past eight years but Hydrogyn is what did it.
I spent all of 2003 building my voice up in strength because Westlake said it had to be done. When we started doing that, I sang in a tuning that was much lower than the standard we work in now. Over 2003, I built that power and strength but I don't think it really took hold until we went in to do "Bombshell" with Michael Wagener. My voice has gotten much stronger since then and now I feel like I can hang with anyone but it did take some time. Also, singing rock, you either do it or you don't and there's no hiding behind anything so it was sink or swim and sinking was not a choice. *Laughs*
Vocally, today's women in metal and hard rock have arguably developed into two main camps: the corset-wearing soprano singers and the unbridled screamers. Your voice doesn't fit into either group. It has power and an excellent clear tone – a distinctly American style – in company with vocalists like Pat Benatar and Anne Wilson. Do you ever see a resurgence of your "classic rock" vocal style?
I don't know. Has it ever really gone away? I like Anne and Pat but I look more to Ronnie or Rob Halford for what I do. I've always heard that I don't have the typical "girl" voice which is very cool to hear. I can also do a lot of different things but my voice is my voice. I didn't try to be that way or model myself after anyone in particular. I released a solo CD in February of a bunch of stuff from country to rock to gospel just to show the different things I like and do but I love to rock. I am not much on the operatic stuff that is out there and I'm not about any pitch correctors on my voice either. I am just blessed with a clear powerful voice and I love it.
You perform and belt out your vocals like a true rocker. You would never think that your background is in country music. How does a country princess end up a metal queen?
*Laughs* Well, again, blame Westlake and Boggs. I'd stumbled onto Westlake in a studio in Ashland, Kentucky to do a demo and he was the engineer in there at the time. So I did the singing and he and I started working together on writing material but I was still in country. One day he and Boggs approached me and said we have a gig in 14 days and no singer –think you can try to do it? I said yes so they made me a CD of 40 cover songs ranging from AC/DC to Dio, Whitesnake, Priest, Heart and on. I was like, wow I don't know. So what I did is learn the melody of the songs and then taped 40 songs worth of lyrics to the stage and did the show. It went over so well that I decided to keep going with it and here we are today. I love to sing anything but I love to rock the most.
With all the success of "Judgement", in other ways it was a difficult year for you and Hydrogyn. You gained and lost a potential guitar match made in heaven with ex-Megadeth guitarist Jeff Young. It looks like the dust has finally settled from that failed collaboration. What have you learned from the experience?
That having one guitarist is plenty good enough *laughs*. You never know how things are going to work until you try it, and some may refer to it as a match made in heaven and others or myself may say hell. *laughs* Sorry. Needless to say, it just didn't work for us, for me, for whoever. I'm just glad it's over and we're able to move forward with the release. Lesson learned. Why fix it if it's not broken. We've been playing with one guitarist for a couple of years now and that's how we'll continue on for the duration.
Legendary producer Michael Wagener has been a great friend of the band since "Bombshell". How has your relationship with him impacted the musical evolution of the band?
A lot of ways. Just his support has been enough but the biggest way is probably that Jeff Westlake has been mentored by him as an engineer and music producer since 2005. That has been the biggest impact of all I think. The last two releases, "Deadly Passions", and the new one "Judgement", have had three songs on each produced by Michael and the others by Jeff. Jeff has learned so much it's amazing. Reviewers have said they can't tell who did what because it all sounds so good and that's huge for us and especially Jeff. Jeff is also building a new studio as well as he's busy with other bands all the time so the relationship with Michael has been big on many, many levels but the bottom line is that we love the guy.
You managed to score Doug Pinnick of King's X to perform on the track "Big Star". How did he get involved in the "Judgement" project? You must have had some high expectations for the result. So how did he do?
Well, he did great! *Laughs* We've known him since 2006 as King's X works with Michael as well so that's how it came about. Jeff Westlake had mentioned it one day to Jeff Young and so Young contacted him and the rest is history. He's unreal and soulful and a great player as well so he did the male vocal part and the bass line for the song. We love it.
You release regular albums with Hydrogyn and tour extensively. It doesn't leave a lot of free time yet you still found time to record a solo album. Why did you decide to step outside your comfort zone with the band and do something on your own? Did you have a creative itch that couldn't be scratched within the confines of the band?
Yeah, I do in a way. I've had so many comments made about the "country" background and friends and family asking me to do some stuff along those lines that I decided to do it. This solo CD is basically for them and I have another one on the way that will be more of what I want to do which again is different than Hydrogyn. Westlake and Boggs are working on a side project too called Ura-Kia and then Westlake has another one as well called Slave Train. These will all see release in 2011 and another Hydrogyn record as well. Now that's a lot but it's the way we love it. I really don't have just one comfort zone. On the solo release, which is called If Ever a Day, I do country, rock, gospel and the title cut is a bit of a jazz/blues tune that I wrote so it's a bit of everything. The next one will be more of a rocker.
You're no stranger to singing cover songs – you've had at least one cover on each Hydrogyn album. As a cover expert then, what's the attraction to putting a cover song on an album when you could be adding another original track?
You hear songs you like and you catch yourself singing them and then you go, "Wow I'd like to do that!" So we do! On "Judgement", we have fans asking for "Gold Dust Woman" as a lot of people have heard us doing that one in acoustic settings so we did it for the fans. "Assault Attack" from the Michael Schenker Group is done because I love the song and so do the guys, so we did it. We could always write another song to put on the CD but those cover tunes are for us and we enjoy them a lot.
What's the criteria for selecting a good cover song? You've performed covers by everyone from AC/DC to Alanis Morissette to Fleetwood Mac!
Just loving the track. We did "Back in Black" in our live show when we met Michael and he said can we please record that and we said sure. I think the only cover song we have done that had some resistance to it is "18 And Life" because Westlake hates the song. Other than that, we have a vault of cover tunes recorded just waiting for their time, so to speak. Now "Assault Attack" was my idea but it took no time for the guys to jump and do it. That's been one of Jeff's faves since it came out in 1982.
"Big Star" was part of your original "Best Served With Volume" demos from 2004. Why did it take so long to formally record?
We also recorded it for the "Bombshell" sessions and it made the live release of "Strip'em Blind Live" in 2007. We just love the song. Westlake wrote it in like 1999 and we said this song has never had an official release so we reworked it a bit and then got Doug involved and it just came out so good that it finally got the green light.
Do you have any other great tracks lurking in the Hydrogyn vaults that are waiting to see the light of day?
Yes. A ton actually and Jeff would kill me if I said what. We've been talking of releasing a cover CD so for now I have to keep mum.
Fashion alert! OK now, is that really the "Bombshell" outfit you're wearing on the "Judgement" cover?
Yep, sure is. I thought that since the album title was "Judgement", and that a lot of people have judged myself and the band since we started with the "Bombshell" album, that it only made sense to be viewed with the same outfit that started it all.
How much does your image play into your music?
I think this industry is a lot about image. So a big part of what we do with my image is about marketing. It really doesn't have anything to do with the music; it's just the role and persona I play on stage.
Look at any Hydrogyn album cover from "Bombshell" to "Judgement" and anyone can see that you play the role of the "rock vixen" to an extent. How much of that image is you merely expressing your own sexuality or a facet of your personality and how much is a product of women having to play that role in hard rock/metal music to be successful?
With the album covers, the pictures are supposed to represent the title of the album, not what or who Julie Westlake is. What I wear in the pictures on the covers is not always what I wear on stage. I don't think it's necessary that I have this particular image, it's just the image I choose to represent each album.
Has your image had any negative impact on how seriously people respond to your music? Is there a stereotype you have to constantly fight against?
I wouldn't say negative. Some people don't like it but you're not going to make everyone happy. I'm here to hopefully make people happy with our music, not with my clothes. If they don't like the image, then they can close their eyes because the music is still good.
How do you see your image evolving as Hydrogyn becomes more and more established?
You never know. Again, a lot of it has to do with the album title and how it influences me. Of course, fashion is always changing, so you just never know what I will do next.
You've battled in the business and media trenches for many years now. Do you have any advice for young women aspiring to a career in music?
It's really tough. You have to be willing to work long and hard for it. Don't expect things to happen fast. It's a long road and a lot of work and it's important to create thick skin because people are always going to be tough on you no matter what.
When will you be hitting the road to tour behind "Judgement"? Is the focus going to be on the United States first and then head over to Europe?
Hopefully in the spring. We're trying to focus more on the States this time around but also feel that Europe is such a strong area for us and we love our fans so much there. So, hopefully we will be able to hit both next year.
What can longtime fans expect to see in your new live show?
One thing you can always expect is a very energetic show. Our live show now consists of a variety of songs from all of our previous albums, as well as a few cover tunes along the way. And then, of course, we always take time after the show to spend time with our fans and we really enjoy meeting everyone.
(Famous) Last words?
I guess I would have to say, "Don't judge a book by its cover". In this case, an album. Let the content decide whether or not you're a fan, rather than making assumptions based on an image of someone you've never met.
Links

Interview by Matteo Bussotti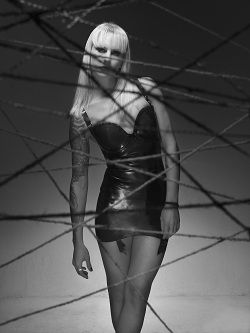 As far as we knew about the release of 69 Chambers' 2nd album, "Torque", we felt we had to talk to Nina about it. Their sound and their history (and Nina's one in particular) is so unique that we couldn't let escape the opportunity to ask her many things about them. "Torque" is a very enjoyable CD and Nina is a person with a really complex, characteristic and interesting background. She moved around the world, especially in L.A. and she reflects her open-minded attitude in her music. She's also a very skillful musician, singing AND playing bass at the same time in 69 Chambers! So, here's what she told us about who she is, her past, "Torque", and also something about her (and 69 Chambers') future!
Hi Nina, we're glad to have you here on Femme Metal! So, how is playing bass AND singing in a Metal band?
It's great of course! I couldn't imagine only singing or only playing an instrument in a band, I've always felt more comfortable doing both, even though it takes a little more practicing to get it done right. Especially with the new album where there are many rhythmical elements combined with straight-forward singing..
We know 69 Chambers (which you founded) background is full of cultural diversities. During your childhood you've been to South Korea and Singapore, you're Swiss, and your very first album was written while you were in USA, in L.A., after going around in different clubs and open mic nights. So, in what way all this background affected your musical style?
My background has definitely affected on me as a person, so I'm sure it's found its way into my music as well, if only unconsciously. It made me more open to different styles and less willing to fit into a certain scheme. You can probably hear that in 69 Chambers' music.
What is the meaning of your name, where do these "69 Chambers" come from?
I'll have to leave you with a question mark. The band was founded many years ago and was only meant to be a hobby project at first. We never imagined having to answer that question in an interview…
I guess every band has a purpose when it's formed, which may be delivering a special message to save the entire universe, or simply having fun playing around in various gigs. What was, and what is, the purpose behind 69 Chambers? And if there is, do you think you've accomplished it yet?
Do bands really have a purpose when they're formed other than self-expression? It would be pretty pretentious to claim we're trying to change things. We just do what we love doing, and we're hoping that people can relate to the emotion our music evokes. Plus, everyone interprets something different into it, so I think a band's 'purpose' is always rather individual.
What's been so far the most difficult moment in your band's history? And the best one?
Keeping a band together is the hardest thing. Ever since I founded 69 Chambers I've gone through so many line-up changes. Getting rejected by record companies, promoters or critics is tough, but when you know you can count on your band, it strengthens your will. When you're a lone fighter though, and I was for many phases, then it takes a lot of guts and endurance to not lose faith. I'm glad that with our current line-up, with Diego Rapacchietti and Tommy Vetterli, we're a real team. The best moments have always been playing great shows. Not only big festivals like Hellfest or Metal Female Voices, but also at small venues when the atmosphere was just crazy.
What can you tell us about L.A.'s musical scene, and how easy is for someone who really wants to get noticed to play some gigs around, even in clubs? What do you think L.A. has to teach us europeans, what can be imported, and instead what can we teach them?
To be honest, I didn't go to L.A. to get noticed or follow some dream, I simply wanted to experience something new and different. I was kind of fed-up with the Swiss lifestyle where people have so much to lose they're not willing to risk anything or just let go for a moment. Lots of young Americans, especially in L.A. have a different attitude to life, they might seem superficial, but they're also really open, helpful and simply more relaxed. I especially enjoyed those open-mic nights cause there were all sorts of musicians – from really talented ones up to mere beginners, but they were equally respected by both musicians and the crowd. I'm sure being a little more easy-going, daring and less pretentious would to a lot of Europeans well. At the same time I found quite a few Americans being dreamers and unrealistic, and with little sense for what's going on in the rest of the world…
How was playing at HellFest? How was meeting your fans abroad?
Hellfest was huge for us. Playing on mainstage one as a rather unknown band was a great honor. And even though we didn't fit into the line-up a hundred percent (we were probably perceived as a "pop band" by many death metal fans) we did gain a lot of new fans in France who've been following us on Facebook ever since and expressing their enthusiasm. I sure hope we'll be up on that stage again next year.
Talking about fans, what's your relation with them, do you tend to be "expansive" when you meet them, or you tend more to be shy?
We enjoy talking to fans, it's really interesting to see who the persons are that like our music. And we're also grateful for their excitement. After all, you're nothing as a band without your fans!
Some people completely change attitude when they're on stage: some of them, being very shy, become absolute badasses; other ones, instead, become very frightened and shy while playing. What about you? What's your attitude on stage? And another very important question: what about stage diving? Have you ever tried it? Do you think you will?
Honestly, you have to be bit of an actor when you're up on stage, people want to be entertained. But I think you also have to remain credible, I'm sure fans have a good sense for what's authentic and what's not. I'm just not the type to go completely crazy on stage, that just wouldn't be me, so I just try to express my feelings on stage the best I can. As for stagediving, with bass and high-heels I might just end up at the hospital. But who knows, perhaps I'll try it one day…
Now, let's talk about the "hot topic": your latest album, "Torque". What's the story behind the album and its name? Are you satisfied with? Is there anything you'd like to change about it?
"Torque" is our second album and the name just felt right. Torque is a rotational force; it's a measure of the turning force on an object, and for example pretty decisive for the power a car puts down on its wheels. We feel that with the current line-up and the new songs we have enough 'torque' to get the band accelerated. In contrast to the first album I practically wrote all by myself, the second album is the result of good teamwork. I still wrote most of the songs on my own, but Tommy and Diego each contributed to get the best out of them. Plus, Tommy did a really great job at recording and producing the new material. I also thing "Torque" makes a point of showing who we really are. Of course we already see what could have been done better – the moment something's completed you're already at a different level, but we put so much effort, time and heart blood into this product, I believe we did the best we could and we're all pretty proud of that.
Is there a song in Torque you feel particularly "yours", maybe for its meaning or for the story behind it?
All of the songs on the album are "mine", except perhaps for the song "And Then There Was Silence" where Tommy composed the guitar riffs. Or the cover of Jeff Buckley's "Grace". I always put a lot of myself into the music and the lyrics, so there isn't one particular song I could point out to.
Finally, what direction you think 69 Chambers will take in the future, are you open to experimenting with other genres, or sonorities, perhaps?
It's perhaps a little early to think of a new direction. "Torque" is out and we first want to promote this album and go on tour with it. I'm sure time will tell, in which ways the band will further evolve. But experimenting with other influences always sounds great. After all, standing still means stepping backwards…
Thank you very much Nina for your time! We hope to see you soon at a concert! Goodbye and good luck for everything!
Thanks to you, Matteo and take care!
Links
MySpace * Facebook * Twitter * Site
Latest Multimedia
Label : Massacre Records
Review by Tony Cannella
On their second full-length album, "Torque" the Swiss band 69 Chambers looks to build upon what began on their 2009 debut "War on the Inside" and in so doing, the band has delivered a massively, multi-tiered sophomore effort, that is a huge (and I do mean huge) leap forward from their debut. "Torque" really runs the gamut of styles. While heavy in most parts, "Torque" does a good job in mixing up the tempos and infusing the album with different influences like melodic metal, Doom Metal, Gothic Metal and thrash, 69 Chambers' pallet is full on "Torque". For "Torque", 69 Chambers are joined by Coroner guitarist Tommy Vetterli (aka Tommy T. Baron) and his input is definitely instrumental in making this such a huge sounding album. Of course the focal point is multi-instrumentalist Nina Vetterli-Treml. In addition, to lead vocals, she also contributes guitars and bass. At over an hour's worth of music, there is a lot to take in and "Torque" gets off to a roaring start with "Cause and Effect" which features Chrigel Glanzman from the band Eluveitie on guest vocals. Right off the bat, this song highlights what is so great about this band; you have the heavy thrash-metal like riffs combined with Nina's smooth vocals and a killer melody. "Bring on the Flood" is next and is more of a straight forward song with bits of electronic music and some killer vocals by Nina who has a different style than a lot of vocalists in the femme metal scene and she should be considered one of the best vocalists in the genre. "Naughty Naughty Naughty" is next and this song adds some doom metal to the mix with an Ozzy-era Black Sabbath style guitar riff. My favorite song is "And Then There Was Silence" which opens with a very Slayer-ish guitar riff and is just a powerful song. The fact that 69 Chambers can be so heavy whilst still being a very melodic entity is one of my favorite aspects of the band. The melancholic piano dominated ballad "Elegy" brings the album to a close and shows another facet to the band. Other highlights include: "Burn Some Gasoline", "The Peephole", "Closure" and a cover of the Jeff Buckley song "Grace". It is difficult to write a review on "Torque", because I want it to be as detailed as possible. "Torque" is just a 60 plus minute whirlwind that hardly ever lets up. "War on the Inside" was a cool debut but "Torque" has the sound of 69 Chambers ascending to the next level.
Rating – 90/100
Tracklist
Cause and Effect (featuring Chrigel Glanzman)

Bring on the Flood

Naughty Naughty Naughty

Anhedonia

Burn Some Gasoline

The Peephole

Ring a Bell

Closure

And Then There Was Silence

Temple Down

Your Fool

The Doom of Her Power

Grace

Elegy
Line Up
Nina Vetterli-Treml – Vocals, Guitars & Bass

Tommy Vetterli – Guitars

Diego Rapacchietti – Drums
Links
Label : BMG Rights Management/Audioglobe
Review by Tony Cannella
By now everyone knows what to expect from Trans-Siberian Orchestra. A combination of Rock, Prog, Metal and Classical highlights this musical extravaganza.The band started out as a touring holiday troupe and their annual Christmas shows have become legendary. Now in recent years they have become a year round touring and recording entity. Their latest studio album, now released in Europe after 2 years from its original version, is the epic 2-disc, 28-song, over 2-hours long, "Night Castle". As always, TSO has a great array of endless musical talent – from all backgrounds – at their disposal. The great Jeff Scott Soto (ex-Yngwie, Journey, solo, etc. etc.) adds his immense talents to "Night Castle" as well as three very talented female singers are on board. They are: Jennifer Cella, Alexa Goddard and Valentina Porter. All of which comes from a non-metal background but man can they ever sing! Not to mention some the great musicians who have participated. Alex Skolnick, Chris Caffrey, Al Pitrelli and Jon Oliva among many, many others are all on hand, even progressive rock legend Greg Lake (ELP) adds bass to the track "Nutrocker". "Night Castle" is a complex concept album which you can read about on their web-site or CD booklet; suffice it to say there is a lot going on both musically and lyrically. The album kicks off with the choir dominated "Night Enchanted". The 3rd track "Sparks" has an energetic classic rock feel to it, with a great guitar solo. Fans of Savatage will find the instrumental "The Mountain" to be familiar as it incorporates parts of "Prelude to Madness" from 'Tage's "The Hall of the Mountain King" album. The female singers don't surface until the 2nd disc on the tracks "Father, Son & Holy Ghost" a hugely grandiose part ballad part mid-tempo track featuring some superb vocals from Jennifer Cella. The next track "Remnants of a Lullaby" also features Jennifer taking the lead on the acoustic ballad. "Child of the Night" features the duo of Alexa Goddard and Valentina Porter taking over the lead on this symphony laced track. One of my only complaints about "Night Castle" is the fact that the male singers tend to sound similar to one another so it would have been nice to give the female singers a bit more to do. That is just a mild complaint however, as the material more than stacks up to previous TSO recordings. TSO has delivered another grand, huge, monstrously, unapologetically epic masterpiece with "Night Castle". TSO has continued to ascend to new heights, which I am sure they will continue to do.
Rating – 85/100
Tracklist
Disc 1
Night Enchanted

Childhood Dreams

Sparks

The Mountain

Night Castle

The Safest Way Into Tomorrow

Mozart and Memories

Another Way You Can Die

Toccata – Carpimus Noctem

The Lion's Roar

Dreams We Conceive

Mother and Son

There Was A Life
Disc 2
Moonlight and Madness

Time Floats On

Epiphany

Bach Lullaby

Father, Son and Holy Ghost

Remnants of a Lullaby

The Safest Way Into Tomorrow (Reprise)

Embers

Child of the Night (Bonus Track)

Believe (Bonus Track)

Nutrocker (Bonus Track)

Carmina Burana (Bonus Track)

Tracers (Bonus Track)

Requiem (Live 2010) (Bonus Track)

Toccata – Carpimus Noctem (Live 2010) (Bonus Track)
Line Up
Paul O'Neill – Guitars

Robert Kinkel – Keyboards

Jon Oliva – Keyboards

Al Pitrelli – Lead, rhythm guitars

Chris Altenhoff – Bass

Luci Butler – Keyboards

Chris Caffery – Guitars

Shih-yi Chiang – Keyboards

Roddy Chong – Violin

Angus Clark – Guitars

Jane Mangini – Keyboards

Johnny Lee Middleton – Bass

John O.Reilly – Drums

Anna Phoebe – Strings

Jeff Plate – Drums

Alex Skolnick – Guitars

Derek Wieland – Keyboards

Dave Wittman – Drum, guitar and bass
Lead Vocalists :
Jay Pierce ("Childhood Dreams", "The Safest Way Into Tomorrow")

Tim Hockenberry ("Sparks", "Believe")

Jeff Scott Soto ("Night Castle", "Another Way You Can Die", "Dreams We Conceive", "Time Floats On", "Safest Way Into Tomorrow (Reprise)")

Rob Evan ("There Was a Life", "Epiphany")

Jennifer Cella ("Father, Son & Holy Ghost", "Remnants of a Lullaby")

Alexa Goddard ("Child of the Night")

Valentina Porter ("Child of the Night")
Links
6 color styles available:

Style switcher only on this demo version. Theme styles can be changed from Options page.