Browsing articles tagged with " mind"

Interview by Robert Brady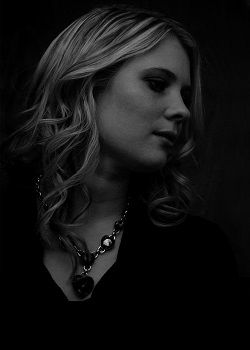 In a country that is notorious for its biggest musical export being Black Metal, Norway has also been building a great legacy of producing some of the top female vocalists, artists and musicians in the world. In modern time in the heavy metal and hard rock community, Norway has produced Liv Kristine ex-Theatre of Tragedy and current frontwoman of her own band Leaves Eyes, probably one of the most beautiful and undisputed powerful operatic vocalist in ex- Tristania soprano Vibeke Stene, Carmen Elise Espenæs of Midnattsol and on the pop side Marion Raven.
However, Norway has certainly been hiding a true treasure and one of the most beautiful ambient and classically minded artists I have heard in quite a while in the lovely Silje Kristin Leirvik. After listening to her debut album "With Lights Turned Out So Beautiful", which was 10 years in the making, I discovered a true diamond and beautiful soul. "With Lights Turned Out So Beautiful", Silje Kristin Leirvik has open the door to her soul and spirit to the world to see and at the same time left the listener room to perhaps find themselves or relate to Silje's personal journey as their own.
Continue reading »
Label : Arcane Records
Review by Luisa Mercier
Schoolcraft is the solo project of Lindz Riot, singer of the Canadian gothic rock band Mary and The Black Lamb.
As solo artist, she decided to show us her skills with piano, since she is classically trained, drawing her inspiration from nature, fantasy, orchestral music and trip-hop.
"Your Mind" is a 2-track single which features the title track and "Where You Go".The first is a simple piano-driven ballad, sweet and melacholic. The mood reminds me of singer songwriters like Kirsty Thirsk or Johanna Stevens. "Where You Go" is more electronic based, with a trip-hop vibe. The vocals are more sensual and less naive, feels like floating in the air.  If this is just an appetizer of the album that will come, I will be really glad to listen to it! These two tracks sound really promising and diverse, so I am eager to listen to what she can do on her own! Continue reading »
The recordings of the studio album "Alchemy" have been officially completed and we can now confirm that the double album will be released on March, 4th in Europe and April, 9th in USA. This release will, however, be preceded by the world premiere of "Alchemy" show at the famous Wyspianski Theatre in Katowice, Poland on February 22, 2013, where it will be recorded for the purposes of a DVD to be released by Metal Mind Productions later next year. We can also reveal that the album will be available for purchase at the Theatre prior to the official release date.
And today you can listen to the first promo track taken from the "Alchemy" album. "Street Fight" is available to stream at the official Metal Mind Productions' channel on YouTube in THIS location.
Interview by Miriam C.
For the second time in this webzine we give space to the Italian progressive power metal band Lunocode promoting their latest work "Celestial Harmonies". This time the questions have been replied by drummer Perseo Mazzoni and singer Daphne Romano. Just a curious info – this interview was scheduled to be face to face but 'cause of the bad weather our editor Alessandra didn't make to be at the location by the way at the end it come out a real nice, as always.
Hi Perseo and Daphne, welcome to Femme Metal Webzine and how are you??
Perseo: Fine thanks, a bit tired but happy. The last two weeks have been great with two concerts, the first in acoustic, at Teatro di Anghiari with the show "C'è Vita intelligente sulla Terra?" (Is there intelligent life on Earth?) togheter with Francesco Cecconi and the last, just two days ago, in Rome, with Ivory Moon and Blind Horizon. We discovered that our acoustic side works very well and playing in a theater is something very special, something magic.
Daphne: Yes, two different and exciting gigs. The acoustic set in particular: I have to admit that it's been really thrilling.
Well, first of all, do you mind give us more insights about your biography?
Perseo: Lunocode formed in 2004 under the name "Anima". We played mainly cover for about 2 years and had another singer. Then we started writing new material and in 2006 we released the demo "Birth". The demo went well and we continued writing new material. At the end of 2010 we gained a contract with Spider Rock Promotion and in January 2011 we released the EP "Last Day of the Earth" that also went very very well. At the end of 2010 our previous singer left the band and we found Daphne. After releasing "Last Day" we continued writing and in January 2012 we released our debut album, titled "Celestial Harmonies". And here we are.
According the site, the band's name "lunocode" is a wordplay between Lunokhod and the english word Code. From where did you get it?
Perseo: I was watching a documentary about this Russian rover sent on the moon. It's been the first radio controlled rover to be sent on another planet. I thought it was very interesting and I proposed this name to the band. Giordano came out with the wordplay and everybody liked it so we took it as the new band name.
In your discography we can count the demo "Birth", the "Last Day of the Earth" EP and your debut "Celestial Harmonies". As I remember "Last Day of the Earth" EP was a stand-alone piece of concept. This time with "Celestial Harmonies", as your label states "It's a moving journey thru the Cosmos with the purpuose to search the origins and life's origins" although you declare that the album is not a proper concept. Can you tell us more about the album's lyrics?
Perseo: "Celestial Harmonies" is not a concept in the sense that we're not telling a single story that starts on a song and continues through the other songs of the album like a concept album usually do. "Celestial Harmonies" has a fil rouge, a loose connection between every song, but it's not a concept. Every song tells something about humankind, the cosmos, life or nature and things like that so, in a sense, is a trip through cosmos, a voyage by which we can explore the meaning of life, the universe, the pain and the joy of being alive.
"The Origins of Matter and Life" is a suite long almost 30 minutes. What insight can give us about it and also are the suite's lyrics a concept ?
Perseo: "The Origins of Matter and Life" is actually a story which develops through the songs "On Matter and Mind", "High", "The Cosmic Architect", "Tree of Life", "Crossing the Line" and "Albert II". Is a fictional story about a character (at the very end his identity will be revealed) who starts thinking and, by this act, gives birth to a universe in which he finds himself in. He then starts exploring this new world and he asks himself questions about what's happening all around him and even to himself. Following this questioning the story of this suite unfolds till the end when a dramatic turn of events occur. I prefer not to explain all the details of this story, as I think everyone, if interested, has to discover the message by himself.
For what I get the album was mastered by Ronan Chris Murphy, that has worked with legends like King Crimson, Steve Morse and Ulver. When and how you have contacted him and why work specifically with him?
Perseo: I followed him on internet, on his YouTube channel, on his Facebook and as I think he is a great engineer and producer, I asked him if he was interested in working with us. This was happening in 2010, during the "Last Day of the Earth" mixing sessions. He said yes and I sent him all the audio bounces. As I find myself very confortable working with him, I contacted him again in 2011 and asked him to master "Celestial Harmonies". Again, he said yes and I sent all the material. He made a great work and he was surprised about the songs quality and the big step forward we made in songwriting during the last year. Working with him has been so great!
"Celestial Harmonies"'s cover transmit a feeling of peace. Do you mind explain the meaning's cover building into your personal opinion about it?
Perseo: I too think so and this sense of peace was one of the goals I wanted to achieve with this cover I developed. The airplane you can see on the cover has a particular meaning to me, as actually is a wheater vane my grandfather has built. The cover is in fact a photo and not a computer generated image.
What are the band's influences?
Perseo: I think we are working hard to find and extract our real self so for sure there are influences but I think they are becoming more unconscious day after day. If I had to name just one band, I would name Anathema.
What difference you can see between the debut EP "Last Day of the Earth" and "Celestial Harmonies" in matter of musical style and lyrics? Do you feel more mature?
Perseo: There are big differences but, at the same time, the differences are not so big. In both albums the writing style of the lyrics remains the same, maybe in "Celestial Harmonies" our acoustic side is more prominent, but even in "Last Day of the Earth" there is a completely acoustic song called "Invisible Tears". Maybe in "Last Day of the Earth" the songs sounded more heavy but even in "Celestial Harmonies" we have heavier songs, like "The Cosmic Architect" or "Sin Cara". I think "Celestial Harmonies" is a more mature work, and a natural evolution from "Last Day of the Earth".
Daphne, what are is your musical background? Did you ever do any vocal training?
Daphne: I like different kinds of music like rock, metal and electronic. About my influences, I can say Freddie Mercury, Anneke van Giersbergen and Lisa Gerrard have always been a great inspiration for me. Today I found with Lunocode some new colours in my voice and in my soul that I've never suspected to have. I think I'm evolving…but, who doesn't? I studied opera singing for 1 year, years ago. Now I'm studying modern singing with a great Italian singer. I think singing is a vast world where you can always discover something new: I'm curious, I have a thirst for knowledge and I think exploring the voice potentialities is one of the most stimulating and satisfying elements of singing.
What we can expect next? I read in the website an East European tour with Theatres des Vampires…
Perseo: Yes, we've been on tour with TDV and JTR Sickert and it's been a great adventure and a great experience for the whole band. They are smart and nice people and we enjoyed very much visiting East Europe and Turkey! Then, two weeks ago, as I already said, a dream came true for me, to play with Lunocode in a real theater, in acoustic. We played 10 songs in Teatro di Anghiari (Tuscany, Italy) for about an hour of show. We re-arranged some songs from "Celestial Harmonies" and "Last Day of the Earth" in acoustic and we even played "The Origins of Matter and Life" from start to end! The show has been recorded so maybe we will use those recordings in the future! Other plans for the future? We have some ideas to record a new album, you will hear from us soon!
Daphne: Yes it's been amazing and crazy sometimes! Cool musicians and stuff, great audience, life on the road and foreign countries.
Well, Perseo and Daphne, I really thank you for this interview, I hope you like it! Please greet our readers (and your fans) freely! Thanks again!
Perseo: Thank you for your time, hope to see you at our shows! If you want, you can buy our cds at www.lunocode.com or follow us at www.facebook.com/LunocodeFan
Daphne: Thanks to you and all the readers of Femme Metal Webzine! See you soon!
Links
MySpace * ReverbNation * Facebook * Google Plus * Twitter * Site

Interview by Si Smith
First-time viewers of the new album by Dotma will be presented with a fantastic vista of colour and imagery – but what are the forces at work behind the image, behind the polished artwork and powerful musicality? Not ones to be pigeon-holed or typecasted, Dotma tread the line between gothic and power metal with the skill and dexterity of players well-established in the world of female-fronted metal. Yet this is only their first full-length. To understand how this remarkable feat has been achieved, I spoke to singer and lyrical crafter Johanna Lesonen….
Biographies of Dotma seem to start as many band bios do, with guitarist and keyboardist Harri deciding to form a band surrounding a particular theme or genre. Johanna, how did you join up with these guys at the very beginning?
Well I had just started to take classical singing lessons, and I was very excited about singing. I wanted to try singing in a band and my friends had just founded one. I was the one who asked if I could sing in their band. They weren't sure if they wanted a male singer, so they hesitated a little. But since there were no other singers around, I got the job! And it seems that it was a good decision! =)
Dotma has a strong image, both musically and artistically. This image seems to draw the listener/viewer into the heart of the band experience. What were your expectations of the band from the start? Did you know in which direction the band would be going from the time of the first demo?
At the beginning I really hadn't any specific expectations for this band, I just wanted to sing. We started with power metal and after the first demo we came to the conclusion that we wanted to develop our style. We weren't sure in what direction. We thought it will come naturally, if it's meant to come. And so it did.
A second demo entitled "Dances With the Shadows" was released in 2009. How had the music progressed by this time? Were you happy with the end result?
We were much happier with the result than we were with the first demo. We had grown as musicians and the songs had developed into this style which felt more like ours. It was still power metal but there were these symphonic and atmospheric elements already to be heard. But still, the process continued till the recordings of the full-length album.
It seems that all lyrics are written by yourself at this time: how do you go about choosing themes for songs? Could you take us through your creative process for writing and/or perfecting your song lyrics?
Actually I have written most of the lyrics, except "Kingdom of the Sky" and "Memory Worth Dying For" which are written by Harri. My writing process starts when I hear the song. The song gives me a certain feeling and I start to imagine things in my head. I tend to think quite visually. When I hear music, pictures appear in my head and finally a story. There are few songs in which lyrics I have used old poems of mine. For example "The Cave" and "Reborn" are such songs that I had already written most of the lyrics and suddenly I realized that there were these poems that fit perfectly in the theme. After this I finished the lyrics automatically. "Indian Fall" is a ballad and when I listened the song, the lyrics came at once. "Whispering" didn't get its final form until the vocal recordings! So it really depends on the song how the lyrics are being born.
In December 2009 you started to prepare to record your first full-length debut album involving Rockstar Productions (Finland) and Cutting Room Studios (Sweden). Was it difficult involving people from outside the band at this point? How did you communicate to them your own hopes and ideas for the finished product, to ensure that the album turned out how you wanted it?
Of course it's always challenging to find the right people to work with this kind of project. It's not possible to read other people minds, so I think the most important thing is to speak up. We negotiated a lot about the sound, arrangements and so on. We also were along in the whole process, including mixing and the mastering.
Coming to the debut album "Sleep Paralyses", it is a remarkable epic journey through a series of emotional landscapes. Would you say there is a uniting theme or feeling to the album?
The uniting themes are probably the instability of human mind and the beauty and the ugliness of this surrounding world. Dreams and nightmares rules through the whole album and the main feelings are loneliness, fear and hope.
The fantasy image is still strong surrounding the band, yet the band is so much more than just the traditional fantasy and medieval themes. How has the music now developed beyond the "typical" Gothic and Power metal imagery and become something unique in the genre?
This is a difficult question for me because I cannot look objectively our music. I cannot define why the music is now unique because we just do what our heart tells and if that's something new that differs our band from the others, we have done something right. If we talk about the concrete music, there is a big change from the early days; tempo. We have slowed down the songs and given more space to the atmosphere. I have also used my voice as versatile as it's possible with my classical technique. We have done everything with a great passion.
The construction of this epic masterpiece included vocal and guitar contributions from members of other bands such as Thaurorod and Embassy of Silence. How did they fit into the overall vision of the band? Are there plans to use more guest musicians in the future?
They fitted perfectly because first of all they are all great musicians and their way of doing music is very passionate. We gave all the guest musicians free hands and we trusted them. And they did an amazing job!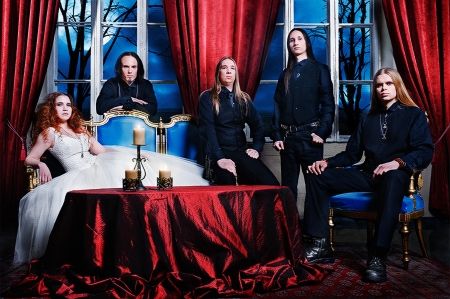 The song "Reborn" blasts out triumphantly, almost as a decree that the band is itself is reborn with power and self-belief on this new release. Also your band's logo has developed into a far more intricate and beautiful creation since the previous two albums. How are you going to keep up this newfound impetus and vigour? When things become stale or routine, how do you as a band keep yourselves fresh and enthusiastic?
I think we will be worrying about it when it happens. You cannot think and plan all the things beforehand. We live in the moment, and what happens in the future, we live along with it. We all love music and we will always do it some way or another. When things become stale or routine, we just wait until it will pass, and maybe concentrate on something else for a while, until the inspiration returns.
All the music for this album has been credited to Harri Koskela. Is this completely his own work, or do other members of the band have contributions and musical ideas as well? If so, how does this work? If not, wow! That is a big load on Harri's shoulders!! He surely is a master of his work! Does he present these musical pieces to you ready-made, or are they constantly-evolving works in progress?
That is a big load on Harri's shoulders yes, because he does all the composing. We all are involved when the songs are being arranged, but before that Harri composes the songs from the beginning to the end. The songs get their final form in the studio where new visions wake up.There in the studio we all work with the songs, especially the vocal parts.
"Kingdom of The Sky" has been described as the masterpiece of the album. Could you tell us more about it, its meaning and also the other voices and ideas involved?
It's a song that Harri composed as a dedication to his dear cousin who passed away. It's a very personal song to him, so he did also the lyrics. Concerning the music, it's quite an unusual composition. There are many different parts which describe the periods of life. The last choir part is in Finnish and it tells about the funeral. It's a very intense and beautiful song.
As the date of the album's release draws nearer, it seems that you have a number of live dates already set up for April/May 2011, many involving fellow Finns Beyond the Dream. How do you find the different stresses of performing live? Is there anything special we can expect from your live performances this year?
You can expect great interpretation of our songs and pretty costumes of mine! =D Heh well seriously, we love performing and giving the music to the people and we just hope it shows. We try to give people a musical experience that they feel alive. About the stress when performing live, it's part of this job and we have learned to handle it, so it's mainly positive anxiety and adrenaline flow.
You played in Russia towards the end of last year – that must have been quite an experience! How was the Russian audience?Were many already familiar with the band?
That was a great experience,they were so hospitable,all the arrangements worked perfectly and I just fell love with the audience.They were truly listening our music and I felt the connection with them.I want definitely to go back some day!
Finally, as you look forward beyond the new album into the future, are there any plans to extend the bands' influence beyond Finland? If so, what are your plans for world domination??
I think the big market will be outside of Finland, so we hope to get a lot of gigs outside of Finland. About the world domination, it comes along with good shows. =) It only leaves to say thank you for this interview, I hope it has given people a chance to get to know the characters behind the image, the minds behind the lyrical soundscapes
Links
6 color styles available:

Style switcher only on this demo version. Theme styles can be changed from Options page.