Browsing articles tagged with " park"
Interview by Ed MacLaren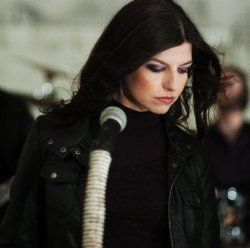 There seems to be no end to the recent string of standout femme metal debuts and "Reflections" from Slovenia's Infidia is no exception. Boasting track after track of non-stop power metal heavy on symphonic influences, "Reflections" cranks up the guitars and keyboards from start to finish. Infidia vocalist Tina Kic took some time to talk to Femme Metal about the creation of the album, covering the Spice Girls and how to get more longhaired dudes to show up at your shows.

"Reflections" is a huge step from 2007's "Led By the Light" EP. What happened to the band – personally and musically – that influenced you to expand your musical palette?
I think I speak on behalf of the band when I say that the release of "Reflections" simply indicates the band's common aims and musical preferences which "reflect" in our music and lyrics. The band has grown – personally and musically – in a way that fits to all of us and we hope to continue in this direction as long as possible. Six individuals with six different points of view are sometimes, of course, hard to combine in one music sphere, however we are very pleased to share each other's music ideas with large amounts of friendship and tolerance, which in the end collide in new song material and we hope to continue to do so in the future.
Infidia is based out of Maribor, Slovenia. How did the band get together and how did you come up with your name?
The band started their way back in late 2004 when Sašo Corso and Andrej Lebar decided to found a heavy metal band. They searched for other band members and together they dragged the name Infidia out of their school Latin dictionary right before their first show!
Later on there were some changes in the band line up however fate had its course set and I personally met the Infidia guys at a concert in 2006 when I was still performing with my previous band, Sentimetal. I don't know about the other guys, but for me it was "love at first sight". *Laughs* The energy was right, we immediately started to hang out and soon the circumstances drew us together.
Where does the band look for its musical inspirations? Are they other bands and musicians or do they also come from other areas outside music like literature and film?
We all have our musical background from growing up and listening to hard rock/heavy metal and I'm sure that this reflects in a way in our musical material – definitely. However, throughout the years, all of us are expanding our music preferences, music spheres… But I am certain that most of the influence also comes from listening to Scandinavian melodic metal bands.
Your vocals are one of the highlights of "Reflections". You have excellent power in your voice and a soaring clarity that immediately perks up a listener's ears. Where did this voice come from?
Oh,wow, thank you for your compliment. I didn't see that one coming!
Still, I don't consider myself as a "singer", rather the one who "wants to sing". *Laughs* Deriving from the fact that I have no singing lessons what so ever, I must say that my voice comes simply from my being, my heart, my will and love for expressing and sharing with others all the joy music brings to me in life!
The band does a great job putting an original spin on the standard symphonic metal formula. Does the band make a conscious effort to create something different – that stands out on its own – or are you just following your muse wherever it takes you?
We are simply following our hunches and inner wishes that are screaming to come out. Therefore, I couldn't say that we are making a conscious effort to be "different": we are who we are. Most of the metal population in Slovenia sees us as "pop metal"! *Laughs*
There is also a lot of attention paid to detail on "Reflections" ranging from the use of male harmonies and background vocals on tracks like "Vision" as well as the band's unique keyboard sound. What kind of steps did you take in the studio to create your sound?
Lots of patience, nerves and will power!
The music on "Reflections" is powerful and pulses with energy. It's hard to listen to tracks like "Salvation" and "Thirteen" without feeling revitalized. Is that how the band felt when recording the album?
Oh, thank you again… Definitely – I personally remember when recording these two mentioned songs. I just couldn't wait to hear them "completely" on track and I still can't wait to perform them live, so yeah – they definitely left their mark on my soul also!
What do think are the trademarks of the Infidia sound?
Melodic heavy with feminine touch!
How does your sound allow you stand apart from other symphonic or power metal bands?
Hmm, we don't tend to "stand apart" by effort, we simply hope that the public sees and accepts us as a genuine band with its own style as we like to consider ourselves.
"Reflections" has a real melodic flair that leaps out from almost every track. There is a real pop sensibility at work in the song craft that makes each song instantly accessible while maintaining its power metal roots. How did you develop the album's music and lyrics?
Our guitarists Uroš Eršte and Andrej Lebar are the main factors for creating and developing our music. Hooray for them! However, the lyrics are later on – based on the music background – contributed mostly from my side and also from other band members.
Was it this pop sensibility that inspired Infidia to cover "Viva Forever"? Femme Metal has interviewed many bands that have covered pop tunes by everyone from Michael Jackson to Duran Duran. But the Spice Girls? What is the attraction of metal bands to pop music covers? What's the story here?
It's a pretty story which involves one random walk in the park with the guys while listening to the Spice Girls on the cell… Details aside, when our guitarists prepared the cover background, we all liked it to the point that the "Viva Forever" cover ended up on our album.
Most female-fronted metal bands consist of the woman singer surrounded by a bunch of longhaired dudes with tattoos thrashing on their instruments. How is it having a second woman, keyboardist Katja Sevsek, in the band? Does it change the dynamic having more than one woman contributing to the composing and musical direction of the band?
Due to having "two chicks" in the band, I'd say that our "girl power" perhaps breaks a prejudice or two. And yes, girls can rock too! Together we bring that feminine touch, which perhaps invites even more longhaired dudes to appear in our concerts. *Laughs*
Being from Slovenia, does the evolving political climate in your country have any impact on your musical or lyrical perspective?
No, not from my side at least. I tend to seek and express one's inner feelings and acknowledgment which maybe, in a way perhaps, also derives from the political climate subconsciously. I don`t know.
Give us an idea what the Slovenian music scene is like. Is there a thriving metal scene there? How does Infidia fit in?
There are many great and striving heavy and rock bands in Slovenia. I'd say Slovenia is a very small country with huge talent and potential. However, it's a small market for all the great potential. We feel however very comfortable and I think we've spotted ourselves with dignity. As long as we love to share our love for the music, we'll feel comfortable.
Are there any other up-and-coming Slovenian female-fronted female metal bands we should know about?
I would definitely point out bands like Obduction, Eternity and Aperion.
Does Infidia have any touring plans for the fall and into the new year? When can fans find you?
Apart from local booked shows – we hope to also experience a tour or two abroad in the future!
(Famous) Last words?
"Those who wish to sing always find a song!"
Links
Latest Multimedia
Interview by Lindz Riot
Out of California comes a quirky band by the name of Clandestine. They came together in early 2006 and has since been a powerhouse of musical releases for those into complex alternative rock and heavy riffed progressive metal. Their biggest achievement so far is the creation of their full length album "The Invalid" mixed by producer Sylvia Massey. Just being signed to Nightmare Records, the album will be released worldwide in early 2011 along with a music video. The band is in hopes of making it over to Europe soon to perform to their growing fan base there. Fronted by the powerfully voiced June Park, a South Korean native who's endured quite the adventure over to North America, I had the chance to interview her via email to pick at her brain and see exactly what the bands all about:
It was a natural choice to express this sound and image for us. Progressive music and ideas, human psychology and surrealism have influenced us both musically and mentally. The challenge is how purely and effectively we can deliver such visions without being forceful or redundant.
Clandestine stands for mystery, secret, deception and a hidden meaning. Do you find this word describes your music perfectly?
I think it's quite effective in the sense that I'm lyrically expressing what is beneath our minds – the thoughts or ideas that you know are there but you try to suppress, ignore or hide from others. I'm not a psychologist but I tend to overanalyze the state of mind and strive to find the personal interpretation of it. The music we write goes along with that theme to complete the showcase of our world or secrets.
Are you the main lyricist and song writer of
Clandestine
? What is your favorite part about creating your music?
I'm the only lyricist in the band and writing the vocal melodies is also entirely my job. For "The Invalid" I and our guitarist Dan Durakovich equally collaborated on writing the music. I expect to involve everyone else in the band to take part in the writing process for the next album, because one of my favorite parts about creating music is fusing different influences into something that is fresh and not easily expected.
So which song is closest to you? Did you fully write it?And what's the story behind it?
The album's title song, "The Invalid" is about a patient who is suffering from an incurable disease longing for their right to die. First of all, I'm not one of such patients but I used to get very ill for no apparent reason. It kept coming back periodically for almost 10 years, haunting and paralyzing me in agony each time it hit. That really made me think about the people who are experiencing much more pain than me, such as the ones with a terminal illness or unidentified disease. I tried to imagine the unfathomable amount of pain they must go through while I was sick. In the song, I'm not trying to say that people in such conditions should be able to choose life or death. What I wanted to express was the physical and mental suffering that cause some people to involuntarily yearn for such an extreme choice. I truly support the idea that every minute of life is precious, but also can see how every minute of it can be so cruel.
You have quite the education behind you. Are you a believer that knowledge is power?What's the most important lesson you've learned along the way?
Knowledge could be a powerful thing but it depends on how we utilize it. I have learned that there is nothing wrong with not knowing something but having no desire to learn is a problem. It's not from the academic stand point; it's about life in general. Some people hold the idea of changing in abhorrence because they are used to what they think they know.They always say they hate this and that for no apparent reason. They don't want to accept the fact that someone else knows more about something than themselves and disapprove of others for their efforts to change the world to be a better place. I could have been one of those people if I didn't continue my education. I used to have a very unidirectional attitude toward what was happening in the world. I believe it was because of my fear induced from the lack of knowledge. Now I can better embrace different aspects of society with comfort.
The Musician's Institute is world renowned for its excellence in producing top quality musicians. How has your experience at M.I. been for you? Do you find it super challenging?
It was great!I learned to come out of my shell which was a very valuable lesson. I grew as a person too because I was taught what my strengths and weaknesses were.They were honest about it and willing to help. MI is full of resources – not only the faculty or musical content, but also the people you meet while you're there. As long as you stay on top of things and be a good student, you will get a lot from it.It gets challenging if you challenge yourself but I wouldn't say that's everyone's case.
I read on your personal MySpace page that you have been to Canada for schooling. Are you originally from there? How did you like Canada? How did you find the music scene? And what do you miss about Canada?
I was born and raised in South Korea. I decided to relocate to North America to pursue a music career and I arrived in Toronto when I was 17. First I went to college for ESL programs and then I went to an audio recording school in London. I miss that city because it was such a lonely place but I felt very creative. It was very safe and clean and the people were nice too. I don't have much experience with the music scene in Canada which is a shame. I didn't go out because I was still a minor and wasn't very comfortable with English at that time. I wish I could go back to experience Canada all over again.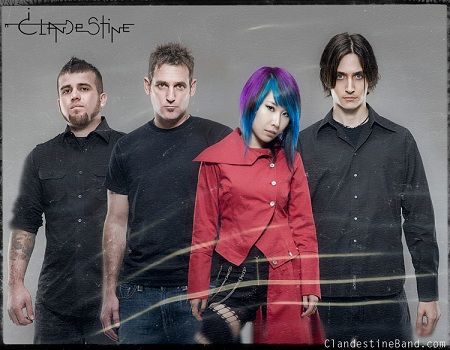 At what age did music start for you? Who influenced and supported it?
I always liked singing since I was a little girl. My mother is a great singer. Although she never pursued it professionally, just being around her influenced me to sing. I started listening to rock/metal when I was around 13 and I realized that I found what I really wanted to do. I told my parents that I wanted to learn electric guitar and they thought I was crazy. My mom felt sorry for me and sent me to classical guitar lessons which I didn't enjoy very much. A few years later, my parents finally decided to support me. My father bought me an electric guitar when we took a vacation to America. I started writing on my computer when I was 15 and soon after that I left home for my journey.
How long have you been singing for? What is your background with singing? And is there any style of singing that you prefer?
I always sang by myself but didn't have any lessons until I was 20. I prefer to sing with range and power. Although it's a lot of work, I tend to sing that way because my voice has the most quality in that style. I would like to develop different styles that are more comfortable and relaxed though.
Who are your biggest influences that have made you the musician you are today?Who are some of your favorite singers?
I know it's going to sound cliché but I will have to say it was my mother who influenced me to sing in the first place. She had a powerful voice, artistic visions and personality that surprised everyone and I wanted to be like her. On the other side, I was involuntarily affected by the negative side of my life. I was quite dark through my childhood and teenage years, mostly because of family problems and being ill-adjusted in school. Although I'd rather not recall those memories, I know they developed me into who I am today. I could be doing something different if I didn't have those kinds of experiences. My favorite singers are Maynard James Keenan, Bjork, and Jonas Renkse from Katatonia. They all have their unique ways of expressing themselves which is brilliant.
Rock and Metal for many years has been mostly dominated by males, but things have changed drastically the last decade for female musicians sharing the stage.Are there any women in music that have hugely influenced you ever at any point?
There are a lot of great female musicians in rock and metal but I never thought about becoming a rock singer because of a woman who was doing it. I was influenced by the music itself and most of the bands I liked had male singers.It didn't bother me because I was never insecure about being a girl. I accepted the fact that I can't sound like a male singer but I was confident that I could perform the task in my own ways. Just like anything else, there will be people who like it and don't like it, and it's their choice to listen to my music or not.
Are there any bands out there currently that you are really taking a liking to?
I've been listening to Katatonia a lot.Their recent two albums have the right amount of doom and progressive influences, beautiful vocals and words which I enjoy very much.
Either that singing do you play any instruments?
I play some guitar and keyboard.
What's something really interesting about yourself that no one would expect to hear? Something like a weird talent or unique hobby you have?
When I was little I was an unprecedented animal impersonator, but I lost that superpower as I approached adulthood. Now I'm just an avid animal lover. I live with four small parrots that eat much better than me.I would cook for them even if I have only time to eat ramen or frozen food. I trained some of them to talk, shake hands, fetch a ball, play basketball and roll over on the ground. I also love horses and go for a ride once in a while to unwind. I was once the youngest equestrian in a jumping competition in Korea.
Links
MySpace * Facebook * Twitter * Site
Latest Multimedia
Label : AFM Records
Review by Tony Cannella
Now for something complete different. Eklipse are a German string quartet who gives their special treatment to some modern rock and pop songs, some well known, others are not. Eklipse really are not a metal band; however they have been chosen to open for Nightwish, which is a cool thing. Whether you like the songs chosen or not, Eklipse has certainly breathed new life into some of the material. The members of Eklipse portray a sexy image and there is always the danger that it might overshadow the music. I don't think that's the case at all on "A Night of Strings". The band offers their takes on such songs as "Wonderful Life", Linkin Park's "In the End", "Cry Me a River" by Justin Timberlake (which the band also made a video out of) and "Paparazzi" by Lady Gaga. Eklipse gives the songs a melancholic twist. Of course this is not music to band your head to; it's more or less something that you can chill out to. I don't know how this will go over with a metal audience, but it is still quite different than what the metal community is used to. The four musicians who make up Eklipse are obviously very talented. It would be interesting to see how their music translates into a live setting. It might be appealing to hear Eklipse cover more traditional metal songs, or even write their own material at some point, and one or two guest vocalists wouldn't hurt either. Wherever they go from here, Eklipse has definitely put their own stamp on some well known songs.
Rating – 79/100
Tracklist
Wonderful Life (Hurts)
In the End (Linkin Park)

New Moon Theme

Home (Depeche Mode)

Cry Me a River (Justin Timberlake)

Cloudbusting (Kate Bush)

Paparazzi (Lady Gaga)

Run (Snow Patrol)

Mumbai (Bombay OST)

Clocks (Coldplay)
Line Up
Cello
Viola

Violin

Violin
Links
Independent Release
Review by Tony Cannella
Yet another reason you can never judge a book by its cover, especially when it comes to metal bands, artists and musicians. Take the California band In Virtue for instance. Judging by the pictures of the band, I am not sure what I was expecting, but what I found was a potent power metal force, which was not afraid to mix in influences from various other sub-genres and styles, such as classical and even a little bit of prog on their second full-length "Embrace the Horror" but the vibe is decidedly and gloriously metal. I am no guitar player, so take it for what it's worth but guitarist Trey Xavier strikes me as a guitar virtuoso in waiting. It's just my opinion, but damn, listen to some of his solos. So it has been established that this is a band that has a lot to offer in the way of musicianship, but are the songs any good? The opening track "Suspense of Disbelief" made a believer out of me (sorry for the bad pun, couldn't resist). Vocalist The Infamous Ms. C style is right on par with the music and offers a perfect complement to what is going on musically and guitarist Trey is also there to provide some more extreme metal vocals. "Twin Species: The Virtuous and Vengeful" offers some more in the way of virtuosity in the way of guitar as some prog influences creeps into the sound but mostly this is a soaring metal track, that features some tempo changes and the diverse vocals of Trey and Ms. C. The third track "Witch Hunt" ups the ante with its heavy opening riff as guest vocalist Arthur von Nagel from the band Cormorant provides some extreme vocals, while Ms.C starts off with some cool harmonizing in the background before joining with an operatic style, proving that she is adept at providing different styles to use. Two of my favorite tracks are the two most epic numbers, first the 9-minute "The Essence of Unreason" and the closing 12-minute classical/progressive/metal/polka fused out-of-this-world instrumental "Afterture". This track just goes everywhere and for a 12-minute instrumental it maintains the listeners' attention throughout, it's just brilliant. In between you will find some cool material like "In Service to His Madness", "Foresworn II – Parabola" and "Dead Black Eyes" Man, In Virtue totally shattered all of my expectations with "Embrace the Horror". What I found was an album that features 1-hour of unrelenting metal music and an album that I would hope would be 'embraced' by metal fans the world over. In Virtue is the real deal.
Rating – 95/100
Tracklist
Suspence of Disbelif

Twin Species: The Virtuous and the Vengeful

Witch Hunt

In Service to His Madness

Alea Iacta Est

The Essence of Unreason

Foresworn II – Parabola

Cataclysmic Shock

Dead Black Eyes

Afterture (Requiem for Planet Earth)
Line Up
The Infamous Ms. C – Lead Vocals

Trey Xavier – Guitar, Vocals

Laura Nelson – Keyboards

Chack Schindler – Bass

Eli Vogt – Drums
Links
MySpace * ReverbNation * BandCamp * Facebook * Twitter * Site
Label : Nightmare Records
Review by Tony Cannella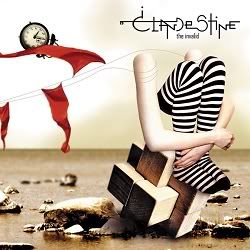 From Los Angeles, California comes the band Clandestine. They combine elements of metal, alternative and modern rock sounds with electronic and prog (of all things). It is a pretty interesting vision this band has that can be heard on their debut release "The Invalid", a 10-song 45-minute slab of hard-edged rock that never fails to deliver. The band is fronted by the relentless and diverse vocals of lead singer June Park and also features in it's ranks former The Apex Theory drummer Sammy J. Watson. The opening track on any CD should set a definite tempo and atmosphere for the CD, and this opener "Fearless" does just that. It starts off with some electronic sounds before the band furiously joins in and the song is just a pounding tune and the vocals of June Park are quite impressive in leading the way. Next is the great "Disappear in You" which begins with an otherworldly scream by June before she brings it down and shows the kind of range that she possesses in her voice, which is quite impressive. This song also has a wickedly infectious chorus and melody, another impressive track. "Silent Sin" slows things down a notch and has single written all over it – it would be a solid choice if the band chooses to put one out. Another great song with a great melody. Following the (potential) commercial appeal of the previous song the band go in the opposite direction with the ultra-heavy and gritty "Philistine". "Pretend" is another melodically charged rocker and another highlight. Other highlights include: "Fracture", "Dead to the World", "The Invalid" and the closing number "Comatose" really wraps things up perfectly. The songs are really well written, both the music and the lyrics and the whole thing is well done and was a treat to listen to. There is a lot going on in "The Invalid". Also impressive is the bands ability to go from aggressive to melodic and back again, sometimes even throughout the course of the same song. Far be it for me to predict super stardom for any band/artist – god knows, I've been wrong before – but it seems to me that Clandestine, just maybe have what it takes to grab the ear of the main-stream and "The Invalid" is a good start.

Rating – 90/100
Tracklist
Fearless

Disappear in You

Silent Sin

Philistine

Pretend

Fracture

Dead to the World

Phantom Pain

The Invalid

Comatose
Line Up
June Park- Vocals & Synth Programming

Dan Durakovich – Guitars & Synth Programming

Mark Valencia – Bass

Sammy J. Watson – Drums
Links
6 color styles available:

Style switcher only on this demo version. Theme styles can be changed from Options page.