Browsing articles tagged with " rider"
Label: Wordlessness Records
Review by Tony Cannella
Hailing from Russia, The Lust plays Gothic Rock/Metal with a definite electronic/industrial edge. They formed in 2004 and that is the same year they released their debut album "Tangled". Since then they have continued to release albums at a productive pace and their newest album "Decomposition Deluxe" is also their fifth, so they have been busy since their formation but one year before the band has released  "One Life Ago" that is a compilation album made up primarily of rare tracks and alternate versions of some of their older songs.
The first six songs on "One Life Ago" are made up of unreleased tracks. The self-titled song starts things and right away I notice that their earlier stuff has more of an electronic/industrial edge to it. Continue reading »
Label: Sleaszy Rider Records
Review by Tony Cannella
Hand of God is a power metal outfit from Greece. The band is fronted by lead vocalist Marissia and guitarist Theodore Ziras. Their debut album, "The Hand of God" is out now.
"The Hand of God" features 11-songs and 38-minutes worth of soaring, melodic power metal. From the mid-tempo, majestic opener "Falling" the band treats us to well played sophisticated metal music. "Signs" is a great melodic track and one of my favorites – it features a pretty cool rapid-fire guitar riff. Lead vocalist Marissia has a strong vocal presence that works well with Theodore Ziras' guitar playing. Other noteworthy tracks include:"Start Again", "Collapse", "Endless Circle" and "Reach the Light". Looking at the entire album, I was impressed with the level of songwriting and musicianship that Hand of God displays. Continue reading »
Label : Sleazy Rider Records
Review by Tony Cannella
It's always a risky proposition when a band replaces their lead singer. Well, imagine replacing two. That is just the situation that the Brazilian symphonic metal band Thy Symphony finds themselves in. Gone are the two lead vocalists (Camila and Alan) from their debut album "Harmonizing the World". Now, with the release of their sophomore album "A New Beginning" (very aptly titled) the band is joined by the new vocal duo of Karina Bonizi and Leandro Baracho.
The ultra cinematic intro "Hope and Fear" segues into the inter mingling of heavy guitar driven music with Tarja-era style symphony dominated music on the track "Galaxy's Great Eye". Continue reading »
As you may have noticed from the pics taken during the last shows, it is some months already that two new faces have been on the stage in Overtures' line up: after more than 9 years together, both former members Daniele Piccolo and Marco Falanga – for personal reasons that the whole band understands and accepts – had to give up the stage. Marco and Daniele have been two of the guys who created Overtures, they helped the band in its growing up, they have been vital in the development of the sound and it is thanks to the choices made together that Overtures reached some important goals. They are and they will always be part of Overtures' history and part of the family, and we all wish them all the best! At the same time we are really proud to announce that STEFANO D'AMORE and ADRIANO CRASNICH will officially take their place as stable members of the band. Stefano D'Amore already was the lead guitarist of Speed, Adriano Crasnich already plays with Frame of Pain and Hammered. Since a few months they already are part of Overtures and as you may have heard (and seen) during the last shows, their great taste and their good choices let the band continue its course exactly where it was stopped with the previous members, without changing or modifying anything. Both Stefano and Adriano already took part in the recordings of the third album ENTERING THE MAZE, that will be released in the first half of 2013 with our label Sleaszy Rider Records. At the same time we are happy to announce that the recordings are actually over: in the next days we will close the mixing of the album to pass, in a few weeks, to the mastering process. There are some more important news yet: we are really pleased to announce the new collaboration between Overtures and the German agency B.MUSIK MANAGEMENT, that will be pub in charge of the booking and management of the band. B.Musik boasts in its rooster Iron Savior, Athorn, Elvenking and worked with Edguy, Rage, Hammerfall, Gotthard and many others. For the details: b-musik-management.de
Label : Sleazy Rider Records
Review by Tony Cannella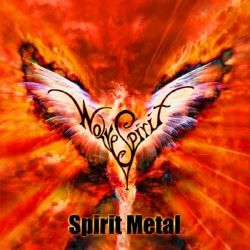 From Germany, WolveSpirit offers something a little bit different than today's crop of Female Fronted metal bands.With their debut album "Spirit Metal", WolveSpirit gives the listener a healthy dose of pure heavy metal, combined with 70s era classic hard rock/heavy metal, to create an album that ironically sounds fresh in today's metal landscape. The opening duo of "Change" and "Hero" gets the ball rolling. While technically, Debbie is not the greatest vocalist you will ever here, she has got a huge voice loaded with passion and heart, which in some cases is more valuable than technicality. Her voice is just a great metal style, which at times is reminiscent to me of Jutta from the legendary German metal band Zed Yago. Also, the Hammond Organ sound provided by Oli is what helps to give the band their 70s influence. The 3rd track "Ride On" has a very up-tempo style and free spirit to go along with the subject matter. This is just a good song to cruise around to on a gorgeous summer day, with your stereo cranked to 11. Other highlights include: "Wolves of Woden", "Dune", "Release" and "Home". I will always find time for a band like WolveSpirit who plays just no frills, to-the-bone metal and for that reason I can highly recommend "Spirit Metal".
Rating – 87/100
Tracklist
Change
Hero
Ride On
Wolves of Woden
Night of the Wolve
Light and Shadow
Dune
Release
Home
Line Up
Debbie – Vocals
Rio – Guitar
Oli – Hammond
Andy – Bass
Wolf- Drums
Links
6 color styles available:

Style switcher only on this demo version. Theme styles can be changed from Options page.