Browsing articles tagged with " serenades"
Interview by Danny Robertson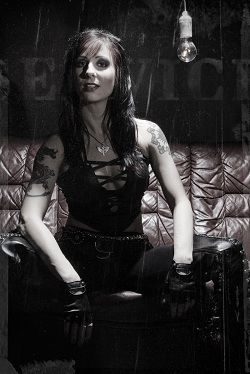 Check out Sister Sin – the Swedish rock'n' roll quartet hailing from Gothenburg, who recently supported their heroes Motorhead whilst on tour in the US. Here, singer Liv gives us an update.
How did the shows with Motorhead go? It must have been quite an experience to be supporting an act who've influenced you all for so long!
We had a blast!! It was a dream come true for all of us to support Motorhead. Both shows went very well and it was truly amazing to play in front of a full sold out show!
Did you win many new fans from the Motorhead crowd?
Absolutely! I think we got a good amount of new fans. People were standing in line waiting for photos and autographs after the show and we sold a lot of CD's, I think we did a really good job and people seemed to really enjoy our show.
Got any tour stories you'd like to share? Any strange or unusual experiences?
Hmm no not really, everything went very smooth during the shows with Motorhead. But on the tour we did before with Faster Pussycat, we had a lot of trouble! Our van broke down like 3 times during the tour and we nearly missed a show waiting at a truckstop for 7 hours for a new ride to the show that evening. When we finally got to the gig, we were 45 minutes too late and only got to play 3 songs.
Let's go back to the beginning – how did the band first get together?
Well, at the beginning we had another bass player and guitarist, and they and drummer Dave formed the band in 2002. I had put out an ad in a magazine looking for a rock band and one of them called me and told me they really wanted a male singer, but maybe I could try anyway. So I did and they didn't audition any other after that, so I guess I did make a good impression, haha! Since then, me and Dave have been looking for the right members and now it feels like we found them! Both Jimmy and Benton suit the band perfectly.
You hail from Gothenburg, a place normally associated with melodic death metal, thanks to bands like At the Gates, In Flames, etc. Given that yours is a very different sound, was it difficult for you to get shows and build a local fanbase in the early days?
Yes a little actually and still in Gothenburg that sound is dominant but the more hard rock/old school sound is beginning to come back.
You're described on your MySpace profile as being the new ambassadors of 'Street Metal' – who first came up with that term?
That is a good question, and I don't remember who first came up with that, haha. But I think it suits us very well. We are just true hardworking rock, very down to earth – very street, nothing fancy. We don't expect things to happen, we make them happen!
What would you say has been your biggest non-musical influence?
Just everyday life! From both close in our own lives and that very big, big unpredictable world.
The Motorhead shows aside, what do you feel have been the high points of your career thus far?
Well playing at Masters of Rock in the Czech Republic for 5000 people and with bands like Doro and Cradle of Filth was pretty amazing. And then playing at the Sweden Rock Festival last year was a dream come true too!
Who are your favourite current acts?
My personal favourites are Airbourne and Deathstars. We met the singer of Soilwork while in the US and they are working on a new album, and I am looking forward to that very much.
Are there any new bands back in Gothenburg that you'd recommend to people?
Maybe not Gothenburg, but I think people should check out Hysterica and Babylon Bombs, good Swedish bands!
What's next for the band? Any tours or future releases in the pipeline?
Yes hopefully both hahha! It's depending on if we are gonna do more tours this Autumn or not. We really want to tour as much as possible and we are right now working on finding new tours. But if we don't, the plan is to record a new album early next year. We are working on new songs right now and we are looking forward to giving the world some more kickass heavy metal!
Links
MySpace * Facebook * Twitter * Site
Latest Multimedia
Label : Victory Records
Review by Tony Cannella
From Sweden, Sister Sin has previously released two full-length albums. Their last one, "Switchblade Serenades" was released in 2008 and really helped to get the band a lot of press throughout the world. Their newest – and third – release is titled "True Sound of the Underground" and continues in the vein of their previous effort. The songs are played with hard and heavy intensity, some straight forward aggression and a great deal of attitude."True Sound of the Underground" really rips from the opening minutes of the title track. The band display a simplistic style, reminiscent of Motorhead or AC/DC and the vocals of Liv are simply crushing throughout the new CD. She may not have the technical skills of some singers, but in what she lacks in technicality she more than makes up for in heart and attitude. The next two tracks, "Outrage" and "Better Than Them" keep the adrenalin level going upwards and are two of my favorites. The next track was a huge surprise. Usually when bands decide to cover a song they choose an older favorite of theirs. Not so on this one as the band decide to take on the track "24/7" from one of the more recent albums by former Accept frontman UDO. From there "True Sound…" just proceeds at a rapid pace as the band tears through other highlights: "Heading for Hell", "The Devil I Know", "Times Aren't A-Changing" and the final track, "Beat 'Em Down". Make no mistake about it, this is as straight-forward and raw as it gets. Don't expect anything pretty and absolutely no ballads on "True Sound of the Underground". Fans who liked their previous release will no doubt love this one. Sister Sin has not veered too far off the path of "Switchblade Serenades" with "True Sound of the Underground". Their new one is perhaps a more intense, meaner animal than their previous one. That is all open to debate, but one thing is for certain, with "True Sound of the Underground", Sister Sin has delivered a more than worthy follow up to "Switchblade Serenades".
Rating – 93/100
Tracklist
Sound of the Underground

Outrage

Better Than Them

24/7

Heading for Hell

I Stand Alone

Built to Last

The Devil I Know

Times Aren't A-Changing

Nailbiter

Beat 'em Down
Line Up
Liv Jagrell – Vocals

Jimmy Hiltula – Guitars

Benton Wiberg – Bass

Dave Sundberg – Drums
Links
Label : Victory Records
Review by Tony Cannella
From Sweden comes Sister Sin. They play no frills, in-your-face, basic hard rock/heavy metal ala Motorhead and AC/DC. The great thing about those bands is that you always know what you are going to get on a Motorhead and AC/DC record, there is something very reassuring about that. The same can probably be said for Sister Sin on their debut full-length "Switchblade Serenades", out now on Victory Eecords. There is nothing groundbreaking on this CD, just heavy rock n' roll in it's purest form. "Beat the Street" opens the CD with it's buzz saw-like guitar riffs. This is one of the better songs to be featured on this 11-song and 44-minute CD. From there the band launch into another highlight, the equally heavy and energetic "Death Will Greet Us". A great song with a killer melody. The parade of power and heavy riffs keep on coming with the next track "One Out Of Ten". Other highlights include: "Breaking New Ground", "On Parole", "Hostile Violent", "Love/Hate" and "Eye to Eye". The band also include a great cover of "Make My Day" by – appropriately enough – the legendary Motorhead. The vocals of Liv pack a huge wallop and gives the songs plenty of force and aggression. After listening to "Switchblade Serenades" it is no wonder why this Swedish band have cultivated such a loyal fan base over the last few years. From beginning-to-end, this is a near flawless CD.
Rating – 90/100
Tracklist
Beat the Street

Beath Will Great Us

One Out of Ten


Breaking New Ground

On Parole

Make My Day

Hostile Violent

Switchblade Serenade


Love/Hate

All System Go!

Eye to Eye
Line Up
Liv Jagrell – Vocals

Jimmy Hiltula – Guitars

Chris Casey – Bass

Dave Sundberg – Drums
Links
MySpace * Facebook * Twitter * Site
6 color styles available:

Style switcher only on this demo version. Theme styles can be changed from Options page.