Browsing articles tagged with " sister"
Label: Manalive Records
Review by Luisa Mercier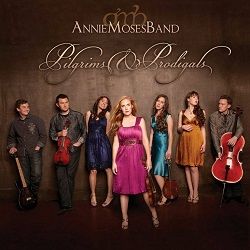 The Annie Moses Band hails from Tennessee and it is the brainchild of Annie, one of the Wolaver brothers and sisters that named the group after their grandmother that, even though poor, prioritized her children musical education, giving then birth to this next generation of musicians. The band has Christian roots, but their musical influences are very diverse and take from jazz, classical, folk, blues and bluegrass tradition as you can already hear in the opener "Poor Wayfaring Pilgrim" with an amazing string section. The band is extremely talented and musically educated and you can also hear that there is a lot of passion. They reminded me of Delta Rae, but more trained and with a more pop and less wild attitude. Continue reading »
Label: Victory Records
Review by Tony Cannella
Originally released in 2003, "Dance of the Wicked" is the debut album from the female fronted Swedish metal band Sister Sin. The album has been re-issued via the fine folks at Victory Records and it's about time too. In addition to the full album you get four bonus tracks to complete this newer version.
"Dance of the Wicked" is Sister Sin at their most raw. From the opener, "Kiss the Sky" to songs like "Fall Into My Dreams", "Love Lies", "Dirty Damn I" and a cover of The Rolling Stones classic "Paint it Black", the band provides material that is melodic, heavy and guitar driven… Not much has changed in that respect. Continue reading »

Interview by Tony Cannella
As she enters into her 30th year as a recording artist, Doro Pesch shows no signs of slowing down. In fact, she continues to be one of the hardest working and driven musicians in all of rock, yet through it all she remains one of the nicest and down-to-earth people you will ever meet. With her new album "Raise Your Fist" being her most successful in years, Doro is gearing up for a busy 2013 and beyond. That is good enough reason to catch up with the metal queen and get low down on what lies ahead.
You were recently on tour in Europe for about a month before Christmas. How were the shows?
Yeah, we were in Germany, England, France, Czech Republic, Belgium, The Netherlands. Everybody was singing along, getting so excited. I really felt the new songs sounded awesome. The tour was mostly so out. 3 or 4 gigs were 99% full and all the other gigs were sold out. As we went on with the tour, every day we had some new news about shows selling out. It was great, so I think the record did really well and that was one of the reasons why there were so many people at the concerts. The whole tour was, I think the best tour we did in, oh god, I don't know in how many years. Playing packed places that's always so, so great. I hope when we do the American tour people will be just as excited, I'm so looking forward to it. But Yeah, I think the album was totally embraced by the fans and sometimes I saw some comments on the internet saying 'you guys don't play enough of the new album' and I didn't expect that because usually everybody wants to hear all of the classics. We did a set list where we combined all of the best songs from each album, but then sometimes we played more of the new record. In the States it came out a little later than in Europe and it made the billboard charts at number 64. I tell you, it moved me to tears, I was so happy to hear that, because you know how much America means to me, and that was the icing on the cake.  Continue reading »
Label : Victory Records
Review by Tony Cannella
You always know what you are getting when you buy a new Sister Sin album. There really is no mystery and there is something to be said for that. With their new album, "Now and Forever" the Swedish quartet has released possibly their most raw, in-your-face and aggressive album to date.
After the intro "MMXII", Sister Sin launches into the hostile "End of the Line". "Fight Song" is next and this is Sister Sin at their belligerent best. Vocalist Liv delivers her vocals with all of the anger and energy she is known for – her voice is just brimming with attitude. The punk-ish "In it For Life" is next. Songs like, "Hearts of Cold", "Chosen Few?", "Hang 'Em High" and "I'm Not You" are classic Sister Sin – aggressive, yet still melodic. The slamming Motorhead style riffs just keep coming throughout the 40-minutes of playing time.
"Now and Forever" is one of those albums that hits you immediately and doesn't let up until the final note is played. Musically, Sister Sin does not stray too far – at all really – from what they do best, which should please die-hard fans of the band and I'm sure they will continue to pick up new fans along the way as well. Continue reading »
Interview by Ed MacLaren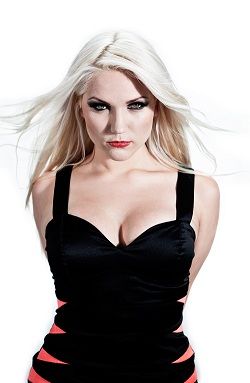 Hearing a band's debut album for the first time is like digging up a treasure chest. You have no idea what's in it but you're hoping that, whatever it is, it's going to make you rich. Uncovering "Breaking the Stillness" – the powerful debut album from Finland's  Shear – is a treasure in its own right – a refreshing and engaging listen that will reward your ears again and again. The album is built on catchy melodies and progressive arrangements but what really raises the eyebrows are the balls-out voice of singer Alexa Leroux. On each track, her vocals cut loose adding some grit to the polished music underneath. Femme Metal Webzine got the inside scoop from vocalist Alexa Leroux on the new album, her powerhouse vocals and how classical training works well in the metal world.
Welcome to Femme Metal Webzine, Alexa! Congratulations to you and the rest of Shear on "Breaking the Stillness". An excellent debut album!
Thank you very much! Glad you like it!
Shear brings a sonic cornucopia to the ears – crunching riffs, swirling keyboards and powerhouse vocals. This album will definitely appeal to fans of power and symphonic metal not to mention the progressive metal faction.
Well, thank you, once again. Our album is a little more melodic mixed with progressive, than symphonic, but I hope it reaches fans of different metal styles also. I believe it's diverse enough, so even if people don't like all the songs they might find some elements they really like.
Are you excited? What are your expectations for the album? The prediction here is that even though it's early in the year, you could be seeing "Breaking the Stillness" on some best of lists at the end of the year.
I am very excited about having an album finally come out. I can't really predict anything and in a way I think it's better I don't even try to, but it would be totally awesome to see it succeed.
Track for track, "Breaking the Stillness" is a powerful listen from start to finish. What's the secret to maintaining that kind of momentum over a whole album?
We really took our time writing the songs. Every song was written with a purpose and they all come from a very personal space, so that is probably what helped the most.
6 color styles available:

Style switcher only on this demo version. Theme styles can be changed from Options page.