Browsing articles tagged with " sister"

Interview by Tony Cannella
As she enters into her 30th year as a recording artist, Doro Pesch shows no signs of slowing down. In fact, she continues to be one of the hardest working and driven musicians in all of rock, yet through it all she remains one of the nicest and down-to-earth people you will ever meet. With her new album "Raise Your Fist" being her most successful in years, Doro is gearing up for a busy 2013 and beyond. That is good enough reason to catch up with the metal queen and get low down on what lies ahead.
You were recently on tour in Europe for about a month before Christmas. How were the shows?
Yeah, we were in Germany, England, France, Czech Republic, Belgium, The Netherlands. Everybody was singing along, getting so excited. I really felt the new songs sounded awesome. The tour was mostly so out. 3 or 4 gigs were 99% full and all the other gigs were sold out. As we went on with the tour, every day we had some new news about shows selling out. It was great, so I think the record did really well and that was one of the reasons why there were so many people at the concerts. The whole tour was, I think the best tour we did in, oh god, I don't know in how many years. Playing packed places that's always so, so great. I hope when we do the American tour people will be just as excited, I'm so looking forward to it. But Yeah, I think the album was totally embraced by the fans and sometimes I saw some comments on the internet saying 'you guys don't play enough of the new album' and I didn't expect that because usually everybody wants to hear all of the classics. We did a set list where we combined all of the best songs from each album, but then sometimes we played more of the new record. In the States it came out a little later than in Europe and it made the billboard charts at number 64. I tell you, it moved me to tears, I was so happy to hear that, because you know how much America means to me, and that was the icing on the cake.  Continue reading »
Label : Victory Records
Review by Tony Cannella
You always know what you are getting when you buy a new Sister Sin album. There really is no mystery and there is something to be said for that. With their new album, "Now and Forever" the Swedish quartet has released possibly their most raw, in-your-face and aggressive album to date.
After the intro "MMXII", Sister Sin launches into the hostile "End of the Line". "Fight Song" is next and this is Sister Sin at their belligerent best. Vocalist Liv delivers her vocals with all of the anger and energy she is known for – her voice is just brimming with attitude. The punk-ish "In it For Life" is next. Songs like, "Hearts of Cold", "Chosen Few?", "Hang 'Em High" and "I'm Not You" are classic Sister Sin – aggressive, yet still melodic. The slamming Motorhead style riffs just keep coming throughout the 40-minutes of playing time.
"Now and Forever" is one of those albums that hits you immediately and doesn't let up until the final note is played. Musically, Sister Sin does not stray too far – at all really – from what they do best, which should please die-hard fans of the band and I'm sure they will continue to pick up new fans along the way as well. Continue reading »
Interview by Ed MacLaren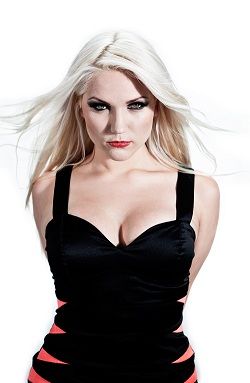 Hearing a band's debut album for the first time is like digging up a treasure chest. You have no idea what's in it but you're hoping that, whatever it is, it's going to make you rich. Uncovering "Breaking the Stillness" – the powerful debut album from Finland's  Shear – is a treasure in its own right – a refreshing and engaging listen that will reward your ears again and again. The album is built on catchy melodies and progressive arrangements but what really raises the eyebrows are the balls-out voice of singer Alexa Leroux. On each track, her vocals cut loose adding some grit to the polished music underneath. Femme Metal Webzine got the inside scoop from vocalist Alexa Leroux on the new album, her powerhouse vocals and how classical training works well in the metal world.
Welcome to Femme Metal Webzine, Alexa! Congratulations to you and the rest of Shear on "Breaking the Stillness". An excellent debut album!
Thank you very much! Glad you like it!
Shear brings a sonic cornucopia to the ears – crunching riffs, swirling keyboards and powerhouse vocals. This album will definitely appeal to fans of power and symphonic metal not to mention the progressive metal faction.
Well, thank you, once again. Our album is a little more melodic mixed with progressive, than symphonic, but I hope it reaches fans of different metal styles also. I believe it's diverse enough, so even if people don't like all the songs they might find some elements they really like.
Are you excited? What are your expectations for the album? The prediction here is that even though it's early in the year, you could be seeing "Breaking the Stillness" on some best of lists at the end of the year.
I am very excited about having an album finally come out. I can't really predict anything and in a way I think it's better I don't even try to, but it would be totally awesome to see it succeed.
Track for track, "Breaking the Stillness" is a powerful listen from start to finish. What's the secret to maintaining that kind of momentum over a whole album?
We really took our time writing the songs. Every song was written with a purpose and they all come from a very personal space, so that is probably what helped the most.
Interview by Connie Bach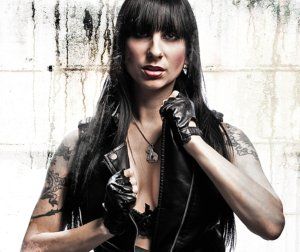 Rock with attitude. This is Sister Sin's personality. The "attitude" aspect is loud, edgy, and melodic. If you are furious with someone this is a great album for the situation. And if you are not in a rage, there is energy for entertainment, and plenty to spare.
Hi, Liv. What's going on with the band right now?
Hi! Right now we are playing lots of shows in Scandinavia and doin' some tours in Europe, we hope to be back in US early next year! The album is just released in Japan too so hopefully we will get the opportunity to do a tour over there next year too. This one's for the whole band. How did each of you get involved in rock music? What's your background?
Liv : Well, I started to get into rock in my early teens when I found Nirvana and Hole, and a Swedish metal band called Drain. Drain had Pantera as their favorite band and that got me into Pantera and the heavier stuff. I so wanted to become a rock star that I forced my to best girlfriends to start a band with me. After a while they got into it too ha, ha… We were called Sisters of Kali and we´re very, very dark and angry on everything. Jimmy : I got into rock music seriously when I was around eleven years old. I loved Metallica and Pantera at that time which friends introduced me with. Then I discovered more extreme music such as Slayer, Sodom, Entombed and later on bands like Morbid Angel, Deicide, Suffocation, Gorefest and also a lot black metal. I played in many bands in those days, mostly death and black metal bands. Then I had a break from playing and one day I heard from a friend that Sister Sin was looking for a new guitarist, knew nothing about who they were. But I gave it a shot since I always had a soft spot for classic hard rock and heavy metal. It turned out to be perfect! Dave : I stole all my brother's heavy metal vinyls after discovering Vanessa Warvick hosting "Headbangers Ball" in the early nineties. After that I got in to a lot of punk, hardcore and eventually black metal as well. Started playing guitar back then but moved on to drums for the usual reason that there weren't any drummers around. And here I am today, piss poor but happy with a Metal Heart, ha ha. It's been a few months since Benton, Sister Sin's bassist, unfortunately had to part ways with the three of you. Liv, how is the search for a new bassist going? What challenges does a change in line-up present, even with the qualifications you have in mind?
It's always very hard to find replacement for someone that you liked and that suited the band so well and we have been thru this before so we are pretty tired of this whole bassplayer thing. That's why this time we really need to find someone that has the passion for music and touring that we do and that could dedicate their life to this band. Even if you do find someone who is technically qualified the most important thing is always the social aspect. When spending so much time as we do in a van you can't have one guy you wanna choke to death every half hour. I think we´ve actually found the right man for job but he´s gonna do at least one tour before we make it official, for both parties sake.
Why does Sister Sin require that the new bassist have studio experience?
Do we? Ha ha… I didn't know that. No, but I guess it´s more of sorting out the serious ones, like we get so many e-mails from people who think that anyone can play bass and let me tell you; just because you can play guitar and get by doesn't mean you can play bass. What are you expecting with the tour with Grave Digger and Grand Magus?
I think that will be a blast! We haven't toured so much in Europe with all the focus that's been on U.S last two years so it´s gonna be cool for sure and we are hitting some very interesting countries as well, so I'm really looking forward to that.
What determines where a tour takes Sister Sin, or any other band? Why?
Since we haven't really sold shitloads of albums around the world we can't exactly pick and choose where and when we wanna tour and whom with. Many people ask why we go on tour with bands like Arch Enemy or OTEP and the reason is just that we got offered those tours and we need to be on the road all the time. Got nothing against any of the bands we´ve toured but yeah, if we could choose we would definitely tour with headliners that are more close to our genre and fan base. We´ve been over totimes and the reason for that is that our label has spent more promotion over there and we need to back that up.

Liv, you are featured as "Miss November" in Revolver's "Hottest Chicks in Metal" calendar. How do you feel about the award? Nice job. The reason I ask is that for some it is a source of pride, whereas some feel it mocks women in metal.
For me it's a pride!! I'm very, very glad to be one of the girls in that calendar, it's an honor. I truly can't believe it really, I'm just a working girl from Sweden and a big American rock magazine wants me in a calendar ? That's so cool! And I don't understand these people that think it's mocking women, if you are a beautiful woman with a talent, show it! Both your talent and your beauty, that calendar is a way to celebrate both in my opinion! "True Sound Of The Underground" did quite well on the charts. What does that mean for the band?
Of course it means a lot to know that people enjoy our work and that we hopefully can inspire others with our music. Not that you have to sell a lot of copies these days to end up on a chart but it´s a nice motivator for us that there is a growing market for the kind of music we play. Do each of you have a personal goal that you are fulfilling through being in Sister Sin?
Jimmy : Yes absolutely. I get to play guitar just they way I dreamed of when I first picked up a guitar and all the countless hours of practice finally pays off with releasing albums and touring, it certainly is a privilege and a dream come true.
Dave : Ever since first got in to heavy metal I always wanted to tour and see the world. And now I get to travel, see new places, new people and be on stage every night doing what I love to do. I've never dreamed of making lots of money (although it would be nice! ) and playing big arenas, I'm just glad that 3 nobodies like ourselves who have been stuck in a rehearsal studio for 5 years never gave up and it´s paying off the way I always wanted it to do. Liv : This is my personal goal, to be able to be in a great band and play live all over the world! One thing that would make it even better would to be able to live from the music one day, that's very much a goal for me. To just live 100% for the band, now I have to share my time with my job as a personal trainer.

Liv, Sweden (especially Gothenburg) has a huge metal scene, with many famous acts. Why does this scene influence Sister Sin?
I really don't think there are any Swedish bands that influences us really. There´s a lot of extreme metal coming out of here which obviously is what Sweden is mostly famous for in metal. A lot of those bands, like In Flames for example definitely inspire in another way though that you can make it if you just hang there, never quit and be true to what you love. Liv, Dave, and Jimmy, thanks a lot for your time. Your musical energy and commitment to Sister Sin is impressive. Hopefully we'll see you in the States again soon.
We will be back 4 sure!
Links
MySpace * Facebook * Twitter * Site
Latest Multimedia
Interview by Danny Robertson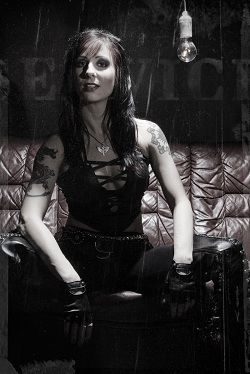 Check out Sister Sin – the Swedish rock'n' roll quartet hailing from Gothenburg, who recently supported their heroes Motorhead whilst on tour in the US. Here, singer Liv gives us an update.
How did the shows with Motorhead go? It must have been quite an experience to be supporting an act who've influenced you all for so long!
We had a blast!! It was a dream come true for all of us to support Motorhead. Both shows went very well and it was truly amazing to play in front of a full sold out show!
Did you win many new fans from the Motorhead crowd?
Absolutely! I think we got a good amount of new fans. People were standing in line waiting for photos and autographs after the show and we sold a lot of CD's, I think we did a really good job and people seemed to really enjoy our show.
Got any tour stories you'd like to share? Any strange or unusual experiences?
Hmm no not really, everything went very smooth during the shows with Motorhead. But on the tour we did before with Faster Pussycat, we had a lot of trouble! Our van broke down like 3 times during the tour and we nearly missed a show waiting at a truckstop for 7 hours for a new ride to the show that evening. When we finally got to the gig, we were 45 minutes too late and only got to play 3 songs.
Let's go back to the beginning – how did the band first get together?
Well, at the beginning we had another bass player and guitarist, and they and drummer Dave formed the band in 2002. I had put out an ad in a magazine looking for a rock band and one of them called me and told me they really wanted a male singer, but maybe I could try anyway. So I did and they didn't audition any other after that, so I guess I did make a good impression, haha! Since then, me and Dave have been looking for the right members and now it feels like we found them! Both Jimmy and Benton suit the band perfectly.
You hail from Gothenburg, a place normally associated with melodic death metal, thanks to bands like At the Gates, In Flames, etc. Given that yours is a very different sound, was it difficult for you to get shows and build a local fanbase in the early days?
Yes a little actually and still in Gothenburg that sound is dominant but the more hard rock/old school sound is beginning to come back.
You're described on your MySpace profile as being the new ambassadors of 'Street Metal' – who first came up with that term?
That is a good question, and I don't remember who first came up with that, haha. But I think it suits us very well. We are just true hardworking rock, very down to earth – very street, nothing fancy. We don't expect things to happen, we make them happen!
What would you say has been your biggest non-musical influence?
Just everyday life! From both close in our own lives and that very big, big unpredictable world.
The Motorhead shows aside, what do you feel have been the high points of your career thus far?
Well playing at Masters of Rock in the Czech Republic for 5000 people and with bands like Doro and Cradle of Filth was pretty amazing. And then playing at the Sweden Rock Festival last year was a dream come true too!
Who are your favourite current acts?
My personal favourites are Airbourne and Deathstars. We met the singer of Soilwork while in the US and they are working on a new album, and I am looking forward to that very much.
Are there any new bands back in Gothenburg that you'd recommend to people?
Maybe not Gothenburg, but I think people should check out Hysterica and Babylon Bombs, good Swedish bands!
What's next for the band? Any tours or future releases in the pipeline?
Yes hopefully both hahha! It's depending on if we are gonna do more tours this Autumn or not. We really want to tour as much as possible and we are right now working on finding new tours. But if we don't, the plan is to record a new album early next year. We are working on new songs right now and we are looking forward to giving the world some more kickass heavy metal!
Links
MySpace * Facebook * Twitter * Site
Latest Multimedia
6 color styles available:

Style switcher only on this demo version. Theme styles can be changed from Options page.