Browsing articles tagged with " symphonic"
Label: Napalm Records
Review by Tony Cannella
The Dutch Symphonic metal band Delain returns with their fourth full-length album "The Human Contradiction". This is the follow up to their excellent "We Are the Others". After that album, it was interesting to see how they would follow what many consider to be their best album. Would they be up to the task? Well, the answer is a resounding yes.
The opening track, "Here Come the Vultures" is a wonderful way to start. It begins with a haunting intro before transforming into a bombastic metal track and Charlotte Wessels is fast becoming one of my favorite singers. "Your Body Is a Battleground" is even more awesome than the previous song. Continue reading »
Label: earMUSIC
Review by Tony Cannella
The much anticipated debut solo album from Anette Olzon is finally here. Of course Anette was previously the lead singer for a little band called Nightwish for two albums and prior to that she fronted the AOR band Alyson Avenue. She started working on this solo album while she was a member of Nightwish, so it has been several years in the making. Not knowing what to expect, I was quite excited when this album came my way  having been a fan of her work with Nightwish and Alyson Avenue. Would she continue the musical path set forth by Nightwish or revisit her AOR roots ala Alyson Avenue? Continue reading »
Label: WormHoleDeath
Review by Tony Cannella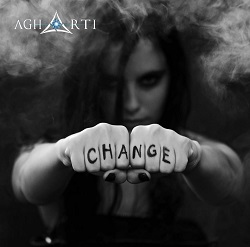 From Croatia, "Change" is the title of the debut album from Agharti. Throughout the album the band presents a strong mix of symphonic power metal combined with socially conscious lyrics. It all makes for a strong, satisfying and overall an enjoyable debut.
From the beautiful and poignant spoken word intro "The Voice of Freedom" it becomes clear that Agharti has something to say. That sentiment carries over into the bombastic "The Sky is Falling". In addition to the crystal clear vocals supplied by lead singer Tina, guitarist Alen also chips in with some male vocals. This is a cool song that is both heavy and melodic. The melodic fast moving "Lost" is next and keeps the momentum going. Continue reading »
Interview by Laura Medina
Sorronia
is a female-fronted symphonic metal band from Hungary! They have released their debut album, "Words of Silence" via Bakerteam Records and have received nothing but positive reviews from the metal music community. Fronted by the beautiful, female vocalist, Anna Király, who gives 110% to make sure that everyone knows, sees and hears that Sorronia is here to stay and ready to make a mark on the metal community. So watch out! I got the chance to chat with Anna about "Words of Silence", her experience going on tour with Xandria last fall in Spain, and what Sorronia has in store for us in 2014. Stay tuned to find out more, right here at Femme Metal Webzine!
Hi Anna and welcome to Femme Metal Webzine. Thank you for allowing us to interview you today!
It's been always a pleasure to give interview to zines like Femme Metal.
Sorronia was formed in 2006 with Sorronia Keyboardist István Biró and yourself. How did you come up with the name Sorronia as a band name?
Continue reading »
Label: Spider Rock Promotions
Review by Tony Cannella
Poemisia is a Symphonic/Operatic metal band from Italy. Their debut album is out now and it is titled, "La Danza Degli Spiriti" and for fans of the operatic stuff, this is a seriously beautiful and sincere album.
There is no denying that Poemisia will be compared to classic Nightwish and not just due to the opera vocals, but the music and the arrangements have the same type of vibe as well. About 90% of the lyrics are sung in the bands native Italian language and among the 10-songs and 50-minutes worth of music, there is a lot to be enthusiastic about. The album flows rather nicely from song-to-song with each track having its own identity and the band manages to keep things interesting and the good vibes flowing. Continue reading »
6 color styles available:

Style switcher only on this demo version. Theme styles can be changed from Options page.