Browsing articles tagged with " symphonic"
Label: No Remorse Records
Review by Tony Cannella
"Lacrima Dei" is the 3rd album Greece's symphonic metallers Meden Again. "Lacrima Dei" sees lead vocalist Maya making her debut with the band as she replaces Iliana who now fronts Enemy of Reality.
First off, the addition of Maya seems to be a really good decision. Her voice fits in well with the bands intricate musical arrangements and the few songs where she is paired with a male vocalist are some of the highlights. The male vocalists range from traditional metal to extreme metal and either way, Maya's voice gels perfectly with them. Songs that stand out in particular are: "Divine Wrath", "Embrace the Sorrow", "Portal of Fear" and "Commemorate the Fallen". Another song that stands out is the tear jerking ballad "Loss". Continue reading »
Independent Release
Review by Tony Cannella
From Indonesia, Blodwen are not a new band to emerge on to the Femme Metal Genre. They have actually been in existence for 10-years. They released their debut album in 2010 and followed that with a number of EPs and singles. This particular EP "Requiem for Odette" is not a new release. Instead, it is a digital only re-release to celebrate the bands 10th anniversary and it can be downloaded at Band Camp.
Blodwen are a very high caliber symphonic metal band and lead vocalist Bernice Nikki is one of the more talented operatic front women on the scene. The band fuses classically inspired compositions to go along with their bombastic metal sound. "Requiem for Odette" begins and ends this 20-minute EP of the same name. Continue reading »
Label: Peaceville Records
Review by Tony Cannella
White Empress is a symphonic death metal band which features former members of Luna Mortis, Cradle of Filth and Coal Chamber. The band is fronted by lead vocalist White Empress (AKA Mary Zimmer) and her style ranging from guttural death metal growls to clean singing is a major aspect of this band. She has also surrounding herself with an outstanding array of musicians which include female bass player Chela Harper formerly of Coal Chamber. You can experience their full impact on the debut album "Rise of the Empress", which is out via Peaceville records.
Even though White Empress is a relatively new band, their members aren't exactly rookies, having gained quite a bit of experience with various bands over the years. Continue reading »
Interview by Vard Aman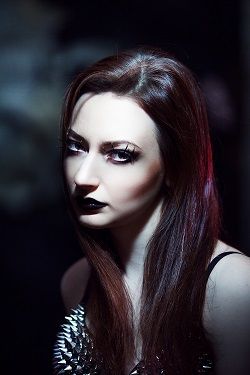 Well crafted, with superb songwriting, arrangement and lyrical skills, Sanctorium is a band whose art has grown and matured with time and patience (not unlike, as the saying goes, "a fine wine"). Having recently released their debut full length album "The Depths Inside", I caught up with Sanctorium's vocalist, Daria Zhukova.
Hi Daria, welcome to Femme Metal Webzine! To start off, how and when did Sanctorium start and how did you all meet?
Hello! Well, Sanctorium was founded in 2005 by guitarist Victor and drummer Andrew. They had been already played together, and after previous project decided to form a new band. I joined to band in November, and guys have started in July. We had met with Victor for 2 years before on guitar courses. The funniest thing was that fact, that I've started to sing seriously only since September 2005! Nevertheless I was accepted into band, and I'm still grateful for that. Continue reading »
Interview by Tony Cannella
The Dutch band Delain have been on tour with Sonata Arctica and Xandria supporting their killer new album "The Human Contradiction". I recently had a chance to sit down with vocalist Charlotte Wessels. She went in depth with the new album, tour and lyrics among other things. One thing I came away with after our conversation is that Charlotte is not only super talented but she is extremely intelligent. Read on…
Thank you for taking the time to talk to us again. How have things been going so far with the tour with Sonata Arctica and Xandria?
It's been going great. This is the 4th date of the tour, so we're really getting into it. It's a really cool package, so I'm very happy so far. Continue reading »
6 color styles available:

Style switcher only on this demo version. Theme styles can be changed from Options page.
Archives