Browsing articles tagged with " symphonic"
Interview by Miriam C.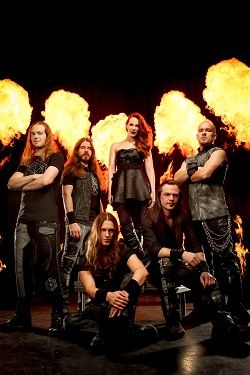 Although we haven't still have had the chance to give a thorough listen to this fantastic (at least we presume so) album, we asked Epica's  Mark Jansen to introduce us this brand new opus called "The Quantum Enigma" in his own words. We're sure of one thing:  TQE will be the breakout album for Epica. Discover something more about this new work in the following Q &R!
Would you mind telling us something more about how "The Quantum Enigma" was devoloped? When you have started to draft out the first ideas for this album?
The first ideas emerged 2 years ago when we started writing songs for the album. When we had enough songs we sat together with producer Joost van den Broek and selected the best songs. Still a quite big amount of songs (18). After the selection we did rehearse those songs and jammed a bit in order to make them better. We worked very hard on the final details with the whole band and Joost, this effort resulted in improved compositions. We also worked on the sound of the bass, guitars and drums. We have tested several amps and tried out multiple combinations in order to find the best possible sound. Continue reading »
Label: Nuclear Blast
Review by Tony Cannella
On his debut solo album, Nightwish keyboardist Tuomas Holopainen has created a concept album based around the graphic novel "The Life and Times of Scrooge McDuck"! According to Mr. Holopainen this project was 14 years in the making and written during his downtime from Nightwish.
Granted Scrooge McDuck may not be a very metal topic to tackle, but "The Life and Times…" isn't really a metal album… so there! "…Scrooge" features 10-songs and almost an hour worth of symphonic, classically influenced music with folk and cinematic influences as well – with the album artwork done by the book's author Don Rosa. There are several guest musicians, including four singers: Alan Reid, Johanna Kurkela, Johanna Iivanainen & Tony Kakko. Continue reading »
Interview by Ary R.
Third album for the Spanish act Diabulus In Musica that is going to introduce to the fans the brand new creature, "Argia", a record which shows us how a band can gain a new lease of life, with a stronger dedication and which wants to show the world that they're not a band like all the others we know. Today we host the beautiful frontman of this band, Zuberoa Aznárez, who tells us in this short but intense interview something more about the album, about the new lineup and the future goals for this Spanish combo.
Hi Zuberoa and welcome back to FM. "Argia" is the title of this brand new record. Would you mind to explain, first of all, the meaning of the album title and to tell us the differences we can find in this album compared to the previous one?
Hi! Thanks! :) "Argia" means "Light" or "clear" in our regional language, Basque. This title somehow reflects how we feel now. Gorka and me had to start from scratch when the other band-members left. It was very hard at the beginning, but we both alone managed to write new songs, find new band-members and play some live shows in only one year. We saw the light in our path again and we had a clear view that we had to continue making music, just because we love it so much that we cannot live without it. Continue reading »
Label: Napalm Records
Review by Tony Cannella
When it was announced that the long running German symphonic metal band Xandria parted ways with vocalist Manuela Kraller after just one album ("Neverworld's End") it came as a huge shock. What would this mean for one of the more durable and consistent bands in the symphonic metal scene? Well, the band has enlisted Ex Libris vocalist Dianne van Giersbergen and has released a new album ("Sacrificium"), and while it may be debatable whether or not this is their best work, it certainly is an album that sees the band pulling out all the stops.
The opening song "Sacrificium" lets us know what we are in for, straight away. At over 10-minutes it is interesting that they chose to begin the album with an epic of this nature. Dianne van Giersbergen's vocals are huge and wickedly operatic. Continue reading »
Label: Ex Cathedra Records
Review by Tony Cannella
Leah McHenry is a very talented singer/songwriter from Canada. Her debut album "Of Earth & Angels" was pretty damn impressive. Now she returns with a new 5-song 27-minute EP worth Celtic flavored hard rock entitled "Otherworld".
The EP begins with the melancholic piano driven ballad "Shores of Your Lies". This is kind of an interesting opener since not too many metal albums begin with a ballad, I would wager. Rain and thunder sounds intro the next tune "The Northern Edge" which turns into a heavier, melodic, mid-tempo track. Leah slows the tempo down a few notches with the atmospheric "Surrounded". I loved this song and it is my 2nd favorite on the album. This track features some great chill inducing vocals. Continue reading »
6 color styles available:

Style switcher only on this demo version. Theme styles can be changed from Options page.