Browsing articles tagged with " thy"

Interview by Arianna G.
In a busy environment which is the current metal scene, SAVN is the revelation band of 2014. Norwegian and dedicated to the gothic and folk melodies and led by the blonde vocalist Carmen Elise Espenæs, Stig Johansen and Anders Thue (ex-The Sins of Thy Beloved), SAVN's debut album gained positive acclaims from all over the world in a very short time. For the occasion, we exchanged a few chats with the singer of this combo and, in this in-depth interview, she tells us something about this new musical experience, without forgetting her "mother-band", Midnattsol, anticipating some juicy news as well.
Savn is a band formed by Stig and Anders. After so many years in which there were so many rumours concerning their band, The Sins of Thy Beloved, they've decided to start a new music project. Would you like to give a short biography of this new band for those people who are still not familiar with you?
Yes, of course! It was actually Stig that started the band, he felt that he needed something new in his life, something new in the music front, because nothing happened with The Sins of Thy Beloved, it was too silent for him, Continue reading »
Label: CDR Records/Intergroove
Review by Tony Cannella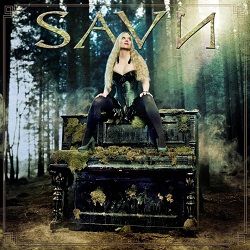 Every so often, I'll think, "Whatever happened to The Sins of Thy Beloved?" They released two albums in the late 90s and early 2000 ("Perpetual Desolation" is such a great record). Well now, two of its former members Stig Johansen and Anders Thue have resurfaced with lead vocalist Carmen Elise Espenæs from Midnattsol in a Gothic metal super group of sorts called SAVN. With that mystery now solved let's get to the matter of their self-titled debut album, shall we?
It remains to be seen if SAVN is just a one off project or will continue to record down the road. Whatever the case, this debut a pretty cool album, with some heavy and emotional moments featured within its 50-minutes of musical playing time. Continue reading »
Label : Sleazy Rider Records
Review by Tony Cannella
It's always a risky proposition when a band replaces their lead singer. Well, imagine replacing two. That is just the situation that the Brazilian symphonic metal band Thy Symphony finds themselves in. Gone are the two lead vocalists (Camila and Alan) from their debut album "Harmonizing the World". Now, with the release of their sophomore album "A New Beginning" (very aptly titled) the band is joined by the new vocal duo of Karina Bonizi and Leandro Baracho.
The ultra cinematic intro "Hope and Fear" segues into the inter mingling of heavy guitar driven music with Tarja-era style symphony dominated music on the track "Galaxy's Great Eye". Continue reading »
Independent Release
Review by Luisa Mercier
Greek combo Korrigan released in 2010 their first full-length, after a demo and a promo EP. The kind of music that they deliver us is a very melodic death metal with a lot of atmosphere. All of the nine songs are very well written, maybe there is not one that really stands out, but the quality is really high.
Main influences come from the past: their Greek companions Septic Flesh, but also Amorphis, Tiamat and gothic masters Tristania. Listen for example to "Suicidal Urges", the heavy riffs are graced by keyboards and beautiful female vocals provided by Zoe. Another important element in Korrigan's music is the violin, which makes everything more elegant as you can see in "As Sanity Fades", while in "Hopeless Times" there are some black-metal blast beats! "Endowed by the Ruins" is the longest track on the album and has a quite progressive feeling: from calm moments to faster and heavier ones. Continue reading »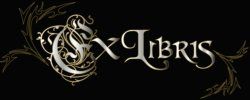 Interview by Erwin Van Dijk
I reviewed the debut album of Ex Libris some time ago and I thought this was a good album and it gave me a better impression of this band than the Ex Libris gig I attended more than a year ago at the A New Dawn album presentation. But the Baroeg is a very difficult place for a band to perform. This interview is with Dianne van Giersbergen, the singer of Ex Libris.
Before we start this question: are you related to Anneke van Giersbergen? (in case you did not know, Giersbergen is a small hamlet in the south of the Netherlands)
Many people ask me this question but no I am not related to her. We share the same surname but are very different in voice type and vocal techniques. I like her style though.
Did you always want to become a singer and did you follow any singing lessons?
Yes! As a child I listened to the popular female singers all the time (for example Whitney Houston) and I became fascinated by the versatility of the human voice. I often found myself dreaming of being on stage in a big concert hall performing all kinds of music. My parents noticed my interest in music at a very early age and arranged my first singing lesson as a present for my fourth birthday. At the age of 7 I sang my first solo with a brass band in a Christmas concert. Over time I was taught by several teachers and joined various choirs. When I was 17 I sang at a prom concert with a wind orchestra. It was here that I met conductor and vocal coach Sef Pijpers (sr.) who was very enthusiastic about my voice and offered to give me singing lessons, eartraining and theory lessons. With his help I entered the auditions for classical singing at the ArtEZ Institute of the Arts, School of Music in Arnhem where I was accepted in 2005. Last summer I graduated from the bachelor program and currently I am in my first year of the master programme.
What do you do to keep your voice in top condition?
You may think of my vocal chords as my instrument but without a healthy body to support good breathing techniques I cannot sing anything. For a singer is it very important to live healthily and to keep your body in good condition. The four things I always keep in mind are: eat healthy food (I make sure I am eating enough fruit, vegetables, nuts and seeds, proteins, vitamins and minerals). Sports (I take dance lessons and often go indoor climbing). Have enough sleep (I wake up at seven o'clock and go to sleep at ten thirty when I do not have a concert or gig). Listen to your body! Furthermore I always make sure to keep away from places where people smoke. To keep my voice flexible I practice a lot. Five to six days a week I start my day at eight thirty: I vocalize for a half hour, after that I study for two hours and take a short break. After this break I study for another hour and take a lunch break. In the afternoon I mostly have rehearsals with classical ensembles, lessons, concert meetings or I do my research. In the evening I sing concerts, teach, work out or study some more. On evenings off or Sundays I rehearse with Ex Libris or make time for friends and family.
To what kind of music do you listen? And who are your favourite bands and musicians?
When I have the time to really sit down and listen to music I prefer to listen to classical music, mostly choir pieces, songs and opera. My favorite composers are Wagner, Rachmaninov, Zemlinsky, Berg and Verdi. When I am travelling I often listen to Anathema, Muse, Skunk Anansie, Dream Theater and Unexpect. Unexpect in particular is one of my new-found favorite bands! It is really like modern classical music.
Did you have any other bands before Ex Libris and/or are you active in any other bands now besides Ex Libris?
No, Ex Libris is the only metal band I have ever been a member of. I did some projects with other bands but this was not in the metal genre. Though I would like to do some metal projects outside of Ex Libris I do not think that I could find the time and energy for another steady band next to Ex Libris, my classical study and career.
And how did you became a member of Ex Libris?
When I was 16 years old I had singing lessons at the local school of music. It was here that I met Joost van de Pas who was studying drums and classical percussion. He and I connected almost immediately and we decided to form a band together. We shared a great interest for both classical and metal music and we set out to find other musicians with the same interest. Over the years several musicians joined and left our band that was then called Erinyen. When Paul van de Broek and later Koen Stam joined the band we knew this was a formation that could really work and we decided to change the name of the band to Ex Libris.
Why did you guys choose the name Ex Libris as name for the band?
Joost came up with the name. He was looking through the portfolio of his brother in law, who is a graphic designer. In this portfolio he found a project called Ex Libris and he was immediately convinced that this was a name that really suited the band and its music. An Ex Libris is used to indicate ownership of products of a craft-guild and can come in different forms like a seal, stamp or a brand. You could say that by naming the band Ex Libris we would like to brand our products as our own.
How would you describe your music?

When people from the metal scene ask me what kind of music we make I always say that it is progressive metal with classical influences. When people from the classical scene ask me what kind of music we make I tell them that It is music inspired by late romantic music as well as modern classical music played on metal instruments. What it comes down to is that the music really sounds like progressive metal, surely everyone will recognize hints of Dream Theater in our music, but has the features of a classical work. Especially the new album, which will be about the epic tale of "Medea" from the Greek mythology, will be filled with classical techniques like for example Wagner's leitmotiv.
What makes Ex Libris unique compared to all the other female fronted metal bands in the world?
I think there are two important things about Ex Libris which makes us different from the other bands. First of all there is my voice. The female voice can be divided into three categories: alto, mezzo-soprano and soprano. Within these categories there are different types of voices named according to the colour of the voice: the Coloratura soprano is a very light voice which is very good at singing fast movements, the lyric soprano has a very bright voice and the dramatic soprano has a powerful and rich voice. Nowadays you see many metal bands with a (classical trained) soprano as their lead singer, almost all of them are lyric sopranos. I myself am a dramatic soprano. The way my voice harmonizes with metal music is totally different from the way for instance a lyric soprano's voice would do. The range of the dramatic soprano enables met to sing both low and high notes powerfully. This results in a fuller sound. Secondly I think that it is very important to note that within the music of Ex Libris my voice is one of the instruments and not the lead instrument which the music should be built around. I do not want to be a singer who is accompanied by her band and do not believe that that is the recipe for good music.
Can you introduce us to the other members of Ex Libris?
Sure! We have Paul van de Broek on lead guitar, Koen Stam on keys, Peter den Bakker on bass guitar and Joost van de Pas on drums. Each one of them brings a different aspect to the sound that is Ex Libris and all are very talented and driven musicians. Next to musicianship there is also friendship. Though Joost has been my best friend since I met him we are all very close to each other. We often go to concerts and festivals together and plan a band getaway (last year we went to Paris for the weekend) every year.
You are looking for a new guitarist. For what kind of person are you looking for?
We were looking for a new guitarist but we are not anymore. We listened to one of the recordings of a show we did with the five of us and to our surprise it still sounded very good. We then decided to merge the lines of the second guitar into the existing lines of the lead guitar and synthesiser.
Is song writing teamwork in Ex Libris?
Mostly it is. The guys get together and write the music to which Koen and I later put vocal lines. The lyrics are mostly mine.
Where do you get the inspiration for the lyrics and the music? And can you tell us something about the songs on the album?
For me the inspiration for the "Amygdala" album came from personal experience. The lyrics on the album are about problems I have been dealing with, thoughts I had and statements I wanted to make. In the first song on the album: "Dawn of Sugars", I talk about my frustrations with people who do not dare to be individuals. People who agree with everything their government or religion tells them and do not take a moment to think for themselves. The second song "Love Is Thy Sin" is about a relationship gone bad. In the song I try to explain to my former girlfriend that I wish she did not love me for then I did not have to hurt her by breaking up. "Breathe With Me", the third song on the album, is about the power and emotions you feel when someone is craving for your body and you are craving for theirs. The songs "Sail…", "…Out To Farewell" and "Death Becomes Us All" are combined into one epic. These songs tell the tale of a fisherman who sets out to sea and drowns. For me it resembles the end of my relationship with Joost van de Pas. We were together for 3/5 years and could not live with nor without each other. While I wrote my feelings into the lyrics of the epos, Joost wrote the lyrics to the song "Destined" about our breakup. The last song on the album "The Day Our Paths End" is about me becoming an atheist.
Which one is your favourite song on the album?
I cannot say that I prefer one song. They are all very different in style, lyrics and vocal techniques and I enjoy singing and listening to all of them.
Speaking of the songs, my copy of "Amygdala" had a rather confusing track list. Was this intended or went something wrong with the lay out?
Haha! No, nothing went wrong with the layout. The track list is the order in which we wrote the songs. So for example the first song on the album is the fourth song we wrote and the first song we wrote is the third song on the album. The number ½ stands for the twelfth song. The songs two, three, five and ten are not on the album because they did not suit our style anymore or because they will appear on our next album.
Why did you choose "Destined" vas song for the "Beauty and Brutality" album?
Peter chose the song "Destined" to be on the "Beauty and Brutality" album. The song has a very compact sound and a strong pulse and matched the time maximum of 7 minutes.
The album was released some time ago. How did the media reviewed the new album?
We were very happy to receive many good reviews for our "Amygdala" album from both fans and critics. The compositions of our songs, technical skills of our members and promise of new sound within progressive metal impressed many people.
And the last question, is there anything the reader should know that I have not asked?
Haha, good question! I think there is a lot to know about me and Ex Libris but it is up to you to dare and ask me.
Links
Ex Libris : MySpace * ReverbNation * Facebook * Twitter * Site
Dianne van Giersbergen : Facebook * Site
6 color styles available:

Style switcher only on this demo version. Theme styles can be changed from Options page.