Browsing articles tagged with " uk"
Independent Release
Review by Luisa Mercier
Most talented Phildel is back, after her stunning spring debut "The Disappearance of the Girl", with the new release, the EP "The Glass Ghost". The title immediately evokes images of ice, water, wintry skies that perfectly fits the moods of the season we are living currently. She is always ready to try something new and in this record, as per title, she incorporated glass sounds in the music, modifying them through synths. You can clearly hear them in the heavenly intro and the title-track, a revamped version of the old demo "Ghost". The arrangement is now rich, layered, sumptuous but catchy and accessible at the same time. The mood is not necessarily sad, but quite lively instead. The following is the single "Comfort Me", a melancholic, moving track. It is accompanied by a simple, but yet striking video. She is the perfect example of someone who managed to replace money and grand productions with creativity, achieving stunning results. Continue reading »
Label: Trieste Records
Review by Tony Cannella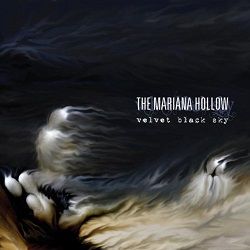 "Velvet Black Sky" is the title of the 2nd album from The Mariana Hollow, a 5-piece alternative metal band hailing from the UK. If their debut album, 2010's "Coma Heart" knocked on the door, their newest release is ready to kick it in.
The overall feeling on "Velvet Black Sky" is dark, but more varied than on their previous album. The intro "Before the Dive" segues nicely into the pounding, atmosphere heavy "Dead Reckoning". The songwriting on "Velvet Black Sky" is miles ahead of "Coma Heart", and that is evident from the very beginning. The next track is the excellent, "Your Halo" which the band has done a video for (you can check it out at the usual outlets like YouTube, etc.), and it is easy to see why this song was chosen, it is one of the more accessible songs you will find on VBS. Continue reading »
Label: Esoteric Antenna/Cherry Red Records
Review by Tony Cannella
My introduction to the UK prog/folk rock outfit Panic Room came via the excellent, "Satellite" album which was released in 2010. I came away with a very positive impression of the band. Now with their 3rd album, "Skin", Panic Room have upped the ante and released a solid follow-up to "Satellite".
While they are primarily lumped into the Prog genre, Panic Room is so much more. In addition to their prog leanings, they also offer influences that range from folk to pop or just straight rock. "Skin" contains over an hour's worth of lush, atmospheric compositions and Anne-Marie Helder's classy vocals. Continue reading »
Label: Kscope
Review by Luisa Mercier
Last year in September, Anathema held a special event, a very special event: a concert with the Plovdiv Philarmonic Orchestra in the Roman theatre in Philippopolis, among ancient ruins. Now that event has been captured into "Universal", the DVD recently released.
Upon watching it, I feel compelled to say that was one f the most mystical experiences of my life and one of the best shows I have ever seen because of the feeling and of course, the Anathema music.
The setlist is mostly comprised of tracks from the last two masterpieces " We Are Here Because We Are Here" and "Weather Systems" plus some other songs from their recent past. Only "Fragile Dreams" is the witness of their past, coming from "Alternative 4". The set was divided into a main one with the orchestral part, while the final 30 minutes are devoted to rock only with four pieces played in the usual way. Continue reading »
Label: Rise Above Records/Metal Blade Records
Review by Matteo Bussotti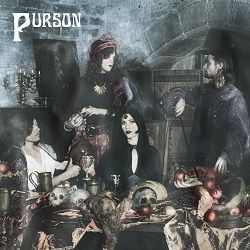 Have you ever heard of Baroque 'n' Roll? No? Then you don't know about Purson! This band from London really, really put out an excellent album. I don't know how else to define it. Of course, I'll say this from the beginning: for definition, Purson's sound is nothing new, so don't approach this album expecting to hear something that will make your head explode because you've never heard something like this before.
Instead, if you really love 60s and 70s psychedelic rock, you'll fall in love with this album immediately, I warn you. The thing I appreciated the most about "The Circle and the Blue Door" is that every song, every note, every nuance, every rhythm is crafted perfectly to recreate the sound from which Purson get their inspiration. It truly sounds like an album recorded in 1972 and discovered only today. You don't find much dedication in many bands these days, especially when they have to sound like a particular band, or genre. Continue reading »
6 color styles available:

Style switcher only on this demo version. Theme styles can be changed from Options page.