Browsing articles tagged with " uk"
Independent Release
Review by Tony Cannella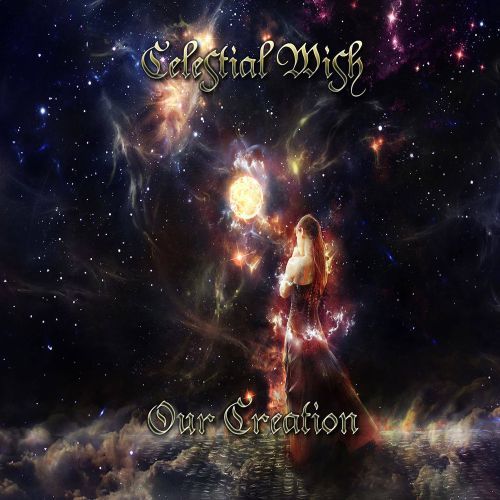 Celestial Wish is a symphonic/gothic metal duo (later in 2014 drummer Micheal Brush was added to the line up)  from Birmingham, UK. Their debut EP "Our Creation" was released several months ago and throughout the 6-songs available here the band show a great affinity for writing melodic songs, with plenty of atmosphere.
The 28-minute EP starts off strongly with "Our Creation". They follow that with the excellent "His Kingdom Come". "Your Song" is a Within Temptation-ish piano driven ballad. Lead vocalist and lyricist Saneeta has got a pretty cool operatic voice but doesn't over-do it, she knows when to rein it in and is much more concerned with making it fit into the song rather than doing vocal gymnastics. Continue reading »
Interview by Abigail Henry
Label: Napalm Records
Review by Alessandra Cognetta
Fall seems to be a good season for doom metal, as UK's Alunah have released their newest effort, "Awakening the Forest", at the beginning of October. The band follows the direction set with "White Hoarhound", greatly polishing their path in the process. Alunah managed to reach a good balance between defining their own style and keeping close to the roots of traditional stoner doom at the same time.
They are able to create a heavy atmosphere even with simple means, as the bass-lead crescendo from the opener "Bricket Wood Coven" shows. Soph Day's vocals go hand in hand with the instruments, never taking over. Her voice is steady and elusive at once, delivering the lyrics with ease. The lyrical themes are obscure and intriguing, taking inspiration from ancient English traditions, legends and celebrations from the Middle Ages. Continue reading »
Interview by Miriam C.
It's written Death Penalty but it's pronunced Cathedral. No, peeps you're not misreading 'cause in DP's ranks hides Mr.Gaz Jennings, one of the former members from the doomsters UK's maestros Cathedral. Well, time ago Jennings declared to the media that he "didn't have any intention of getting another band together" but apparently it seems that he doesn't want to give up for real. Supported by his Belgian companions, the band published on September 16th, 2014 via Rise Above Records their selftitled debut, so the frontlady Michelle, took some time to reply to our question!
Hi Michelle, first of all, welcome to Femme Metal Webzine, how are you?
Hey there! Thanks for having me. I'm doing pretty well.
So, on 16th September 2014 Death Penalty is debuting with its selftitled album, how do you feel (probably) to have accomplished a major goal in you life and how the press is reacting? "Death Penalty" is already gaining some fantastic reviews.
Continue reading »
Live review  by Abigail Henry
On the 10th May many fans, united by their love and support for German band Xandria, travelled to attend the annual Dames of Darkness Festival held at The Robin 2 in Bilston, England. Armed with a new album and a new singer, the audience eagerly anticipated Xandria's return to the stage.
The atmosphere was fantastic. Beers were poured, food was served and everyone had gathered to the stage to watch great performers own their set and audience. When Jaded Star had finished their last song, in which I was still in awe at, mesmerized by Maxi Nil's incredible talent and charisma, I couldn't help but feel the excitement knowing Xandria were soon to begin. Having been very familiar with their previous work with Lisa Middlehauve and Manuela Kraller, I did not know what to expect from Ex-Libris singer Dianne Van Giersbergen.
The second the music began the audience in unison cheered and displayed their happiness at the sight of the Phillip, Marco, Steve and Gerit taking position, but there was still one person missing. Continue reading »
6 color styles available:

Style switcher only on this demo version. Theme styles can be changed from Options page.