Browsing articles tagged with " uk"
Label: InsideOut
Review by Tony Cannella
What do you get when you mix folk, psychedelic music with prog? Well, I am pretty sure it would come out sounding something like Knifeworld. Those three genres are just the tip of the iceberg. With their second album "The Unravelling", Knifeworld have so much more to offer that it makes classification nearly impossible.
"The Unravelling" is not the type of music that you hear a ton of in 2014. Their songs tend to be progressive, jamming kind of tunes in the vein of King Crimson, maybe a bit of Rush or very early Genesis. I have a great deal of respect for what Knifeworld has accomplished with "The Unravelling". The opening trio of "I Can Teach You How to Lose a Fight", "The Orphanage" and "Send Him Seaworthy" are high the musical dexterity scale. Continue reading »
Interview by Alessandra Cognetta
Anathema
is one of those bands that really need no introduction. This amazingly talented group of musicians has crafted some of the best albums our ears could hope for, ever since they started making music. "Distant Satellites", their latest release through Kscope, is no exception. For this interview, I had the privilege to speak directly with Danny Cavanagh, and this created the chance for a really nice 30 minutes conversation about in-depth aspects of Anathema's work and some interesting stories and opinions, dismissing at once all the pressure and anxiety of holding a live interview. Danny had a lot of meaningful things to say about the birth of "Distant Satellites", but also a really peculiar story about "Weather Systems", as well as some great analysis on the work he did with different singers throughout his career.
You wrote all the songs on the album, except for a few instances, "Dusk" or "You're Not Alone", where you've been joined by Vincent Cavanagh and John Douglas. What does, in your opinion, each one of you contribute to the music? And how do you all work to bring all those elements together in the final piece? Continue reading »
Label: Kscope
Review by Luisa Mercier
Two years after the masterpiece "Weather Systems", the British Anathema are back with another album, as always full of feelings. They are among the few artists able to make my eyes water and put me in a peaceful mood all the same. Maybe "Weather Systems" had a more positive vibe overall, while this last release is a bit broodier, melancholic, but always with a hint of hope. As in the previous record with the two "Untouchable", there are three songs here that form the suite "The Last Song". First one is the opener and is a beautifully craftet duet between the male voice and female of Lee. As far as music goes, the first half is quieter in order to explode in the second. This is something that may be said of "The Last Song Part 3", while the "The Last Song Part 2" is a gorgeous ballad with only Lee on vocals. Continue reading »
Label: Sub Pop
Review by Luisa Mercier
Still Corners comes from the U.K. and "Strange Pleasures" is their sophomore effort that perfectly finds its place in the dream-pop, shoegaze revival that music scene in knowing in this last year. The opening track has a title that will describe you their music in two words only: "The Trip". It is a dreamy, mostly instrumental journey throug music made of acoustic guitars and sweet vocals that will go on with a more electro twist in the following "Beginning to Blue" where the female vocals are upfront and will embrace you like a good friend. Following "I Can't Sleep" is really romantic and even thicker than the previous ones, vocalist Tessa is dreamy and ethereal.
I would listen to these two songs while laying in the grass in a sunny spring day, such is their power to hypnotize and relax you Continue reading »
Independent Release
Review by Tony Cannella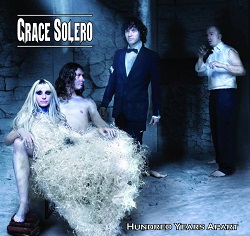 Following up her impressive debut album "New Moon", the UK songstress Grace Solero returns with an equally impressive sophomore outing, "Hundred Years Apart". The band has certainly grown and progressed and the songs on "Hundred Years Apart" are better rounded and sounds like a hungrier animal.
Grace Solero continues to walk the line between alternative, metal, electronic sounds and catchier, accessible hard rock. The songs do have a bit on an edge to them. "St. Ives" is a great example of a song that could get Grace Solero some mainstream attention as well as the haunting track "Once Again". On the other hand there are songs like "Riptide" and "Electro" that should please fans of the heavier stuff. Continue reading »
6 color styles available:

Style switcher only on this demo version. Theme styles can be changed from Options page.
Archives
Calendar
September 2014
M
T
W
T
F
S
S
« Aug
1
2
3
4
5
6
7
8
9
10
11
12
13
14
15
16
17
18
19
20
21
22
23
24
25
26
27
28
29
30