Browsing articles tagged with " york"
Label : earMusic/Edel
Review by Davide Torresan
I am 26 years old, almost 27, and I don't know who's Mike Oldfield. Yes, you've read right. Sometimes I've heard his name, but I've never listened to his music. Or at least I thought it. When "Tubular Beats" arrived on my desk, I fixed this issue looking a bit around and I can honestly say that I was surprised by what I've discovered since he's the author of the famous hits "To France", "Guilty" and "Moonlight Shadow". I was really blown away by his skills and the boundless musical talent of this artist. "Tubular Beats" was the album that pushed me to browse within his infinite discography.
This new album is not a new experiment for Mike since already in the past it has been released something similar. "Tubular Beats" is the summary of all his most famous songs in a dance reinterpretation. The author of this work is Torsten "York" Stenzel, a famous producer and dj in Ibiza which every summer entertains thousands and thousands of people on the dancefloors. The name, and obviously the album cover, derive from "Tubular Bells", the most renowned work of Mike and from its sequels. Continue reading »
earMUSIC is proud to announce the release of "Tubular Beats" the brand new remix album by Mike Oldfield. The album will be released on February 1st, 2013 and will include the most popular songs by Oldfield who has worked on new arrangements and new sounds for his compositions.
All tracks have been reworked from the original multi-track recordings and remixed together by Mike Oldfield and multi-platinum awarded German producer Torsten "York" Stenzel.
Newly recorded guitar parts by Mike Oldfield have been added to the mix, making "Tubular Beats" a new album by all means. A brand new song featuring ex-Nightwish singer Tarja Turunen closes the album on a high note.
Before "Tubular Beats", Mike Oldfield and Torsten Stenzel had already worked together but with this new album the duo could fuse their style in a full elaborate project for the first time, adding to Oldfield most famous songs their approach and taste with all solutions offered by electronic music.
Interview by Si Smith
Intro by Miriam C.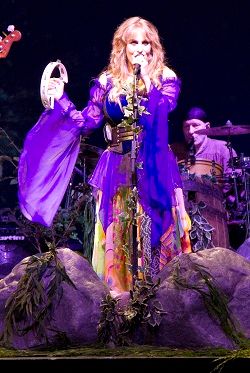 It's the second time that we give space to Candice Night, the first time it was for promote her debut solo album "Reflections" now it's time for a new Blackmore's Night record and precisely is the DVD "A Night in York". Let's see hear (or better read) the details straight away from the enchanting and dreamy Candice.
First of all congratulations on the DVD and more importantly the birth of your new musketeer Rory Dartanyan! It must be a great time for the family.
It really is. He is my spiritual, peaceful child. When all else is chaotic in the world, he just grabs your face and looks into your soul and you breathe him in and all is well. I've been calling him my zen baby since the 1st day in the hospital. And Autumn LOVES her baby brother. They have an amazing relationship.
The last time we spoke to you was for your solo album. As a metal based webzine we enjoy supporting related genres as well. Blackmore's Night has always seemed to defy genre definition, crossing several genres. How would you describe Blackmore's Night music to a newcomer?
It is a variety of fantasy music that incorporates rock, regional ethnic, tavern/gypsy music with ballads, instrumentals and Renaissance music.
This was your first trip back to England for a while. Why did you choose to film the DVD in England?
Our first DVD, "Castles and Dreams", was shot in a medieval castle in Germany in 2004; the next one was in the Olympia Theater in Paris in 2007. Since then we have put out 2 more CDs and we do a lot of the songs in concert that have different arrangements than what is on CD. So, a haunted opera house in a medieval city seemed like the perfect venue to record and show these newer songs on DVD.
Your set contains a great mixture of slow tracks and upbeat dance numbers. How did the audience respond?
Great. They were an amazing audience. People think that the English audiences will be more reserved, but more people dress up in costume and garb in England than anywhere else. Ritchie amends the set list per night based on the audience's energy so he's constantly reading them.
You describe this as a "trip through the ages". Have you a favourite historical era you would like to have lived in?
I think the greatest thing about living now is that you can choose from the eras that have come before to see what feels right to you and then incorporate that into your life today. I love the romantic visuals and castles from the Renaissance time; the costume and garb of the Victorian era; and the creativity of the 1960's. And I bring a bit of each of these things into my life now.
As always your outfit is beautiful and really compliments the performance. Is it your own work?
Thank you. I guess it is. I tend to collect things as I go along whether it is from vintage shops, Renaissance faire vendors or gothic shops and piece everything together to make it my own look. It's like a patchwork outfit from lots of different fabrics.
Despite the grandiose setting you manage to create that intimacy even from the beginning as you tell us about Autumn and how she sleeps and drinks. We almost feel part of the family! Is that intimacy with the audience important to you?
Yes, it is, because our audiences are more than just audiences. I feel as if when they understand us though our music, its as if they understand us deeply- more so than someone who would just have a chance meeting in the street or even who have known us for years. The music level is a deeper level than conversation, so I feel comfortable sharing things with them. I used to say that fans are just the friends we haven't met yet, and I still feel that way.
You sing some songs form "Autumn Sky" and some from older releases. How do you decide on a set list? Is it set in stone?
Never set in stone. Ritchie changes the set list as we go along and no one ever knows what he is going to play next. He does it based on the audience, on the venue, on how the songs ring in the hall, on his mood. It all depends.
For "World of Stone" you speak of your love for Renaissance music. What is it about this music that captivates you?
It is an honest music. In my mind, it was from when people played for the pure love and passion of the melody. Not to get on MTV or be played on the radio. It's this passion and mystery that makes it so enthralling.
A magical moment is when Autumn joins you on stage. How has she taken to the minstrel's life? What did she really think about it?
She absolutely loves it. Loves meeting new people. Stands on the side of the stage and each time Ritchie changes a guitar she says "Now? Dada? Now?", she always wants to be on the stage! She sings every word to every song, dances and spins in circles and pretends to be the band members or play their instruments months after we are back home. She is a true performer. Perfect tempo, perfect pitch- it's a little scary.
At one point you duet with a rather male Lady Gaga. Are there any real life collaborations you would like to pursue in the future?
The people I am fans of are the people I'd be afraid to meet in case they weren't what I thought they were in my mind. I love Don Henley, but I can't imagine ever recording anything with him. I'm a big fan of the 80's rock and metal bands too but I think we're in different world musically – though it did work with Helloween so who knows?
Finally, one theme of the show seems to be "magic is here". How important is it to find our place in nature and the world? Can music help?
Music can help everything. Help you heal, help you celebrate, help you make it through and help you to dream. Our place in the world helps you to find yourself too and in turn help to heal the world. So it's all cyclical.
It has been a pleasure talking to you. Thanks so much for this interview.
Thank You!
Links
Interview by Gaia Stella Rotondi
Transcription by Alessandro Narcissus
Intro by Miriam C.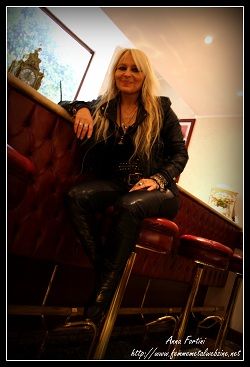 On a hot summer day (to be precise on the 12th September) we've met in a hotel in the centre of Milan during the promo day dedicated to "Raise Your Fist", the German metal queen Doro. Let's hear directly from her the latest news. Some words dedicated to the memoir of the late Mr Ronnie James Dio are present and we join with her to his memory publishing this interview.
Today Femme Metal is pleased to have the metal queen Doro Pesch as guest. Hi Doro, how are you?
Hi there, I'm very good! Thank you for the interview, it's great to be here in Italy!
We know that your new album, "Raise Your Fist", produced by Nuclear Blast Records, will be released on October 19. Could you tell us something about it?
We've worked for over half a year on it. We recordet it all over the world, from New York and New Jersey to Hamburg, we've mixed it in Danmark with Jacob Hansen, who'se the producer and engeneer for all of it. I wanted to make sure that the sound is hard, powerful and really, really good. The first song, "Raise Your Fist in the Air", I kind of had the feeling it might be the first single. So I sent it out to many people, everybody mixed it, and then it was hard to choose 'cause many were really good, but when I heard Jacob's work I said, "Okay, you're the one!". There are some special guests on the record: I sing a duet with Lemmy (Kilmister from Motörhead Ed.) on one of my favourite songs, "It Still Hurts", which is a very touching and emotional ballad, and I love it so much, and I also love Lemmy for the longest time, he's great! Then we have another guest, Gus G, the guitar player of Firewind, and he plays a solo on "Grab The Bull (Last Man Standing)". A good friend of mine made contract with Alex Krull from Atrocity and Leaves' Eyes, and he's a guest on that song as well. Then there is "Hero", which was the first song we wrote for the record, and it's a tribute to Ronnie James Dio: so many fans were totally heartbroken when he died – including myself, I was totally devastated and after all this time I still am! – so I really wanted to say thank you and pay respect to him.
Could you tell us something about the importance that Ronnie had in your life?
Yeah! Beside being an amazing singer, I think definitely one of the best, he was a great friend and my biggest inspiration! I had the chance to meet him many times, we toured together – actually my second big tour, back in 1987, it was with Ronnie James Dio and it was great because it was the peak of heavy metal with big venues and fans, it was unbelievable and really unforgettable! Then we had the chance to tour again a couple of times and one of the greatest experiences was the American tour in 2000, because, as you probably remember, in the Nineties grunge was big and heavy metal had a really difficult time; and then, in 1999 I felt it was coming back somehow and I did a song for Ronnie James Dio's new album, then he held a release party in New York and I was there and I went to say hi, and he was like "Hey, I like the song so much, it's magical!". And a couple of weeks later we had our record done – I was "Calling The Wild". We were in the middle of an interview with a radio station in Tennessee, and we were talking and they asked if we had any touring plans, I was like "Not yet, but of course we want either to open up for someone or do our own club tour", and then the lady said she was like "What about Ronnie James Dio?", and she was going to interview him in a hour so she suggested us to him! And a couple of weeks later we were on tour together and it was great! The last leg of the tour was in Florida and we always sang the encore together! He went to the monitor guy asking for a second microphone and came on stage. In 1987 I could not speak English that well, so we were just like "Hi, great show", but in 2000 we really got much closer and became really good friends.
In "Raise Your Fist" you had the chance to work with many other musicians. As you said, you collaborated with Gus G from Firewind and Lemmy from Motörhead. How did it feel to work with legendary and new generation artists at the same time?
It's great every time! It was a honour to work with somebody special like Lemmy. He's my hero, I love Lemmy! We played together in the very early 80′s and now we were on tour together two years ago, and it's great. He's very soulful and a total gentleman, a great talker, a great musician. With younger generations, when people love music there's always this common ground. With Alex Krull we always met in Wacken and he suggested that we do something together and his wife Liv Kristine, she was at my 25th Anniversary gig and performed on "Celebrate" along with all those great ladies that met on stage. And we all felt connected then. There is one song on the limited edition called "Strong And Proud" which I wrote to talk about this connection with all the female vocalists. I think it's pretty cool because we're all supporting each other and connected, there is a lot of unity.
An EP was released on August 3rd, to precede the upcoming album. The EP contains four songs and it includes also a French version of the single "Raise Your Fist in the Air". Would you like to talk about the reasons of this choice and about the EP in general?
After I recorded the demo of the song, I played it to some people involved with Wacken. When they heard it they were very enthusiastic about it and wanted me to play it at the festival. It was not finished yet, but they really wanted it, so I was like, ok, I can try. Then I played it and I got a great response. Everybody's fists were in the air. It was the first day and I played it in front of about 50,000 people, they all liked it, so I thought it could be a great single. Then I tried it out a couple of times when I played in Europe, in Moscow, and I also wanted to play it in Lyon, in France. I tried to say something in the native language, so I asked "How do you say 'Raise your fist in the air' in French?" and they told me "Lève Ton Poing Vers Le Ciel" and it was really cool! And then there is another story: one day I was introdued to a girl called Vanessa who really wanted to hear a song in her native language because she only speaks French. On my previous album I recorded several versions of "Herzblut", like in Spanish and in Portuguese, so I also made one in French and I dedicated it to Vanessa. She was really happy! She has two sons and said "When I have a girl, I will call her Doro!", which was really cool! I was very happy! So I decided to do another French version on this album.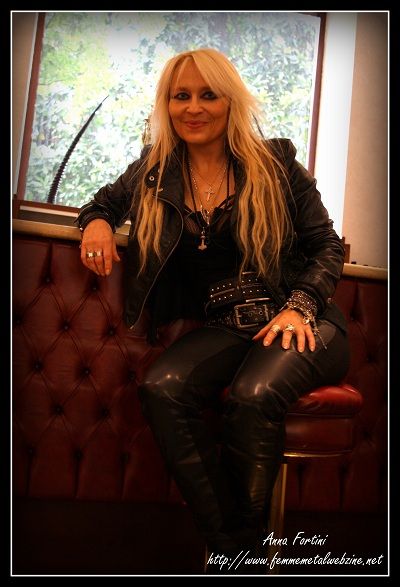 The guitar player on "Raise Your Fist" is Luca Princiotta, an italian musician. How did you meet him?
I met him a couple of years ago. I was in Italy doing a little appearance for Clairvoyance. There I met Luca and I knew he was a great musician. Then joined us for the keyboard when Oliver Palotai was busy touring with Kamelot. We really got along and played many gigs, so he joined in as guitarist for the new album.
You have released also a video for the single "Raise Your Fist in the Air". We know that you love the city of New York, but the video was shooted in the Bronx area. Why did you choose this place and how would you describe this experience?
It was quite an adventure, quite dangerous too! In New York it's very hard to fill in to get a permission and stuff. So we were like, okay, you know what? We just go there with our truck. We go everywhere we want and when the police comes we just get back on our truck and run away! We went all over and then elsewhere too. We went to all kinds of neibourghoods in the Bronx and in Harlem, and while I was singing, suddenly people were coming up to see what we were doing. At a certain point there was like a gang, and we were like, "Oh God, sorry, we were just shooting a little video!", but they liked the song although I think they were more into rap or that kind of music, so we asked them to join us and it was really cool! Everybody came in, we shot under a bridge, there were also some homeless people who showed up as well, even a guy who said he liked jazz but stopped all the same, and my band was in the video too, so… gang members, homeless people of New York, all united by music, it made all of it immediate. It was much fun!
You often play at metal festivals, such as the Wacken Open Air. What do you think about festivals and how is your relation with the fans during these events?
I love playing festivals. My first time playing in Wacken was in 1993 and there were maybe 2000 people. It was very small, just the area where now the bands' dressing rooms are. And since then every four or five years I came back, and a certain point there were 20,000 people and the whole thing was going bigger and bigger. What I love so much was that the organisers of the festival were two die-hard metal fans, because no one wanted to do metal festivals in the early 90′s, so it was a festival from fans to fans, you can still feel it today. And the village near it, everybody is very welcoming to all the metalheads, back then somebody even welcomed us to sleep, which is really great because, you know, all those guys with long hair and tattoos and stuff… So I specially love Wacken, but I also love Gods of Metal, Metalcamp… I love it all, every festival is special in its on way. People from everywhere come and enjoy so much music, you can see all your friends, all those bands, all the fans of other bands, everybody has stuff to do but you can reconnect with the fans.
In 2006 you made your cinematic debut in the film "Anuk". You returned to the set for the second part of this film that will be released at the end of 2013, and it is called "Anuk – The Path of the Warrior". Would you like to talk about this film and the shooting? Is it true that the soundtrack will contains music from the upcoming album?
Yes. The producer is called Luke Gasser. He asked me for the movie and then I did some more music for the film, very different in a way, for there is not only words. We were doing the music together and I just came back for shooting the movie. It was a little more difficult than usual because I also had to do the promotion then go on tour. This is the second part to end "The Path of the Warrior", it's an adventure, the good guys against the bad guys, it's set in 2000 BC. The first movie was a lot of fun! It's an independent movie, the budget is not big, it's just not like a Hollywood budget, but everybody put so much energy in it. It's very demanding, getting up every day in 5 o'clock in the morning, then working hard for 16-18 hours a day, there were 50 horses, many people who did the stunts, I was filming often in the water so I also hoped I would not get ill – but I didn't! On the last record, "I Lay My Head Upon My Sword" was for the movie.
You're on the metal scene since the early 80′s. Is it difficult to hold the crown of Metal Queen for such a long time? What is changed since the beginning of your career?
Well, it's so nice when people have good things to say about you, it makes me so happy! But actually I'm just a normal metalhead. I still love metal, I still love the fans. I just try to make the fans happy, which is the most important thing to me, it's my mission. For so many years it's been great and I owe much to the fans, they always support me in good and in bad times, like when grunge was big in music. I love my fans more than anything and it's my aim in life to make fans happy and to give them something they can believe in and enjoy, give them some positive power. Now, being called a "Metal Queen" is such a big word, I just work each day to make something nice, but it's only me, I still feel like when I started it all, when I was 22. It feels like 6-7 years ago, not certainly like 26 or 27!
Thank you so much for being here and replying our questions. Is there anything else you would like to say to your fans?
Yeah! The most important thing in this world to me, which will never ever change, is my love for them. I'm still there, I'm still giving 100%, and I want to say thank you to all of them! They give me all the energy and all the support, so… thank you so much, it's very important to love each other!
Credit Photos
Exclusive Photos shot by Anna Fortini
Links
MySpace * Facebook * Twitter * Site
Latest Multimedia
Interview by Alessandra Cognetta
If you've never heard about them, this is a good chance to get to know more about Sabbath Assembly, a daring musical project that focuses its works on the hymns and texts of the Process Church (which we're talking about right below). Their second album "Ye Are Gods" has just been released by Svart Recods and Ajna Offensive and we had the privilege to speak with mastermind Dave "Christian" Nuss and vocalist Jamie Myers about the new album and much, much more.
Hello and welcome to Femme Metal! It's a pleasure to have you both here. Sabbath Assembly's upcoming album "Ye Are Gods" will be released in a few days, how are you and how do you feel during such an important phase?
Jamie: Terribly excited!
Dave: We are excited and grateful for the opportunity to share this music with the world.
How would you describe "Ye Are Gods" to someone who still hasn't had the chance to listen to it?
Dave: "Ye Are Gods" presents hymns and liturgical text of the Process Church of the Final Judgment, a religious movement that began in the UK in the 1960′s. These are prayers and praise songs to the four major deities in Western religion: Christ, Satan, Lucifer and Jehovah. The album brings the listener through a cycle of spiritual death and resurrection.
There are a lot of guests on the album, with Genesis P-Orridge voicing the Sacrifist, Eyving Kang playing viola on "Declaration of Gods" and Imaad Wasif delivering a stunning performance on "We Give Our Lives". How were these collaborations born?
Dave: The project seems to attract a wide range of occult thinkers and performers, and we welcome this opportunity to bring many voices to the recordings. Genesis came on board via Feral House Books, who supported our first album and subsequently recommended Gen to the project. Imaad was part of the very first incarnation of Sabbath Assembly and was recommended by the publisher of Timothy Wyllie's book about the Process, to be discussed further below.
Jamie, let's talk a bit about your involvement with the new album. What was your approach on Sabbath Assembly's music (previous works included), and how much did you participate in the creation process?
Jamie: When Dave first approached me about the project we had many discussions about which direction to take the new material in. He was extremely open to new ideas and graciously allowed me the room to explore the music in my own way. Especially when it came to reinterpreting the hymns from a vocal standpoint. It was important to me that I approach the melodies and harmonies with a level of creativity that satisfied me, while still maintaining the authenticity of the original hymns. Dave and I seemed to bounce ideas off of one another with a certain amount of ease and I was appreciative of the freedom to experiment with "Ye are Gods". Nothing felt overly planned. There was good chemistry and the spontaneity just flowed.
It almost seems like you recorded the album as one whole piece, I admit I had to check a few times to see what track I was listening to. Was it in your plans to give the album this sense of, if I may say so, "unity" (integrity?), or was it a natural development of the writing process?
Dave: The album follows the structure and format of the Process' "Sabbath Assembly" liturgy. Our task was to blend together text and hymn in such a way that a rock album was made, rather than simply a document of a Church recording. We tried this more documentarian approach at first, and the results fell flat. Our hope is that the story of the liturgy is well-conveyed through the final result of weaving prayers and hymns into and through each other. The credit for the narrative flow must go to the writers of the Mass.
What drew you towards the Process Church in the first place? How did you find out about it and why did it catch your interest to the point that you decided to base your musical production on it?
Dave: In Timothy Wyllie's book "LOVE SEX FEAR DEATH", there are several reproductions of sheet music in with the photos and propaganda of the Church. These immediately caught my eye, and in particular one called, "Christ and Satan Joined in Unity." For some years I had been light-heartedly referring to myself as a 'Christian Satanist' — I just felt I could sympathize with both sides — and here was a hymn that was singing about this exact concept. It was a great moment of synchronicity; and thus a plan was hatched to bring these hymns into the world.
Your music is (please, correct me if I'm wrong) at present the only recorded version available of the hymns. Do you consider this a burden, a responsibility, or a pleasure, being able to spread Processean theology?
Dave: These are the only recordings of the hymns, and we do feel a great honor and responsibility in bringing them into the world. We've had many discussions in the arranging process about the question of authenticity. In the final analysis, Sabbath Assembly are interpreters, not historians. On the first album we printed the sheet music for two hymns in the cd booklet of the EU tour version, and on this album we print sheet music for 8 hymns, in both the LP and CD. Part of the intention behind this is to express that Sabbath Assembly does not hold any exclusive right on singing and recording this music; and others, should they feel inspired, can also participate in this movement. This is one reason we try to keep the focus of Sabbath Assembly as much as possible away from the personalities of the band; it's the message that's important, not the members.
The song "In The Time of Abaddon II" features words from the "Discourse of Abaddon" by Timothy I of Alexandria (Bishop of Alexandria between 378 and 384) and is the first track from "Ye Are Gods" to get a – very suggestive – music video. Why did you choose to implement part of this scroll and how is it linked to the Processean main theme of the album?
Dave: The first album has a song called "In the Time of Abaddon", so in the wake of performing that tune we embarked on some research into the myth and story Abaddon, the Angel of Death, and discovered the "Discourse". In terms of the album sequence, the song follows the hymn "Christ, You Bring the End", for Abaddon is the creature you meet at your "End"; he frightens your corpse with his hideous appearance so that you willingly give your soul to God. "Abaddon II" is actually not a Processean hymn but one we wrote ourselves because we wanted a moment with a particularly dark feel, and honestly most of the Process hymns are fairly joyful. On a deeper level, the "Discourse" presents an ambiguous portrayal of Abaddon and his interaction with Jehovah that leaves the reader wondering who's actually the "evil" one in the story. This moral complexity of what is "evil" and what is "good" also fits well with Processean ideas.
Jamie, what brought you to Sabbath Assembly? You performed with Hammers of Misfortune and Wolves in the Throne Room before joining forces with Dave, how would you describe these three phases of your career?
Jamie: I started out in music like many of my peers. I tagged along with my older sibling to a ton of metal shows and spent a lot of my youth going to DIY shows and playing in punk/hardcore bands. All the while, seeking out and listening to any interesting bit of music I could find. I would scour the dusty record bins at second hand stores for anything metal, punk, deathrock, even old country. It didn't stop there either, I made it my mission to seek out every prog rock gem I could get my hands on. So when the offer to play bass and sing for Hammers was laid on the table I snatched it up. I couldn't pass up the opportunity to play music that was influenced by some of my favorite musical genres. The level of musicianship that the members of Hammers had was unlike any other project I had been a part of. It really pushed me to better myself as a bass player and vocalist. My involvement with Wolves followed some shows that Hammers had played with them. I had a strong connection with the Weaver brothers and could tell that those guys were on the brink of something great. So when they asked me to work with them I happily obliged. In a round about way, performances with those two bands are what led to my involvement with Sabbath Assembly. Dave and I were familiar with each other's music and had come from similar backgrounds so it wasn't a stretch for the two of us to collaborate.
Timothy Wyllie (an original Process Church member) is featured on "Transcendence", his voice delivering words from "Gods on War" by Process Church founder Robert DeGrimston. Why did you decide to seek him out and what where his thoughts on Sabbath Assembly?
Dave: For the album sequence we needed a moment following the apocalyptic "Abaddon" to bridge us into the redemptive tale that is the last track, "The Love of the Gods". Timothy's homily about "the new beginning" that follows every death is absolutely inspiring. He has been a part of Sabbath Assembly since the beginning of the band, actually, as he and I and his book publisher, Jodi Willie, hatched the idea of the project together at a Book Expo in NYC that presented his book about the Process. Since then he has been a great support.
Have you ever received any particular or unusual critics or comments regarding your music?
Dave: We saw recently that a critic tore apart the last track on our album, "Love of the Gods" because of the positive vibes. It is important for people to know that while the Process did dress in black and preach about the Apocalypse, they also spoke with great joy of the inevitable reconciliation that awaits those who can unify good and evil in their lives — the Phoenix rising from the ashes. In some circles it's more acceptable to sing about death, and in others it's more acceptable to sing about life; Sabbath Assembly needs to do both.
Dave, I've read that playing drums and listening to rock music caused you some troubles in the past, to use an euphemism. It's no secret that religion isn't very fond of metal music. I'm Catholic and live in Italy, and I'd be redundant if I described the poor situation we're in, "metal-wise". Do you think there is a way to reach a sort of reconciliation, or maybe there's already some form of mutual understanding and we just can't see it (because having something to whine about is more entertaining)?
Dave: I really feel that what the Process teaches is a gateway for the future of Metal. We passed through the Satanic thrash of the 80s and the Church-burning black metal of the 90s. Karmically these steps needed to happen because of the history of the Christian Church and the repressive and destructive steps it took to control the darkness. Darkness of course can't be controlled or repressed; it is always there, even if you can't feel it for one moment it is waiting to resurface. So repressing is not the key as much as managing. In this regard, an explosive Satanic Weremacht may not be what the world needs today as much as a more balanced approach. I don't mean that stylistically music needs to become as tonal and folky as Sabbath Assembly at all, I just mean that thematically bands could potentially work more with the idea of balance. While the metal scene seems to be accepting of bands like us, we can imagine that — MAYBE — in about 1000 years, the Catholic Church will begin to acknowledge the wisdom in this approach.
What can we expect from Sabbath Assembly in the future? Will you still draw inspirations from the Process Church or do you intend to explore new paths?
Dave: There are still many more hymns and texts to explore within the Process Church, so as of now the plan is to continue sharing the depths of their theology as it is revealed to us over time.
That's it! Thank you both for taking the time to answer our questions. This is the "write whatever you want" space, so feel free to leave a message to fans and readers. We hope to see you soon on the road!
Dave & Jamie: Yes – see you on tour in Spring 2013!
Links
Latest Multimedia
6 color styles available:

Style switcher only on this demo version. Theme styles can be changed from Options page.