Browsing articles tagged with " all"
Label : Solitude Productions
Review by Vard Aman
When I first came across Amily (from Rivne, Ukraine), they were marketing themselves as Funeral Doom – slower and bleaker than traditional Death Doom / Gothic Doom, (but not quite as slow as Drone Doom – a kind of Doom Metal where the drummer has time to leave the stage, go to the bathroom, buy a beer at the bar, drink it, chat to a few friends, update his Facebook status, return to the stage and still be 10 minutes early for the next drum beat…. so he goes off again to buy another drink, has a few shooters while he's at the bar, gets drunk, forgets the time and ends up missing the next drum beat altogether totally messing up the timing of the song and throwing the rest of the band completely out on sync… pffffft… drummers! Well, OK, perhaps a bit of an exaggeration there…) Anyway, the first two songs I heard from Amily were the demo versions of the title track to their then upcoming album, the bleak and heavy "To All in Graves", and the immense and beautifully crafted "Fading Image of My Own": both songs that made Amily a name to keep a very close eye on in the future. So the release of their album when it came was cause for some excitement.

Interview by Miriam C.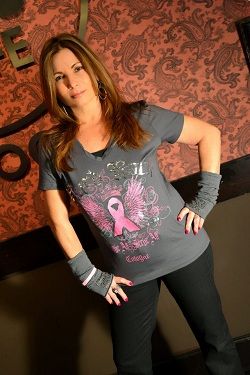 If metal impersonate as a queen the German Doro, instead in the melodic rock/AOR territory the true deal is the US Robin Beck. Known for the uber huge hit single "First Time" in 1988 born from a jingle of a Cola Cola commercial, after 6-years-break from the last album "Livin' on a Dream", Robin do her comeback with her 9th album "The Great Escape" on her own imprint, Her Majesty's Music Room. Want to know more? Continue to read this extensive interview…
Hi Robin, first of all thanks so much for accepting this interview! For me is a real pleasure to host and promote you in my webzine and I thank you for finding time out of your busy schedule to reply this humble questions.
Thank you Miriam I am happy to.
On your official biography, you stated that since you're a little child you wanted to be an artist and when you were 10 yrs old you have written your first lyric. Now, being passed so much time, did still keep it and what you think about it?
This is not a secret lyric. It's a childhood song about love of course… "Key to My Heart" Sort of a country song. I think it was pretty good for a kid.
Despite the fact that you are world famous singer, during your break for raise your daughter Olivia, you have still recorded album as a background singer. From this experience what you have learnt? Any good memory to share with us about that period?
I don't have anything but good memories… and still more coming. My daughter is the light of my life! You do learn from being a mother how to be a parent from your children. If they are happy… then you've done a good job… so I give myself a gold star. I will also say that from having Olivia that I became more conscience of how important school really is… this something I took for granted while I was growing up. I hated school but it's the most important part of our lives to begin with.
Let me get you to the early times of your career, at that time what were your favourite musical acts and are your musical tastes changed now?
Ha… Janis Joplin, Joe Cocker, Aerosmith, Queen, the Beatles, Stevie Nicks, Carol King, Crosby, Stills, Nash, Taylor and Reeves and the Supremes. Just to mention a few.
Your debut top hit single "First Time" in 1988 was a spin off for a Coca Cola commercial, how you got involved in it? Also the video clip was different in EU and in the US, why?
I was chosen to sing "First Time" the jingle… then the song was written and it just flew high by popular demand first in the U.K. – They then did an American Version since Americans don't speak English I guess! LOL It was perfect the way it was first created… then we simply rocked it out for the simple reason that I was noted as rock artist and that's the way they envisioned it for the States.
How was the genesis of your last album "The Great Escape", when you have started to nail down the first lyric?
Hummm… really don't remember specifically. It just came when it came… and out popped the entire album. We worked for about 5 months straight on it.
Your latest studio album was 2006′s "Livin' on a Dream" (now I'm excluding the re-release of "Trouble or Nothing"), why it passed so much time since then?
I was putting together my own label and time was just flying by. I was also managing a band at that time and devoted a lot of attention to them.
How's born the partnership with Tommy Denander and James Christian (that's your husband)?
I met Tommy during a "Radio Active" invite to sing a song… and from there it was a relationship of 3. Me, James and Tommy. We are all very tight. James my husband is in House of Lords. He might be the best producer I've ever worked with. Not just because he's my husband, but because he really gets me and knows better what I can do than even I do sometimes… it's great to have these 2 men by my side.
What's your personal meaning and what do you want to express with the title album "The Great Escape"? Or it's simply related to a lyric present in the album?
For me it's meaning was simply to take a break from life and listen to some great music. But the song is literally about getting away or escaping the trappings of a bad relationship. The title of the album really has nothing to do with the song I'm afraid. I kept it because I just loved the image I had created in my own head. When I'm listening to music that I love… all my cares vanish. That's what I want for my fans.
Two songs that totally hit me are "The One" and "Don't Think He's Ever Coming Home". What are the subject of this lyrics?
You hit the nail on the head with these two songs Ms. Miriam. "The One" is clearly about the love of my life and how to let him in on it. "Don't Think He's Ever Coming Home", is a whole other story… this is an unhappy ending for a girl who tries to keep a man that truly wants to be with his intended. Some girls are just lying to themselves and this song spells it out for them in a most unforgiving light.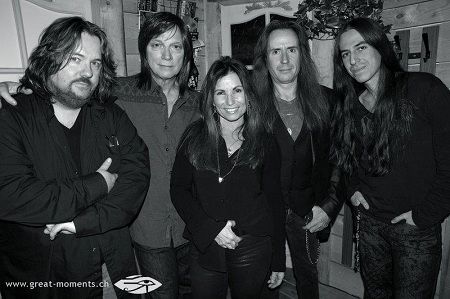 On "That All Depends" you sing with Joe Lynn Turner, how do you feel to realize such a dream? How was standing literally (and singing) beside him?
Ha… that's funny… I've known Joe Lynn Turner and have sung with him for years and years… you'd think I'd be immune'd by now … but he's dreamboat. I've always loved his voice and his way. I can't say enough nice things about Joe Lynn Turner. It was great that he took the time to do this with me. Hopefully we will do another song together in the future.
In February 2009 you founded your label Her Majesty's Music Room, why? I mean you haven't no more faith in the labels?
Yep! That's it in a nutshell. It's a smaller system but much more satisfying. I mean really… working with a label can make you or break you… but working with my own label makes me happy.
The re-recorded release of "Trouble or Nothing" include 4 bonus tracks. If I got it right the songs are original from that session and why at the time weren't included into the album?
No no no…. these songs were not from that time period. They were fresh newly written for the re release of "Trouble or Nothing".
In the 80′s MTV was the leader in broadcasting and promoting AOR bands/singer like you now after 20 years or so we find that internet, with its connections of webzine and sites dedicated to music, is taking the lead. What do you miss of the 80′s from this point of view? And also how much do feel confortable this all this new technology? Have you already notice any pros and cons for your activity?
It's great… no matter what this is how we evolved. For me it's wonderful. I have much more exposure… sometime not the exposure that you want but as they say… all press is good for the artist… good or bad.
Watching your long, stellar career what it is missing is a full concert DVD. Any plans to record it?
Yes… we almost did it at Firefest. But I'm looking to do something that spans my career, not just a rock concert. This takes time but I can assure you not too much longer.
Finally your EU fans have the chance to meet you during your upcoming "Here Comes Trouble Tour" made of 10 dates running thru Germany, UK, Switzerland and Austria. Any project for a full European tour?
I am trying to put that together already. It was only the beginning to start this year after so many years of being missing from the touring circuit. It will take some more time to build up the audience awareness… let's start here. Tell everyone to keep an eye on www.robinbeckrocks.com for coming tour dates in 2013 and Facebook as well.
After this EU tour, what are your next plans and if yes, are you involved in other musical related stuff?
I am in the middle of making a new album right now. We are also discussing new tour for 2013.
Olivia, your daughter is following your artistic footprints, would you mind present her and her songs?
She's amazing and living her dream right now as an actress… but this girl has pipes and she can do anything she wants to. I would be proud to see her live her life and use her talents to make her own dreams a reality.
I've a just a little curiosity to fullfil, you know I'm from Italy and time ago you have recorded a duet with Pupo (that's a real famous songwriter/singer here). Do you mind tell me how's born this collaboration? To me, discovering this was such strange because Pupo doesn't really represent the attitude of a rock star.
Well there's not that much to tell… he reached out to me to do a duet with him and I did. It was fun… and Olivia was only 10 months old at the time so she was in my arms the whole time I was with Pupo singing.
Well, Robin, we're at the end. I really thank you for your time. Please greet your fans and our readers as you like. Really thanks, Miriam.
Please come visit me at my website www.robinbeckrocks.com and on Facebook. I would love to see you there. If I'm in your area please come out and say hello. Watch my website for any details in the coming months. All my love.
Links
Interview by Ed MacLaren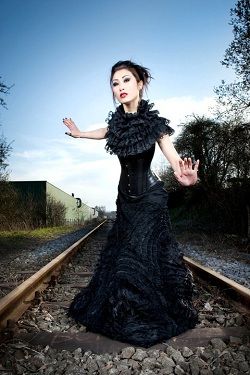 Since 2004, Germany's Krypteria has released a string of excellent symphonic metal albums – each reconstructing and redefining their trademark symphonic metal sound. With their latest album, "All Beauty Must Die", Krypteria has stepped out once again with amazingly ear-pounding results. Led by the formidable vocal talents and dynamic stage presence of Ji-In Cho, Krypteria are becoming as equally known for their powerful live shows as their complex and powerful music. Femme Metal recently got the opportunity to talk to Ji-In about the making of their new album where she breaks down the Krypteria sound and tells us why all beauty must die.
Welcome to Femme Metal Ji-In! "All Beauty Must Die" is out and it's a winner! Life in Krypteriapolis must be looking pretty good these days.
Hello Ed! Thank you very much! Yes, I can't deny that after all the time we were confined to our studio working on "All Beauty Must Die" we are now very happy about getting all the great mail from our fans and wonderful reviews!
"All Beauty Must Die" is hookier and heavier than any of your previous efforts yet you've still been able to maintain many of symphonic and choral elements that made "Bloodangel's Cry" and "My Fatal Kiss" such interesting listens. What was the band's mindset going into the recording of the album?
Like always, we poured our experiences and emotions we had to deal with in the last year into the record. But as you may know we set up our own label and that means for the first time in our career we are free – in every part of this business. That means we are now responsible for everything – even besides the music – and that is very exciting and new for us. We told ourselves that if we fail, we will die by our own sword. This might sound a little weird but because of this knowledge we feel totally liberated, independent and stronger than before. I really hope you can hear it on "All Beauty Must Die". By the way: we called our label Liberatio. (Smiles)
Do you feel that Krypteria has established a certain "trademark" sound that sets you apart from other bands – a sound that people will instantly identify with Krypteria?
I believe we do have quite a different sound from other bands. Not on purpose, this is just the result of our combined efforts at composing and writing. It is hard to describe in a few words, but I believe our fans will know by now what a Krypteria song sounds like. We have a knack for dramatic but still catchy melodies. We like to combine choir parts and classic elements with heavy riffs and beats. On our new album we have further grown and evolved musically. Maybe we are a little tougher and rougher, but unmistakably still Krypteria.
Are there still wild and unknown places the band still wants to explore musically?
There are surely a lot. But at this moment we are very happy with our baby and it is too early to think about our next steps or our next album. The only wish we have is to present our baby live on stage to our fans.
All Krypteria albums have a central theme that holds the lyrics and music together. What's the conceptual thread that ties together "All Beauty Must Die"?
Well, it's not a concept album like "Operation Mindcrime", "Streets" or our 2007 release "Bloodangel's Cry". It's about staying true to yourself and to your ideals no matter the obstacles. There's a lot of rage and yearning involved and it's about loss. But there's also a lot of resolve, defiance and hope to it.
While we're on the subject: why must all beauty die?
If I only knew!! Well, that's how it is and there is nothing you can do against it. You can't hold the good moments forever and stop time – only the memories can remain. But even these are gone when you die. To say something positive: not only the wonderful moments fade away but also the bad times and negative emotions are someday over.
Your singing is spectacular on "All Beauty Must Die". Your vocal melodies have matured immensely on this album. How would you chart your vocal evolution over the course of your time with Krypteria?
Thank you for the compliment but I guess my teacher at the Musikhochschule who taught me classical singing would have a hard time listening to my singing!(Laughs) I think everyone of us has found his place in the band. We all respect and appreciate each other. We also totally trust each other and we feel safe when we are together. I think it's always very helpful and encouraging if you feel comfortable and you feel accepted as the person you are. That's the best way to express and develop yourself.
Do you still work on improving your vocal abilities either through personal practice or professional instruction?
There are days when I sing all the time just to try out what's possible with my voice. And sometimes it's better just to shut my mouth! (Laughs)
A goal of the band seems to be capturing the energy of your live performances – especially yours – on album. Are you getting close to getting that dynamic down digitally?
I hope so. But in the end it's never as easy as we always have a lot of fun on stage – thanks to our audience. Every band would say so – the fon stage. Fans give you the best energy boost you can have and I could never compare these moments we share with our fans with anything else.
Although Krypteria started out more like a loose and informal "project", it seems like Krypteria functions more and more like a true collective. How does that affect the direction and arrangement of the music?
I never thought of this band being loose and informal. But you're right: the longer we know each other the more organic we're getting. I'm very thankful that we're aware of being four totally different personalities and treat this fact as an inspiring fact. That's why we try to make sure that every facet is represented. I'm sure that helps to make our album more multi-dimensional and more colorful.
"All Beauty Must Die" is a heavy album with tracks like "Messiah", "Higher" and "Eyes of a Stranger" but there's still room for your delicate piano flourishes. How important is it to express that musical aspect of your personality on each album?
I love to write songs with only my piano and I think it's a perfect instrument to bear up against the guitars. In comparison with the voice you can show a different and more complex atmosphere and in addition to my voice, the piano is very important for me to express myself and my musical imagination.
"The Eye Collector" is a standout track – and not just because it clocks in at an epic-length 11 minutes long. The intense arrangements and the simmering force of the music make it arguably one of your strongest tracks from any Krypteria album. What is it about extended tracks that bring out the best in the band?
Well, in this case this is easy to answer because we had a great inspiration based on a book by the German author Sebastian Fitzek. One of his fabulous books is a psychological thriller named "The Eye Collector" and we are relieved and very happy to tell you that he likes our song and the fact that it's inspired by his book too. (Smiles)
When you decided to bring in some guests to record you didn't fool around. Doro Pesch, Tobias Exxel and Olli Singer! Nice job! How did they do?
We are very happy that we could win these guys to play with us. For me personally, it's a big honor to sing a duet with Doro – she's really the Queen of Metal and no one is more experienced than her. After all these years she still gives to her fans everything she's got on stage and that's really something to admire. We got to know Eggy when we had our first gig in Germany. We shared the dressing room with Edguy and very soon we found out that they are very nice and funny guys. We are glad that finally after all these years Eggy could find some time to join us on the record – especially as a guitar player! And regarding Olli: he's the best guy we could find to replace Chris on stage. He's a real good guitar player but first of all a real good guy and we have a lot of fun with him when we are on tour.
Krypteria's artwork always shows a lot of attention to detail – both in quality and in reflecting the musical and lyrical content of the album. At the very least the skull logo will look great on a black tour shirt! How did the artwork for "All Beauty Must Die" develop and what were you trying to convey with it?
Talking about the artwork for "All Beauty Must Die", we were searching for a picture that would fit this title. I didn't want my face to be displayed again on our cover, because we already did that. So I came up with the idea of a female and Asian skull. Fortunately, my band members were also very curious about the idea and what such a skull could look like. Thanks to our great illustrator Torsten Bürgin we now have this fantastic female skull logo. If I had tried to draw up something like that, we would probably have a different cover – I'm a real bad drawer and painter!
We're starting to see more bands integrating members from different countries and making some incredibly creative music. This includes Leaves' Eyes, Tristania and Visions of Atlantis to name a few. You've been the lone South Korean in a German band for a long time now. Has your South Korea ancestry played a part in your contributions to Krypteria or influenced the direction of the music?
Not in a direct way. But I can tell you that my family loves music – especially passionate and wonderful melodies. We're very emotional and everyone in my family can play a classical instrument. So I guess this love for this style of music is in my blood.
"All Beauty Must Die" gives you four solid albums of excellent metal music to perform. Does the material give you an opportunity to express all facets of your personality on stage?
Absolutely yes. I love to live out all the emotions and subjects we are concerned with. It's really like a therapy and after every concert I feel clarified – I'm very thankful for that.
Will Krypteria ever get around to capturing your live energy and the band's stellar performances on DVD?
I hope so and I'm sure this wish will soon come true! (Smiles)
Where will "All Beauty Must Die" take you touring this year? Any chance for an appearance in North or South America?
So far we're abroad in Asia and some other foreign countries but unfortunately not in America. We would really like to but there are no confirmed dates yet. Later this year we will tour in Germany. But let's wait and see: not everything is set in stone, yet. (Smiles)
I am not good with last words. All I can tell you is what I tell myself as often as I can: Enjoy your time on earth and keep in mind the wonderful moments but also the bad moments – you never know for what they are good for!
Links
MySpace * Facebook * Twitter * Site
Latest Multimedia
Interview by Miriam C.
Transcription by Robin Stryker
This was my second phoner interview that I've made in my life, this time I was more calm and relaxed. Enjoy this funny interview (sometimes during the interview she has got line telephone problems and I was going to repeat the questions) with a kind and relaxed Jonsu, vocalist and violinist from rock all female band Indica.
Let's start, "A Way Away" is coming in the stores the 25th June on Nuclear Blast. Why choose this label? I mean Nuclear Blast isn't the typical label that sign rock melodic bands.
When we were touring with Nightwish, Nuclear Blast was the label that was interested to do the English album, and they had showed some passion towards our music. I loved the way they worked and how they put their whole soul and heart to it. So it made us be sure that it is the perfect label for us. Also I have to say that it was a good thing that Tuomas told me before – you know Tuomas [keyboardist] from Nightwish, they have been with Nuclear Blast for many many years – and he told me that "I have no bad words to say about that company". So it was a good recommendation.
Obvious question, how's born the collaboration between Nightwish mastermind Tuomas Holompainen?
It was great. The first thing I did with them was "Erämaan Viimeinen" (The Last of the Wilds), one of their songs. After one of our shows, Tuomas came to ask me if I would like to sing that song, and he said he has been a fan of our band since it started. And I said like "yeah, yeah, let's try it". It went well and then they asked later if we would come on the Scandinavian tour. I think Tuomas and the whole band is great. Tuomas is a really talented musician and composer, so it was great to work with him. And later, of course, to do albums with him. Also on "A Way Away", he wrote lyrics to one song, "Precious Dark".
I found a bit strange to publish an entire album with translated lyrics in English, when take for example such metal acts like Ensiferum, Korpiklaani,they publish without problems album in Finnish language. Why take this decision?
Why did we do an English album? When we started about nine years ago, we did songs in English and in Finnish, but then we had to choose one language. Finnish sounds more natural, but we knew that someday we probably will do anyway an English album. When we started touring abroad, the fans started to request if we could do some songs that they would understand too. There was only really crappy YouTube versions they could listen to. So that was the main reason why we did it now. I think it was a big challenge for us, too, because we have seen every single corner of Finland and every single club, and we have been working there and touring there and doing albums like "Ikuinen Virta" in 2004. So it was a big challenge for us, and also really interesting to see new places and meet new people. Also with the language, I would say that the English language is maybe, when sung, it sounds more beautiful and it's flowing totally differently. Maybe Finnish is more exotic, but anyway the music sounds totally different, so we found it really interesting.
Your last album was called "Valoissa", right? And if I'm not wrong the English translation is "light".
Yes, you can say "in the light". In the song, we are really talking about like traffic lights. It is a little bit ironic text about "what if I die in the traffic light" and you can't just mourn. Don't be sad.
Are "Valoissa" and "A Way Away" titles connected?
"Valoissa" and "A Way Away" … no, there are a couple of songs from the "Valoissa" album in "A Way Away", but otherwise those albums aren't alike. Those aren't connected anyhow.
If I ask you to define Indica's music style what do you reply?
It's a funny question because, as a composer, it's really hard for me to describe the music because somehow I think it's impossible to describe music in words. But, I can say what other people have told. So, some people – like all reporters in Finland – call it like mystic-romantic pop rock, and it was funny how it started. One reporter just said like, "oh, this sounds like mystic-romantic" and suddenly all the reporters were writing it's mystic-romantic. Yeah, one interviewer also said, "it sounds like Disney on acid." (laughs) I think it was a funny description. I'm sure there is some films, movie soundtracks and a lot of movie composers.
On 30th April you've published out the videoclip "In Passing", what is the story behind the video and how was work with Patric Ullaeus Team?
Yeah, in Sweden in Gothenburg. You are talking probably of the "In Passing" video. The story behind the song is that it is kind of a letter from an older sister who is dead to her little sister, and she is trying to encourage her and telling her that "you must go on with your life and move on". It was great to work with Revolver Team, and Patrick Ullaeus I think did a great job. We shot it two videos in Gothenburg. "Islands of Light" I think it isn't published yet, but it will come out soon I guess.
Watching your promo shoots I was astonished about your dresses. Who's the creator of it?
Sometimes we are using different kinds of designers, but there is one Finnish, Anne-Mari Pahkala, who has done many of our dresses. Some dresses we are found from our grandmas' closets or somewhere, like anywhere where we go. But Anne-Mari Pahkala is a girl with whom we have worked the most.
Before "In Passing" video there was another one video called "Snakes and Arrows", I've seen it, have you shooted it in Tokyo?
We had one. It was kind of, you know, zero budget. We deal with just one friend's photographer wanted to do one because he wanted to do some photo shootings there, and we had a show in Tokyo. We spent there a week, so we were shooting the video at the same time. But it was a great experience. I really liked Tokyo, but I couldn't believe that I would live there.
Which is your favourite song from "A Way Away" and why?
My favourite song from the album is, I guess, the ending track "Eerie Eden" … "As If" is also one of my favourite tracks. I always fell in love with the slow songs, so that is why maybe "Eerie Eden" and "Children of Frost" and "A Way Away" are one of my favourites. The girls are always angry to me because I always try to do a slow album where there is only slow songs on there like that. "You are killing the audience! They will fall asleep". (laughs) So, it's good that we have different opinions in our band too, because otherwise it would be only 10 slow songs on the album.
I know that's very very early to talk about that but are you working for the next album with brand new songs?
Composing is my lifestyle, and I'm all the time composing something. But we really haven't sat down yet with the band and talked about what we are going to do, what kind of direction we are going to go in. Maybe after this album comes out, we can sit down and talk about that with the people that we work with and do some planning.
What are the next band planes?
In the near future we are going … tomorrow [the interview was done on the 20 May 2010] we are in Italy doing something and going to Rome, then we go to Leipzig to do one gothic festival and then I go back to Finland to do some TV programmes. Then we are playing in Rock am Ring and Rock im Park (it's in Germany).
It's a very famous festival, with groups from every genre, and MTV is there.
It will be interesting and I think they said that they are shooting the show too. So we are doing some festivals in summer, but mainly touring will start in the autumn. Then the plan is to tour pretty much before Christmas and go around Europe. Let's see, I have a meeting with my gig agents next weekend, then they tell us some ideas.
Italy is in your plans?
Yeah, I'm sure Italy will be on the list. But really, I would love to, I'm waiting to come back to Italy. These days we are doing some acoustic performances in the radios but to do a real live show because I think Italian audiences are great. They are so free and open.
Greet our fans freely!! And thanks!
Thank you very much for the interview! It was really nice to talk with you, and I hope to see you somewhere.
Kiitos! [Finnish word for thanks]
Oh, you know it! Great.
Links
MySpace * Facebook * Twitter * Site
Latest Multimedia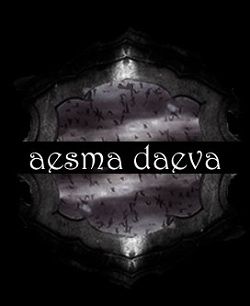 .
Interview by Erwin van Dijk
On June 1st the compilation double CD "Demonic and Divine" is released by Femme Metal. The CD is to support the Macmillan Cancer support and Cancer research UK. Aesma Daeva appears with the song "The Loon – Thalassa mix". This song originally appeared on the album "The Thalassa Mixes". Aesma Daeva is a symphonic metal band from the USA. Most people in Europe will know this band because former Visions of Atlantis singer Melissa Ferlaak was a member of this band and Therion singer Lori Lewis is the singer of Aesma Daeva. This interview is with John Prassas – Composer/Guitarist of the band.
Did you always wanted to become a guitar player?
Only for a short time did I want to be a guitar player – after that I started to see guitar as a compositional tool.
Where did you get the inspiration for the music?
Nature is a big influence for me. Sometimes life experiences – but I try to not focus on my own experiences as much as I try to focus on the experiences of others.
And to what kind of music do you listen yourself?
I listen to a lot of different music – I find it changes with the seasons. Lately I have been listening to Leo Kottke Blue Man group, Dan Swano, and S.U.P.. When fall hits I will probably start to something slower.
Did you have any other bands before Aesma Daeva?
No not really, I have a few things I am working on that will not be released under Aesma Daeva. They have yet to be completed though.
How do you work together with Michael Platzer, the lyricist of the band? Do you have a general idea about the lyrics before he starts writing or is Michael free to use his own imagination?
Both – "The Loon" – is adapted from a poem he had written. Where as "The Bluish Shade" was a song where I gave him just a few lines and phrases.
Aesma Daeva is an unusual name for a band. What does it means?
Shining One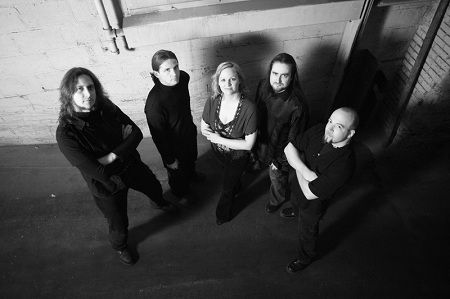 How would you describe Aesma Daeva's music? Because many bands describe themselves as Gothic – Metal – Progressive and the name of your website is "symphonicmetalband".
I think of it as Symphonic Metal – Mainly because I have so many classical and symphonic influences. Especially when it comes to colour and dynamics. We can debate all day as to what bands are symphonic and what ones are not.
Can you introduce us to the other members of the band?
Lori is the main vocalist, Chris plays bass, and that is about it for main members. I have been working with a lot of guest guitarists and musicians. At the moment I write 90% of the music, but they certainly are good at bringing it to life (which is not something that easy to do).
Aesma Daeva contributed a song to the "Demonic and Divine" double CD. This song was "The Loon". Why did you choose this song for the album?
It was the only new track I have under 5 minutes.

Thalassa is Greece for "sea" and the goddess Thalassa was the personification of the Mediterranean Sea. And another Greek connection is "The Garden I Long For" which is performed by classical guitarist Kostas Grigoreas. How did you get in touch with him and what are the differences between this version and the original version?
Kostas and I have been friends for a while. I suppose the main difference is that this version is played and recorded much better than the original. I also adapted it to have a bit more "water" influence.
What is the idea behind this EP and why did you choose these songs for it ?
I was in Greece visiting friends and family. I did not have much for musical ideas, but when I left I found I was thinking about the sea and all of the colour's within the sea. My original idea was to make a remix that would give the impression of the sea. Like "Le Mer".
Speaking of Greece again, does the band have something with this country because the album "Dawn of the New Athens" which was released in March 2007 has also a very Greek name. Or is it about New Athens in Ohio (USA)?
No, it is about the "New Athens Colony" in the book "Childhoods end" by Arthur C. Clarke. However to assume it had something to do with Greece is completely understandable since so many other things I have done are influenced by Greece. Arthur C. Clarke is the writer of "2001: A Space Oddyssee". Together with Isaac Asimov he is one of the most important SF writers of the 20th century.
When can we expect new Aesma Daeva music?
We are re-releasing our first album with a bunch of bonus material. However at the moment I am working hard at a new approach to music. Which means working with different singers and musicians. The new material probably will not be released under the band name Aesma Daeva.
And will it be different from your previous work?
Very much. I hope you can always stop by our web site symphonicmetalband.com. Their you can go to my personal web page where you can hear bits and pieces of new material. Thank you for the interview and support!
Credit Photos
Single photo by Jill Vansickle
Band photo by Debbie Stiller
Links
MySpace * Facebook * Twitter * Site
6 color styles available:

Style switcher only on this demo version. Theme styles can be changed from Options page.