Browsing articles tagged with " california"
Interview by Tony Cannella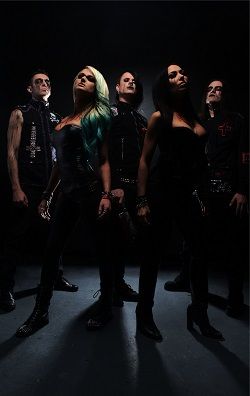 Hailing from Los Angeles, California, Butcher Babies have just released their debut album "Goliath" which promptly landed at number one on the Billboard Magazine Heatseakers chart and now they are a part of the touring Rockstar Energy Drink Mayhem Festival which is blazing a trail across North America. The band – which consists of the duel lead vocals of Heidi Shepherd and Carla Harvey, guitarist Henry Flury, bassist Jason Klein and Chrissy Warner on Drums – have been creating a huge buzz on the tour and have become one of the most anticipated bands on the bill. Following their live performance at the Hartford, Connecticut stop of the Mayhem Festival, co-lead vocalist Heidi Shepherd and guitarist Henry Flury were nice enough to sit down and answer a few questions. Here is what they had to say…
How have things been going on the Mayhem Festival so far?
Heidi: This was better than we expected, especially today in Hartford. Every time we've ever played in this area the kids go crazy, but today was above average. Continue reading »
Independent Release
Review by Tony Cannella
The four-piece band Motogruv formed in 2006 in Petaluma, California. They released their debut album in 2009 and now have released this 7-song, 30-minute EP independently. Some bands are hard to describe, others are not. Motogruv are not a very hard band to describe musically. For the most part they are a hard rock band with a definite 70s influence. In addition to their classic rock influences the band includes Jazz and Blues influences, to produce one of the more surprising albums of the year.
The raspy acapella style vocals of talented front-woman Corinne Reif kick starts "Nowhere & Here" – actually at the start her vocals have sort of a country twang to them, but that is not her usual style, still it shows the diversity of this band as the heavy, Black Sabbath (Ozzy-era) riffs come in. Continue reading »
Label : Standby Records
Review by Tony Cannella
Picture Me Broken is a melodic hard rock/modern metal outfit from California. The band is fronted by vocalist Layla Brooklyn Allman. She is the daughter of classic rock legend Greg Allman. They released their debut album "Wide Awake" in 2010 and have now issued their new EP entitled "Mannequins". This is my first exposure to Picture Me Broken and it is already evident to me that this band has a lot to offer. "Mannequins" is only 15-minutes long and for that time the band shows what they are capable of.
The opener "Torture" is a good start with plenty of melodic and catchy hooks. The next song "Mannequins" is my favorite. Continue reading »
Live Report and Photo by Vinnie Johnson
Edge of Paradise, heavy metal band from California stormed through Seattle WA this past Saturday, April 27th and they marked their presence. I've discovered Edge of Paradise a few months ago when they released their single, "Break Away". I was curious to find out weather they are just another female fronted act or a band to watch, and they are definitely the latter. With solid and refreshing material and phenomenal musicianship, Edge of Paradise is no band to take lightly. Continue reading »
Label : Southern Records
Review by Davide Torresan
Chelsea Wolfe is an American singer-songwriter and eponymous band from California. She released two albums: "The Grime and the Glow" in 2010 and "Apokalypsis" in 2011. Recently it came out a collection of acoustic songs: "Unknown Rooms". It is not easy to identify the genre that this girl proposes, but she suggests us the term "specific brand of drone-metal-art-folk". "Prayer for the Unborn" is a sort of quirk, experiment. Indeed Chelsea reproposes with her own style five songs of the English anarcho-punk band Rudimentary Peni. The change is literally radical since these songs have nothing to do with punk. They have a rock soul closer to alternative rock. Guitars are often used with fingerpicking. There are parts more quiet and others a little bit faster. Each song in the album is similar to the next one, and they show us a good singer. Chelsea's voice is really hypnotic and soothing. Continue reading »
6 color styles available:

Style switcher only on this demo version. Theme styles can be changed from Options page.