Browsing articles tagged with " flute"
Label : Metal Blade Records
Review by Luisa Mercier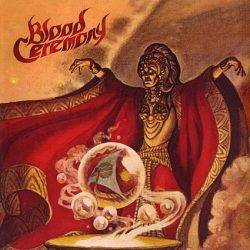 After four years from the first release, Blood Ceremony, Canadian doom band is reissuing their self-titled album. Sometimes happens that some young, new bands decide to pay a tribute to old school masters. Therefore they compose albums that are very reminiscent of the past, adding their own elements and creating something which is old and new at the same time: an original music album.
This is what Blood Ceremony has decided to do, so we can listen to their omage to the old masters Jethro Tull, Black Sabbath, Saint Vitus, Pentagram and also the reknown Italian prog rock school of the seventies. We can also find a certain influence of the horror movies of the same period, both in the lyrics and the visual imaginary that the band has been able to create.While the band we have listed as the main inspiration sources for Blood Ceremony lean more on the doom or the prog side, the two aspects are well balanced in their compositions. "I Am Coming With You" is a good example. Continue reading »
Label : Gnostic Dirt
Review by Luisa Mercier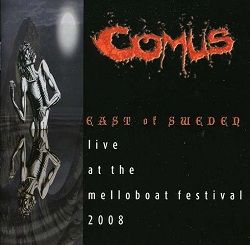 I did not know much about Comus before listening to this live album. I have came to know that it is a sort of reunion album after a long period of time (since 1972 they say in the live recording). As soon as I started listening, I understood that they are a worthy band anyway. They play a kind of progressive rock highly influenced by folk music with the addition of various instruments, flute above all. They have a '70s flavor that is missing in contemporary music which sounds completely fresh to me since I had not the chance to live the period in which this kind of music was more popular. Musically they're still perfect, and vocally Roger Wootton is obviously aged, but he still sounds good and the live recording is good. Someone complained about the fact that the crowd was barely audible, but for me it is better this way since I want to focus on the music not the audience. For lovers of prog rock, old flavors and moods this is a release they will enjoy for sure.
Rating – 75/100
Tracklist
Song to Comus

Diana

The Herald

Drip, Drip

The Prisoner

Venus in Furs

Song to Comus
Line Up
Roger Wootton – Guitar & Vocals

Bobbie Watson – Vocals & Percussion

Glenn Goring – 6 String, 12 String Guitar & Bongos

Andy Hellaby – Bass

Jon Seagroatt – Flute & Percussion

Colin Pearson -Violin & Viola
Links
Label : Equilibrium Music
Review by Stina
Some outstanding music has come across our ears throughout the course of 2010 from Equilibrium Music, and Hexperos's "The Veil of Queen Mab" is no exception. This Italian duo (the bandname derives from the characters Esperidi and from Hesperos – the former designing the three nymphs of the evening, who take care of a tree of golden apples and sing with melodious voices, and the latter the name of the first vesper star, the one preferred by Venus) was established in 2004 by multi-instrumentalist and main composer Francesco Forgione (double bass, cello, Bardic harp, percussions and keyboards) and vocalist Alessandra Santovito (also transverse flute and hammered dulcimer), formerly known for her work in the band Gothica. Alessandra is gifted with a rich and suave lyrical soprano voice that is destined to rejoice the ears of every fan of female vocalizations (she achieved a first class degree in opera singing at Pescara Conservatoire with full marks and honours), yet, what makes Hexperos stand out, and the reason why "The Veil of Queen Mab" scored so highly in my appreciation, is due to how they effortlessly escape the redundant approach that scuppers many a band with a Neoclassical edge to produce music that it's as synergic and airy as it's majestic and powerfully evocative. "The Veil of Queen Mab" has taken its time coming out, having been recorded and meticulously assembled over the course of three years (the band's debut, "The Garden of the Hesperides", saw the light in 2007), and thus the arrangements are manifold and finely crafted, but the textures found on each piece, dexterously fused with Alessandra's jaw-dropping voice, sound so graceful and impalpable they softly wrap the listener up like Queen Mab's merciful azure veil: the album title is inspired by that of a short novel by Nicaraguan writer and poet Rubén Darío, paying homage to the queen of fairies and dreams – originated by the Anglo-Saxon mythology, probably with roots in Celtic legends, and referred to in countless works by a number of artists, from Shakespeare or Percy Shelley to Gustave Doré – who brings solace to the Artists comforting them during their struggles. Hexperos used this figure as a striking metaphor to underline the aim and spirit that pervades the whole work, which is dedicated to Art, and Artists. The result is an album that can draw comparisons to top-shelf Gothic/Neoclassical acts, but ultimately sounds like nothing else but the work of their creator – and most importantly, like a true work of Art. Recommended.
Rating – 85/100
Tracklist
The Fairy Appears
Queen Mab
El Velo Azul
Moon Spell
Summatem Deam
Diadem of the Night
Summoning of the Artists
A Reason to Live
Nocturne
Le Lacrime di Proserpina
A Forest
A Midsummer Night's Dream
Time of Spirit
Asturiana
Line Up
Francesco Forgione – Double Bass, Cello, Keyboards, Bardic Harp, Bodhrán, Jambè, Programming
Alessandra Santovito – Voice, Flute, Hammer Dulcimer
Francesca Romana Di Nicola – Celtic Harp
Alessandro Pensa – Violin, Viola
Manuel Manzitti – Bassoon
Links
MySpace * ReverbNation * Facebook * Site

Interview by Eetu Niskanen
Editing by Miriam C.
Interview with Lisy Stefanoni, singer of the Italian Gothic Folk Metal band Evenoire, in this interview we'll talk about the 2008-debut EP "I Will Stay" that its review has taken the maximum rating score here at Femme Metal Webzine. Enjoy it!
How would you describe Evenoire's music to people who have never heard you?
Evenoire's music is a journey into enchanted realms, ancient legends, magical places; our music mixes the power of metal, folk ballads, oriental echoes and evocative atmospheres. The lyrics talk about legends, dark fairy-tales and historical people. The result is a special and fascinating sound enriched by flute melodies and different styles of vocals, which go from sweet and ethereal to powerful and aggressive. I call our music Oneiric Metal.
How would you describe your voice?
I think I'm an eclectic singer, I like to experiment with my voice and that's the reason why I have no limits. I like to sing both in opera style and in modern style, I like folk and oriental styles, too. I try to create something unique mixing all these ways of singing. I have a good vocal range, which allows me to reach very high notes and my timbre is quite crystal clear, warm and high (I'm a light lyric soprano) and at the same time strong and powerful. It's really difficult to describe a voice, it's the first time I do that!
Did you always wanted to become a singer?
Yes, sure! I started to study music at the age of 6, attending music theory classes and flute lessons. Then I studied also guitar and piano, but my great passion was singing, so when I was at secondary school I started to attend courses of modern singing including rock and soul styles. At the age of 16 I experienced for the first time the live performances with my rock band and my acoustic trio, but actually I've always sang during music school performances, shows, competitions and local events since I was a child. Currently I'm studying operating singing: I love the world of Opera and Theatre and I hope to graduate soon at conservatory. I cannot live without singing, I sing because it's the only way to be myself, the only way to express my emotions and my soul.
What kind of music do you listen yourself and how often?
I always listen to music! I love metal, especially gothic, symphonic, prog, folk and bands with female voices. My favourite bands are Therion, Opeth, Within Temptation, After Forever, Ayreon, The Gathering, Symphony X. I listen to hard rock, rock and heavy metal, too. I like so much folk, medieval, Celtic music, New Age, and Italian Opera of course!
Where does the name Evenoire come from?
We chose the name "Evenoire" because it's really evocative and has different meanings: NOIR (black) is one of the colour of our music, EVEN (noire) because we like to express joyful colours with folk atmospheres. EVEN may also refer to the night, a dark night: the deep night is the moment of the dreams, of the dark creatures like ghosts and spirits, the moment of enchanted things and many legends, and we like to talk about all these themes in our songs. Evenoire may also refer to EVE NOIR, Lilith, a really fascinating and strong female figure who inhabits a lot of archaic and modern myths.
Could you tell us something about the other members of the band?
We are good friends, not only a band. During these years we had a lot of fun together and we reached a good level of musical harmony. Marco, the bass player, is the major composer of the band, even if everyone gives important inputs to the composition process and we all arrange the songs. I write all the vocal melodies and lyrics. Recently Giada, the keyboard player, has left the band because of work troubles. We are still looking for a new keys player and we will comunicate you as soon as possible news about the new line-up.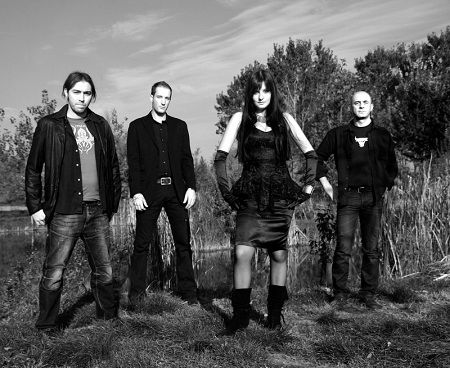 How did you get in touch with Femme Metal Records to be part of the compilation "Demonic and Demonic"?
Miriam, the chief editor of Femme metal Webzine, proposed and encouraged us to submit a song for the compilation: we thank so much Miriam and Carrie Sharp for this great opportunity!
What do you think about the compilation CD?
It's a wonderful idea to support cancer research and promote female fronted metal bands. The bands included play great music, it's a top quality compilation, a really interesting project!
Why did you choose "Aries" as the particular track to the compilation?
"Aries" is the song from our first EP that well describes our music and our style: powerful music, oriental and folk echoes, symphonic keyboards, prog riffs, different singing styles, and a melancholic acoustic end with a sweet flute melody.
How is the metal scene in Italy?
Not so good. I mean, there are a lot of good bands but it is really difficult to emerge from the underground, metal is not considered in the major music circuits. The clubs prefer tribute bands and cover bands and there is very few space to promote our music. It's a really bad situation.
What are the plans of Evenoire for the future?
We are working on the full length and we are searching for a label to support our music.
You also released your debut EP last year, how much work did it take?
It's our first work and our first experience, so it took us quite time but now we have reached a very good harmony into the band, so that the composition of the new songs is faster. We can say we have found our musical dimension.
What is the story behind the EP cover, who designed it?
The cover is a painting created by Gabriella Ghisleri, the mother of our ex keyboard player Giada. The painting describes the spirit of a woman who hides her real face behind a mask. We chose this picture because it represents our songs: the spirit on the boat refers to the ghost of "Azzurrina" and the hidden face refers to "Mirror Lies", which lets us know about the real identities concealed behind the mirrors. The general setting of the picture, the girl on the boat and the lights reflected by the sea, refer to the song "I Will Stay", which tells the story of a girl who runs away from her pains on a boat and she perceives the reflections of a medieval feast through the water: that feast will make she smile again.
Is there anything the readers should know I haven't asked?
For everyone interested in our EP and music please visit our websites for all information. Thanks so much to you Eetu for the interview and thanks to Femme Metal Webzine for the support!
Links
MySpace * ReverbNation * Facebook * Twitter * Site
Label : Scarlet Records
Review by Tony Cannella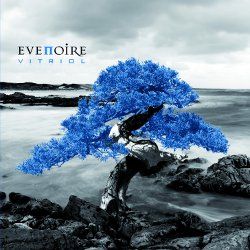 The Italian band Evenoire has been with us since 2006 and in 2009 they gave us a decent four song EP called "I Will Stay". Now the band returns with their full-length debut "Vitriol". It is a well known fact that the country of Italy has give us many, many great female fronted bands and with "Vitriol" Evenoire are sure to add to the Italian tradition of great metal. On "Vitriol", Evenoire really doesn't create any boundaries for themselves, they aren't beholden to any one style, and that is refreshing. They combine the best elements of symphonic, folk, gothic and progressive metal with a medieval vibe in some of the songs to create one of the best albums of the year thus far. Vocalist Lisy Stefanoni's has so many layers to her vocals and is a powerful presence throughout the album. As far as pure singers go, she is one of the best that I have heard in a long time. Of course opinions are all subjective but I would put her in the same class as Floor Jansen, Simone Simons, Sharon den Adel and Tarja Turunen, she is that good. The intro "Vitriol" is a quiet piano and symphonic piece that leads into the symphonic "Days of the Blackbird"; this track features blasts of heaviness and changing tempos to deliver an excellent opener. Lisy sings in both an operatic and soaring rock style, something she is able to do throughout the album is sing in a number of different styles in one song. "Misleading Paradise", opens with a flute played by Lisy (which is prominently featured throughout the album), before the crunching power riffing of guitarists Alessandro Gervasi and Toshiro Brunelli joins the fray. Damn, this song is just so infectious it is impossible not to like. Aside from the flute this is actually a pretty straight-forward rock/metal tune. This is just pure awesomeness. "Forever Gone" is next and has a slower heavy tempo to it, and features some death grunts (just a little bit) in the background. The intro "The Prayer" (featuring only acoustic guitar and soft vocals from Lisy) leads into the folk-ish beginning of "Girl By the Lake" which is one of two songs over 7-minutes long (the other is "Misleading Paradise"), this song fast became my favorite – it kind of reminded me of "Mother Earth" era Within Temptation with Lisy sounding a bit like Sharon den Adel at times. Next is "Minstrel of Dolomite" which kind of has a Blackmore's Night vibe to it at the start, but quickly evolves into a song that is unmistakably Evenoire. After the final two songs "Alchimia" and "Wise King" closes out the disc, there is really nothing I can criticize about it. In the last three years between the EP and "Vitriol" the band has grown so much and in doing so has delivered a fantastic debut and proves they are a band to be taken seriously. I can talk or write about "Vitriol" till I am blue in the face, but mere words will not do it justice, it must be heard.
Rating – 100/100
Tracklist
Vitriol

Days of the Blackbird

Misleading Paradise

Forever Gone

The Prayer

Girl By the Lake

Minstrel of Dolomites

Alchimia

Wise King
Line Up
Lisy Stefanoni – Vocals and Flute

Alessandro Gervasi – Guitars

Toshiro Brunelli – Guitars

Marco Binotto – Bass

Daniele Foroni – Drums
Links
MySpace * ReverbNation * Facebook * Twitter * Site
6 color styles available:

Style switcher only on this demo version. Theme styles can be changed from Options page.