Browsing articles tagged with " hard"

Interview by Tony Cannella
The veteran Italian metal band Lacuna Coil has been blazing a metal trail across the U.S. as part of the Hottest Chicks in Hard Rock tour – which by all accounts has been a huge success. With their new album "Broken Crown Halo" set to be released the band is poised for a long road of touring. Recently we spoke to one half of the bands lead vocal duo Cristina Scabbia to talk about the new album, the departure of two key members and more.
You are currently out on the Hottest Chicks in Hard Rock tour. How has it been going so far?
Continue reading »
Label: Frontiers Records
Review by Tony Cannella
For me, Heart is one of those bands that it is easy to forget how many great songs they have. Everyone knows "Barracuda", "Crazy on You", "Straight On", etc. etc. but the fact is, their catalogue is so much stronger that just the classics that get played on the radio. With their new live album "Fanatic Live…" the band shines a light on some of their lesser known songs in addition to the aforementioned classics. And oh yeah, there is Ann Wilson who continues to have one of the best voices in all of rock.
From the opening of "Fanatic" taken from their last studio album and then "Magazine's" "Heartless" the band takes the listener on a rock and roll journey that spans their career. Continue reading »
Independent Release
Review by Tony Cannella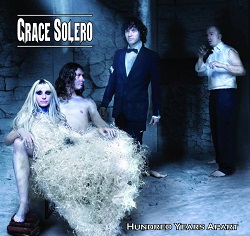 Following up her impressive debut album "New Moon", the UK songstress Grace Solero returns with an equally impressive sophomore outing, "Hundred Years Apart". The band has certainly grown and progressed and the songs on "Hundred Years Apart" are better rounded and sounds like a hungrier animal.
Grace Solero continues to walk the line between alternative, metal, electronic sounds and catchier, accessible hard rock. The songs do have a bit on an edge to them. "St. Ives" is a great example of a song that could get Grace Solero some mainstream attention as well as the haunting track "Once Again". On the other hand there are songs like "Riptide" and "Electro" that should please fans of the heavier stuff. Continue reading »
Label: All Out Music
Review by Tony Cannella
La Strange – also known as – Angela Castellani is a singer from Northern Italy. Her debut album is called "Queen of Disguise" and is made up of 10-songs and 38-minutes worth of worthwhile melodic hard rock.
The bluesy opener "Control" gets the ball rolling. Angela's voice carries a lot of Fire and passion, and that continues on the next song the haunting "Addicted to Some Thoughts". "Enjoy All Their Lies" starts off as ballad before transforming into a like-able up-tempo rocker. This song changes tempos several times and Angela pushes her vocals to the limit. Other highlights include: "Far Away", a cover of the Michael Jackson song "Give in to Me" and the last two songs "Queen of Disguise" and the ballad "You Finally Knocked Me Down". Continue reading »
Independent Release
Review by Tony Cannella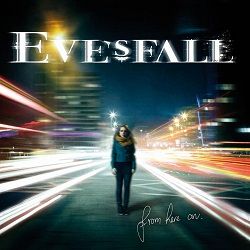 Eve's Fall is a melodic hard rock and metal band from The Netherlands. The band formed in 2012 and in a short amount of time has released their debut album, "From Here On". The impressive thing about Eve's Fall is their ability to mix catchy pop hooks and accessible melodies within a hard rock and metal framework. "From Here On" features plenty of that in abundance.
"Her Absence" opens things with a straight-forward riff as the soaring vocals of Liesbeth Cordia join in. This song features a great melody and pace. "No Compassion" picks up right where the previous song left off and is another quality number with a great, memorable chorus and melody. Continue reading »
6 color styles available:

Style switcher only on this demo version. Theme styles can be changed from Options page.