Browsing articles tagged with " netherlands"
Label: Suburban Records
Review by Tony Cannella
Wow! The new album from Dutch prog metallers Kingfisher Sky is pretty freakin' good. Their 3rd album "Arms of Morpheus" continues on the bands progressive/folk-ish path which began with their 2007 debut "Hallway of Dreams" and things just keep getting better and better.
Opening with "Hypnos", this is a great moody track with changing tempos and a bit of a dramatic vibe; this is a good way to start things. From there we go into "At Least You Tried" continues the album on a positive course. "King of Thieves" is the first single and features a good amount of symphonic and folk elements to go with the prog. Other highlights include: "Open Your Eyes", "Strength of the Endless" and "The Morrigan". Continue reading »
Independent Release
Review by Tony Cannella
End of the Dream is a female fronted metal band from the Netherlands that was formed in 2010. They have recently issued their debut 6-song self-titled EP. Let's have a listen, shall we?
First off, for an EP this is pretty long. Clocking in at 33-minutes, EOTD presents a longer than your average EP, not that I'm complaining. "Colder" opens things and is a pretty cool way to kick things off. The riffs are sharp and the song is dramatic with a solid groove to it. The next track "Follow the Angels" begins with a slower tempo before a choir kicks in and then the heavy guitar riffs. I would describe the band as a cross between Within Temptation and Evanescence. Lead vocalist Micky certainly has a pretty cool and expressive voice. Continue reading »
Label: V2 Records
Review by Tony Cannella
From The Netherlands, theNAME are a hugely underrated band. They formed in 2000 and have just issued their fourth album, "Unchained". The sound is a mix of hard rock and metal with groove-laden riffs. They have toured extensively throughout Europe with some of hard rock and metal's biggest and best acts – most recently theNAME has shared the stage with Tarja Turunen.
From the opening track "Draw the Line", the riffs are so damn infectious and the songs boast a lot of power and energy which are contagious as well. The songs have a certain groove metal quality with the riffs. The production is very clear and in-your-face. Continue reading »

Interview by Jack Williams
I have had the pleasure of seeing theNAME twice this year, the first time in support of Stream of Passion in Amsterdam and last weekend at The Female Metal Event- FemME. Today I am speaking with Hadassa, the talented lead singer of the band.
Greetings Hadassa, welcome to Femme Metal Webzine.
Hey there! Thank you, also for the nice introduction

Congratulations on a wonderful show last weekend in Eindhoven, what are your thoughts about the festival?
Thank you! I had a really great time! It was a lot of fun to play at FemME. Also, I really enjoyed being part of the fashion show of Ingeborg Steenhorst. I never did that before
You have such a wonderfully dynamic presence on the stage, for those new to the band, how did you get started in the Metal scene? Continue reading »
Interview by Abigail Henry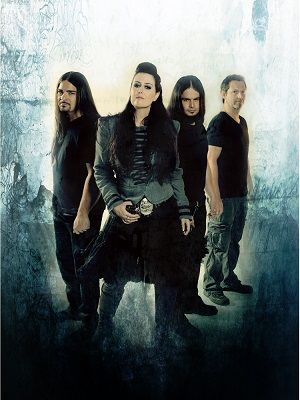 Carla Van Huizen
is the incredible voice behind the Dutch Band La-Ventura. La-Ventura came crashing into the music scene in 2005 with their first album "A New Beginning"and now they are back with their second album, "White Crow", after several years of hardship in order to see their new project successfully made. We had the chance to speak to Carla about of the events leading up to the albums release and what is to be expected in the future, which includes playing at the infamous Female Metal Voice Festival in October this year.
The release of "White Crow" has attracted a lot of attention and deservedly so! How has this been for you personally?
It is really great to see that so many friends and fans from all over the world like the new album! During the recordings of the album we talked about how to set up the promotion campaign and besides letting our promotion manager for the Benelux do his job we realised that we had to start working our way into the social media. Continue reading »
6 color styles available:

Style switcher only on this demo version. Theme styles can be changed from Options page.
Archives