Browsing articles tagged with " netherlands"
Interview by Miriam C.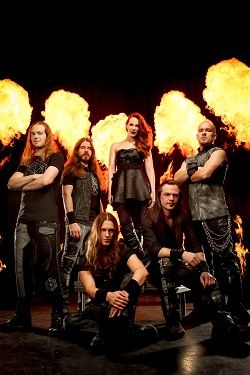 Although we haven't still have had the chance to give a thorough listen to this fantastic (at least we presume so) album, we asked Epica's  Mark Jansen to introduce us this brand new opus called "The Quantum Enigma" in his own words. We're sure of one thing:  TQE will be the breakout album for Epica. Discover something more about this new work in the following Q &R!
Would you mind telling us something more about how "The Quantum Enigma" was devoloped? When you have started to draft out the first ideas for this album?
The first ideas emerged 2 years ago when we started writing songs for the album. When we had enough songs we sat together with producer Joost van den Broek and selected the best songs. Still a quite big amount of songs (18). After the selection we did rehearse those songs and jammed a bit in order to make them better. We worked very hard on the final details with the whole band and Joost, this effort resulted in improved compositions. We also worked on the sound of the bass, guitars and drums. We have tested several amps and tried out multiple combinations in order to find the best possible sound. Continue reading »
Independent Release
Review by Tony Cannella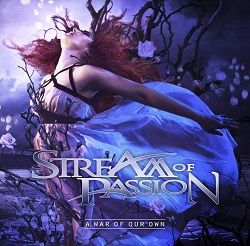 Originally starting out in 2005 as an Arjen Lucassen project, the band Stream of Passion has evolved into so much more. With their 4th album, "A War of Our Own" that evolution continues…
"A War of Our Own" is a 13-song, 1 hour musical journey that showcases what fans have grown to love about this symphonic/gothic metal band. Not the least of which are the dramatic and beautiful vocals of Marcela Bovio. Each song is meticulously crafted and is nice additions to the growing SOP catalogue. The opening track "Monster" is like a monster out of the gate. The song features some huge riffs at the beginning but shifts tempos throughout and is just plain stunning – and the best song. You have to love Marcela's voice; she's much underrated, in my opinion. Continue reading »
Independent Release
Review by Tony Cannella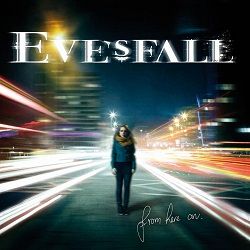 Eve's Fall is a melodic hard rock and metal band from The Netherlands. The band formed in 2012 and in a short amount of time has released their debut album, "From Here On". The impressive thing about Eve's Fall is their ability to mix catchy pop hooks and accessible melodies within a hard rock and metal framework. "From Here On" features plenty of that in abundance.
"Her Absence" opens things with a straight-forward riff as the soaring vocals of Liesbeth Cordia join in. This song features a great melody and pace. "No Compassion" picks up right where the previous song left off and is another quality number with a great, memorable chorus and melody. Continue reading »
Label: Ravenheart Records/Valkyrie Rising
Review by Tony Cannella
La-Ventura is a melodic hard rock/metal band from The Netherlands. They formed in 2007 and released their debut album, "A New Beginning". Now the band returns with their sophomore effort "White Crow".
"White Crow" features 40-minutes of infectiously melodic, guitar driven, hard rock and metal. La-Ventura has no delusions about what they do and their songs draw you in instantly. Right from the start, the opening track "Falling Down" is an excellent way to open things and the band proves they have a great ear for melody – which their songs have an abundance of. Song like "Human Vanity", "Song for an Idiot" (great title), and the track "White Crow" are all solid and showcases what La-Ventura are capable of. Continue reading »
Interview by Laura Medina
Dutch Symphonic Death Metal band MaYaN will be releasing their follow-up album to 2012's "Quarterpast," with their heaviest, extreme to date album,"Antagonise" that is due out on Jan 31 (EU), Feb 3 (UK) & Feb 4, 2014 (US) via Nuclear Blast Records. Founded by Guitarist/vocalist Mark Jansen (Epica), Keyboardist Jack Driessen (Former After Forever) and Guitarist Frank Schiphorst (Former Symmetry) in 2010, MaYaN combines two types of music elements: Symphonic and death metal. If you could describe MaYaN and the upcoming release of "Antagonise" it would be BRUTAL! I got the pleasure and honor to chat with Frank to discuss the upcoming release of "Antagonise", MaYaN's future tour plans, what fans can expect at their CD release parties in the Netherlands and what was it like sharing the stage with famous musicians from all types of metal at the Christmas Metal Symphony concerts. Stay tuned here at Femme Metal Webzine to see what else Frank had to say in our little chat.  Who's ready for the year of MaYaN?!!
Continue reading »
6 color styles available:

Style switcher only on this demo version. Theme styles can be changed from Options page.