Browsing articles tagged with " netherlands"
Label : Ravenheart Music
Review by Tony Cannella
From Holland, Only Fate Remains is formerly known as Trisomy and were formed in 1996. They released three demos under that moniker before changing their name to their current one. This brings us to 2011 and the debut full-length from Only Fate Remains "Breathe". The music on "Breathe" is some high quality melodic metal that has drawn favorable comparisons to such bands as Evanescence, Lacuna Coil and The Gathering. That is not a bad trio to be compared to.
From the opening track of "Nightly Walks" it becomes apparent that Only Fate Remains has something a little different to offer that many of the current female fronted bands. They eschew the usage of grunt vocals, orchestras and operatic vocals. Instead they opt for a more organic sound that emphasizes the heavy guitars and Eva Kokken's excellent, clean vocals. My favorite song is the more up-tempo "Fall". This track would make an excellent single/video, in my opinion and a song that I would play for anyone who has not yet heard the band. "Shallow Water" is buoyed by an excellent guitar riff which is complimented by the vocals and Maarten Siem's keyboard work, but it is this huge guitar riff that really makes this song work for me.  Continue reading »
Label : Independent Release/Nightmare Records
Review by Tony Cannella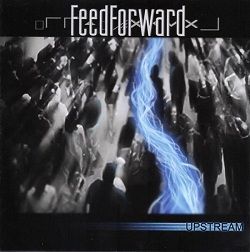 The Dutch Progressive Rock/Metal band FeedForward has been around since 2002. After releasing two demos in 2002 and 2003, they issued their full-length debut "Barefoot & Naked" in 2007. Now, after a five year absence FeedForward returns with their sophomore effort and first for their new label Nightmare Records, "Upstream".
Like a lot of prog music, FeedForward are a band that loves to play long, complex epic type numbers and the songs on "Upstream" are no exception. Mixed in with the longer songs are more accessible 4-5 tracks. Actually, even their longer songs are pretty accessible as well.
FeedForward definitely has an ear for melody and the smooth vocals of Patrice really add a lot to the music. The songs on "Upstream" can and should appeal to prog fans and melodic rock fans alike. From the opening intro "Ahead of Echoes" and leading into "Deepest Thoughts", it is quite obvious that FeedForward has a lot to offer a wide variety of rock and metal fans. Musically, I would describe them as sort of similar to latter day Fates Warning andQueensryche "Empire" era , with a nod to 70s era prog rock here and there. Continue reading »
Dutch Symphonic Rock superstars WITHIN TEMPTATION issued a new statement about the upcoming album, read below :
"Hi everyone,

We have been, and we are still hiding in our studios since winter started. With every writing session new things are happening. We are experimenting a lot and are trying to hold on to this magical feeling. We are looking forward to the moment that we can share with you where this journey has taken us. Continue reading »
Live Report and Photos by Stefano Liuzzi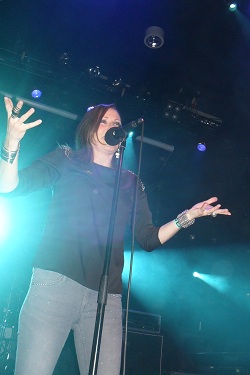 After the succesful 2012 tour, celebrating the 20 years release of the first album "Always", the dutch band The Gathering is back on the road. The last CD "Disclosure" was released on September 2012 and due to Silje Wergeland's pregnancy (she had a baby girl in August), only now, beginning of 2013, the promoting tour can start. The P60 is a medium sized club near Amsterdam,these are the standards now for the band, not a sold out but a full crowded venue. Over the years The Gathering gained a serious reputation, first on metal scene, now as independent rock, integrity means everything, developing music despite of the golden rules of the music business, these are the trademarks of this band and the first show in Amstelveen makes no exception,o n the setlist no "classics" like "Saturnine" , "Travel" or "Eleanor" but almost the new album and few oldies unplayed since ages. This line up (Renè Rutten-guitars, Hans Rutten - drums, Frank Boeijen - keyboards, Marjolein Kooijman - bass and backing vocals, Silje Wergeland-vocals) had the last gig one year and half ago, but everything click on the first song "Paper Waves" (the opener of "Disclosure" too) then we have one of the most bizarre of TG recent history, "Meltdown" with Frank singing and the beautiful trumpet of Noel Hofman to add colors to this 8 minutes track. With "Green Ocean Road" even the sleepy Dutch audience got involved on this musical trip, then "Heroes for Ghosts" ,11 minutes track that had the premiere live 2 years ago on the same venue. When there's big change in the line up of a band, then everything could collapse…this is not the case of TG.. "Heroes" is the highlights of Silje's work so far, she never tried to fill Anneke's shoes or tried to radically change the image and the philosophy of the band, we have to give her some serious credit for that. Continue reading »
Independent Release
Review by Tony Cannella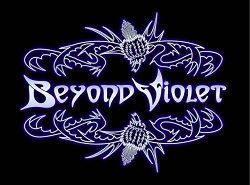 Beyond Violet is a melodic rock/metal band based in The Netherlands. They are actually a multi-national act that includes members from England, Italy and The Netherlands. Their new demo contains just 3-songs and almost 12-minutes worth of music, but the band managed to win me over during that time.
First of all, for a demo the sound is excellent, you would think that it is put out by a big label. Beyond Violet's line-up includes two females and two males. Lead vocalist Roxanne really makes the songs come to life with her high-pitched vocal style – even though she doesn't offer much in the way of diversity in her style, she still has a distinctive voice that suits the songs well. I don't know who I would compare her to, maybe Liv Kristine? At times they sound similar but there are also differences. On to the music: the best song is first. "Cybercherry" does exactly what an opening song should do, it grabs your attention. I was immediately swept up in the guitar riffs and infectious melody that carries the song. The next song, "Beyond the Fire" starts off with a slower tempo and has some great lyrics. The tempo picks up and the song is helped out by some great guitar work. The final song "Cupid" is the heaviest and like the opener this is a memorable song – and a great way to end things.
What a wonderful surprise that Beyond Violet turned out to be. Their new EP may have only three songs, but they speak volumes about what this band is capable of.
Rating – 85/100
Tracklist
Cybercherry
Beyond the Fire
Cupid
Line Up
Roxanne – Vocals
John – Guitar
Ilona – Keyboards
Chiara – Bass
Merlijn – Drums
Links
6 color styles available:

Style switcher only on this demo version. Theme styles can be changed from Options page.