Browsing articles tagged with " tony"
Label: Nuclear Blast
Review by Tony Cannella
On his debut solo album, Nightwish keyboardist Tuomas Holopainen has created a concept album based around the graphic novel "The Life and Times of Scrooge McDuck"! According to Mr. Holopainen this project was 14 years in the making and written during his downtime from Nightwish.
Granted Scrooge McDuck may not be a very metal topic to tackle, but "The Life and Times…" isn't really a metal album… so there! "…Scrooge" features 10-songs and almost an hour worth of symphonic, classically influenced music with folk and cinematic influences as well – with the album artwork done by the book's author Don Rosa. There are several guest musicians, including four singers: Alan Reid, Johanna Kurkela, Johanna Iivanainen & Tony Kakko. Continue reading »
Label: Napalm Records
Review by Tony Cannella
When it was announced that the long running German symphonic metal band Xandria parted ways with vocalist Manuela Kraller after just one album ("Neverworld's End") it came as a huge shock. What would this mean for one of the more durable and consistent bands in the symphonic metal scene? Well, the band has enlisted Ex Libris vocalist Dianne van Giersbergen and has released a new album ("Sacrificium"), and while it may be debatable whether or not this is their best work, it certainly is an album that sees the band pulling out all the stops.
The opening song "Sacrificium" lets us know what we are in for, straight away. At over 10-minutes it is interesting that they chose to begin the album with an epic of this nature. Dianne van Giersbergen's vocals are huge and wickedly operatic. Continue reading »
Label: Napalm Records
Review by Tony Cannella
From Russia, Arkona has already made a heavy footprint in the pagan/folk metal genre. Now they return with their 7th album (yes, I know, It's hard to believe) "Yav". The thing I have always loved about Arkona is the ability to mix in elements of thrash, black metal and traditional metal along with the pagan and folk influences. In Maria "Masha Scream" Arkhipova the band can boast a top-notch front lady – a fact she proves again and again on "Yav".
Even though "Yav" features only 9-songs, it clocks in at a whopping 68-minute! There is plenty of cool epic stuff here, like the 9-minute opener "Zarozhdeni". The next track "Na Strazhe Novyh Let" shows off the diversity of the band and is one of the best songs they've ever done. Continue reading »
Independent Release
Review by Tony Cannella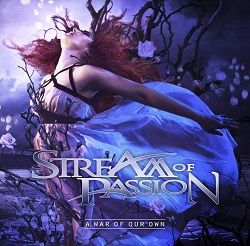 Originally starting out in 2005 as an Arjen Lucassen project, the band Stream of Passion has evolved into so much more. With their 4th album, "A War of Our Own" that evolution continues…
"A War of Our Own" is a 13-song, 1 hour musical journey that showcases what fans have grown to love about this symphonic/gothic metal band. Not the least of which are the dramatic and beautiful vocals of Marcela Bovio. Each song is meticulously crafted and is nice additions to the growing SOP catalogue. The opening track "Monster" is like a monster out of the gate. The song features some huge riffs at the beginning but shifts tempos throughout and is just plain stunning – and the best song. You have to love Marcela's voice; she's much underrated, in my opinion. Continue reading »
Label: Ex Cathedra Records
Review by Tony Cannella
Leah McHenry is a very talented singer/songwriter from Canada. Her debut album "Of Earth & Angels" was pretty damn impressive. Now she returns with a new 5-song 27-minute EP worth Celtic flavored hard rock entitled "Otherworld".
The EP begins with the melancholic piano driven ballad "Shores of Your Lies". This is kind of an interesting opener since not too many metal albums begin with a ballad, I would wager. Rain and thunder sounds intro the next tune "The Northern Edge" which turns into a heavier, melodic, mid-tempo track. Leah slows the tempo down a few notches with the atmospheric "Surrounded". I loved this song and it is my 2nd favorite on the album. This track features some great chill inducing vocals. Continue reading »
6 color styles available:

Style switcher only on this demo version. Theme styles can be changed from Options page.