Browsing articles tagged with " power"

For the first time ever many of the biggest and emerging artists of the NL Heavy Music Scene have collaborated to record and release a track to help raising funds for the Red Cross, in occasion of 3FM's Serious Request 2014, a massive dutch charity event that is organised every year by one of Netherland's biggest radio stations. From December 8th 2014, on www.thepoweroflove.nl, fans will be able to give a donation and download a heavy cover of "The Power of Love", originally performed by Frankie Goes to Hollywood. Continue reading »
Label: AFM Records
Review by Tony Cannella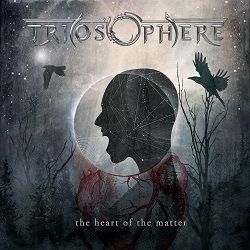 There is always a place for all kinds of metal genres, sub genres and sub genres of sub genres. It's all good and there is so much good stuff out there. I love it all, operatic metal, symphonic metal, extreme metal, but to me it is always great to hear a band that just gets back to basics plays metal. Just straight-forward in your face behind a wall of guitars metal; in that case the Norwegian band Triosphere is like a breath of fresh air. With their 3rd album – and first in 4-years – "The Heart of the Matter" the band is in top form and seems to be really hitting their stride.
The opening track "My Fortress" has an Iron Maiden vibe to it. The song is spurred on by wall of relentless riffs and a sort of galloping rhythm that Maiden has been known for. The relentlessness continues on the powerful second track "Steal Away the Light". Continue reading »
Interview by CriX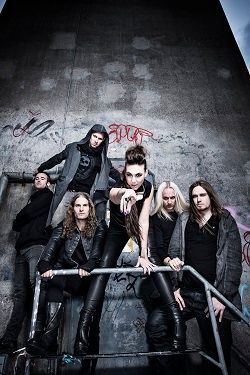 Amaranthe
is ready to amaze us with the new brand album "Massive Addictive" that promises to be an explosion of surprises and music experiments. During Porispere festival in Finland we had the opportunity to meet the wonderful Elize Ryd and chat more about their last work and the projects for the future. Check it out!
Hey Elize, welcome to Femme Metal Webzine, it's a pleasure for us to talk again with you!
Thank you so much, it's a pleasure for me as well to be on Femme Metal Webzine!
Reading something on your website, I've read that your 3rd album will be released this fall, would you mind tell us something more about it?
We started to work on this new album not too long time ago. Always we try to make another better album than last one. It is hard for everyone to write music but if you just find something that you really want to write or something that you want to get out; like me as a singer, I felt like "I can do more with my voice, I can show more, I would like to make a song that really recognize my different like vocals", so I got a lot of inspiration. Continue reading »
Live review  by Abigail Henry
On the 10th May many fans, united by their love and support for German band Xandria, travelled to attend the annual Dames of Darkness Festival held at The Robin 2 in Bilston, England. Armed with a new album and a new singer, the audience eagerly anticipated Xandria's return to the stage.
The atmosphere was fantastic. Beers were poured, food was served and everyone had gathered to the stage to watch great performers own their set and audience. When Jaded Star had finished their last song, in which I was still in awe at, mesmerized by Maxi Nil's incredible talent and charisma, I couldn't help but feel the excitement knowing Xandria were soon to begin. Having been very familiar with their previous work with Lisa Middlehauve and Manuela Kraller, I did not know what to expect from Ex-Libris singer Dianne Van Giersbergen.
The second the music began the audience in unison cheered and displayed their happiness at the sight of the Phillip, Marco, Steve and Gerit taking position, but there was still one person missing. Continue reading »
Independent Release
Review by Tony Cannella
On Valentine's Day of this year the Dutch symphonic power metal band Magion announced that they were calling it quits. Since the band formed in 2005 they released an EP, two demos and two full-length albums. Their announcement came as a bit of a surprise, since their just released second album "A Different Shade of Light" is their best, most sophisticated work to date.
"A Different Shade of Darkness" is 10-songs and 65-minutes worth of killer material. The album begins with the excellent, "Beloved Enemies". The massive "Masquerade" is up next and features an almost thrash metal vibe which is combined with the technical complexity which defines this album. Continue reading »
6 color styles available:

Style switcher only on this demo version. Theme styles can be changed from Options page.
Archives
Calendar