Browsing articles tagged with " 2011"
Label: Jyden Music
Review by Tony Cannella
From Sweden, Akribi is a progressive metal band who fuses Dream Theater style song arrangements with heavy riffs and clean vocals courtesy of Jessica Åhman. The band was formed in 2003 and in 2011 released their debut album – this one here – "Black Morning Sun".
"Black Morning Sun" is over an hour long and several of the songs fall in the very prog-ish 6-9 range. Akribi are not afraid to go off the beaten path either as the songs occasionally veer off into tangents, jams and signature time changes. It all manages to keep the listener on their toes and wonder what's coming next. In addition to the longer songs, the band also gives us some shorter more immediate numbers. Continue reading »
Independent Release
Reviews by Tony Cannella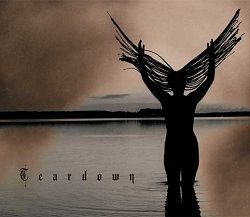 Released in 2004, "Drowned in Your Tears" is the first recorded output from the Finnish band Teardown. Even though this is their first attempt, their sound is rawer and the production is not as good as what came after. Still, for fans of the band it is an interesting look at how Teardown started and has progressed over the years.
"Stolen by Sorrow" opens things on an up-tempo, energetic pace. "Iced Heart" is a bit slower and has a heavy, doomy quality to it. "Dust" is next and opens up acoustically, like a lot of the bands material as the heavy guitars join in. Even though the final track, "Drowned in Your Tears" opens with a slower pace it quickly speeds up and shows what this excellent melodic metal band is capable of. Continue reading »
Independent Release
Review by Tony Cannella
Back in my formative metal years, I "discovered" many a great band because of their album cover art (that's how I first got into Iron Maiden – Derek Riggs ruled) which – back then – was the first impression you would get from a band. Of course cool album cover art means nothing if the music on the album isn't very good (and I've had those experiences as well). This brings me to the Canadian band Unleash the Archers. Their cover artwork immediately piqued my interest; fortunately the music contained on the CD came through big time – and then some, actually they exceeded all of my expectations – this band is a whole lot more than just cool cover art (although their artwork is excellent). On their latest release "Demons of the Astrowaste", Unleash the Archers deliver over an hour's worth of melodic power heavy metal, combined with thrash metal riffs and some intense Mark Janssen from Epica type screams courtesy of Brayden Dyzckowski (he also plays guitar). Continue reading »
Label: Equinoxe Records
Review by Tony Cannella
Some Old school Death Metal combined with Melodic more traditional metal is what you'll get on "Longplayer", the debut album from Germany's Mental Defect.
Mental Defect includes the tried- and-true method of including duel male/female vocalists with vastly different styles. Clodi provides the clean female vocals, whilst Sanny contributes with some harsh sounding Death Metal vocals, which of course couldn't be more different from each other. It is interesting how the music adapts and changes to whoever is singing, which is an appealing twist. When Clodi is singing the music is more melodic heavy metal and when Sanny takes over on the mic the music takes on a Death Metal technique. Continue reading »
Independent Release
Review by Tony Cannella
From the UK, Janey Summer released her debut "Along the Way" way back in 2008. She returns now with a phenomenal, fantastic and just flat out excellent 2-song single "Time Will Tell".
Where her debut, caught me by surprise, I was more than prepared for this 2-songs and 8-minutes worth of music – or so I thought. Now, Janey Summer is not a typical "metal" artist, her music is probably more rock than metal, but she does incorporate some heavier moments into the songs. But the main attraction for me is that voice. Janey Summer has such an expressive and unique voice that really comes shining through on these two songs. I absolutely adored the opening track "Time Will Tell". Continue reading »
6 color styles available:

Style switcher only on this demo version. Theme styles can be changed from Options page.
Archives